US Sprint Enduro: 2021 Champions crowned on the grass tests at Hidden Valley 
The penultimate round of the 2021 Kenda US Sprint Enduro series at Hidden Valley Golf Course saw Pro championships wrapped up with dominant performances by Layne Michael and Johnny Girroir with Tayla Jones also sealing the Women's crown.
Rain off and on all weekend in Glen Daniel, West Virginia made the sweeping grass tests on the Hidden Valley course slippery for round five of the Sprint series. AmPro Yamaha's Michael was unphased and put together a winning run of nine from 12 tests (all six on Saturday and three on Sunday) to claim the win ahead of Thad DuVall (Rockstar Energy Husqvarna) by 49 seconds over the two-day event.
Without his teammate and main title rival Steward Baylor racing at this weekend, Michael sealed the overall Pro championship with one round remaining.
"To win the championship is pretty cool," said Michael. "I've been chasing a professional championship for a while now, so this is a stepping stone. I've been close. Last year I was close with Kailub, I just struggled in the beginning of the season and wasn't there, but at the end I was battling for wins. I knew coming into this year this was definitely one I was wanting to wrap up. To get it done a round early is pretty cool."
After an extended time off the bike due to injury, Duvall has been riding himself back into form during the last few weeks and looked especially good on Sunday, where he won two of the enduro tests.
"I rode much better weekend this weekend, especially today; I felt like I kept Layne pretty honest today. Yesterday he was hammering us in the cross test," said DuVall. "I feel like I'm getting more comfortable riding that edge that it takes to win these things. I just kind of found some lines this morning and went with them and they worked out pretty good."
Girroir Pro2 Champ
Johnny Girroir wrapped up the Pro2 title a race early just like Michael had but arguably more impressive is his overall test times which have consistently seem the GASGAS 250 F in among th fastest 450 machines.
After taking second overall on the Saturday (P3 on Sunday), the Coastal Racing GASGAS rider swept all 12 tests in the Pro2 division and even won the final cross test outright against the Pros.
"It feels good, a big weight lifted off my shoulders," said Girroir on winning the title. "I'm excited to be a back-to-back champ in Pprint racing. I really enjoy this kind of racing. I kind of was struggling in the grass track a little bit. Kind of just fighting myself. But the last grass test, I aced it. I did it as perfect as I could. I actually ended up getting the overall win on that last grass test, so that felt really good."
Hidden Valley, US Sprint Enduro Rnd5 overall results, day 1: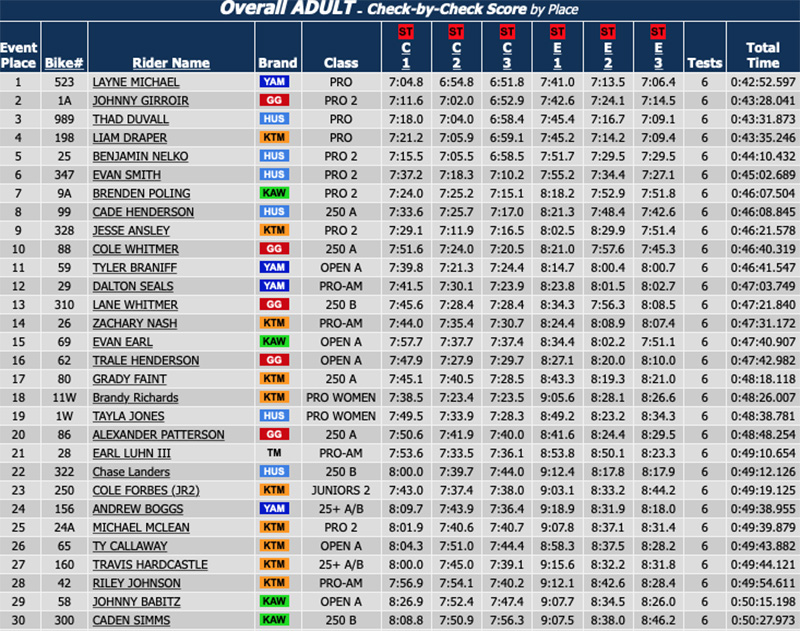 Hidden Valley, US Sprint Enduro Rnd5 overall results, day 2: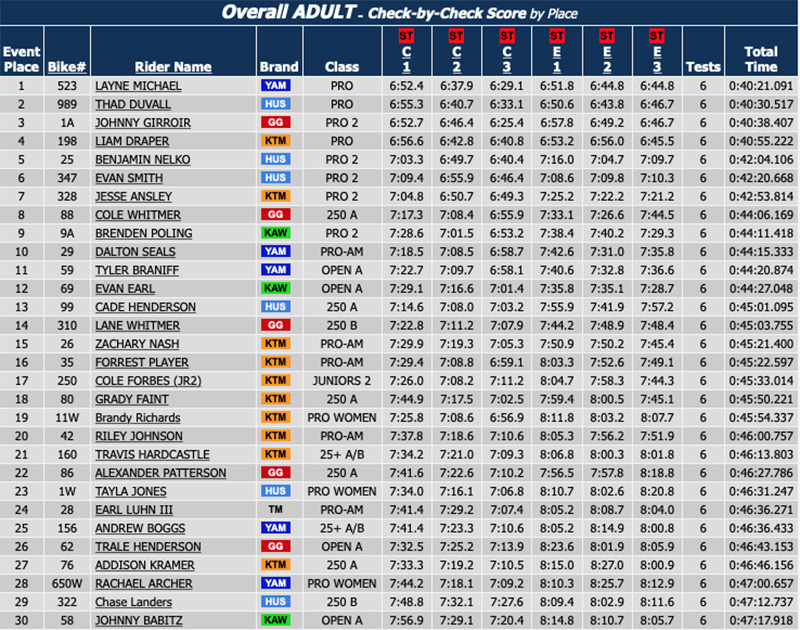 Tely Energy KTM's Liam Draper was third in the Pro division and fourth overall. Draper was in the hunt all weekend for second overall, mixing it up with DuVall and Girroir, but crashes let his combined times down.
"Layne put it to us again, but me and Thad were like one second apart in some tests," said Draper. "I crashed in the first enduro test today and then crashed again, which cost me a lot of time. So it was a rough today but I was still close and I was happy with the last test for the day."
As usual, Ben Nelko was super-fast in the cross test, but this weekend the Seven Sixty Racing Husqvarna rider found his groove in the enduro test too, which propelled him to fifth overall and second in the Pro2 division.
"I finally figured out the enduro test," said Nelko. "I've been working with Stew Baylor at the Shoals MX a lot, focusing on the woods more than riding moto like I've been in the past."
Rounding out the Pro2 podium with sixth overall was Max Sports/FXR/Husqvarna's Evan Smith, who was racing his first Sprint Enduro in two years. Second in points in the Pro2 division, Trail Jesters Racing KTM's Jesse Ansley was disappointed in fourth in class and seventh overall.
Brendon Poling made his first appearance of the year and came away with fifth in the Pro2 class and eighth overall on a Kawasaki. Meanwhile, Coastal Racing GasGas' Cole Whitmer was top Amateur in ninth overall and first in the 250 A class despite hitting a tree in the final test of the weekend and injuring his knee. West Virginia rider Tyler Braniff rounded out the top 10 overall and first in Open A on a Yamaha.
Dalton Seals (Yam) took top honors in the Pro-Am class after sweeping all 12 tests. Seals topped runner-up Zach Nash (KTM) by 1:32, while Earl Luhn III was third, just over two minutes back.
Richards wins Pro Women class, Jones takes the title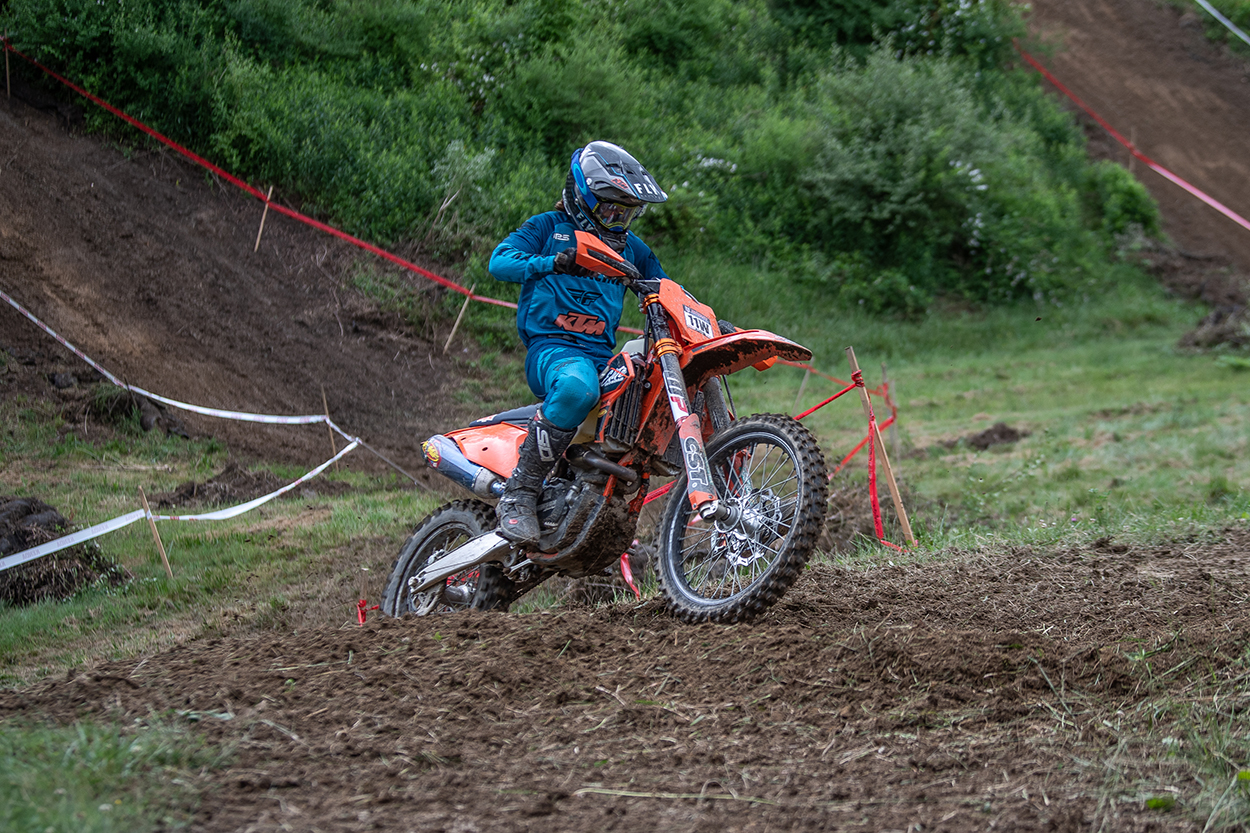 Bandy Richards travelled all the way from Arizona to win the Pro Women's class at Hidden Valley. It was her first race on the east coast in over a year and proved she has the skills on the grass as well as the desert.
"I was a little nervous coming in because I saw there was rain," said Richards. "Back west we don't have rain, so it's all dry and dusty. I was a little nervous but excited to get the time in in the mud.
"The first enduro test was a little hectic. I got a little stuck on some tree roots and stuff and was just kind of getting used to the slick, tight stuff really. I just kind of progressed throughout the weekend.
"Day two I felt phenomenal all day, really, especially in the woods. I was just picking up some good speed, getting a lot more comfortable in that slick stuff. So I'm extremely happy with how the weekend went."
Rockstar Energy Husqvarna's Tayla Jones was second and like Richards was running inside the top 20 overall. P2 was enough for Tayla to clinch the 2021 Pro Women's championship.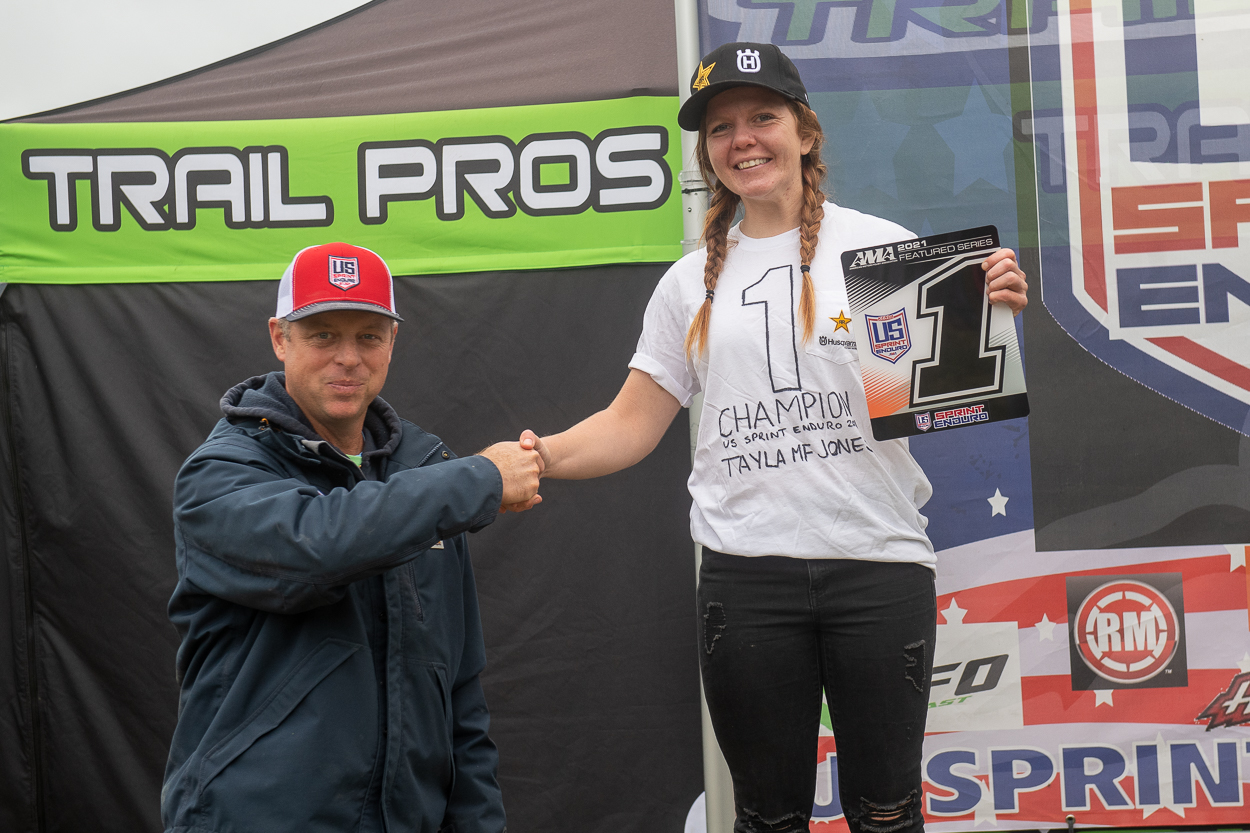 Rachel Archer wrapped her AmPro Yamaha around a tree in the first test and rode the remainder of the event with a bent bike to finish third, with Allie Spurgeon (Hsq) and Britney Gallegos rounding out the top five.
Cole Forbes was the class of the morning Youth races, taking a dominating win in the Super Mini Sr. (14-15) 80-112cc Two-stroke/75-150cc Four-stroke class. The KTM rider won all 12 tests in his class.
Best in the Super Mini Jr (12-13) 80-112cc two-stroke/75-150cc four-stroke class was Peyton Feather on a KTM.
KTM rider Jonathan Snyder took first in the 85 SR (12-15) 66-85cc Two-stroke/75-125cc Four-stroke class.
The Kenda US Sprint Enduro Series resumes on July 17-18 for the sixth and final round of its series at the Wassell Works Sprint Enduro in Westernport, Maryland.
More information: www.ussprintenduro.com
Words and Photo Credit: Shan Moore