US Sprint Enduro: 3 from 3 for Girroir in the mud at Carolina Adventure World
Round three of the 2023 US Sprint Enduro Series saw three days of racing (including ISDE qualifiers) in Winnsboro, South Carolina – Johnny Girroir battles "Old Diesel" Craig Delong and on fire Ruy Barbosa for the win.
The Carolina Adventure World US Sprint Enduro and three-day ISDE East Coast Qualifier is one of the bumper weekends in the season where racers compete in the US Sprint Enduro Series while Letter of Intent (LOI) riders attempted to qualify for this year's International Six Days Enduro.
Saturday and Sunday served as round three of the US Sprint Enduro Series, while all three days (including Monday) counted as the eastern round of the AMA ISDE Qualifier Series.
The Trophy riders who will eventually compete at Six Days aren't required to qualify since they are picked on merit, but the weekend proved a great training event for the top hopefuls aiming at San Juan, Argentina on November 6-11.
Another close one but Johhny G does it again
FMF KTM's Johnny Girroir edged out Rockstar Energy Husqvarna's Craig DeLong by just seven seconds for the overall win for Saturday and Sunday's Sprint rounds. In very slippery conditions, after rain left the course in rugged condition, Girroir completed the sweep, winning Monday's ISDE-style race (with transfer trail added in), beating DeLong by nearly 28 seconds over the three days.
Day 1 breakdown
DeLong kept Girroir within his sights all day on Saturday, finishing just two seconds behind after the final test. However, it was Phoenix Honda's Ruy Barbosa who led the first half of the day, taking advantage of a later start time in the muddy conditions on the 250 machine.
In fact, Barbosa won the first test by nine seconds over DeLong, while Girroir had a miscue and was another 10 seconds back. Barbosa was third in test two, just 0.3 seconds behind Girroir, with RPM Racing KTM's Angus Riordan just 0.01 second behind Girroir, as Barbosa continued to lead out front.
Barbosa had the fastest time again in test three, but Girroir settled down and started to reel off the fastest times in the final few tests with Coastal Racing GasGas' Thad DuVall adding a test win as well.
In the end Girroir won three tests, Barbosa two, and DuVall topped one, giving Girroir Saturday's win by two seconds ahead of the consistent DeLong, with Barbosa in third, three seconds back. Barbosa also was the top-finishing Pro 2 rider on Saturday breaking the near two-year winning streak of his Phoenix Honda teammate Cody Barnes who rounded out the top five and took second in Pro 2.
Sunday repeat performance
On Sunday, Girroir again edged DeLong but this time by five seconds, with Barbosa once more finishing third on the day and first in the Pro 2 class.
Former champion, FXR GasGas' Layne Michael, had a much better day kicked off the day with a big win in test one and then again in test three. A few two-many tip-overs cost Michael a top spot in the end.
"It wasn't easy," said Girroir of his win. "Everyone was ripping this weekend. Thad (DuVall) showed a lot of speed, obviously. And Old Diesel Craig over here never hit the ground once. I was just was laying on the ground a lot. Those are costly mistakes. But it was a good weekend. It was just a nail-biter, really, both days all weekend. It was good, close racing."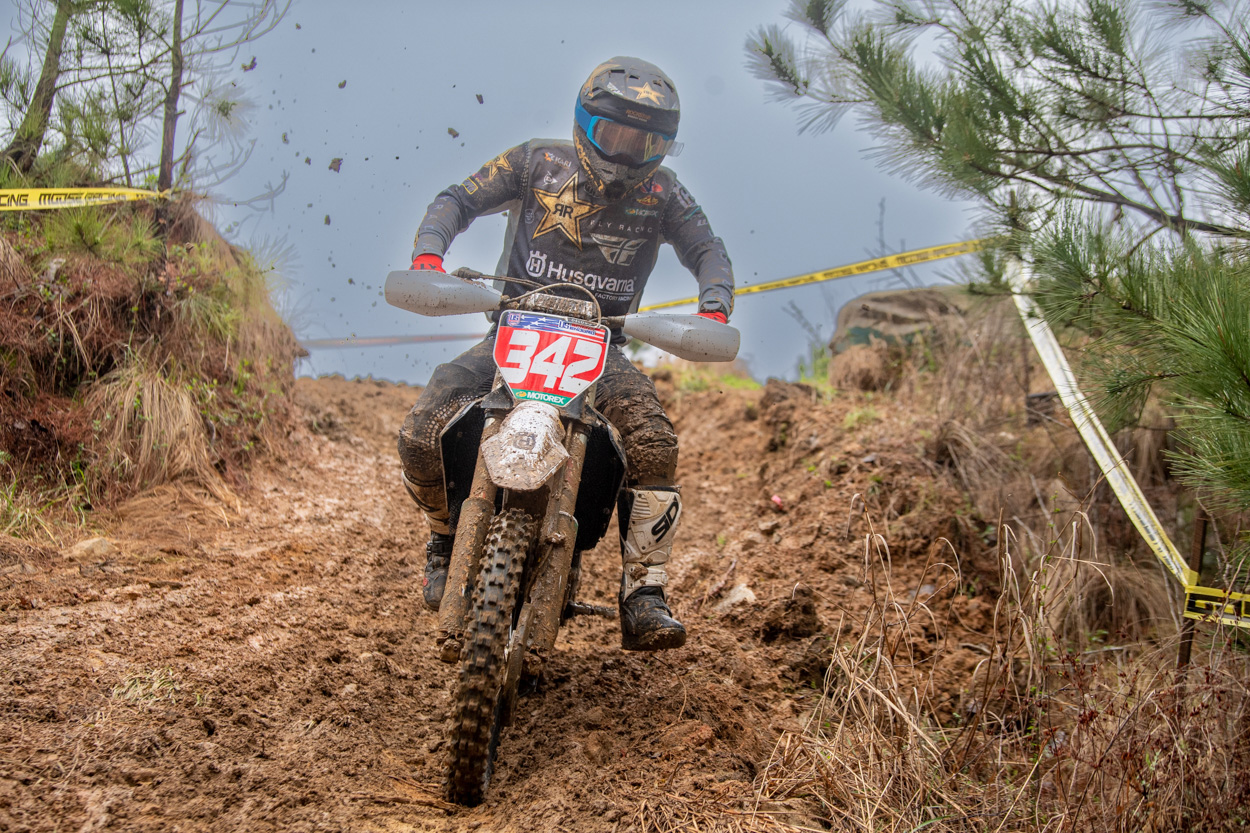 Consistency paid off for DeLong, including a win in test five on Sunday, earning him second overall. "Five seconds doesn't seem like a lot of time, but it actually is," said DeLong of the difference between him and Girroir on Sunday. "I'm happy to be giving Johnny a run for his money which is better than I've done in the past. So, I feel like we're getting faster, which is good."
Ruy Barbosa was third overall for the weekend and first in the Pro 2 division, breaking Barnes' streak of Pro2 wins, which went back nearly two years. "I'm just getting comfortable with the bike after a few weeks testing my suspension," said Barbosa, who had his best weekend to date. "Yesterday was a really good day. I had a pretty good test to start the day. Today was a completely new day because they changed a lot of things on the enduro side, so it was like a short race but really intense. But, I'm happy with my pace, with my speed, with my team."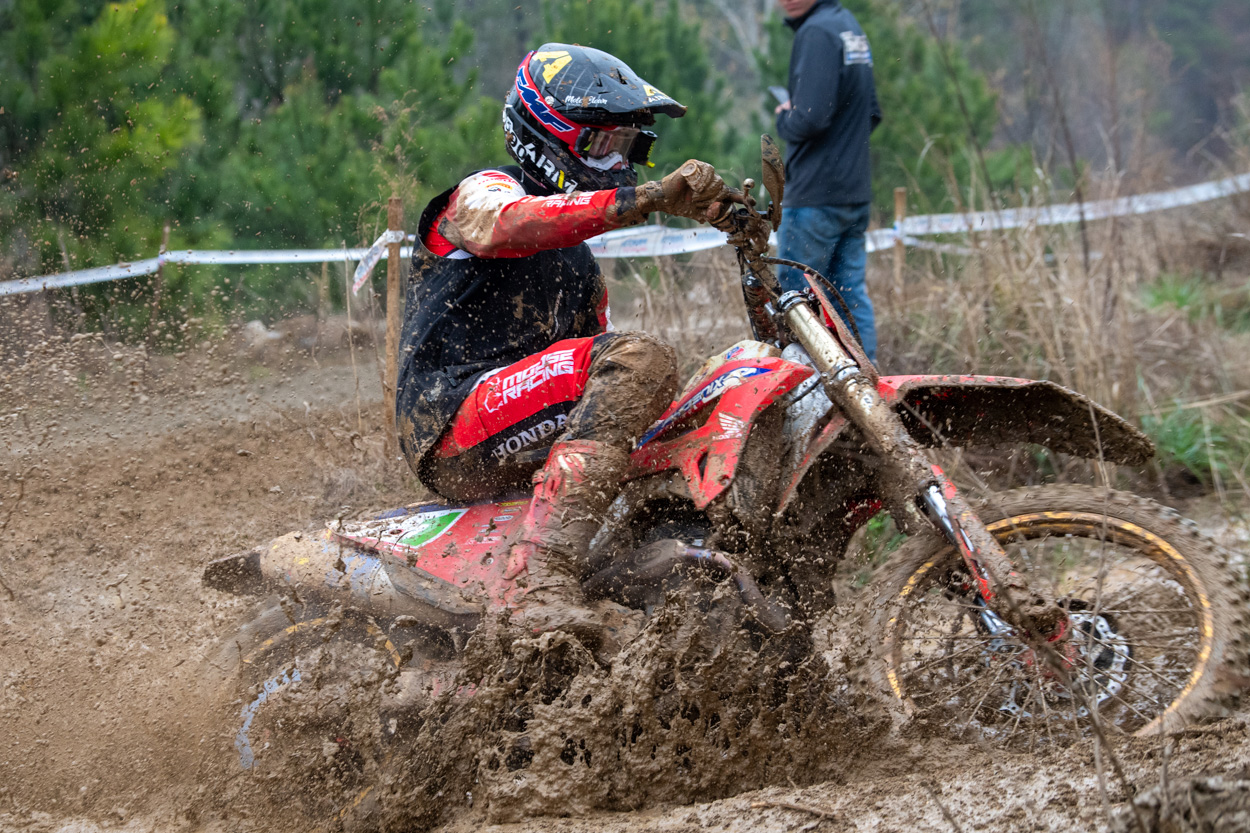 Barnes was fourth overall and was second on the Pro 2 podium: "The first day didn't really go that well," said Barnes. "The second cross test I threw it all away by crashing twice. I was kind of riding like an idiot, pushing too hard in the slop. I crashed right off the bat pretty high speed and was all mad so I was pinning it. Then I crashed again, when really I should have just slowed down and rode smart. I threw the weekend away right there."
Finishing fifth overall, Thad DuVall was pleased with the improvements over the first round after getting off to a fast start on Sunday. "Yesterday was good," said DuVall. "Close times all day. I was able to put in a couple test wins. Good start, I won a couple but then it was just pure downhill from there. I was laying on the ground three out of six tests today. I need to eliminate that. Then today, I just threw it away. I felt like I had the speed and was comfortable all weekend. It feels good to be battling with these guys after a rough first round. Definitely getting better. Just got to keep these boys on their toes."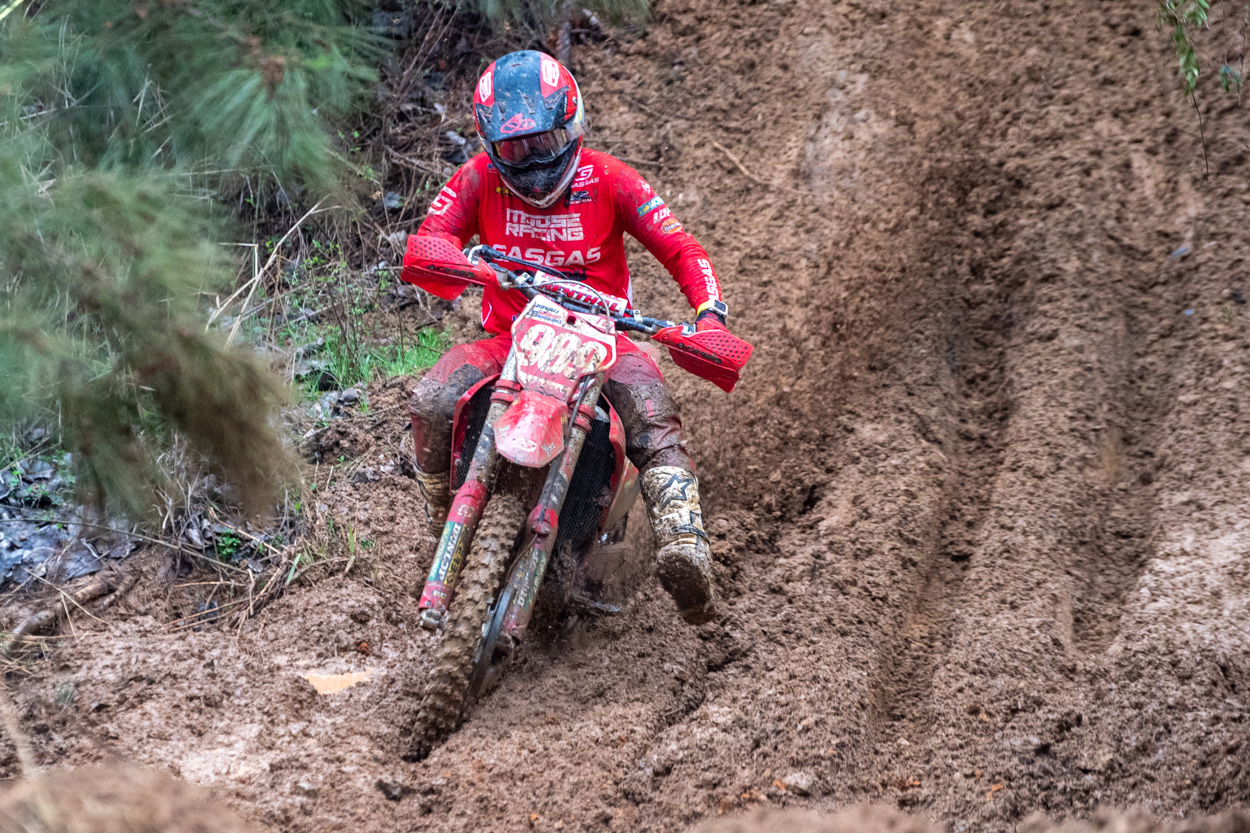 RPM Racing's Angus Riordan was sixth after an exceptional ride in Saturday's second cross test which saw him finish second by 0.1 second behind Girroir. It also earned him third in the Pro 2 class. Layne Michael was seventh overall ahead of GasGas-mounted Thorn Devlin eighth, with Precision Offroad Racing's Dominik Morse winning the Pro-Am division with a ninth overall finish. Gavin Simon (Hsq) rounded out the top 10.
Convincing Pro Women's win for Archer
Am Pro Yamaha's Rachel Archer Trail topped ISDE veteran Rachel Gutish for the win in the Pro Women's division, while Trail Jesters Racing KTM's Korie Steede was third. Archer convincingly won 10 of the 12 tests with Steede winning the other two.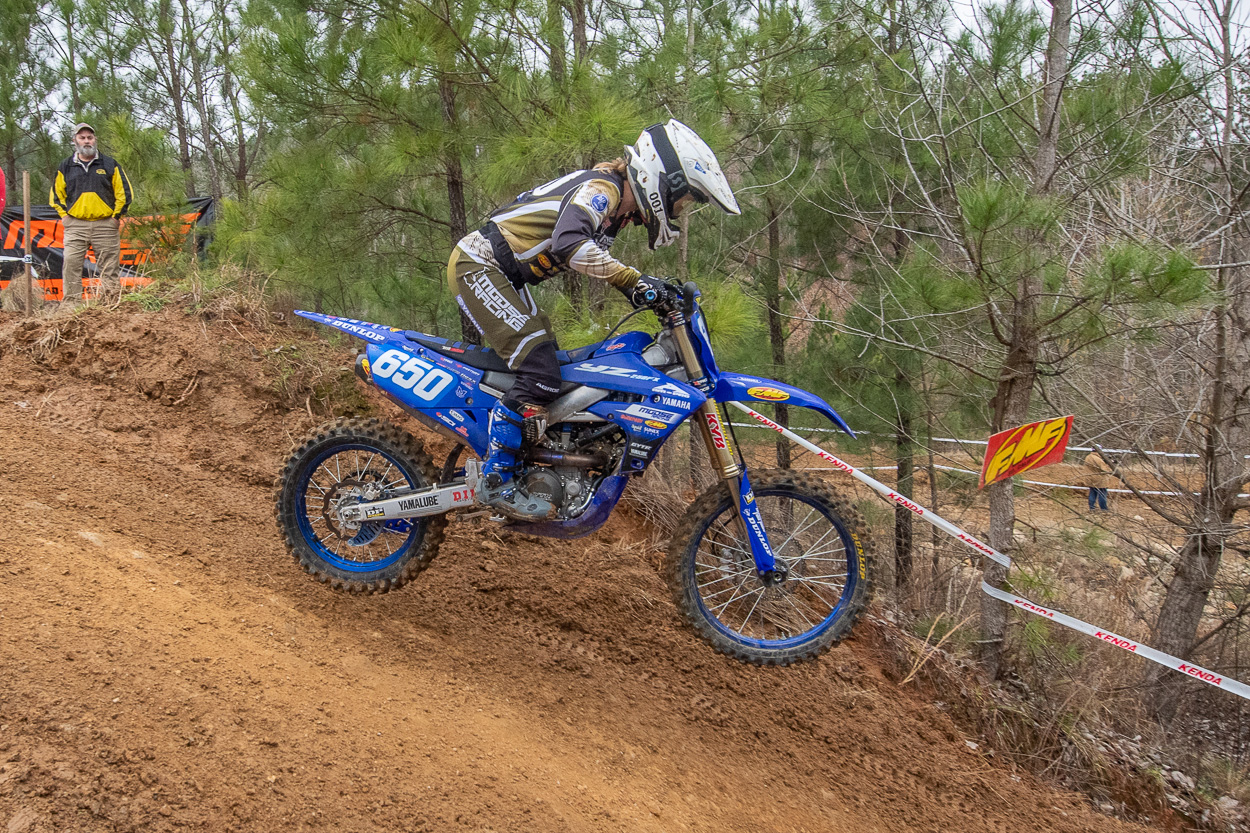 "We had a bit of rain on Friday night which made things pretty technical and I do well when it's technical," said Archer. "I got a big lead on Saturday and got the win by about 58 seconds. I won every test, so that was pretty cool. Then on Sunday it dried up a little bit. The track was still pretty technical, so it was still to my liking, although the cross test got pretty gnarly. I ended up winning four out of six tests. Korie beat me in two. I crashed in one and then just made a couple mistakes in one of the cross tests."
US Sprint Round combined overall results: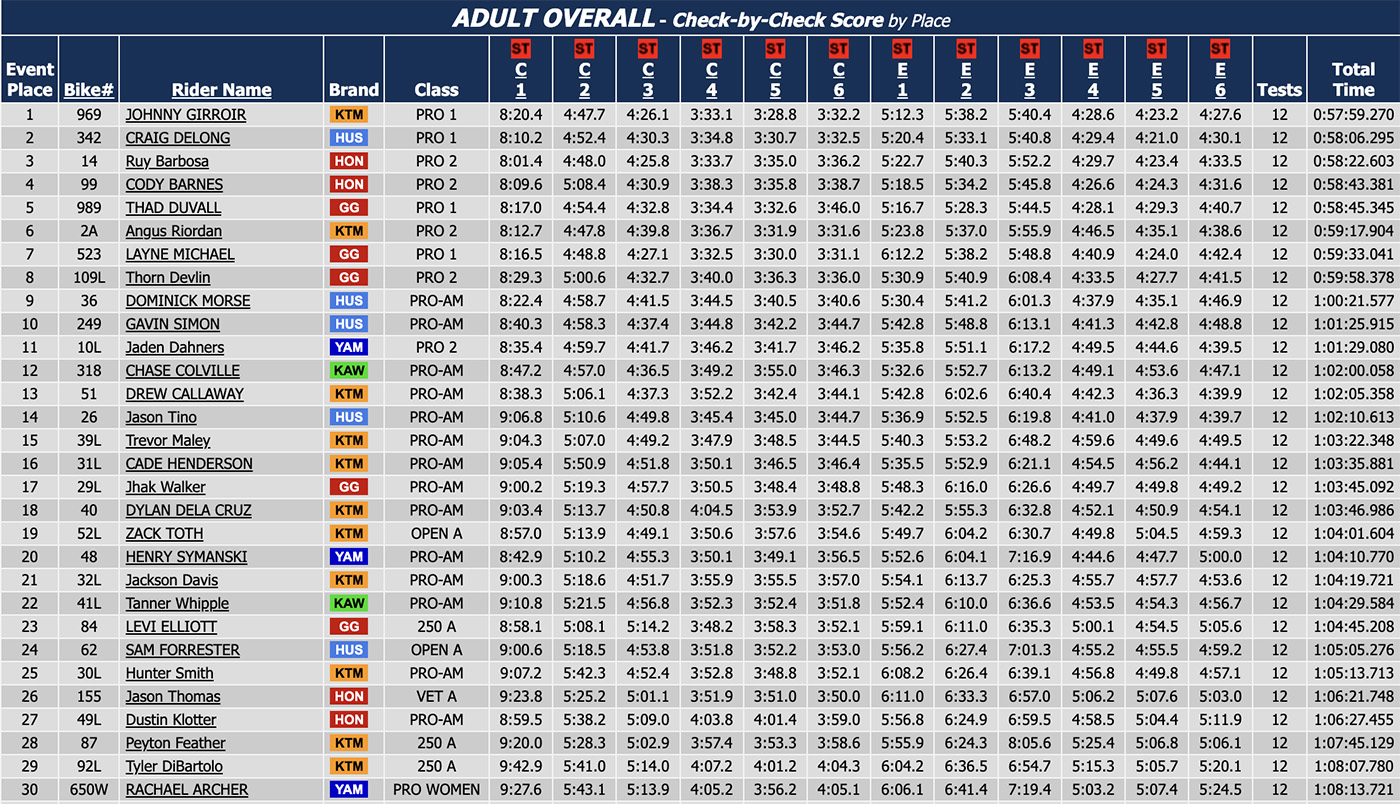 ISDE Qualifier day
On Monday, which was the day added for the three-day ISDE Qualifier, there were 40 competitors including LOI and the potential Trophy Team riders. A transfer trail was added in for this day, with each rider competing three times on the cross test and three times on the enduro test to simulate an actual ISDE event. These times were added into the times the riders accumulated during Saturday and Sunday's events.
"This is actually my first time to attend a qualifier, so I'm taking a little deeper look at the club riders," said ISDE Trophy Team Manager Antii Kallonen. "We're grooming the next generation of Trophy riders, men and women."
Taylor Robert still out of action
Missing from the event was FMF KTM's Taylor Robert, who was supposed to be riding a six-race schedule this year, strictly in preparation for Argentina.
Kallonen talked about Taylor Robert's absence from the event: "Taylor was supposed to ride both the east and west qualifier series for practice and it's good for these up-and-coming racers to get to watch a past ISDE overall winner, so it's a bummer he injured his wrist. Hopefully, we're not sure if he will be ready for the west qualifier, but that is his main goal for the year is to ride Argentina," said Kallonen.
Robert's FMF KTM teammate Johnny Girroir was again the overall winner for the three-day qualifier event, taking the overall by nearly 28 second ahead of Rockstar Energy Husqvarna's Craig DeLong and he commented that with the transfer trail, Monday's event was much tougher.
"The tests were longer and there was about a 10-minute transfer between the tests, so it was a bit more challenging," said Girroir. "I was on the ground a lot the first two days but I cleaned it up today and only fell once, so I feel good about the win."
Coastal Racing GasGas' Thad DuVall was third overall for the three days, while FXR/GasGas rider Layne Michael was fourth.
Pennsylvania's Thorn Devlin was the top LOI rider in fifth overall so he will get a chance to make up for his last two attempts at Six Days when he qualified but didn't get to ride due to injuries. "In 2019 and then last year, I got hurt at the last minute and didn't get to go," said Devlin. "I'm pretty much giving it one more shot and hopefully we stay healthy."
Steede turns is around
Trail Jesters KTM's Korie Steede came into Monday's event a minute-and-a-half behind Rachel Gutish. With US Sprint rounds winner Archer not contesting (she ain't American!) Steede came back to take the Pro Women's win by five seconds over Gutish.
"Actually, the pressure of Saturday and Sunday were just kind of lifted off my shoulders and I just told myself to go out there and have a good time," said Steede. "I wasn't too worried about the times since I was so far down, but after two tests I realized I had a chance to pull it off."
Husqvarna-mounted Jocelyn Barnes was third in the Pro Women's class, with Raine's Racing Yamaha's Prestin Raines and RPM Racing KTM's Kaitlyn Jacobs rounding out the top five.
The US Sprint Enduro Series resumes action on March 25-26 at Virginia International Raceway in Alton, Virginia.
More information: www.ussprintenduro.com
Words and Photo Credit: Shan Moore