4000 miles (6500km) trail riding across Europe on this KTM 450 EXC-F
Enduro21 checks in to one rider's story of turning his KTM 450 EXC-F into a trail happy Adventure bike fit for 4000 miles of TET trails – we find out the mods he made and the reasons behind his DIY build.
"It was my first dirt bike and quite frankly I didn't know what the hell I was doing." Explains Greg Villalobos about his 2013 KTM 450 EXC-F. By now Greg's an experienced trail and adventure rider but he'd never even sat on an enduro bike before laying down his cash on this 450.
The jump to an EXC was a complete change of bike lifestyle after moving from Hackney in London to a farm in a relatively remote part of the UK in Northumberland. It proved to be the perfect tool he says to get out and explore his new area but not before realising he had no idea where he could ride it. Joining the local trail riders group (the TRF in the UK) helped kick start a new chapter.
The 450 was a tool to explore and make new friends but over the years it has evolved on over 4000 miles (6500 km) of trail riding across the UK and Europe – since the Trans Euro Trail (TET) became a thing it has become one of Greg's "things" also.
Working for Adventure bike specialists Adventure Spec brings bike parts and riding kit know-how but underpinning it all is a very real desire to get out there and ride.
In his own words, Greg talks Enduro21 through some of the details and philosophy behind a bike that never had any intentions of going to an enduro race but instead spends its life covering distance on the trail.
To start off with I wasn't adventure riding, I was trail riding...
The 450 was perfect. The longer I owned the 450 the more I realised that if you were not looking for mega comfort, then the pros of having a light bike outweighed the cons, especially if it's a bike that will literally go anywhere you point it. The other reason is cash, or lack of it!
Creating media is part of my job so when I decided to ride to London and back (off-road as much as possible) it made sense to do it on a bike that brought a bit of a story to the project.
It's now done 14,000 miles and 500 hours with no major mechanicals. The valves are still in tolerance, just. I changed the piston at 200hrs but overall it's been bombproof so far, touch wood!
I dialled in the bike for my riding style, which is basically slow and not at all ready to race...
Doing that started to alter the look of the bike; lower seat, bigger tank etc. And then I started to realise that once you strip off the orange and the graphics the EXCs have a great utilitarian look to them which to me looks more fitting in the countryside than a race bike.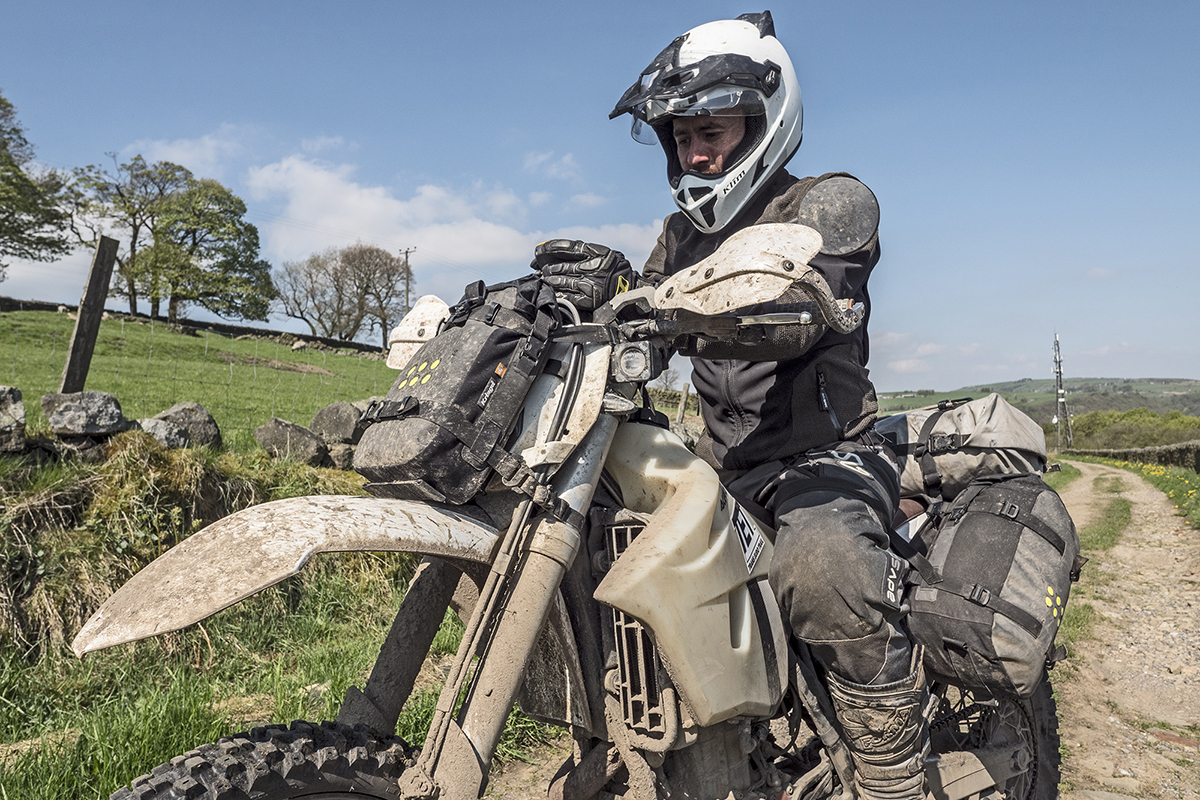 The bike was built to go long distances, but there is some tension in this!
I did 2000+ miles around the UK in one go, and then a 2000 mile TET trip (Trans Euro Trail). So yes, it's 100% a long distance bike. BUT, I've now got two young kids so the ability to get away for decent amounts of time is somewhat limited in this current chapter of my life.
I don't need to bust the myth that a 450 enduro bike is no good for adventure...
There are plenty of people out there doing this already. Aaron Steinman has done 100,000+ kms on his 500 EXC. RTW Paul has got mega miles on his trick EXC. And Motonomad has been using his to make adventure films for a while now. My main inspiration was 'The Rolling Hobo' really who hasn't done such big miles but has proven that the EXC is a go-anywhere adventure bike.
For many years the 450EXC was my only bike so it had to do all the riding I needed it to. It became the perfect adventure bike for me. The film I made follows the evolution of this bike from enduro to adventure and now hipster.
I bought a CB500X to see how that works out as a unicorn bike...
It's good but not perfect so that got swapped for an AJP PR7 which has blown me away. It can do 85% of what the 450 EXC can do, and to be honest right now I'm not using the 450 at 100% so the AJP has become my go-to bike.
That left me wondering what the 450 is for? And so the next chapter begins for the EXC which is slowly evolving from an adventure bike into a hipster bike, something that can take a pretty photo but that I know is massively capable. It's currently got an Acerbis Elba light mask and retro UFO front fender. I'm scratching my head about what to do with the rear though.
If I had the time, money and energy I would do a Roland Sands/Kurt Caselli job on it, but that's a dream right now. I know it's achievable, but I also know I would end up with a half-built bike for the next two years!
I'm 5'7 so what you would technically refer to as a 'short arse'...
The bike has lowering kit fitted that brings the front and rear ends down about 25mm. That helps...a little.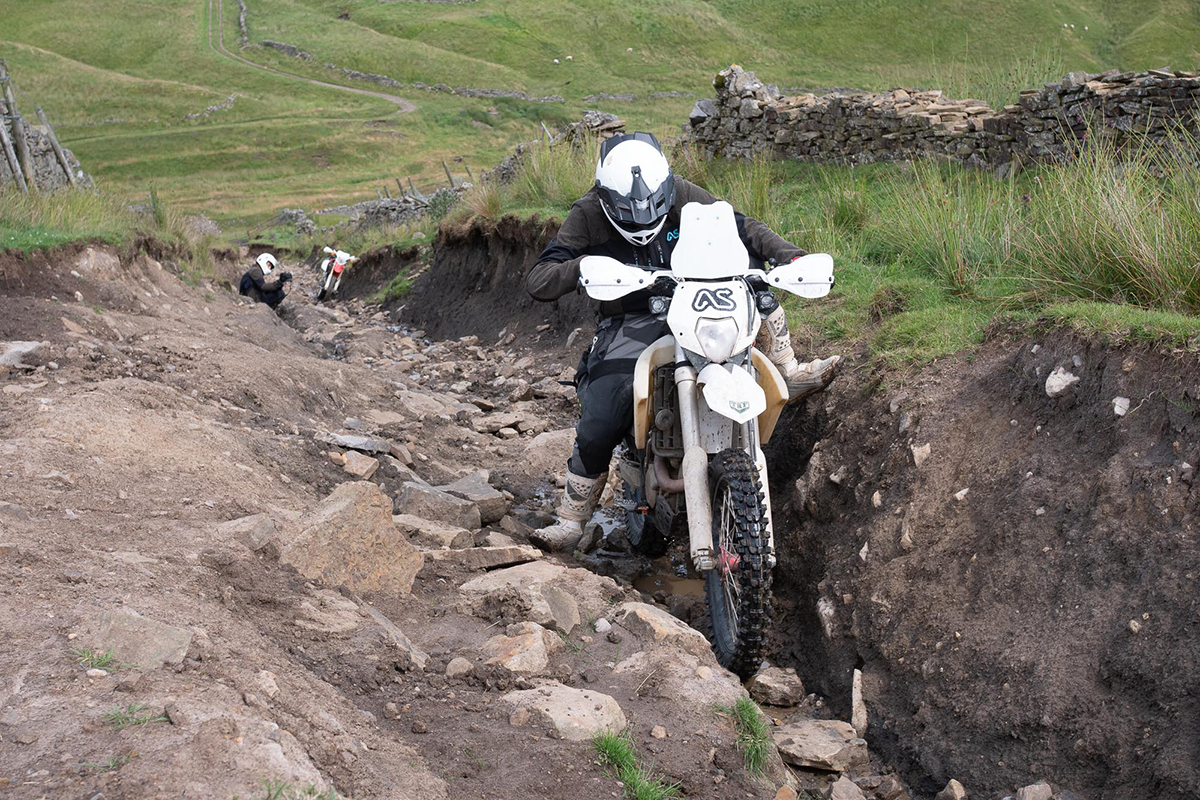 I have Pivot Pegs installed too. I wasn't sure about them at first but I have to say they make the standing position comfier for extended periods of time. They rotate with you so not so good for tech riding, but for long stuff it means that you aren't forced to stay in one position which makes quite a difference. The ones I have are small but I think they have larger rally-style ones now.
A few years ago I noticed that my OEM rims were corroding on the inside.
I think it's because I used to use washing up liquid when changing my tyres (nooobie!). Anyway, I was working with Lyndon Poskitt at the time (I made his Malle Moto: The Forgotten Dakar Story) and long story short I bought a set of his old rally wheels.
They are Excel A60 rims, Talon Hubs, big chunky spokes and a Cush rear hub. A big upgrade on the stock OEM wheels.
I've worked my way through a lot of the Motoz tyre range...
I work for Adventure Spec so I am lucky enough to have access to a lot of riding gear and parts. The 450 is currently set-up with Motoz Extreme Hybrid tyres. I love them, great road manners and good grip on most dirt unless it's super muddy. I think they are a good UK trail riding tyre for lightweight bikes if you are less concerned with absolute grippy performance that you need for an enduro.
I definitely don't do hard luggage!
Yes, these enduro bikes can cause a bit of head scratching when it comes to luggage. There's often no rear subframe and a lack of things to bolt onto.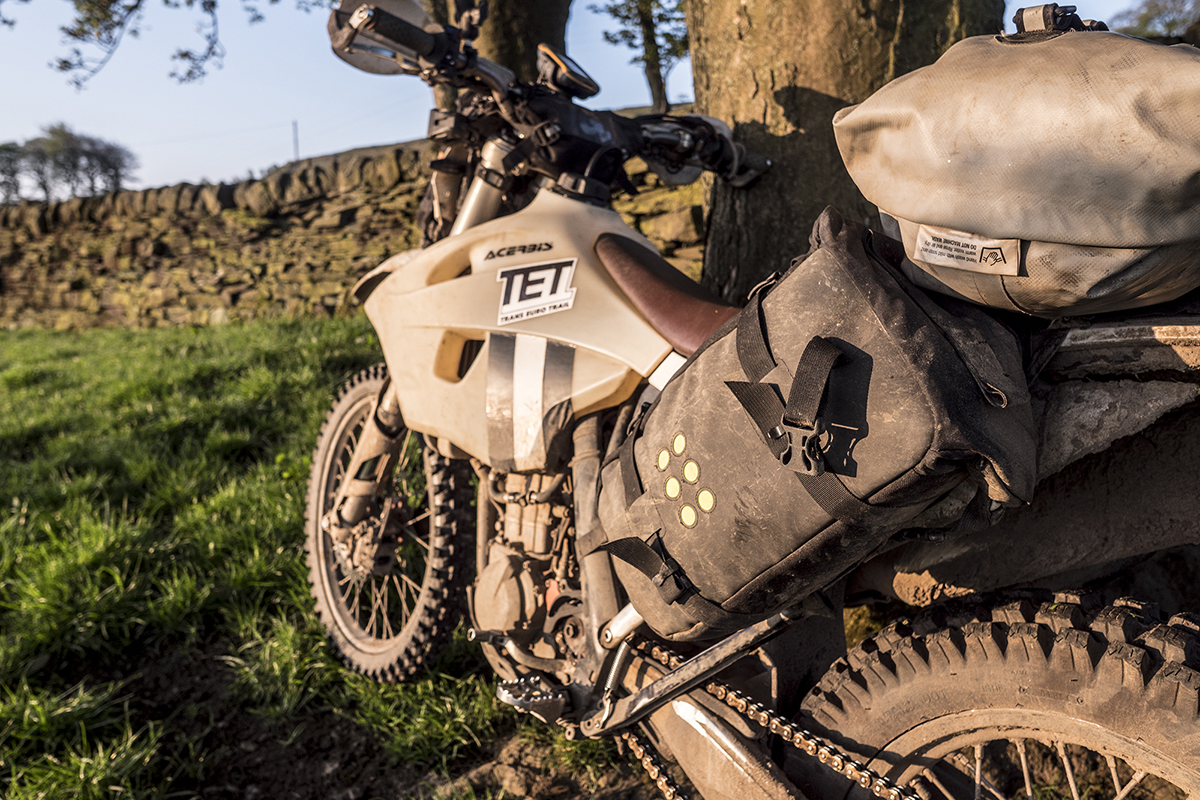 But I've found that the Kriega OS system is a great fit. I use the OS Base to strap onto the bike, and OS 12 bags for my luggage. The rolltop is a Giantloop Rogue dry bag (there's more on Greg's packing on his YouTube channel – see below).
I think it's really easy to overpack on long and short trips.
If you are heading off to the great unknown then you probably do need more gear (water, fuel etc.) but for most European trips you are never far from food, water, fuel so you really can afford to go light.
'Light Is Right' is a core philosophy behind everything that we do at Adventure Spec so you'll not find me with a big metal box strapped to my bike any time soon!
Less weight = more freedom = more fun!
My AJP PR7 is the flavour of the month right now...
The 450 is either being semi-retired for a charmed life as a hipster model, or it may even find its way onto eBay. I've not really decided yet.
I've had a TET Spain trip on hold since Covid struck so that's probably off till next year, but all going well my group of riding buddies are all heading to Wales this summer. It's about as foreign as we dare to go right now. It'll still be great though, and of course there will be a film made!
Enduro21 asked Greg for the five tools he never leaves home without...
Well, my five favourite tools are Noel, Clive, Wil, Adam and Davy. Massive tools the lot of them but they will see me right whatever happens. If they are not available then...
Motion Pro Trail Tool (Tool Metric) – it's the best motorcycle tool out there.
Leatherman Crunch - I don't have builder tradesman DNA so having a vice grip in a Leatherman has been invaluable at times
My Camera - either my Canon 5D Mk4 for photos or Panasonic GH5 for vid
Small roll of Gorilla Tape - mega strong stuff
Paracord keychain - I make my own and believe it or not managed to tie the exhaust back on to a T700 when I realised I had forgotten all the above tools!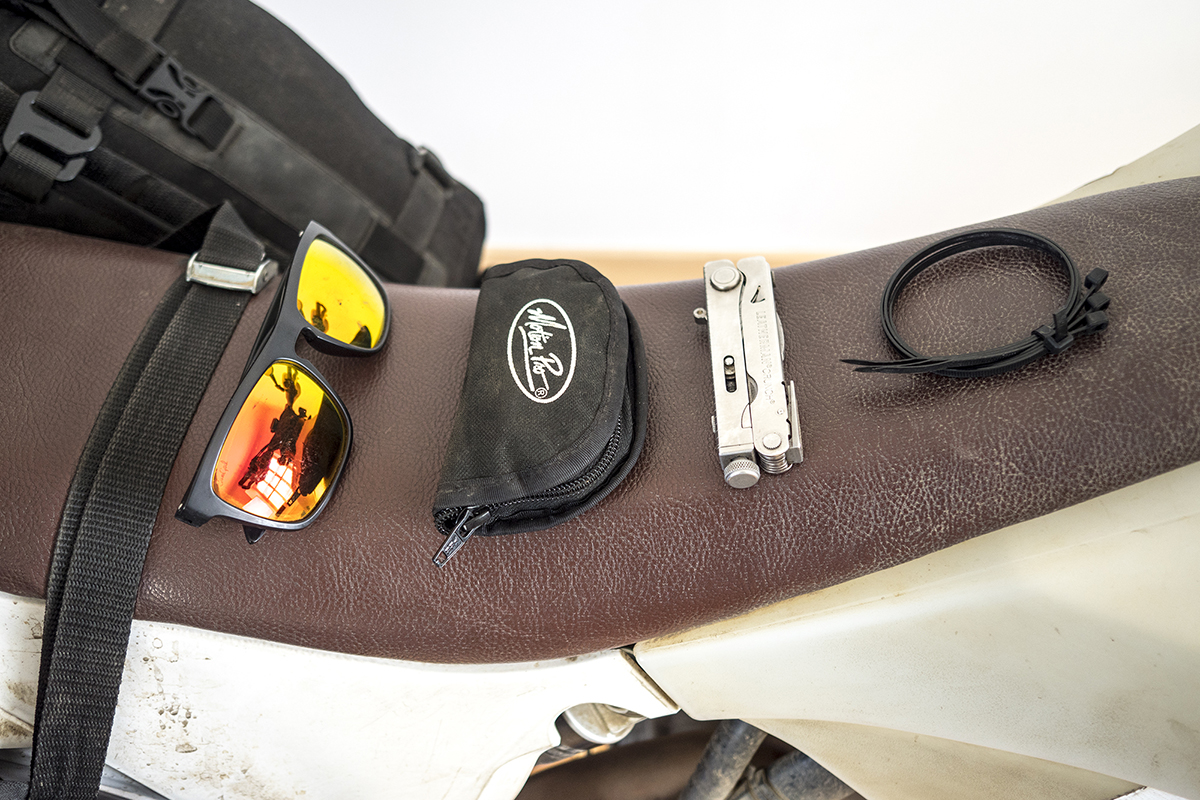 Check Greg's video channel
If you're into this mix between Trail and Adventure (can we call it Adventure Lite? Who needs categories anyhow…) then take a look at Greg's YouTube Channel which is packed with good stuff on the EXC, his AJP PR7 and more.
The actual list of parts fitted to the KTM 450 EXC-F is a long one. You can check the full spec list here on www.gregvillalobos.co.uk
Or find more on the Adventure Spec website: www.adventurespec.com
Photo Credit: Greg Villalobos