First look: 2024 Fantic Black Edition enduro models – November date for XE 300 two-stroke
Fantic has announced new, 'race replica' special Black Edition enduro and motocross MY24 models plus revealed a November 2023 launch date for the long awaited XE 300 two-stroke.
Aimed at "serious riders" wanting a race-ready bike straight out the crate, Fantic's new Black Edition two-stroke and four-stroke enduro and motocross models ape the Italian manufacturer's factory race bikes.
Official Fantic race team machines have been running eye-catching black and yellow colours most of this season and they've announced these limited edition models as replicas with some additional parts as well as the changed plastics and graphics.
The big news coming out of the Italian manufacturer alongside this model update is also an official November release date for the anticipated XE300 2T into the MY24 range, fitted with a Fantic-Minarelli engine.
There are no images of that 330 2T bike yet, nor do they specifically say if it will run their fuel injected motor. But we expect it to, having spoken to development rider Davide Guarneri about this bike at the last EnduroGP round.
Read that interview for more details on that 300 2T motor here: Davide Guarneri interview: Fantic's 300cc fuel injected two-stroke arriving this year?
Fantic MY24 Black Editions
The new range of Black Edition models feature "the most advanced version of Fantic factory feeling" they explain, meaning you get a bike prepared in the racing department, race team looks and a few extra parts.
The new livery features black plastics and bodywork, with neon yellow graphics which have been used by the race teams for much of the 2023 season.
The model line-up remains unchanged by the way with four motocross models (XX125 2T, XX250 2T, XXF250 4T, XXF450 4T) and three Enduro (XE125 2T, XEF250 4T, XEF450 4T) with each available as the black option (prices are below).
Fantic Racing kit parts
Fantic say the 'Black Edition' kit includes components used by the Fantic Racing MX and Enduro teams and will eb supplied with the bike.
The braking system features a 270mm Newfren floating disc at the front while at the rear the Motocross version has a 240mm slotted disc and the Enduro range get a solid 240mm (245mm in some) rear disc to prevent the build-up of mud and dirt. The brakes come with a set of Fantic Racing sintered brake pads also.
The new "Factory Feeling" design features 28mm Reikon handlebars and a set of Domino D-Lock (lock-on) grips.
Bikes come with an extra rear sprocket (size varies depending on model) to adjust gearing for different track conditions plus a tougher chain guide. The official livery also extends to the red anodised components for the braking systems and the engine oil filler cap.
Motorex, official partner of Fantic Racing, has provided all new Black Edition owners with a set of products as used by the official riders use too (2T: Motorex Cross Power 2T, Motorex Racing Gear Oil 10w40. 4T: Motorex Cross Power 4T).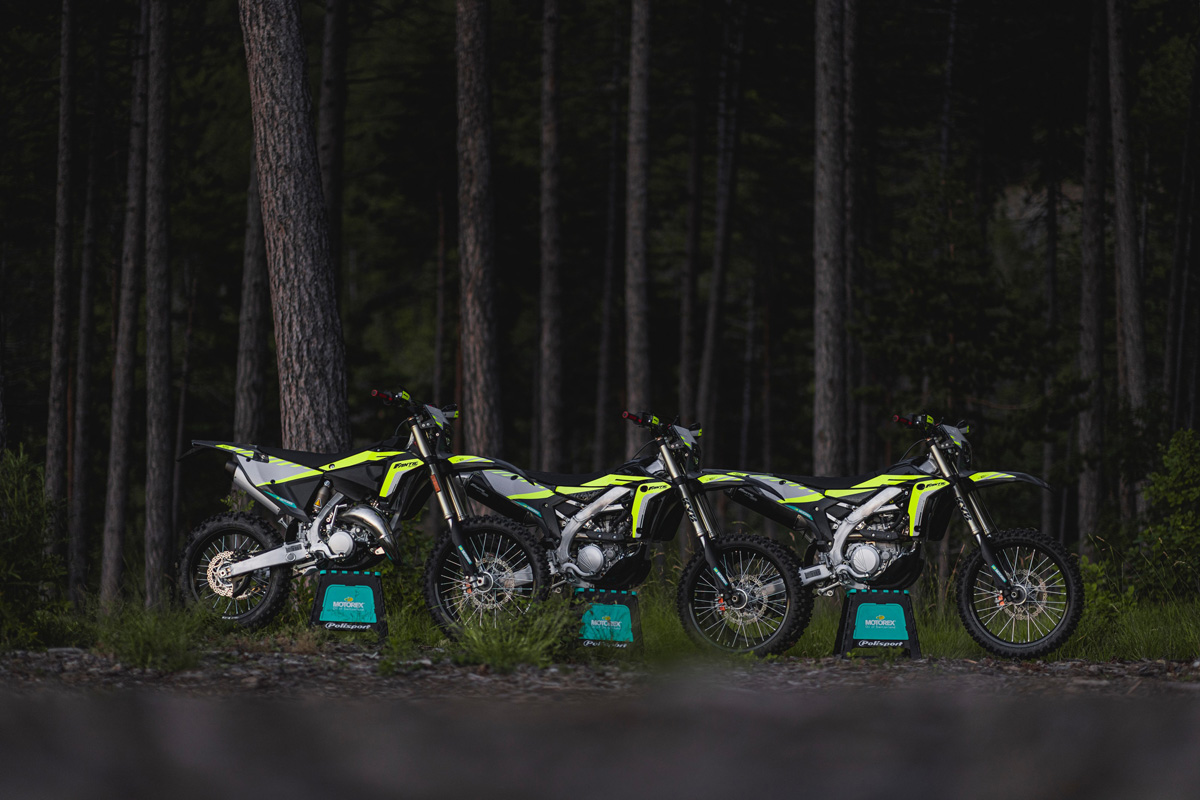 Fantic MY24 Black Edition retail prices (VAT included):
ENDURO models
• XE 125 BLACK EDITION 2T €8.990,00
• XEF 250 BLACK EDITION 4T €9.990,00
• XEF 450 BLACK EDITION 4T €11.490,00
• XX 125 BLACK EDITION 2T €8.590,00
MX models
• XX 250 BLACK EDITION 2T €9.490,00
• XXF 250 BLACK EDITION 4T €9.590,00
• XXF 450 BLACK EDITION 4T €10.990,00
More details: www.fanticmotor.it