First look: 2024 GASGAS Enduro Range – 450 & 500 4T models join the party
GASGAS has revealed their all-new, 2024 enduro and motocross model ranges with a new 16-strong line-up including new EC 450F and EC 500F four-strokes on top of revamped chassis' and engines including the new TBI fuel injected two-strokes.
As you'd expect, following the major updates to the other 'KTM group' off-road models for 2024, GASGAS has joined the party with a near complete upgrade to their Enduro (and motocross) ranges.
The PR material is a touch high on the fluff and low on the facts (Enduro21 is on the media launch this week, we'll get on the case and bring all the details ASAP) but the headline acts in the red range are the two new big four-strokes; an EC 450F and EC 500F alongside the EC 250F and EC 350F, plus the EC 250 and EC 300 two-strokes.
Depending on the country you live in the Cross-Country range (EX 250, EX 300, EX 250F, EX 350F, EX 450F) is also added to the line-up making it 16 bikes in total from GASGAS for 2024 including the motocross models.
The big changes follow suit with their orange and white brothers with significant upgrades to the main frame plus aluminium subframe and swingarm and new triple clamps. One difference is the GGs will not arrive until September (late August for MX/XC bikes) and, here's how the red bikes are less expensive, the enduro models come fitted with the lower-spec, more trail-friendly XPLOR open cartridge forks but the new XACT shock.
For the record the 2024 KTM EXC range has new and upgraded XACT suspension front and rear, the 2024 Husqvarna Enduro range is the same and the GASGAS Enduro range has XPLOR fork and XACT shock. The EX (Cross-Country) bikes do get the XACT suspension FYI, adding to the confusion which we don't think we are alone in.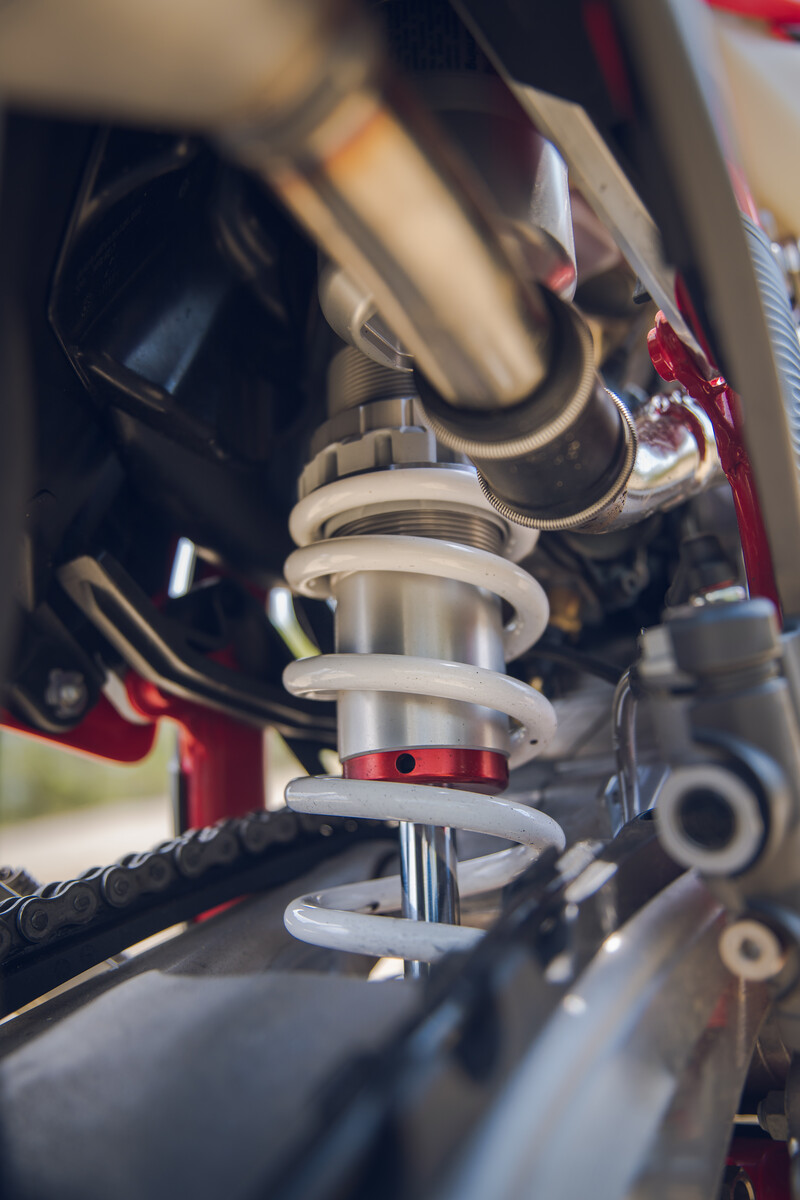 Across the board, all 2024 models have new motors producing more torque and higher-revs and which sit slightly differently in the frames for an adjusted centre of gravity to improve handling.
Four-strokes get electronic tricks like traction control, quickshifter and different power maps but not as standard like the KTM models, you'll have to pay extra. All models get the new fuse-less electronics which promise an easier, more user-friendly life for owners.
The two-strokes naturally are a big talking point too with the throttle body injection (TBI) fuel systems, new airboxes and generally boasting a cleaner and crisper power character and no kickstart on any of the bikes now.
Braktec brakes remain on these bikes although they get the update we already tested on the Husqvarna range and a new front disc, but those silver rims and triple clamps are still sticking around (black is best GASGAS, come on…)
2024 GASGAS Enduro models technical highlights:
New frame claims more stability at speed with more agility, lower positioned headstock with new positioning for rear suspension mount and engine mounting
New stronger aluminium subframe weighing 1200gms
New die-cast aluminium swingarm is lighter, stronger and tweaked flex plus a new 22mm rear axle size
New bodywork for a "refined rider triangle" gives larger contact areas so riders can better grip the bike for improved control.
New seat cover and design helps rider seated grip
New, brighter headlight
WP XPLOR open cartridge front fork which are longer, have new settings, and are adjustable by hand
WP XPLOR rear linkage shock has a new piston, is shorter and lighter yet retains 300mm of travel, clicker adjusters make changing settings easier
EX models get XACT, closed cartridge forks and XACT suspension
New forged triple clamps in the new steering stem claims more flex
New Braktec brakes have 260mm brake disks unique to GASGAS and new calipers front and rear, Braktec clutches on all models
Neken Handlebars have a bar bend unique to GASGAS
New larger footpegs sit narrower into the frame
New Throttle Body Injection (TBI) two-stroke engines have separate oil tank promise "clean, crisp, and strong power throughout the rev-range"
New electronic exhaust control valve on the two-strokes controls how the exhaust ports open, plus claims to improve durability and boost torque
Slimmer design two-stroke expansion chamber/exhaust pipe tuned to eth TBI motor is less vulnerable than previous model
New motors adjust the centre of gravity, are lighter and claim to produce more usable torque
Four-stroke 42mm Keihin throttle body connects directly to the throttle cable, 39mm throttle body on 2T, TBI engines
All-new cylinder heads, cylinders and cranks. 2T models promise less vibration while new bearings in the 4T bikes boast increased service life. Servicing of 4T models is easier thanks to new head design.
New, unified motor position on all four-stroke models sees them mounted in the same position to improve the overall handling of every bike
Map Select Switch for the four-strokes is available as a Technical Accessory bringing traction control, a quickshifter, and a choice of two maps
Two-strokes have the option of a map switch only (also an accessory)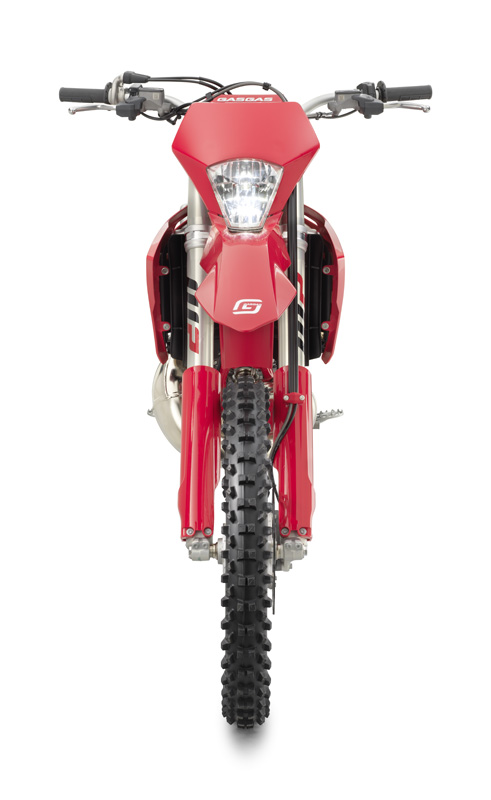 What to expect from the MY24 GASGAS Enduro bikes
Off the bat though we can see new styling and graphics sits on the new bodywork and a new seat giving the new bikes sweeter rider contact areas. Along with the new footpeg position, lower front headstock and bar position we're expecting it all to help improve control.
They've added the EC 450F and EC 500F, big-bore bikes "more suited to open going and flowy trails" they say but this will be a popular move for the riders who a) ride in more open spaces and b) those who want to take a big four-stroke trail riding, especially that 500.
The GASGAS models have always had the lower price tag in the Austrian bike range and that remains the case. But the Braktec brakes, WP rear suspension, and enduro-specific PANKL transmissions are all upgraded and the same spec as the Husqvarna models on the whole.
The difference is the GASGAS range is aimed at a subtly different kind of enduro rider than its brothers and as such that means the bikes are a little more user friendly. So the overall spec might be less "premium" than KTMs, specifically the XPLOR forks, but it is upgraded over previous models.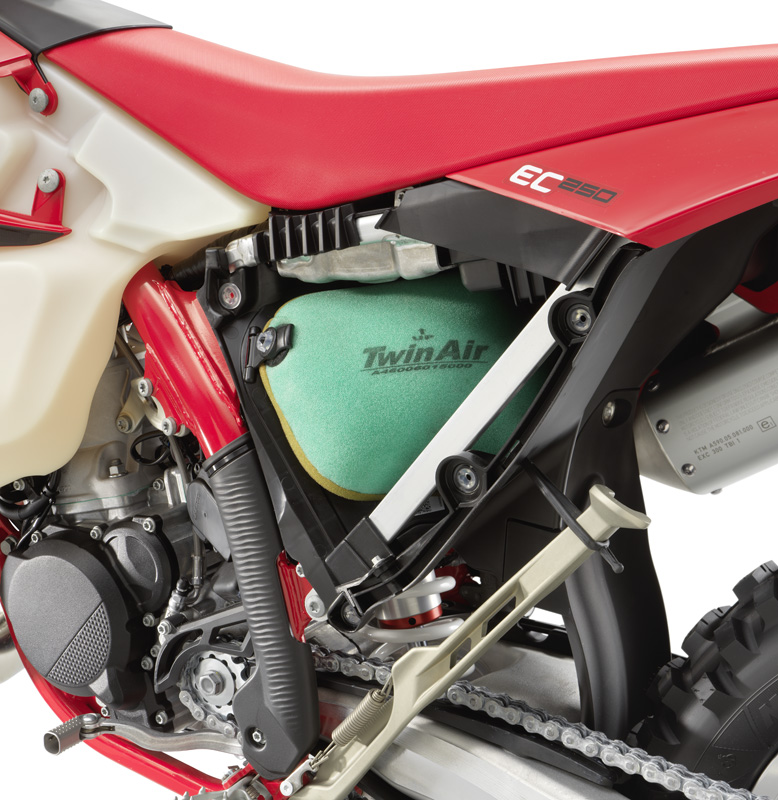 Those new chassis', the cartridge forks and reworked rear shock, front headstock in a lower position and overall handling improvements were impressive on the KTM and Husqvarna launches earlier this summer so we're expecting the same vibes from the GG models when we ride them.
With lower price points and good looks (apart from the silver rims and triple clamps), the GG models remain an attractive and "different" option for many – the same bike for a bit less cash, with linkage suspension giving you room to upgrade some parts if you want for the same money your mate on his KTM or Husky is spending.
Test report and videos coming to Enduro21 channels asap, stay tuned.
Specifications: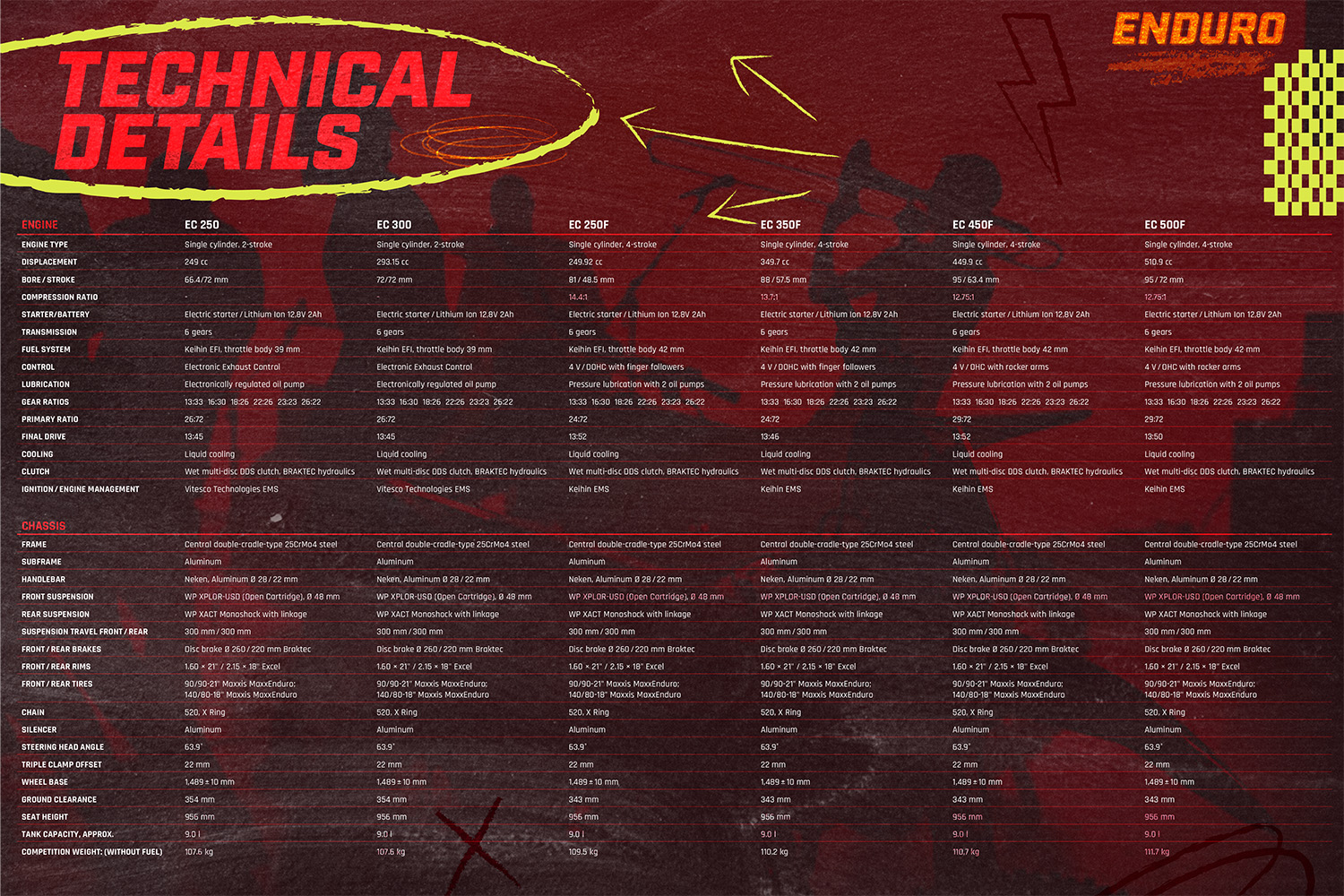 Price and availability:
Enduro riders will have to wait a little longer if you want a red one, with bikes landing in dealers from September 2023.
EC 250 - £9,049.00
EC 300 - £9,249.00
EC 250F - £9,549.00
EC 350F - £9,749.00
EC 350F - £9,849.00
EC 500F - £10,149.00
2024 motocross models, available from August 2023
MC 125 - £7,949.00
MC 250 - £8, 749.00
MC 250F - £9,149.00
MC 350F - £9,449.00
MC 450F - £9,749.00
$ and € prices not yet in our hands at time of writing.
More information: www.gasgas.com