First look: big changes for 2022 Honda CRF250RX
A full three kilogrammes lighter overall, more low-down power, a new frame plus "tighter" chassis geometry, more ground clearance and the return of the single muffler – the Honda CRF250RX has undergone some serious changes for 2022. Enduro21 takes a look at the finer details…
Honda's pattern with its off-road models is to alternate development between the 450 and 250s year-on-year. Last season it was the CRF450RX that received the all the development efforts to produce a bike which in reality is an off-road missile.
For 2022 model year it is the turn of the smaller displacement CRF250RX (Enduro/XC) and the CRF250R (MX) to get a complete overhaul. It's not a story of just a different fuel tank, a new sidestand and tweaked engine mapping. Though two 250 models share much in this complete overhaul, Honda has developed a new RX version that has its eyes on the fast test times, woods and rocky terrain much more than you might expect – Honda claim the new CRF250RX has "the largest ever experienced".
Enduro21 takes a detailed look at the changes for 2022 on the enduro model…
2022 CRF250RX highlights:
MXGP championship-winning frame from the 21YM CRF450R
Extensive cylinder head revisions and improved intake and exhaust changes (single muffler) improve low to mid rpm drive ("up to 15%") and increase top end power by 10%
Improved high-rpm cam timing accuracy and long-term reliability
ECU mapping, air/fuel mixture and ignition timing all revised and remapped specifically for the CRF250RX
Shallower angle fuel injector (60°)
Stronger, nine-plate clutch improves endurance with lighter lever feel
New gear ratios (to improve "roll-on snap") and a strengthened gearbox
New shift drum for smoother changes
More efficient radiator cooling
78% larger capacity airbox
New easier to access air filter
Less bodywork bolts for easy removal
Showa suspension with new valving to improve bump absorption, traction and control
New lighter bodywork with fewer bolts for faster removal
Handguards as standard
New shorter, lighter and 10mm lower (at the rear) seat
3kg (6lbs) weight saving compared to previous model
49mm Showa front fork with 5mm extra travel and more rigid axle clamps
Optimised spring rate and compression/rebound damping front and rear
Compact new seat design and plastics aid rider movement
New colours
Where to begin with this new red rocket? There's a lot to get through but let's begin with the powerhouse of this new CRF250RX the engine.
The CRF250RX shares the engine with its motocross sibling with the same peak power and low-rpm torque upgrade for this model year. But the RX gets special treatment with a host of changes to suit off-road.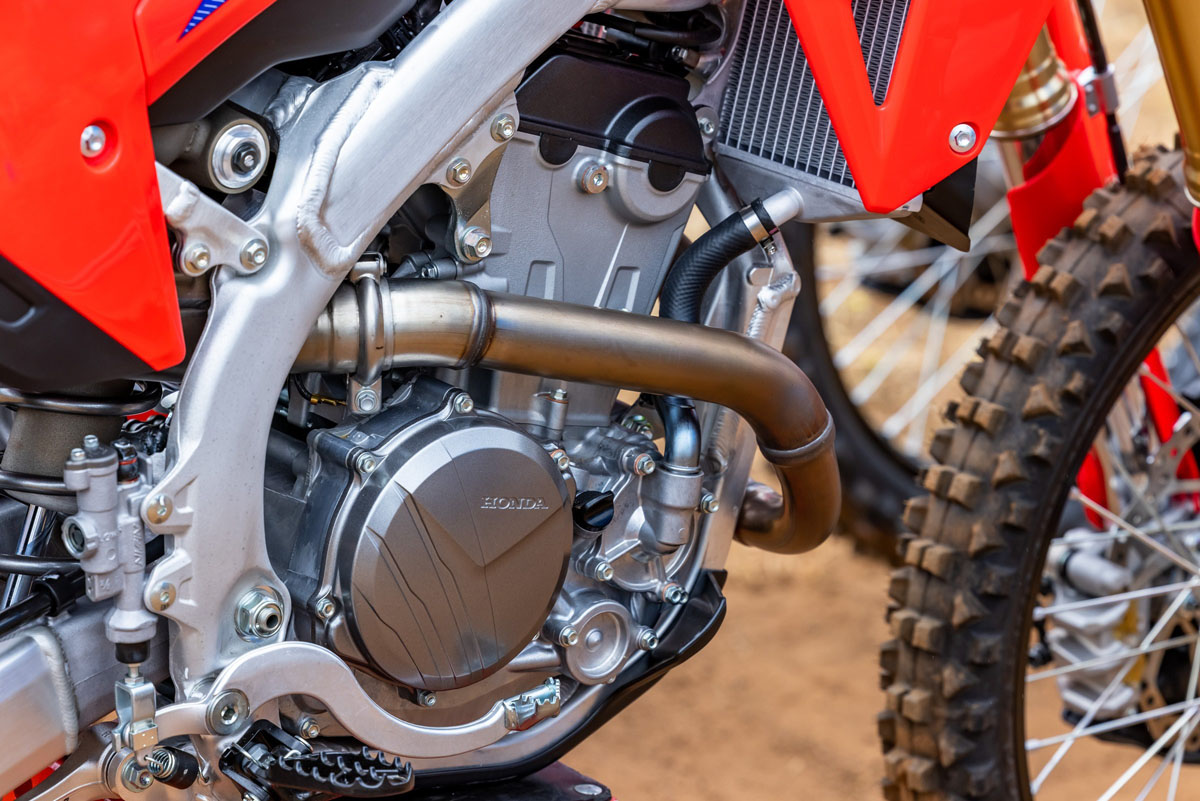 A 250 F which picks up earlier in the rev-range and has more torque at lower rpm is always welcome. Honda say the changes to the intake, cylinder head, porting, exhaust have all improved the power delivery on the 2022 model.
These changes are common across both R and RX models but the results should be meaningful between the trees. Increases of 10% more top end power and 15% torque across the rev-range will help reduce the gear changes, allowing you to hold the same gear for longer with more flexible power.
Low-rpm combustion stability – the techy bit
Gas flow in and out of the combustion chamber served as a main focus Honda says. A revised air intake funnel and cone tube, fed by a 78% larger-capacity airbox (now 4.1litres), an injector angle now set at 60° (rather than 30°) and a straight exhaust port mean air intake efficiency is improved, alongside air intake cooling. The air filter's also easier to access.
Improvements to the top-end of the engine are detailed and "myriad" Honda says; the intake cam sprocket is now press-fit, saving weight with more accurate timing accuracy. Double springs for the intake valves (rather than single) give extra high-rpm control. The oil's pathway to the camshaft journals has also been modified, alongside a more rigid camshaft holder and head to reduce journal friction.
Valve timing has also been tweaked to aid high-rpm performance while the piston and connecting rod design have improved efficiency.
Bore and stroke remains 79 x 50.9mm, with a 4.5mm cylinder offset to reduce friction and compression ratio of 13.9:1. The valves are titanium; 33mm inlet and 26mm exhaust. For greater off-road enduro riding performance, the FI settings have been remapped for smoother power delivery.
No more twin mufflers
One unavoidable talking point for the '22 CRF250s will be the switch back to the single muffler. There's a new downpipe which Honda says "allows a straight shot for the spent gases" and has new internal dimensions to help combustion stability and exhaust efficiency. The other main feature is the compact nature also allows a slimmer body and saves 1.7kg over the previous design. Seems obvious when they put it like that and makes you wonder why the twin pipes were a good idea?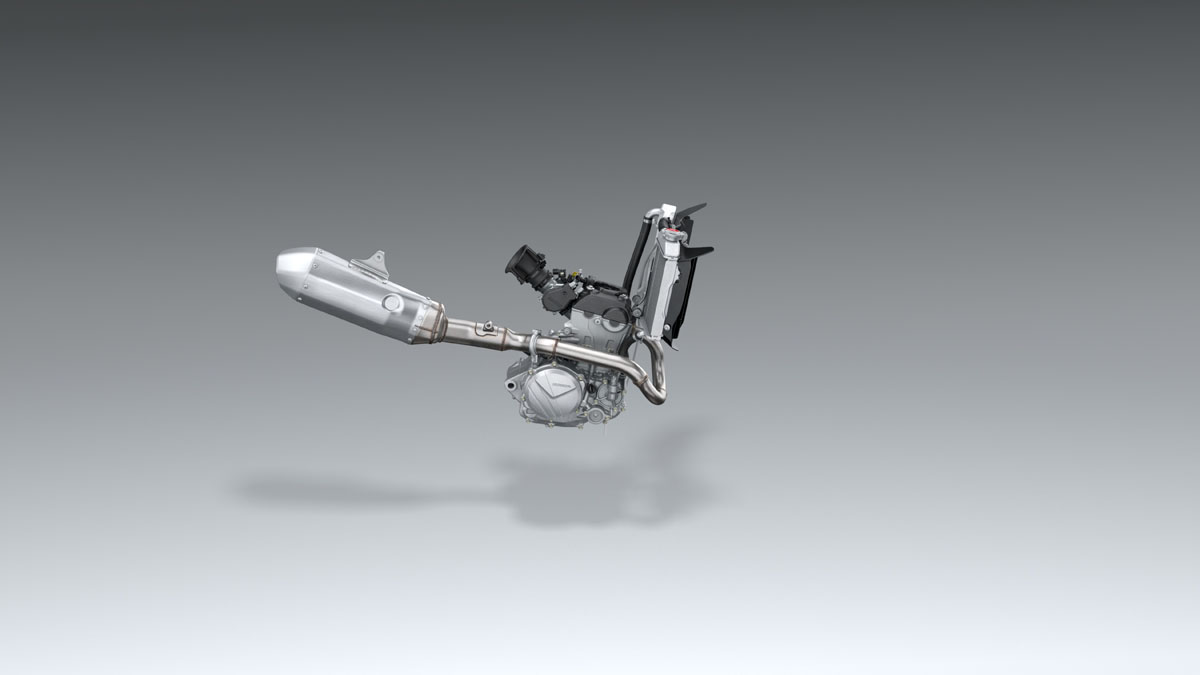 To cope with the extra heat generated by a harder-working engine the mounting angle and number of fins in the radiators have been adjusted. Fluid analysis, they say, has helped increase the surface area by 2% and heat radiation by 6%. Redesigned shrouds generate extra airflow too.
Other 22YM developments build-in extra levels of reliability including the thicker water pump gear to cope with higher-temperature oil. Oil pressure to the cylinder head has been modified to increase flow also and a five-hole piston oil jet maintains cooling and ignition timing.
The combined oil pump/drive gear is on the left hand side of the engine, with the oil filter on the right side – the oil's path around the engine is short and straightforward and the oil also lubricates the clutch and transmission with a total oil capacity of 1.35L.
The drivetrain has also received attention Honda says to "improve endurance, engagement feel". A 4% lighter clutch lever action will be welcome with the now nine plate clutch spreading the load. There's also an additional friction spring in the damper chamber, improved overall lubrication, new friction materials, new primary ratio and more rigid clutch centre which all contribute to higher performance and a 21% increase in endurance Honda claims.
Revised gearbox
To deal with the load applied by the new clutch, as well as maximise drive from any rpm, the gearbox features revised layout for extra strength. The ratios are also adjusted with first gear being taller, second a little shorter, third taller again and fourth/fifth both shorter.
If you're into the details then you'll be interested to learn a new shift pattern also uses one shift fork going up from second to third (rather than two) with two lead grooves rather than three and improved countershaft rigidity reduce friction.
The result in plane speak is a much better shifting feel between those two critical gears so commonly used. The shift drum is also 17% lighter and a gear position sensor allows the use of three specific ignition maps for 1st and 2nd, 3rd and 4th, and 5th. (more on the mapping below).
Slim, fast chassis
A three kilogramme weight saving is nothing to be sniffed at on a 250 four-stroke at any time but particularly these days when the increments of change each model update get smaller.
The input from Honda's race department, HRC, runs through the new 250R and RX but particularly in the chassis. Frame, swingarm, rigidity balance and geometry are all improved for "amplified cornering ability and ease of use" Honda says.
As already mentioned, the 2022 CRF250RX is equipped with the same chassis as found on the '21 CRF450RX. It is the bike which the likes of Tim Gasjer and Ken Roczen put to such good use in MX but is also winning at EnduroGP level with the RedMoto Honda race team. The step or three down to the rest of us mortals is a standard bike much easier to handle and live with although it must be said, the current CRF450RX is no trail bike, it is a rapid race bike and no mistake.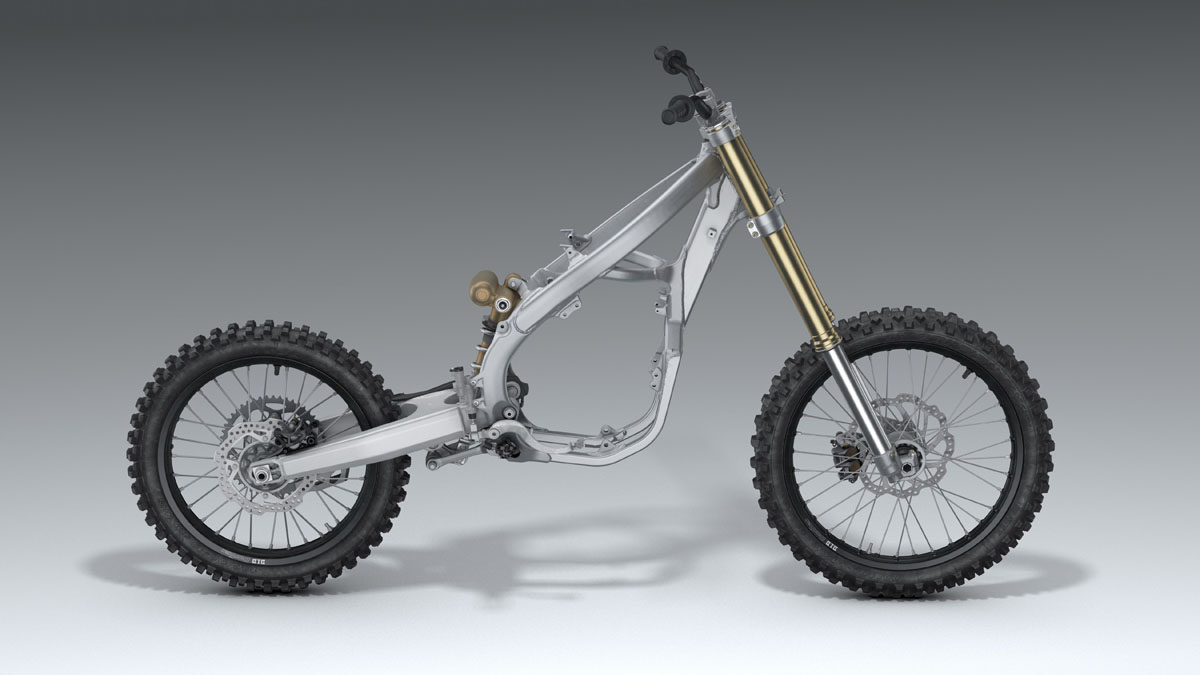 Switching back to the here and now, the '22 CRF250RX promises much with a significant weight saving. Thanks to narrower main spars the frame weighs 700g less than the previous design Honda says, plus a redesigned subframe also shaves off 320g.
The chassis "dynamic", how it handles and behaves is also new: torsional rigidity is unchanged but lateral rigidity has been reduced by 20% to increase corner speed, traction and steering accuracy. The swingarm pivot point and aluminium swingarm have "a new rigidity balance", basically are both tuned to match the new frame.
Chassis details:
Rake and trail: 27.9°/114mm (from 27.4°/115mm)
Wheelbase: 1477mm (from 1486mm)
Ground clearance 335mm (8mm higher)
Kerb weight is 108kg (claimed, 3kg lighter)
Broad suspension range and new yokes
The CRF250RX's suspension uses specific settings, simply a broader performance range compared to the CRF250R. Fully adjustable, the 49mm Showa USD coil spring fork is a version of the Showa 'factory' fork supplied to MX race teams in the Japanese championship.
The forks have been re-valved, the stroke lengthened by 5mm to 310mm and the axle clamps' rigidity increased to improve grip and rut ride-over ability. Honda has also lifted the bottom yoke position by 6.1mm to 928mm.
Both top and bottom fork clamps also have increased flex which Honda says gives sharper, more agile cornering and bump reaction.
The Showa rear shock has undergone some revisions also with new, larger main piston valving for faster response, smoother bump absorption and what Honda call improved "rut ride-over". The lightweight steel spring saves 120g also and the Pro-Link ratio is also revised to suit the new suspension and chassis.
Slimmer, easier access
How the rider moves around on a bike is important as we know and a new shorter, lighter and 10mm lower at the rear seat helps in this regard. It's also much easier to remove and install that new seat they say.
Overall the '22 CRF250 models are slimmer by 70mm (50mm on the left, 20mm on the exhaust side), and the plastics are thinner plus the tank cover has been removed.
Maintenance is also easier with the number of 8mm bolts securing the bodywork reduced from six to four each side.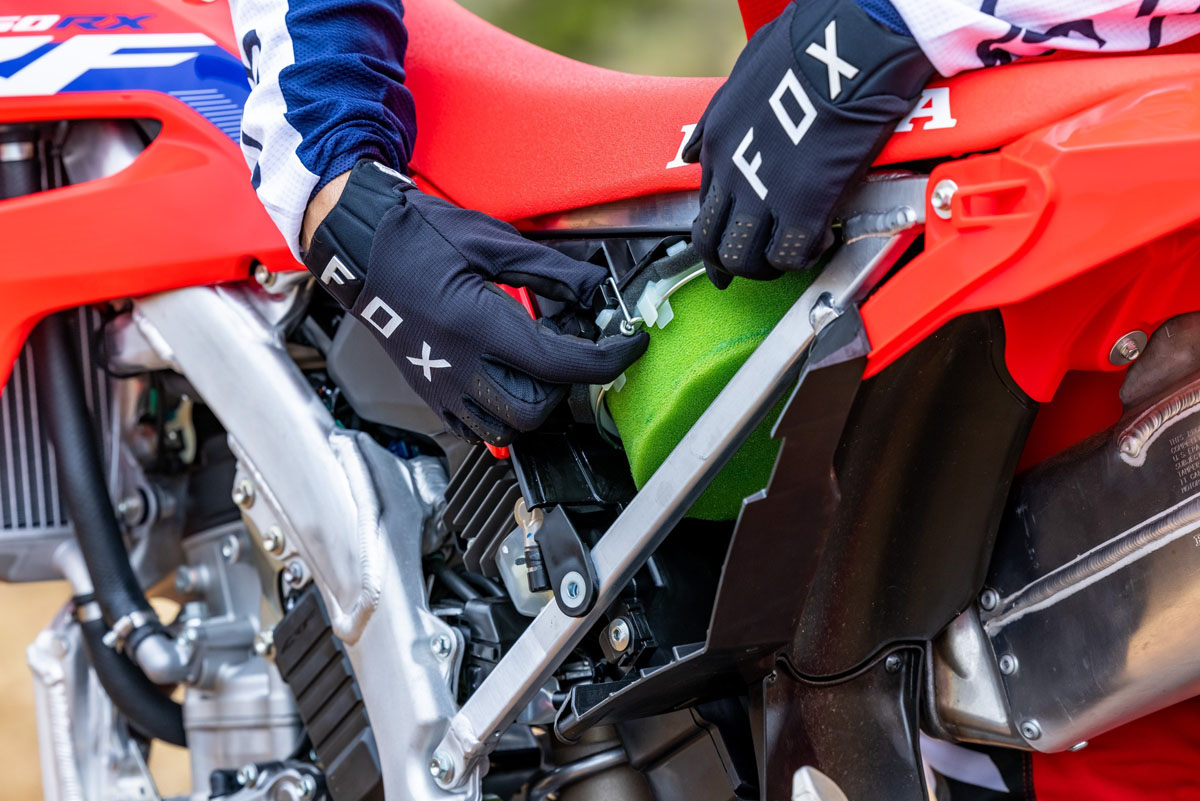 Computational Flow Dynamics (CFD) have helped in the redesign of the body work and specifically to improve airflow. The radiator shrouds are now constructed from one piece of plastic, rather than two and include a lower vent and the radiator grills are improved. Honda says they're also 17mm narrower around the eight litre plastic fuel tank compared to the 21YM machine.
Hand controls
Renthal Fatbars are standard fitment with two handlebar positions on the top yoke give you 26mm adjustment either way. The clamps can also be turned 180° and moved an additional 10mm which means four different riding positions.
A twin-piston brake caliper uses 30 and 27mm diameter pistons on a 260mm wave-pattern disc with low-expansion brake hoses. The single-piston rear caliper also has a 240mm wave-pattern disc. New for '22 are the handguards as standard to protect hands and levers while the forged aluminium sidestand is tucked away behind the left footpeg.
The CRF models use DID aluminium rims finished in black and in 21inch front and 18 rear sizes and Dunlop's enduro-ready AT81 90/90-21 front and 110/100-18 rear tyres fitted.
Electronics
HRC Launch Control remains standard fitment on the Honda models, rather than optional extras like some manufacturers. We've written about it before but in summary it offers three maps to adjust power character plus HRC's Launch Control system also with three settings:
Level 3 – 8,250rpm, muddy conditions/novice
Level 2 – 8,500rpm, dry conditions/standard
Level 1 – 9,500rpm, dry conditions/expert
The Engine Mode Select Button (EMSB) alters the engine's characteristics and three maps are available to suit riding conditions or rider preference:
Mode 1 (Standard)
Mode 2 (Smooth)
Mode 3 (Aggressive)
The rider controls and displays – engine stop button, EFI warning, EMSB mode button and LED indicator – are all sited on the left handlebar.
Technical summary from Honda USA on the new models:
2022 Honda CRF250RX technical specifications:
Engine
Liquid-cooled, 249.4cc, 4-stroke single DOHC
Bore x Stroke 79mm x 50.9mm
Compression Ratio 13.9:1
Oil Capacity 1.35L
Fuel Tank Capacity 8 litres / 2.1 Gal
Electric starter
Clutch Type Wet multiplate
Transmission Type Constant mesh
Final Drive five-speed, chain
Chassis
Aluminium twin tube frame
Dimensions (L´W´H) 2176 x 839 x 1281mm
Wheelbase 1477mm
Caster Angle 27.15°
Trail 114mm
Seat Height 964mm
Ground Clearance 335mm
Kerb Weight 108kg
Suspension
49mm Showa (Hitachi Astemo, Ltd) coil-spring USD fork, Showa (Hitachi Astemo, Ltd.) Mono shock with Honda Pro-Link
Tyres
Front 90/90-21 Dunlop AT81, Rear 110/100-18 Dunlop AT81
Brakes
Front 260mm hydraulic wave disc
Rear 240mm hydraulic wave disc
Availability is not yet set but prices are $8499 in the USA.
We need your support
If you've enjoyed this article, if you've found it informative, interesting, entertaining even, please support us.
We want to continue doing what we do, to the best of our ability, serving the enduro and off-road community.
Please consider a donation, every little helps…
Thank you.
More information including prices and your nearest dealer: www.powersports.honda.com/off-road/
www.honda.co.uk (link will take you to your European country)