Tested: 2022 Beta 300 Xtrainer – Off-Road made easy
"The perfect link between a play bike and an off-road race bike" – With a heap of changes for 2022 including a new, smoother 300cc two-stroke engine Beta's 300 XTrainer promises much. Enduro21 puts the popular "enduro lite" off-roader to the test.
It's hard to pin down Beta's Xtrainer model. Holding a position as a well-priced, easy to ride all-round off-road motorcycle in the Beta range, it has always been a hugely popular but how do we categorise it?
It's a detuned two-stroke engine makes all the right noises and delivers power in a more accessible way, making it popular with trail riders, newcomers and truth be known older riders. People who want an easier time with a milder mannered bike, a lighter clutch, lower maintenance and a decent price tag of course.
The power character coupled with a pliable chassis also makes the Xtrainer popular in some extreme and hard enduro quarters – you'll find Xtrainers lining up at events like the Red Bull Romaniacs. Like we said, it is hard to pin down.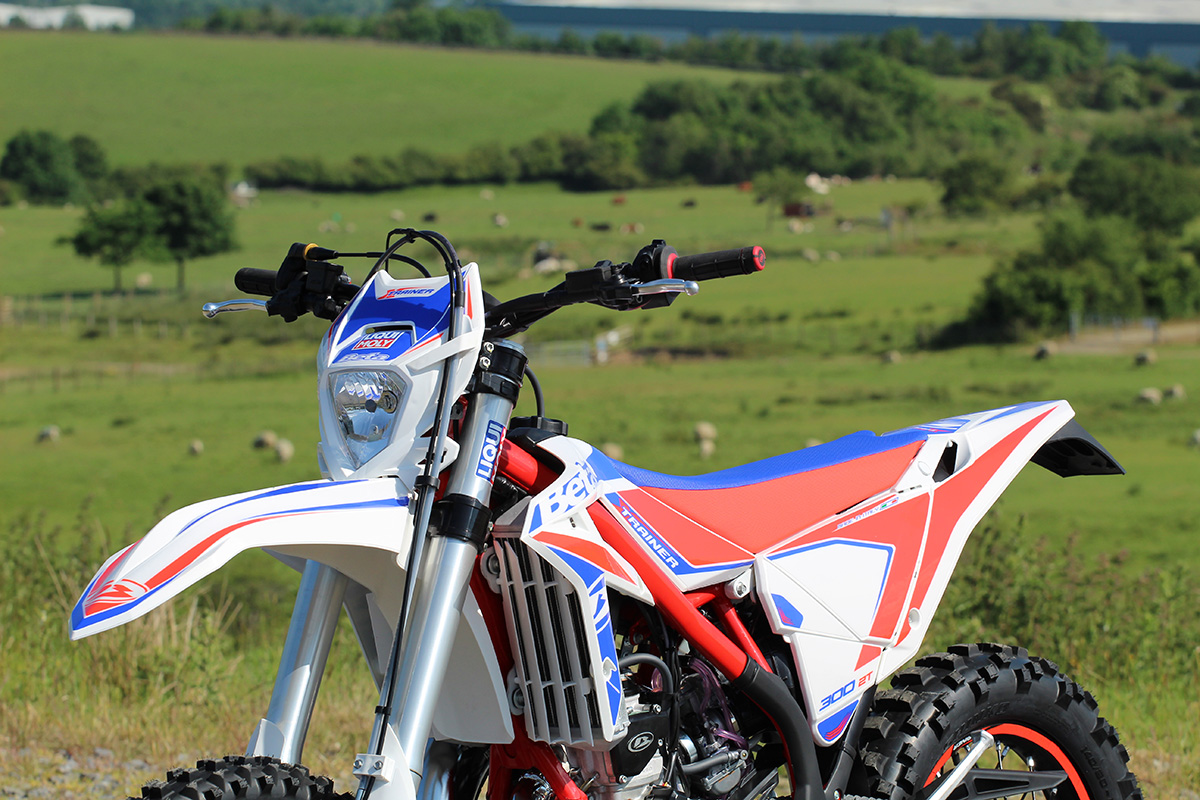 One thing is definitely true, Xtrainer's are well-priced and easy to live with. Under 100kg (220lbs) dry weight makes it easier to handle, plus lengthy maintenance schedules, relatively low running costs, adaptable and usable power and you have a winner. Add to that more than £1000/$1500 less RRP than the Beta RR 300 (£2000 less than a new KTM 300 TPi) it's not hard to understand why the Xtrainer remains a bike which sells so well in the dealers.
Lower price means lower spec in some parts and components of course – different tyres, brakes, suspension and chassis parts – but does it make that much difference if you're not a race head and just like going out for a ride with your mates? Let's find out.
What's new for 2022?
A new version of Beta's 300 two-stroke engine has been "completely revised" with an all-new, larger bore cylinder, a new piston and a new power valve.
A new shorter throw crankshaft, for a shorter piston stroke than the previous model a completely new cylinder head. There's also new engine mapping to match those changes.
Both 300 and 250cc models have a new clutch with diaphragm springs to makes the clutch action lighter and more progressive to reducing rider fatigue. Both engagement and disengagement have been improved, plus it's capable of transmitting more torque. Three different spring preload settings make set-up customisable.
Beta have updated the electrical system with a new layout to help reliability and make components quicker to remove and replace. There's new "extremely reliable" starter motor and of course new graphics and colour scheme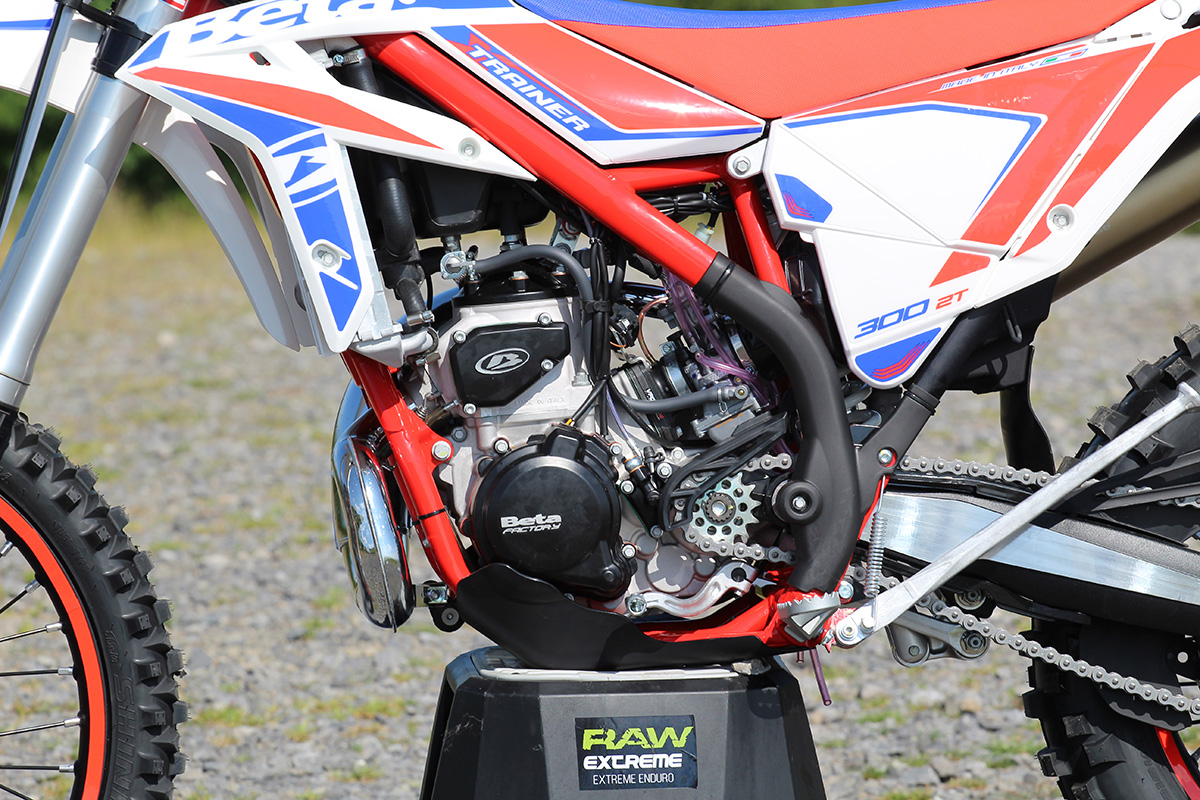 The proof is in the pudding
Jump onboard and it is easy to feel at ease on the Xtrainer. Like we aluded to in the headline, the feeling is immediately confident, riding seems easy on it. Our test took place at a open mountain venue in the care of Wayne Braybrook from RAW Enduro. Exploring the huge venue included open grass moorland, classic trails, rocky streams and intense rock gardens – it wasn't hard to stop thinking about the bike and enjoy the ride.
First impressions on a new 300 are that it falls a little further than 'normal' under your body weight on softer sprung suspension. With an already comfortable 910mm seat height and slightly narrower set of handlebars there's a feeling you're on a slightly different scale bike. For many people this is the first thing which hooks them, they feel like the boss when they try an Xtrainer and have that feeling of "I've got this".
Beta boasted a smoother and more progressive throttle response plus more linear power delivery on the new, 2022 300 Xtrainer and you can feel the difference. We had the benefit of the previous model 300 on this test and it is step change between the two models in terms of engine response. Power comes in smoother and the general feeling is more linear, more progressive – dare we say it, more like a four-stroke but thankfully with some 2T zip still lurking.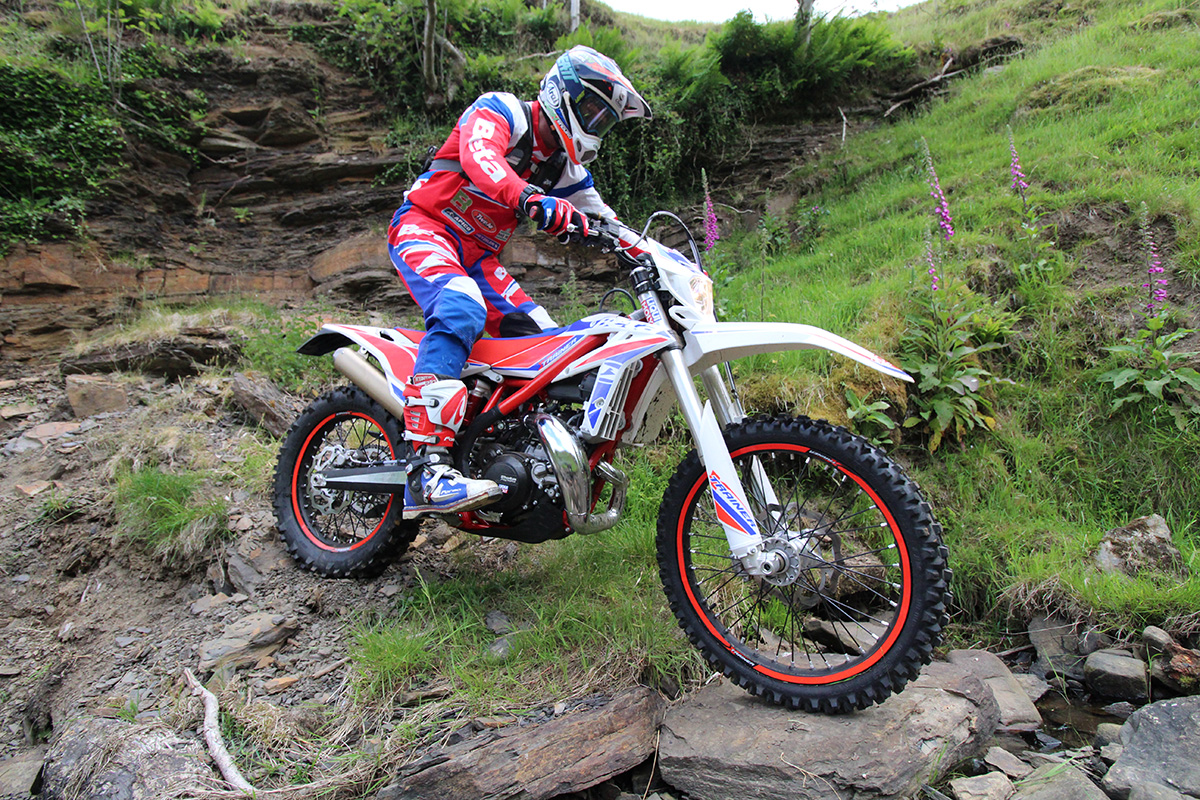 There's still plenty of power through the rev-range but the sharp edges have been knocked off further for 2022, sharp edges you associate with a full-blown 300 two-stroke which can be too much for some riders.
It still also has the torque you need to carry the middle gears and roll the throttle lazily without too many gear changes and in that way it is still useful as an all round bike. Stick it in the higher gears and it pulls like you want a 300 to as well. It's not a full-blown 300 2T capable of anything but it is a versatile engine, as happy of eating up the trail miles as it is picking its way delicately through a rock garden.
The Xtrainer trades on being easy to handle but that is enhanced by the new power delivery. It is happy right down low in the revs using small increments of throttle and plenty of clutch. The power is crisp too and is always there ready to go if you need a boost to get up a rock step or fire up a steep bank.
Clean living two-stroke
There's obviously been a whole heap of noise around KTM's TPi engines over the last five years or so. They are easy to live with than a carbed bike, cleaner running and very fuel efficient. But Beta (among others) have had clean living bikes which don't need premix and sip their fuel for years too.
Oiled up plugs? Smoking exhaust? There's none of that with this Xtrainer either despite spending a good amount of time chugging low in the revs along rocky stream beds on this test.
We tested the fuelling by turning out the steep-sided, rocky gulley and up a slick, grass bank – typical a place to find a fluffy throttle and a heap of blue smoke hampering progress. But the Xtrainer ran clean, initially accepting the clutch pull and burst of revs to get momentum and then happily dropping right back to low revs again to feel for rear grip.
At times like that you appreciate the linear power delivery of the Xtrainer. A 'normal' 300 two-stroke here would be harder work as it moved through its peaky rev-range, surging and spinning easily if not careful. The new 300 Xtrainer makes controlling the rear tyre grip easier.
Many people buy a 300 enduro bike and then spend hundreds on different cylinder heads, remapped ECUs and flywheel weights to tame the power. Spend all that money? You wonder why after riding this bike.
There never seems to be any fluffing or need to clear things out with a blast of throttle to fill the air with blue smoke either. It runs clean and on our test proved Beta's separate oil and fuel system works.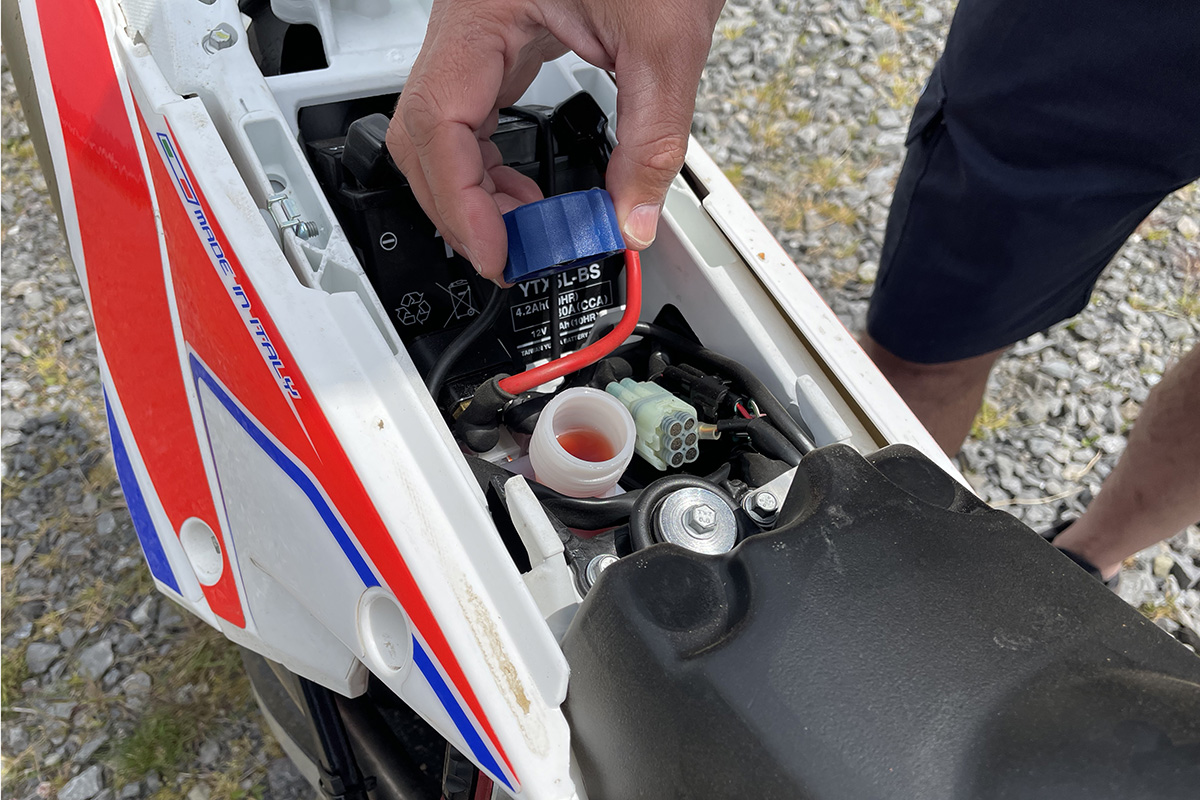 Pop the seat off easily via the lever in the side panel (no retaining bolts here) and you get to see the oil reservoir for the fuel mix system (above). Amazingly, after all the hours riding we were riding, the bottle looked basically the same as it did when we started.
One fact learned on this test is the Beta system is programmed to run leaner when you're riding low in the revs and use more when you're asking for more gas. It can go down as low as 90:1 or jump right back to 40:1 if you're pretending to be Brad Freeman in a Cross test.
It has always been an option to remove the separate oil system with Betas (not just the Xtrainer) and run premix fuel in the tank. But honestly, after this test we're not sure why you would.
The new clutch
A lot of our test was spent at slower speeds and in trail-like conditions, trying to replicate the kind of riding most people who buy the Xtrainer might be doing.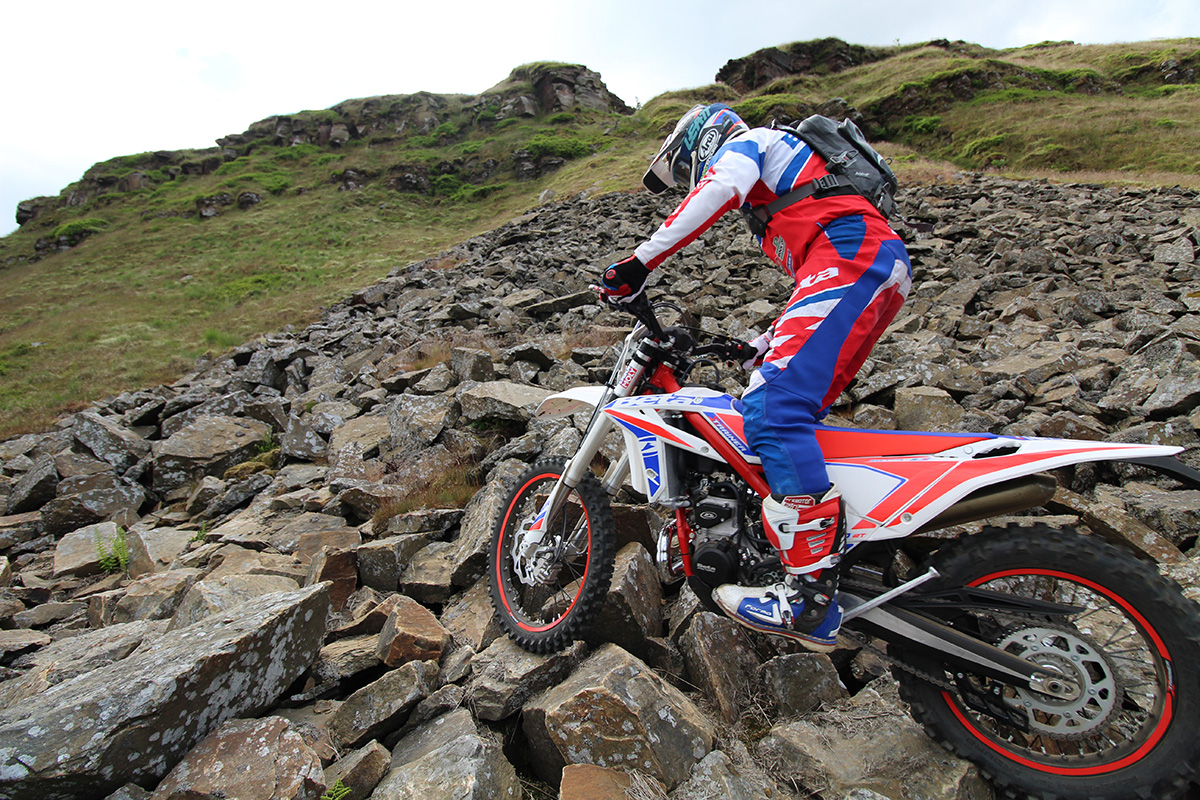 When we did get into the technical stuff, the more extreme riding, it was good territory for testing the new, lighter clutch. It was never a heavy one on the Xtrainer but for riders who want an easier time for their left forearm you'll struggle to find a lighter one on a big capacity two-stroke than this. Despite some heavy work at times it remained consistent with good feel at the lever all day too.
Lower spec suspension?
It is obvious to say that most people buying this bike, it's 250cc sibling and the Xtrainer's predecessors don't ride like EnduroGP world champions. Nor indeed anything like that which his why the few lower grade components on the spec list don't matter to them.
The suspension is softer and more springy than the RR 300 Racing model, naturally, and if you go to an enduro event you could well find its too soft and springy as the course demands more from the bike. But for normal, everyday riding like we did on this test? It's fine and though it does not have a huge range of adjustment, it really doesn't matter if all you're worried about is having a nice ride.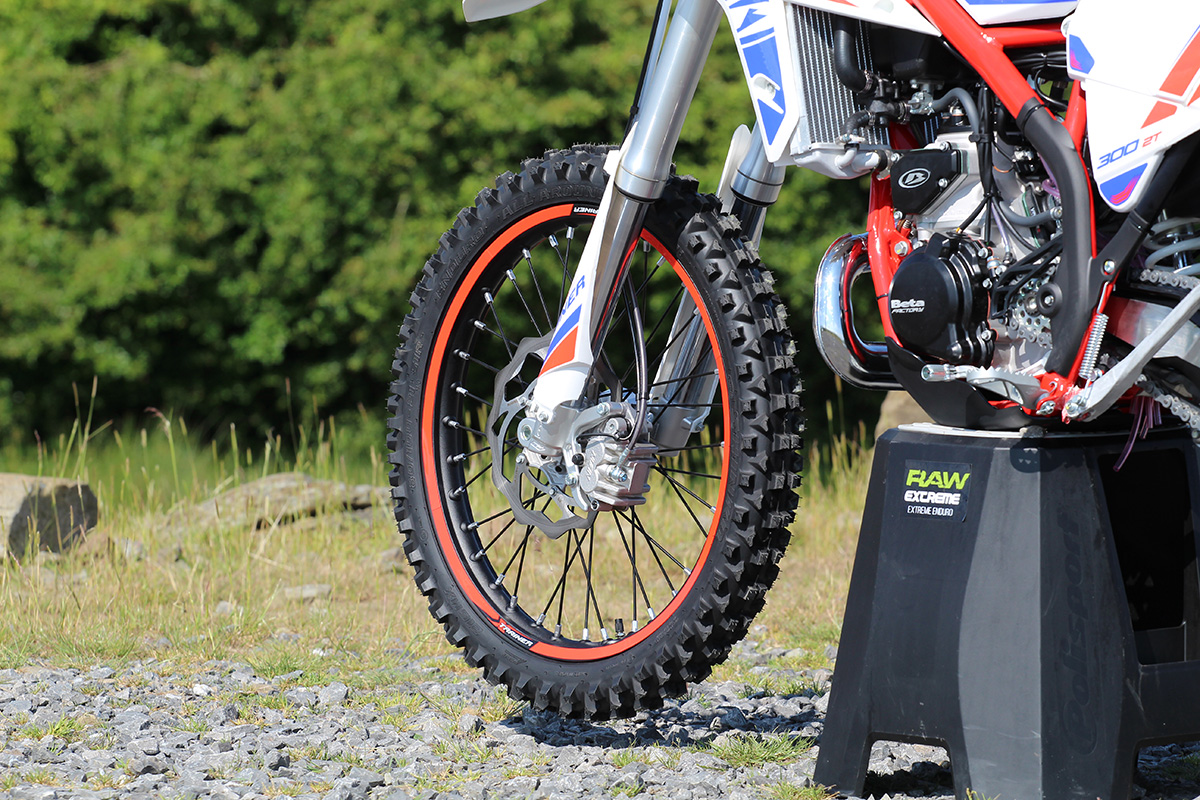 We came away from this test convinced the Xtrainer brake system was a different spec to that found on the Beta RR models, cheaper parts and originally had a whole heap of words about how you may want to look at them if you planned on racing epic hard enduros like Romaniacs.
We stand corrected. Which explains why in reality we had no complaints on the day of this test with stopping power. They are the same as the RR models and as one Enduro21 reader quickly pointed out, these Nissin brakes work just fine at Romaniacs thanks very much.
We'd better mention the tyres
The Shinko tyres fitted as standard to the Xtrainer are going to be a talking point no matter what we say here. It makes a difference which tyres you use in different off-road situations and of course some are better than others.
Generally speaking, a cheaply manufactured tyre from whichever country (often China but not always) is not going to be as good as the current, highly developed and widely used black hoops from Dunlop, Pirelli, Michelin, Metzeler, Kenda et al.
Needless to say the Xtrainer's tyres aren't as good for outright grip or feel as those but the tread is there and to a large extent so is the grip. They are fine for trail riding and though they lacked a bit of grip when braking or on the rocks, a softer mousse inside would have made them better.
We wouldn't chuck away a new set of tyres like this or be put off a bike altogether because of a brand name we don't recognise.
Enduro21 verdict:
With its nice, light clutch, pliable chassis and smoother, linear 300 two-stroke engine we got off the 2022 Xtrainer wanting one to ride in extreme enduro. It has a feeling all to itself and tricks you into thinking it is a big, enduro-shaped trials bike.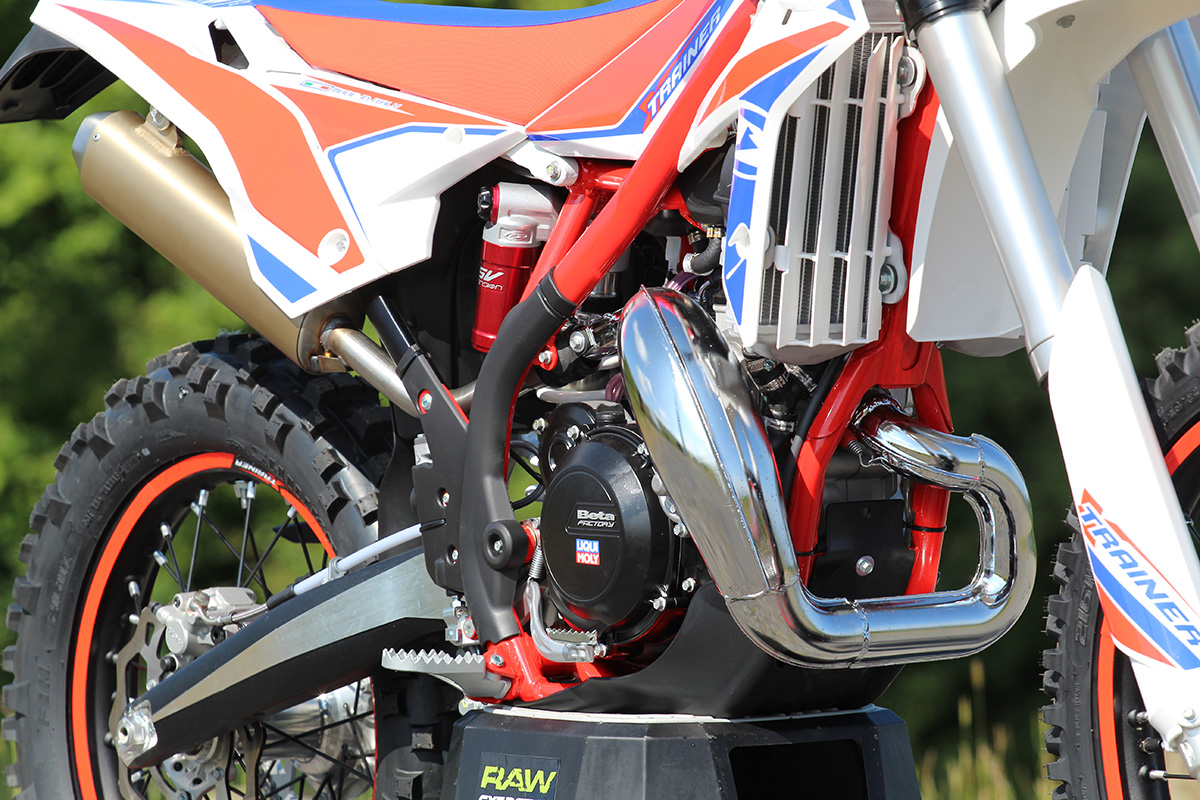 The new engine is key to it. Beta has delivered the benefits of a 300 two-stroke but made the power more manageable for every kind of rider. That's not to say it is no good for an expert, I spent the day riding with Wayne Braybrook, a former winner of Hell's Gate Extreme Enduro (to name just one) and Wayne uses an Xtrainer as his own bike on his training schools and for marshalling at events. It's not the bike for a rider of his level at a major race but your average rider would be better off with an engine like this to get through an event like Romaniacs.
So many thousands of happy customers who bought them already can testify the Xtrainer is straight out the box ready to go trail bike. The changes for 2022 300 model have improved the linear engine character and that is be a benefit in most situations. It's more controllable and ultimately less tiring to ride – partly also due to that new clutch.
Is this "the perfect link between a play bike and an off-road race bike"? Literally anything you might do on any 'normal' enduro bike seems easier. No it won't wrip through an enduro test faster, of course not, but you're not going to buy this bike to do that on.
If you can get a test ride on the Xtrainer 300 and feel what it's like for yourself then how well it works across a wide range of riding might just surprise you. For our money, the 2022 300 model is a blend of play bike and race bike all in one.
2022 Beta Xtrainer 300 technical specifications: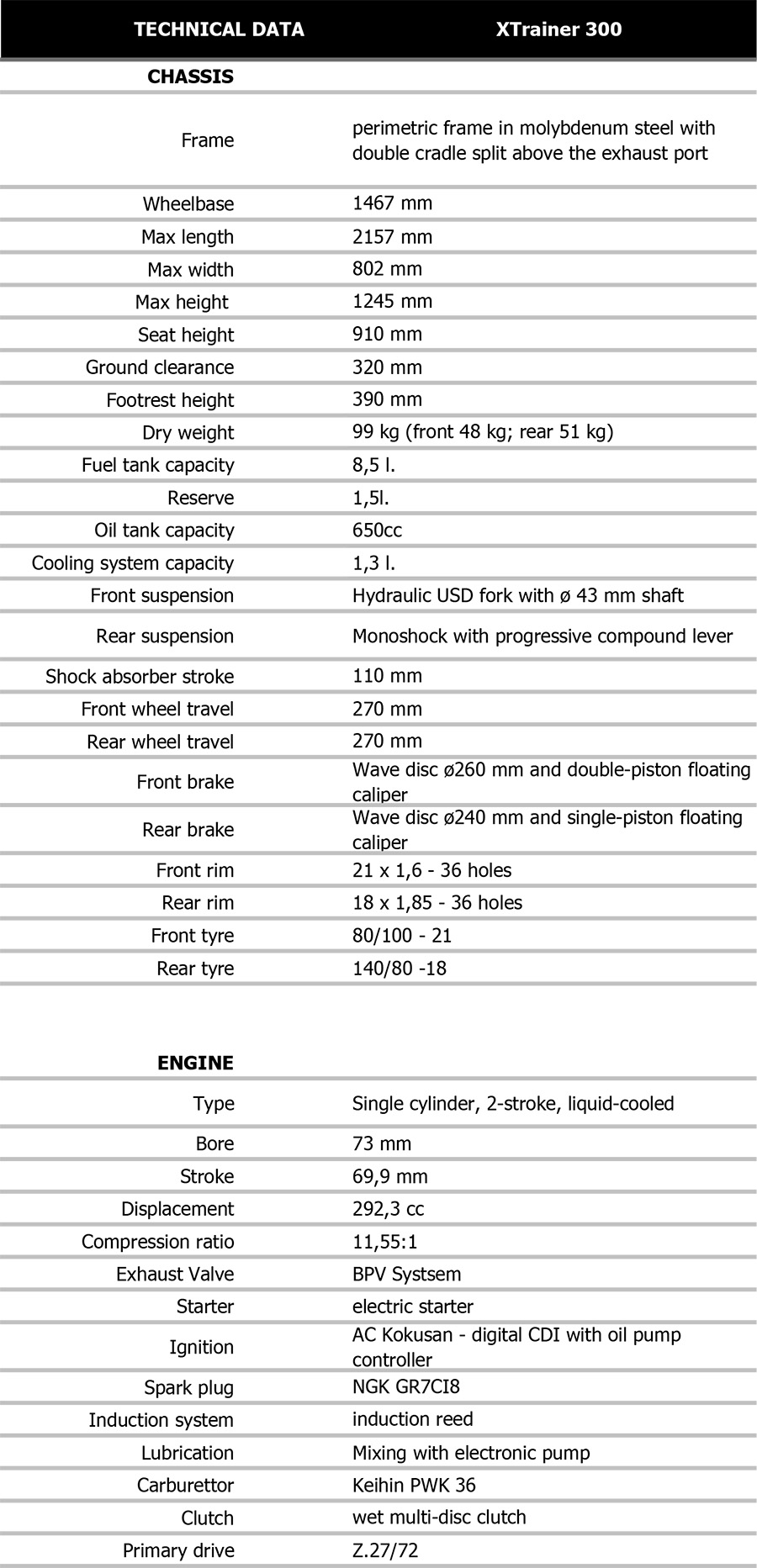 We need your support
If you've enjoyed this article, if you've found it informative, interesting, entertaining even, please support us.
We want to continue doing what we do, to the best of our ability, serving the enduro and off-road community.
Please consider a donation, every little helps…
Thank you.
More information: www.betamotor.com, www.beta-uk.com or www.betausa.com
Photo Credit: Enduro21