First Look: YAMAHA Ténéré 700 Rally Edition
Yamaha are celebrating their iconic 1980s Dakar Rally heritage with a special 'Rally Edition' version of the hugely popular Ténéré 700 Adventure bike…
Since Yamaha launched the Ténéré 700 it has quickly established itself as the best-selling middleweight adventure bike in Europe with over 8,000 units sold to date. At Enduro21 we don't spend a lot of time on Adventure bikes but from the time we have, the latest Ténéré has a character which stands apart from the other big capacity bikes on the market – this ain't no dirt bike but it sure doesn't suffer from the same girth issues some have. It's also a good price by comparison to its rivals in the showroom.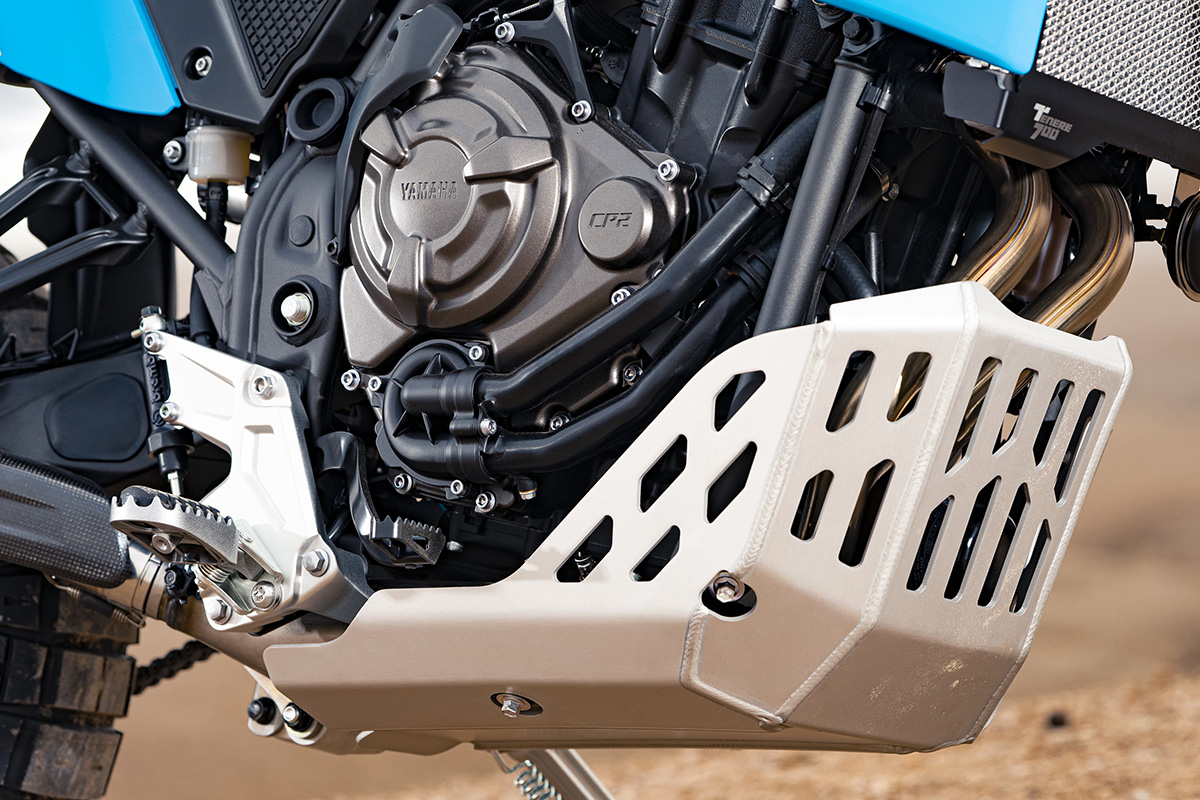 Yamaha is building on that success of the new model Ténéré 700 with this Rally Edition model celebrating those iconic years of Dakar Rally in Africa and arriving with a host of additional components to up the off-road anty.
Ténéré 700 Rally Edition highlights
Iconic heritage colours with historic Dakar factory race bike influence
Enhanced Rally feeling from Rally Seat, tank grip pads and off-road handlebar grips
Lightweight Akrapovič slip-on muffler
Extra protection from the heavy-duty skid plate, radiator guard and chain guard
Durable LED flashers front and rear
689cc, four stroke, CP2 engine delivering high levels of linear torque
Lightweight and durable double cradle tubular steel frame
Slim, compact and ergonomic body
Aggressive rally-bred face with 4 x LED headlights
Adjustable long-travel front and rear suspension
Tough and lightweight 21 inch/18 inch spoked wheels with adventure tyres
Switchable ABS for on the fly adjustment
Heritage Rally colours
Launched in 2019, the Ténéré 700 is the result of one of Yamaha's most intensive development programmes that involved some of the world's leading rally raid riders testing and evaluating the prototypes in a wide range of terrain all over the world. With its compact and agile chassis as well as a characterful and torque-rich, 689cc, CP2 engine, this best-selling middleweight adventure bike delivers off road performance with long distance comfort on the highway.
Proudly assembled in France by a dedicated workforce alongside the Ténéré 700, the new Ténéré 700 Rally Edition features a special blue and yellow livery that pays homage to the Yamaha race bikes ridden by JCO and Serge Bacou in the '83 and '84 editions of the Dakar rally.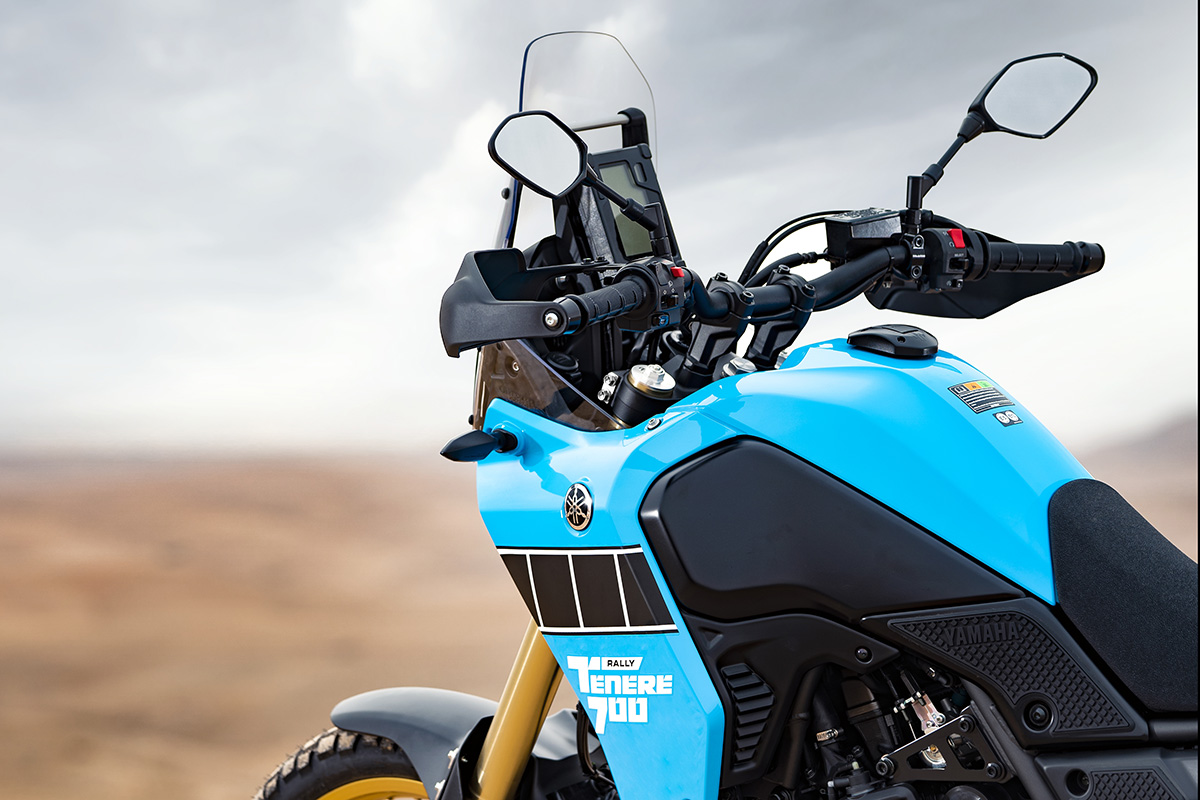 Yamaha lovers will recognise the iconic design from the XT600Z of 1983. Black Yamaha speedblock graphics reinforce the historic look, making this an authentic tribute to the men and their machines that inspired so many riders to travel beyond the next horizon in their search for new adventures and lasting memories.
Increased protection
The Ténéré 700 Rally Edition has a higher specification as standard including a 4mm aluminium, heavy duty skid plate protecting the engine and lower frame tubes, and which also features a tool box mounting point. The black aluminium radiator protector is designed to prevent the ingress of small sticks or stones – and the laser-cut aluminium chain guard enhances the premium style of this special edition model.
Rally Seat
The exclusive one-piece Rally Seat runs straighter under the rider and gives a 20mm higher riding position at 895mm. Its dual material construction also has the white Yamaha logo complements the iconic heritage colours.
Akrapovič slip-on muffler
The 689cc, CP2 engine is fitted with an Akrapovič slip-on muffler emitting a richer and throaty sound that Yamaha says enhances the high-torque sensation when accelerating. This lightweight can is fitted with carbon heatshields.
LED lights
The Ténéré 700 has distinctive headlight configuration as standard and the new Rally Edition adds compact LED flashers at the front and rear for a sleek look to this edition.
Grip pads
Special rubber grip pads on the tank sides come as standard on the Rally Edition. They provide added knee and inner thigh grip while riding. The new model also has more off-road spec handlebar grips.
Yamaha got the apps to match
Yamaha's free MyGarage app is a quick and easy way to build a virtual Yamaha online and experiment with different combinations of Genuine Accessories and see which components work best for you on a bike. Using the MyGarage app anyone can create their dream version of the Ténéré 700 Rally Edition and view it in from any angle in high definition.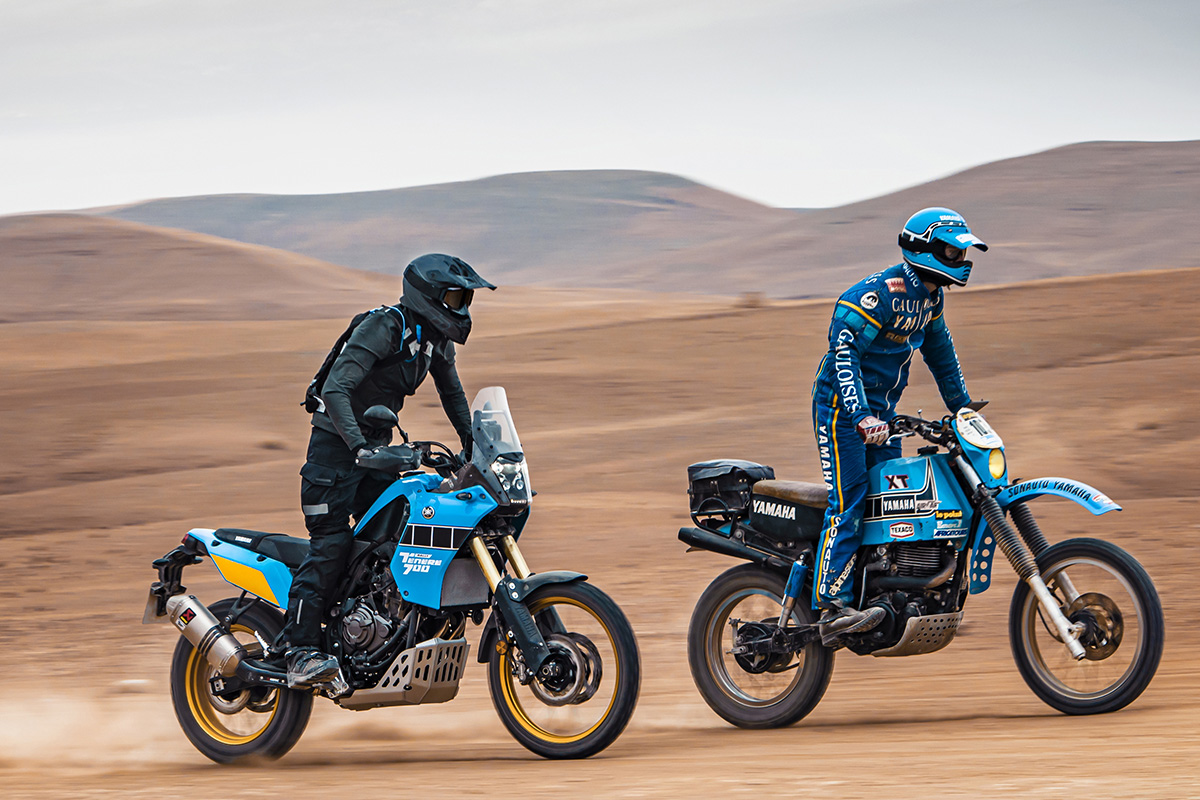 The MyRide app enables Yamaha riders to track every ride and record a variety of data including lean angle, acceleration, top speed, elevation changes and distance covered. Images can be added to the trip data and shared on social media, and information can be saved and stored under the customer's own account. It's the best way to add another dimension to every ride and allows riders to rediscover their favourite journeys.
Colours: Sky Blue and black speed block only.
Price and availability: The Ténéré 700 Rally Edition will be available at Yamaha dealers starting in July 2020. Contact your national Yamaha dealers for more information on the local price.
More information: Yamaha-Motor.com or Yamaha-Motor.eu
Photo Credit: Yamaha
We need your support
If you've enjoyed this article, if you've found it informative, interesting, entertaining even, please support us.
We want to continue doing what we do, to the best of our ability, serving the enduro and off-road community.
Please consider a donation, every little helps…
Thank you.