First look: Yamaha Ténéré 700 World Raid
Yamaha has officially presented the new Yamaha Ténéré 700 World Raid, an evolution of the hugely popular T7 model but with more off-road bias with upgraded KYB forks, better protection and a 500-kilometre range fuel tank.
Just three months after Yamaha released details of their Yamaha "prototype" Ténéré 700 Rally Edition at the EICMA international bike show, the Japanese brand has officially launched the new 700 World Raid.
The new T7 is "equipped to go further than any previous Ténéré" and be a more capable adventure bike according to Yamaha. And the truth is the upgrades over the standard T7 are not huge but they are significant: upgraded new KYB forks and rear shock, lower seat height, an aluminium skidplate and a new 23-litre dual side-mounted fuel tanks.
Yamaha Ténéré 700 World Raid highlights:
23 litre capacity dual side-mounted fuel tanks
Flat Rally inspired two-piece seat
5" colour TFT meter with mobile notification connectivity
USB type A
3-mode switchable ABS
High specification 43 mm KYB front forks, 230 mm travel
Öhlins adjustable steering damper
Aluminium piggyback rear shock, 220 mm wheel travel
High windscreen, easy to remove side deflectors and LED flashers
Fully new cockpit area and new front cowling
New larger rider footrests with easy-to-remove rubber inserts
3-piece aluminium engine guard
New aluminium die-cast engine support
New radiator grille
230mm suspension travel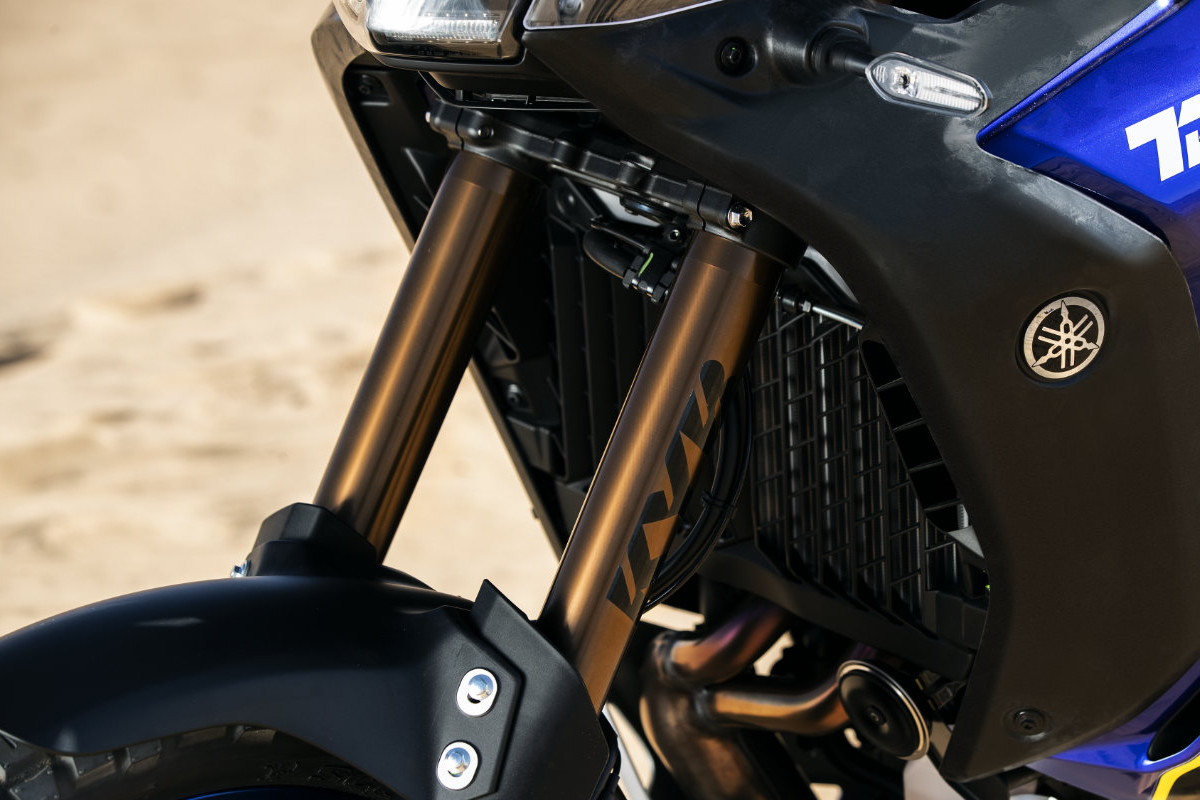 One of the things that many Ténéré 700 owners were looking forward to with this upgraded model was more capable suspension off-road and Yamaha has listened to these requests equipping the World Raid with a KYB 43mm front fork with 230mm of travel – 20 more than the standard bike.
The fork can be adjusted in spring preload, rebound and compression damping and the outer tube has a saucy 'Kashima' coating with a distinctive bronze colour which KYB say reduces friction.
The rear shock is also a new design with a separate oil reserve plus an extra 20mm of travel compared to the standard T7 which can be adjusted in spring preload, compression and rebound.
Additionally, Yamaha has fitted this Ténéré with a rubber bump stop on the suspension to improve the energy absorption in case of bottoming it out (if you're trying to be like Pol Tarres).
Lastly, they have also fitted an Öhlins steering damper which is mounted next to the top triple clamp with 18 different damping setting easily adjustable to adapt the T7 to rider preferences or terrain.
23 litre tanks with 500 kilometre range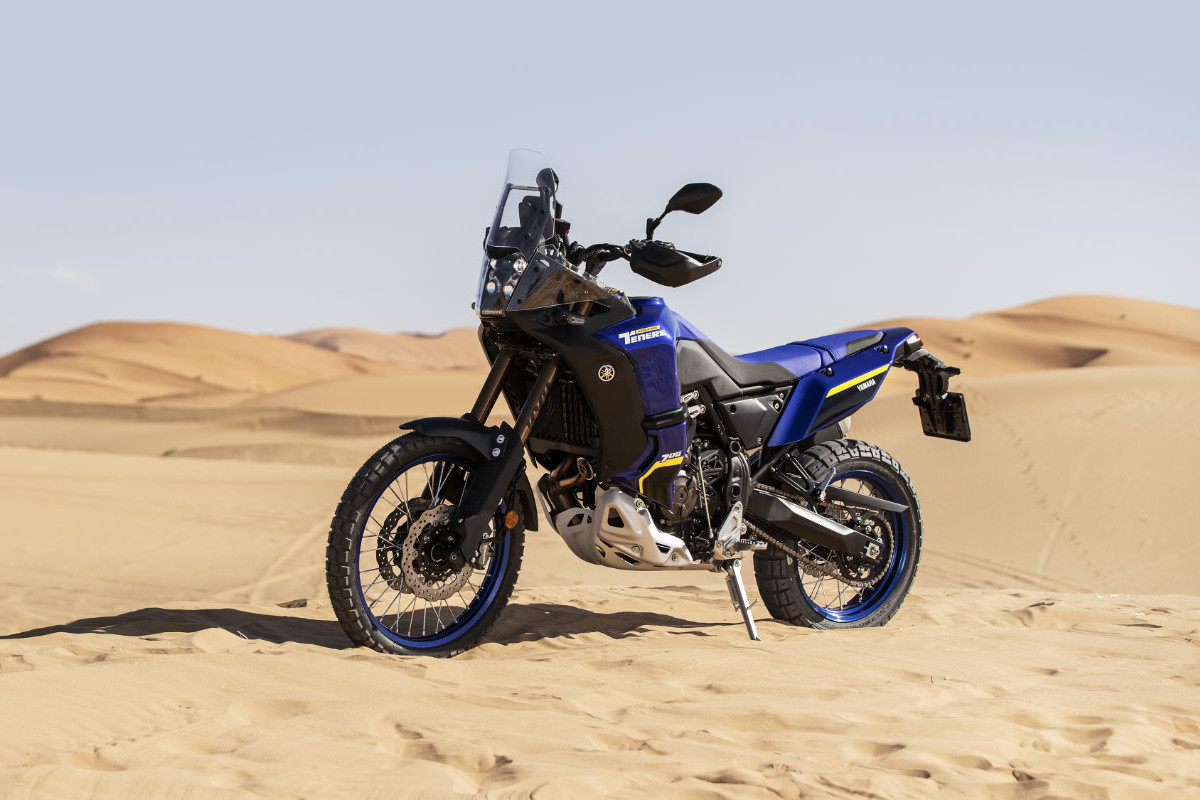 The most outstanding feature of this Ténéré 700 World Raid, apart from the suspension, is the dual side-mounted fuel tanks that boost the fuel capacity up to 23 litres giving this new bike a healthy 500km range according to Yamaha.
They opted to mount two tanks with a fuel pump in the lowest part of one of them to maintain the centre of gravity as low as possible and keep agility as one of the main characteristics of the Ténéré 700.
Yamaha point out that dual tanks also help keep the fuel more stable and avoid waves sloshing about inside. Interestingly, the highest point of the new tanks is lower than the one on a standard T7 so the gap between the fuel tank and the seat is also lower.
Better control with new seat and footpegs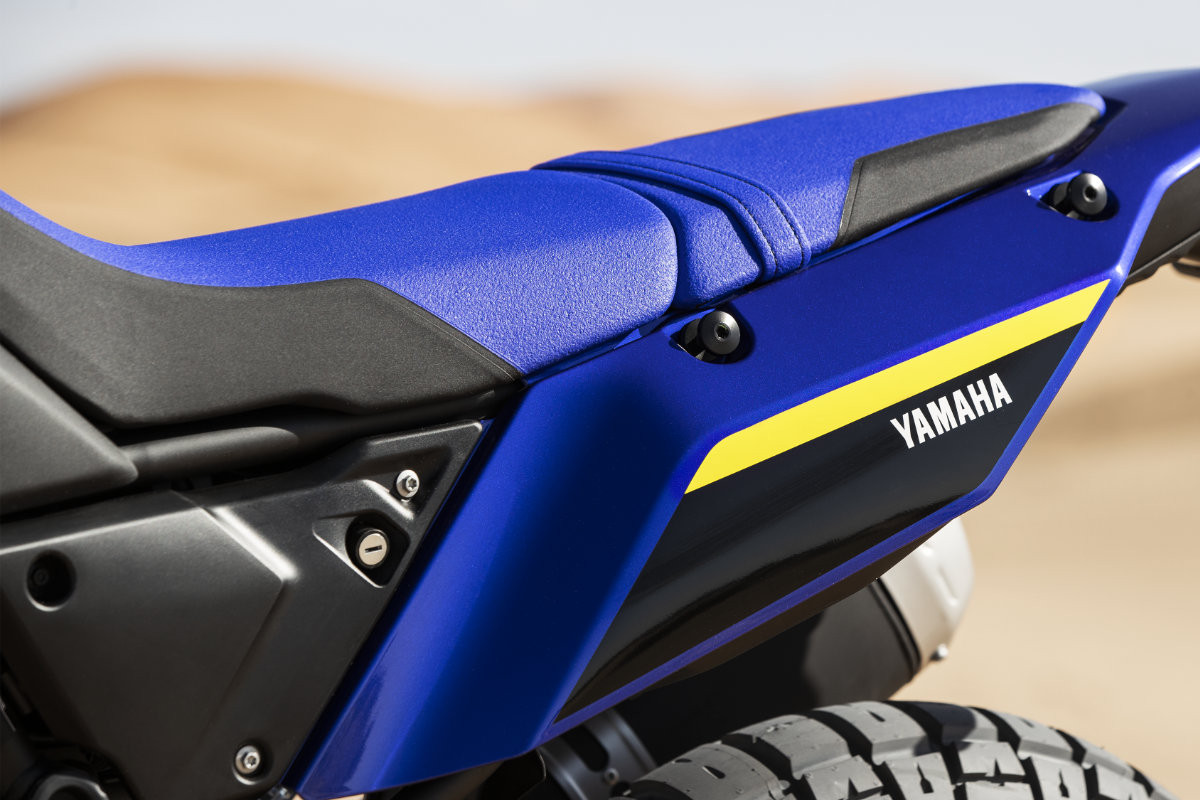 This has led to a new seat height of 890mm with a flatter surface that enhances the rider ergonomics while riding sitting down of standing up, Yamaha says.
This seat has two types of leather, one with high grip in the centre, and another a smoother zone to make moving on the bike easier. The rear section can be removed to install accessories or carry your luggage as well.
There's an emphasis on better rider control on the new Ténéré model and bigger footpegs help here too. They come fitted with rubber inserts as standard but you can take them out easily enough to get a similar look to the ones used in rally racing Yamaha says.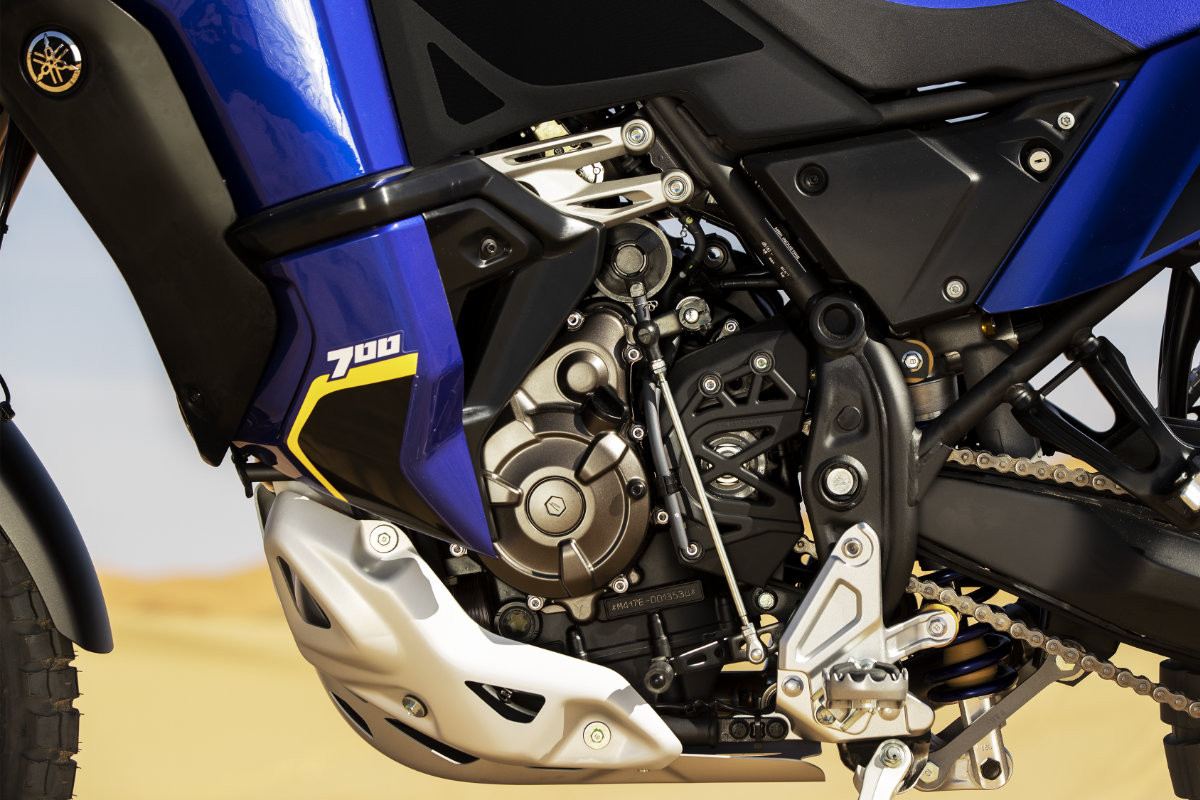 Protection is another key aspect if off-road is your thing and this hasn't gone unnoticed to the Japanese brand which has fitted a three-piece, aluminium skidplate and a radiator grill with vertical louvres, like the ones in the Yamaha off-road bikes, to protect the bike from different elements
The air filter box has also been redesigned for a better protection against dust and other elements with a forward-facing intake.
TFT 5" screen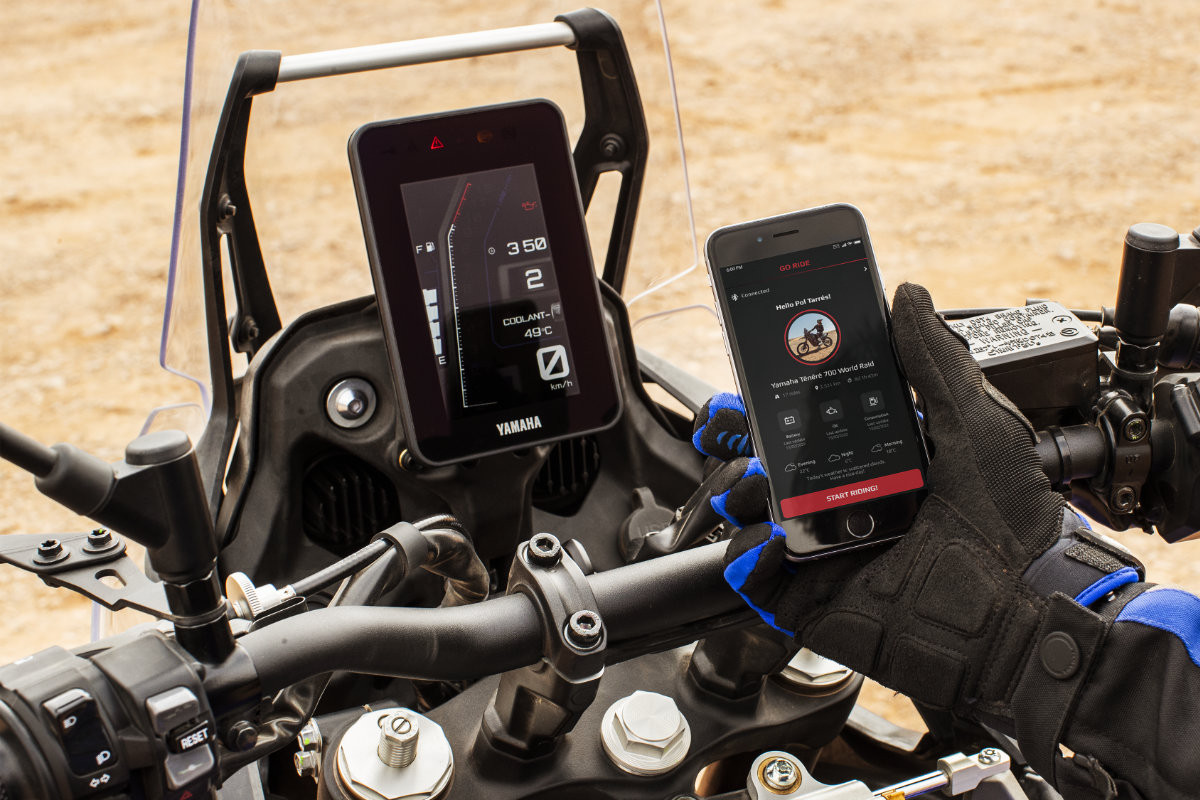 The new Ténéré 700 World Raid has a TFT screen that can be connected to our Android or IOS phone to receive text message and incoming calls notifications. Additionally, with the MyRide app you can save your routes and look at the statistics such as total distance, altitude, maximum speed, average speed, acceleration and lean angle.
This screen has the modes: the 'Explorer', which provides all the bike's main data; the 'Street' that has a conventional looking speedometer; and the 'Raid', designed to look like the roadbooks and features two independent tripmeters to see the distance to the next waypoint.
Three ABS settings
In their goal to make the new T7 more suitable for long journeys the ABS has been upgraded with three different modes to choose from.
Mode 1 activates the ABS in both wheels and it's aimed for the road while modes 2 and 3 are for off-road. Mode 2 has been designed specifically for this bike and activates the ABS just in the front wheel. Meanwhile mode 3 turns it off completely in both wheels.
The TFT screen indicates which mode we have engaged, 2 or 3, and the rider can choose to go back to mode 1 any time, without having to stop, pressing a button on the left side of the instrument panel.
The Yamaha Ténéré 700 World Raid will be available on the official dealers from May 2022. Prices may vary between countries so check with your nearest dealer to know more.
More information: www.yamaha-motor.eu
Photo Creedit Yamaha