First look: Honda CRF-E2 – is this Honda's first production electric dirt bike?
Honda has teamed up with Greenger Powersports to launch the new CRF-E2, a twin-spar aluminum framed, electric dirt bike for kids with a 3K price tag.
Although not built by Honda directly, the new CRF-E2 can be considered the Japanese brand's first electric motorcycle on the market. It's built by Greenger Powersports as an "official licensed product" for Honda, which counts for a lot with the big red who traditionally are very much an in-house company.
It sure looks like a Honda with the CRF-aping plastics and that replica twin-spar frame. The trend for manufacturers is to get riders hooked early and if the e-bike is the new first step into off-road for kids then this is Honda's answer.
The Honda CRF-E2 price tag means business too, at $2950 in the US which makes it a more affordable option than the KTM SX-E 5 which weighs in at $5399 – although it's worth pointing out the Honda is the equivalent of a 50cc while KTM say theirs is more of a match for a 65cc which is something to consider depending on the age and size of your kid.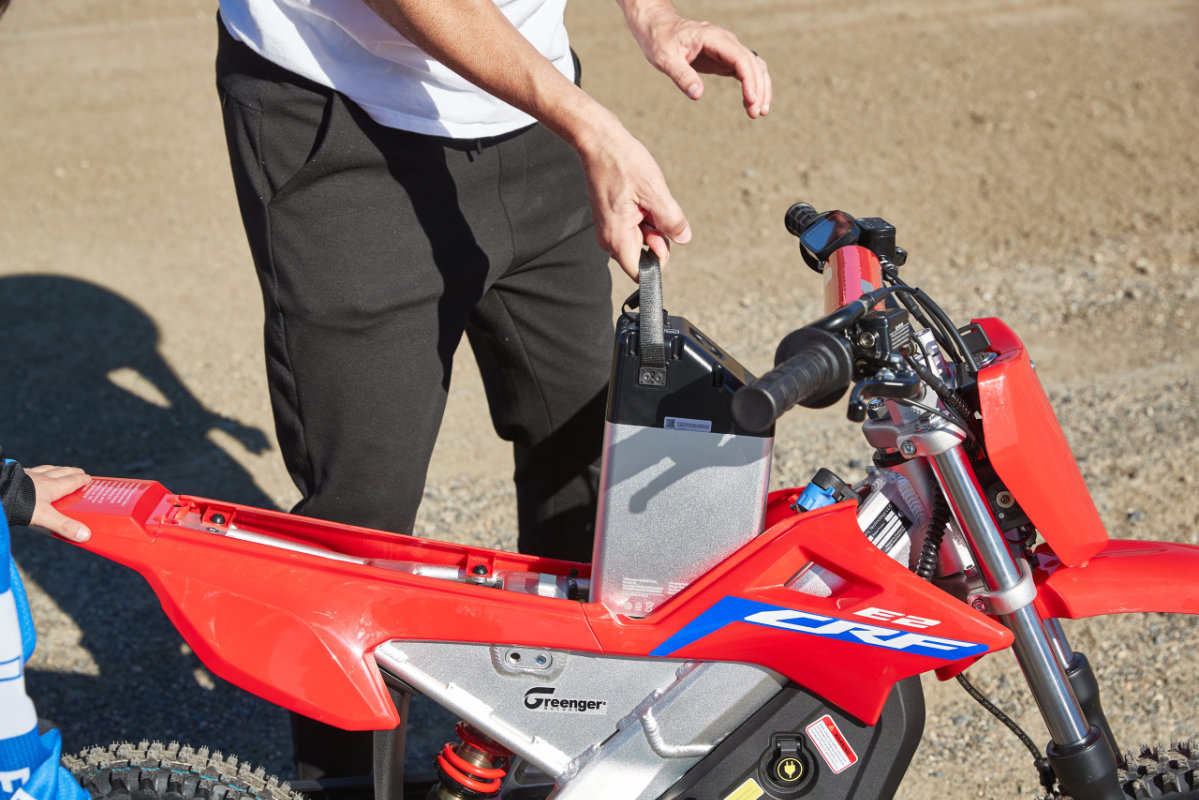 The CRF-E2 is suitable to both experienced and non-experienced riders with a swappable lithium-ion battery powering a 48V-BLDC motor with two driving modes. They claim the bike has two hours riding time in "ideal conditions" and can be charged in four hours, or two and a half with the optional quick charge charger.
The chassis sports conventional 33mm telescopic forks with 100mm of travel and the rear shock is adjustable for rebound and preload with 210mm of travel. Both wheels are 12' and they have 190mm wave style brake rotors which are operated by hydraulic calipers.
Honda CRF-E2 specifications:
Electric Motor: 48 V- BLDC motor with inner rotor
Rated Output 1.2 KW / 2000RPM
Max. Power: 2.5 KW
Torque - Rate: 5.5Nm; Max: 25Nm
Max Motor Speed: 4,000 RPM
Final Drive: 1:7.1
Drive Mode: Stage 1 , Stage 2
Cooling System: Air Cooled
Powerpack: Swappable lithium-Ion battery, L*W*H:145*91*270mm, Weight:5.9kg (13lb)
Capacity/Energy: 20 AH/960 Wh
Charging Time 100%: Standard: 4 Hours , Quick Charge: 2.5 Hours
Charging Time 80%: Standard: 3.2 Hours , Quick Charge: 2 Hours
Run Time: 2 hours in ideal conditions with full charge
Charger Line Voltage: 90-264 V/50-60 Hz
Charging Input: 1.3A @ 230V(AC)
Charging Power: 290 W
Frame: Aluminum twin-spar with Double-Cradle
Handlebar: Tapered Aluminum ϕ22mm
Front Suspension: Hydraulic Conventional Telescopic Fork ϕ33mm, Length 600mm(24.25inches)
Rear Suspension: DNM Rebound/Preload Adjustable,Length 230mm(9inches)
Suspension Travel Front /Rear: 100mm(3.9ins)/210mm(8.3inches)
Front Brake: Hydraulic caliper w/ 190 mm petal-style rotor; right-hand-lever actuated
Rear Brake: Hydraulic caliper w/ 190 mm petal-style rotor; left-hand-lever actuated
Front /Rear Rims: 12x1.6 spoke aluminum rim
Front /Rear Tires: 60/100-12 Kenda® Millville K771 knobby tire
Chain: 428H
Steering Head Angle: 25°
Triple Clamp Offset: 25°
Trail: 32mm
Wheel Base: 970mm (38inches)
Handlebar Height: 860mm (33.8inches)
Ground Clearance: 200mm (7.8inches)
Seat Height: Adjustable 630mm (24.8inches) / 650mm (25.5inches)
Overall length:1395mm (55inches)
Overall Width:690mm (27.1inches)
Overall Height: 920mm (36.2inches)
Max Load: 45kg (99lb)
Weight: 48kg (106lb)
More information: www.greengerpowersports.com