Honda CRF 450 into a fuel injected 500cc two-stroke anyone?
Enduro21 takes a closer look at the Tomasin Racing T500 engine kit that turns your Honda CRF 450 into a fuel injected 500cc two-stroke beast with electric start and hydraulic clutch.
Let's be honest, nostalgia for Japanese two-strokes isn't going anywhere soon. Old models like the Honda CR, HM CRE or Suzuki RM are increasingly difficult to find and though in some ways they have become outdated, they are motorcycles with kick start, carburettor and for many of us that makes it the essence of a dirt bike.
Add in the equation a 500 two-stroke and you can see grown men crying, or at least exchanging large amounts of money for them.
Canadian company BRC already realised this and developed a kit to strengthen KTM group two-strokes and raise them to 500cc, plus they make some sweet kits for other bikes including the Yamaha YZ 2T.
Bolt-in and go 500 two-stroke
Italian company Tomasin Racing R&D have joined the party with their T500 Engine kit developed to fit straight into a Honda CRF 450 (including CRF 450RX enduro model), transforming it into a 500cc two-stroke without the need to modify the chassis or any other chassis element of the bike.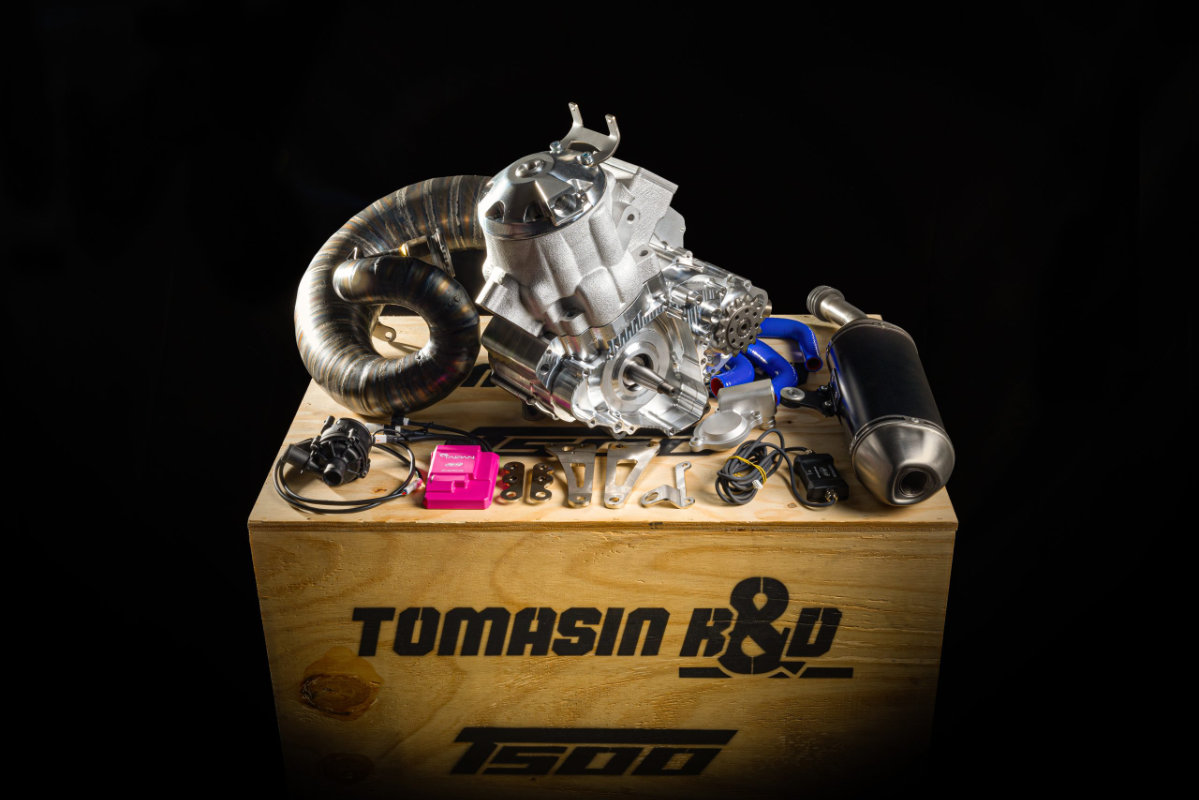 In short that turns your Honda CRF 450 into a 500cc two-stroke beast creating a big smoker with all other elements like chassis geometry, suspension, brakes plus electronic fuel injection, a hydraulic clutch and electric start from the model and era of your CRF.
"The T500 engine kit perfectly combines the iconic two-stroke engine with current technology, which transforms your Honda CRF into an unmatched force, ready to dominate the track," says Tomasin.
What's in the T500 kit?
The Italian specialist's T500 kit consists of their own engineered cylinder and a machined crankcase which bolts into your existing CRF 450 engine.
Modular cylinder head machined from a solid piece
Cylinder
Reed valve
Billet intake manifold
Crankshaft and connecting rod
Piston
Spark plug & lead
Engine crankcase machined from solid and assembled with bearings and seals
Gasket set
Complete exhaust system (header & silencer)
Dedicated and wirelessly accessible T500 ECU
Electric water pump and specific hoses
Set of titanium bolts and cylinder studs
14 tooth front sprocket
Machined water pump cover
DIY or buy a complete bike?
They say the kit can be assembled by anyone with a good workshop skills but you don't have to be an expert because it does not require cutting the chassis or a frame conversion. Also if you don't have a Honda CRF 450 but fancy one, or you don't have the skills to DIY the conversion, Tomasin have different options.
Basically you choose to have a kit with or without the CRF450 gearbox – the T500 2T engine requires the OEM gearbox but you can use your own or have theirs for a flat €8500 or €10,500 respectively.
Both options use the original Honda starter motor and gears, ignition (flywheel, stator and case), primary gears, complete clutch and basket, gear selector and gear lever.
More information: www.tomasinracing.net
Check out the beast in action:
Photo Credit: Tomasin R&D