Pro Bike: Danny McCanney's Beta RR 300
After a top-flight EnduroGP career, Danny McCanney was set free to buy and build his own race bike. Enduro21 takes a detailed look at his Beta RR 300, a lesson in what a pro rider does with his own wallet when he's let loose…
After around a decade at the sharp end of our sport including a Junior and SuperEnduro Junior World Championships along the way, Danny McCanney tells Enduro21 he's back to work with a real job, spending more time with his family and "looking forward to riding at the weekends again".
The Manxman hasn't hung up his boots though and is competing the 2023 ACU British Enduro Championship plus the Vintage MX des Nations.
Here's the interesting bit though, after years of racing for factory teams and using parts and products chosen by team managers and sponsorship partners, Danny has been able to build his own bike using the bits he wants.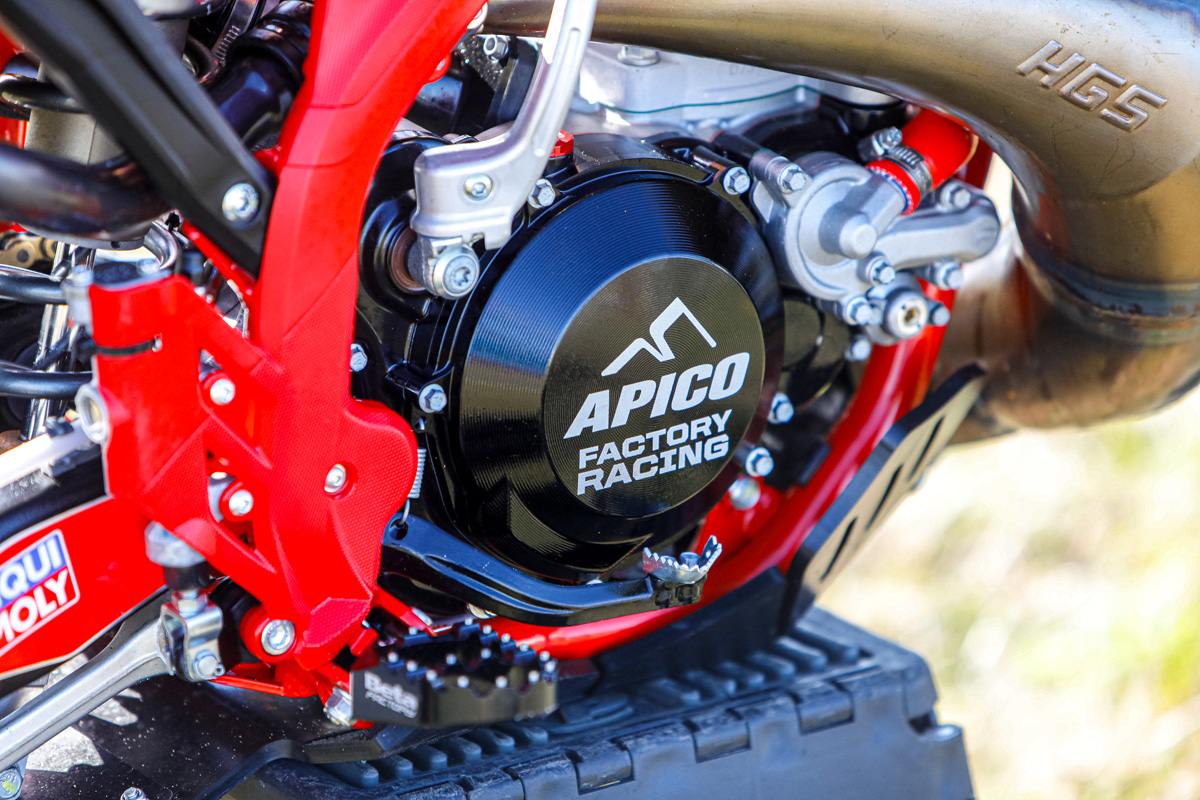 That starts with the bike itself, a Beta RR 300 two-stroke supported (but not gifted) by Beta UK and with the help of Apico Factory Racing, Danny has built "his" bike. "I won my Junior World Championship on a Beta 300 and always had a soft spot for them. I called Beta UK and with the help of Apico, it was pretty easy to do a deal but I did buy it. This is my bike."
Ignoring the bombshell that he also has "a collection of old two-stroke Hondas" (read more about that in our separate interview with Danny), Enduro21 takes a look at one sweet Beta RR 300 two-stroke.
DIY approach
It must be good to build you own bike without a factory race team deciding what parts to fit, and telling you what you can and can't do
"Over the years I've obviously been limited to certain products with different teams that they want you to use because of sponsorship and so on. That's part and parcel of the job of course and adapting to different products is part of the rider's role.
"But to be able to choose my own parts has been great. Finally, I can choose my own parts like Michelin tyres!" Danny tells us as we scan the bike.
Bling parts stand out from the stock bike RR 300 but McCanney explains it is standard in many ways except the wheels, cylinder head, exhaust system, reeds, suspension but there's more to it than that.
"I've bought my own parts" isn't something which you here a pro racer say too often, even one who only just retired from the world championship. But that HGS exhaust system I sone on the list. "I have had a lot of support but there are bits on the bike I've bought because I wanted that particular part and the HGS is what the factory riders are using so I bought that one."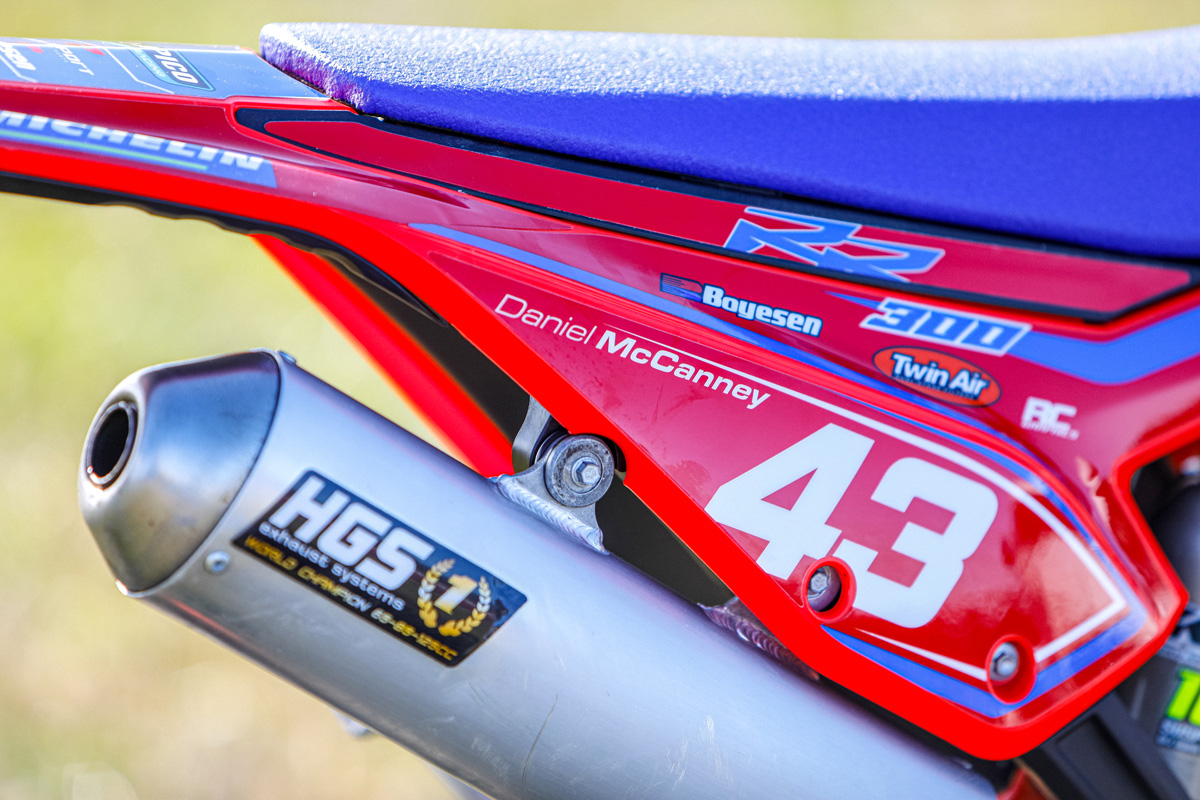 Engine – unleashing more top-end power
The VHM cylinder head looks great improves the top end Danny explains. "I do a bit of MX in the Isle of Man also and this head give me a bit more up top."
It's the same result, more top-end, with the Boyesen V Force reed valves which also let the Beta engine rev more. Boyesen actually got in touch with Danny and asked it they could help before sending a set of reeds to unleash the beast.
Other than that the engine is standard, breathes through a Twin Air filter and though it hasn't changed a huge amount it is still one of the strongest out there for enduro.
"I've played with the power valve a little and fitted the softer spring and you can see the clutch cover is Apico's own part, it's stronger and gives a little more oil capacity." Danny tell us.
He's also fitted tougher radiator hoses and underneath it all sits an AXP sump guard with the linkage protection.
Suspension care from a legend
101 Suspension might mean something to enduro fans who know their race numbers. 101 being David Knight's race digit and it is the fellow Manxman who is servicing the KYB suspension fitted on Danny's bike.
After many years of inconsistency on the standard Beta models, KYB is now standard fitment and it is showing at the very highest level with Brad Freeman and Steve Holcombe seemingly on different bikes this year.
Danny says he's also been working with Technical Touch Racing, the Dutch company based right next to Lommel MX track, who are the go-to people for KYB in Europe.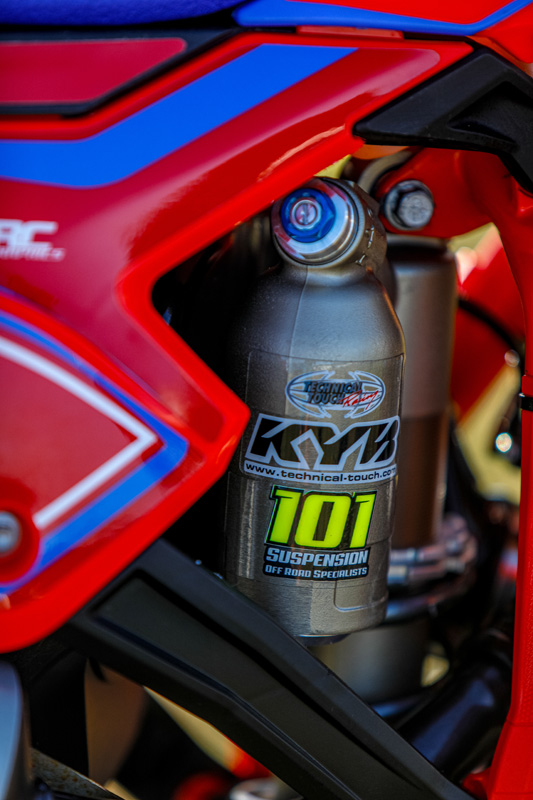 Shorter shock treatment
The main detail difference in Danny's chassis set-up is to make the rear shock slightly shorter to help it track better and be racier, tweaking the standard enduro bias of the Beta to a more MX-style set-up. Other than that it is valving and springs to suit Danny's weight and the rest of the chassis is standard including the triple clamps. "I might change them but we'll see, the bike handles well".
Bling on the bars
The rider's cockpit area is usually quite personal for a pro rider and McCanney has opted for Pro Taper Carmichael bend handlebars over the OEM part. "They're pretty much like standard but with a bit more sweep."
He's also fitted the Pro Taper grips and a sweet list of Apico's own "bling" including front brake and clutch reservoir anodised caps, hand levers and axle pullers. Apico supplied the Polisport plastics and handguards.
"I'm always on eBay"
There are a few parts around the bike direct from the Beta accessories catalogue, like the footpegs, as well as random parts picked off the internet – "I'm always on eBay" Danny tells Enduro21 as we ask who makes the rear disc guard. "I think it's a copy of another manufacturer's disc guard to be truthful but I saw I, it is the complete mount and guard and it looks good so I clicked buy."
Michelin tyres and mousses sit on sweet Talon wheels and hubs. British manufacturer Talon have a quiet but hugely respected reputation with parts fitted to factory HRC race bike among others. The rims, hubs and spokes are all stronger than standard.
The discs are another internet purchase Danny explains. The front is stock but the rear is a Ferodo part and solid, his preference for better performance. "I've had a lot of help from different people for the bike but I feel like some parts I can and should just get for myself.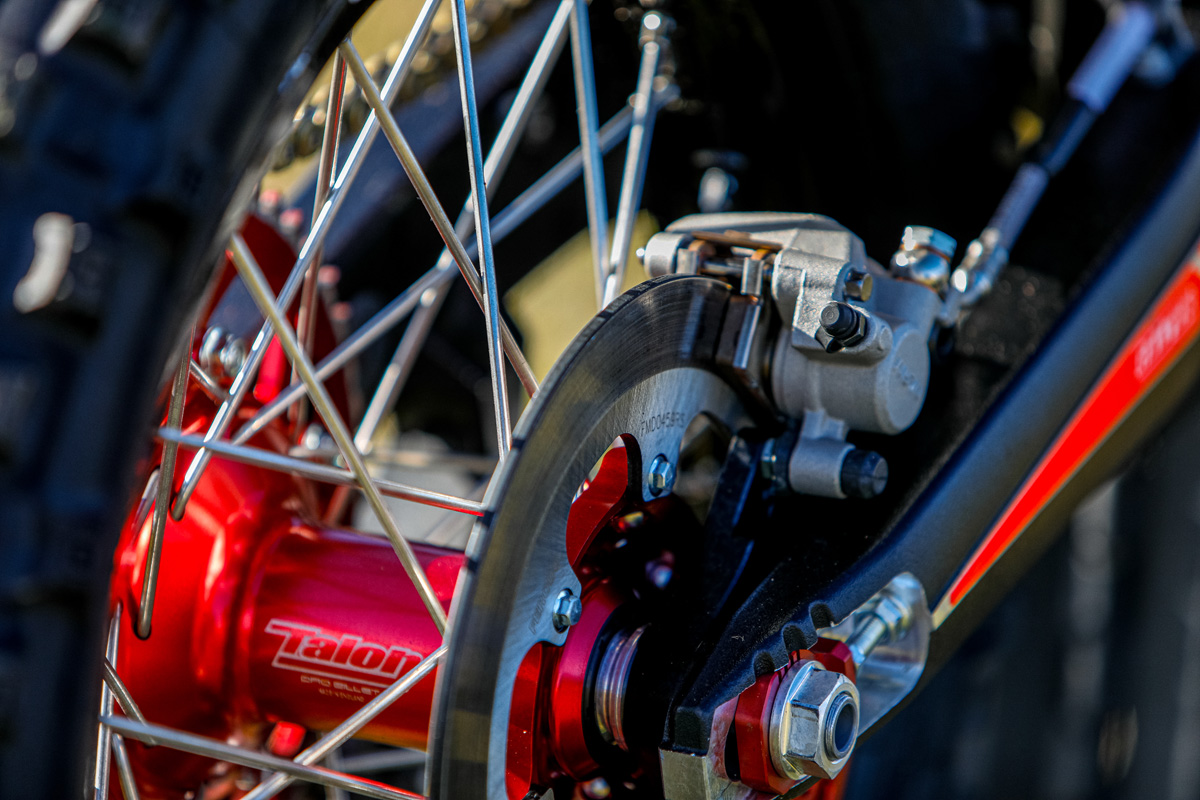 Still playing with the gearing...
What about the gearing Enduro21 asks? "I'm still playing with it," McCanney explains, "I haven't settled on exactly what I prefer yet." At present the Talon sprockets remains the same as standard up front at 14 with two teeth bigger at the back and 50. But "that might change, I'm going to do some more testing of that this weekend." Danny adds.
That's about your lot. A sweet build we'd say with some nice details and an honest parts list which isn't all about who's giving a rider things for free. The whole pleasure in buying and then building the bike for Danny clearly was in creating something he wanted after so many years experience and that's refreshing.
Photo Credit: Vision Off-Road Media