Are these the 2023 KTM EXC-F four-strokes in disguise?
Among the hype surrounding the start of the AMA Supercross season, KTM announced new 250 and 450 SX-F Factory Editions, pre-cursors to the 2023 SX-F bikes coming to the dealers in a few months' time. What can we learn and what might it mean for the EXC enduro models coming the year after, and what about the two-strokes?
A lot of hype around the team announcements for the 2022 American off-road seasons (motocross and enduro or 'off-road') has seen rider squads revealed for the KTM and Husqvarna season ahead.
Alongside Cooper Webb and the short track dudes, riders like Ben Kelley, Taylor Robert, Trystan Hart, Thad Duvall and Colton Haaker (to name a few) are announced as squad members once again for GNCC, Extreme, WORCS, EnduroCross championships and more.
Among all that hype though was the revelation of the factory edition, four-stroke 250 and 450 bikes for the Supercross season. They have to race production bikes so these beasts have to exist for real.
As ever, the motocross bikes launched in one year offer us clues to what we can expect on the enduro models next year. In this case, the bikes are a reveal of what might come on the SX models in Spring and that makes these bikes the pre-pre-reveal of future EXCs. Maybe.
Enduro21 has put a thinking cap on to sift out what might be a reality on the EXC four-stroke models for 2024 and while we're at it, dip a toe into the murky world of the future of the TPI two-stroke engines…
The full list of SX-F Factory Edition new bits:
New bodywork with specifically tailored ergonomics for easier rider movement
New hydro-formed chromium molybdenum frame significantly improving anti-squat behaviour
New topology optimized diecast, aluminium swingarm providing optimal rigidity and low weight
New 250cc DOHC engine providing class-leading torque and peak power
New 450cc SOHC engine providing class-leading performance and low weight
New Quickshift feature providing seamless up-shifting without the clutch
New aluminium-polyamide hybrid subframe construction providing specifically calculated rigidity and advanced durability
New WP XACT 48 mm front forks with AER technology offer more progressive end-of-stroke damping
New WP XACT rear shock design with CFD optimized main piston and tool free adjusters
New multifunctional map switch with Quickshifter, Traction and Launch Control
New topology and lighter die-cast footrests
Factory Racing CNC-machined triple clamps with adjustable offset [20 – 22 mm]
Factory wheel set with D.I.D DirtStar rims and orange anodized CNC machined hubs
New polyamide composite skid plate and front brake disc guard
Factory holeshot device
Soft ODI lock-on grips
Factory Selle Dalla Valle high grip seat cover
What can we take out of that for the 2024 EXC models?
We're making educated guesses, but chances are the features like new frame, engines, swingarm, subframe (maybe) and more sophisticated electronics package could be on the EXCs we can buy in 2023.
KTM have already told Enduro21 that big updates are coming for the 2023 SX models due in later Spring, 2022 and these Supercross editions are widely being touted as pre-cursors.
The plastics have visibly grown sharper (literally sharper at the radiator/side shrouds) to "improve the rider triangle for better knee contact, especially when riding in standing position." There's a new shape front fender with "mud fins" to help with front wheel dirt fling and we can also see a new recessed grip pocket under the seat sides, just above the airbox, to help when lifting the bike.
Big changes to the frame
Cosmetics matter but what really counts is how they ride and changes to improve "rider feedback, energy absorption and straight-line stability" point at bigger picture for the 2023 4T bikes.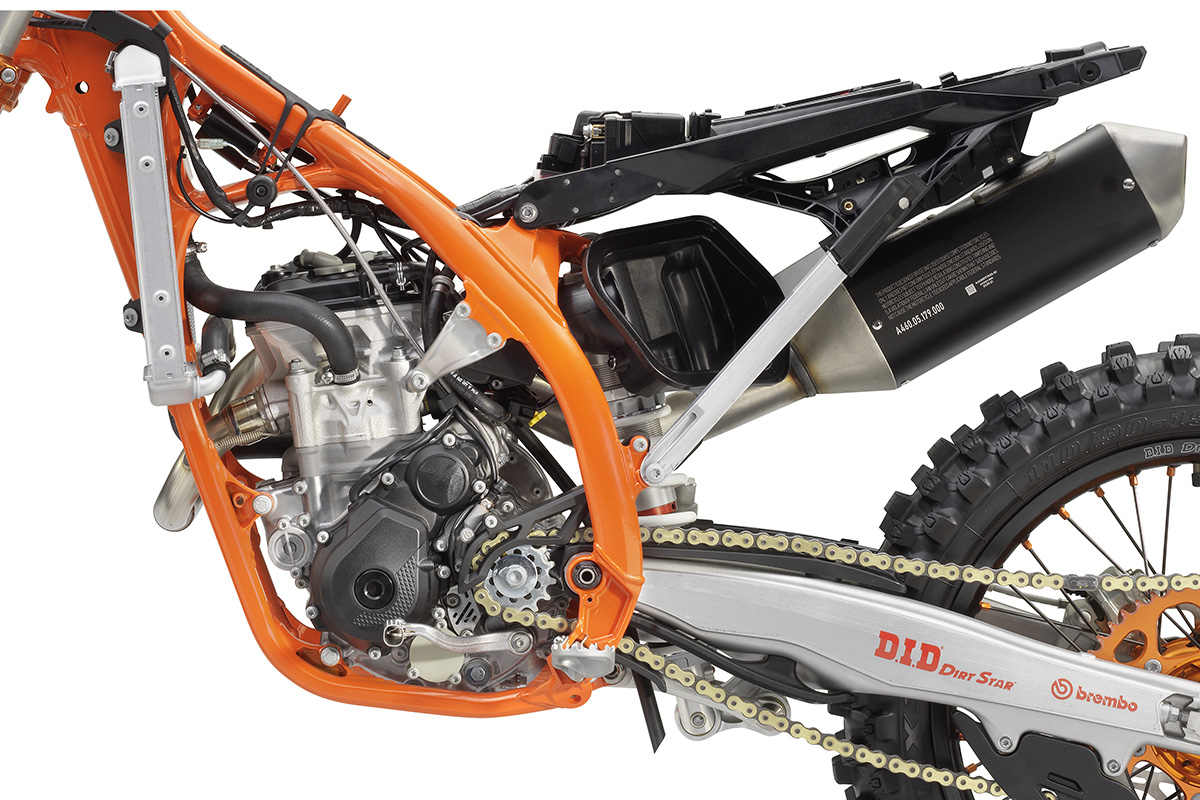 Chassis changes in a nutshell:
Rotating masses and the forged steering head connection have been repositioned.
New shock mounting position which is no longer connected to the main tube.
Significantly improved anti-squat of the chassis.
Wall thickness of the frame improve reliability and rigidity in high stress areas such as the steering head and the shock mounts.
Parallel frame mounts (same position on left and right side) improve the chassis flex characteristics.
Footrest mounting position is moved inwards to make them less susceptible hooking in ruts or when scrubbing jumps.
Larger footrests.
One-piece steering head seal.
The new frame design and shock mount position on this linkage-type set-up means a shorter and lighter suspension unit (they haven't specified how much lighter). KTM enduro models run the PDS system (no linkage) but for XC models, and the Husqvarna and GASGAS bikes running linkage, a little more ground clearance at the linkage when the shock is compressed is a good thing.
Lighter swingarm
The new, hollow, die-cast aluminium swingarm is claimed to be lighter with a completely redesigned chain guard and guide added as a bonus.
KTM say the topology of the swingarm improves rigidity while a new casting process reduces weight by 190g. A new 22mm rear axle is fitted to accompany the swingarm changes and it's also good to see chain adjuster marks on top as well as the side for easier chain adjustment.
The new chain guard and chain glider are an update we're hoping will also make it to the EXC models. They claim improved durability and "less susceptibility to hooking on external objects", especially in extreme, muddy conditions, where they say it will help reduce dirt build up around the swingarm and chain guard.
And the subframe?
We're not sure the same configuration subframe will make it onto the enduro bikes, we'll wait and see. Durability and strength are bigger issues in our sport and a strong subframe matters more.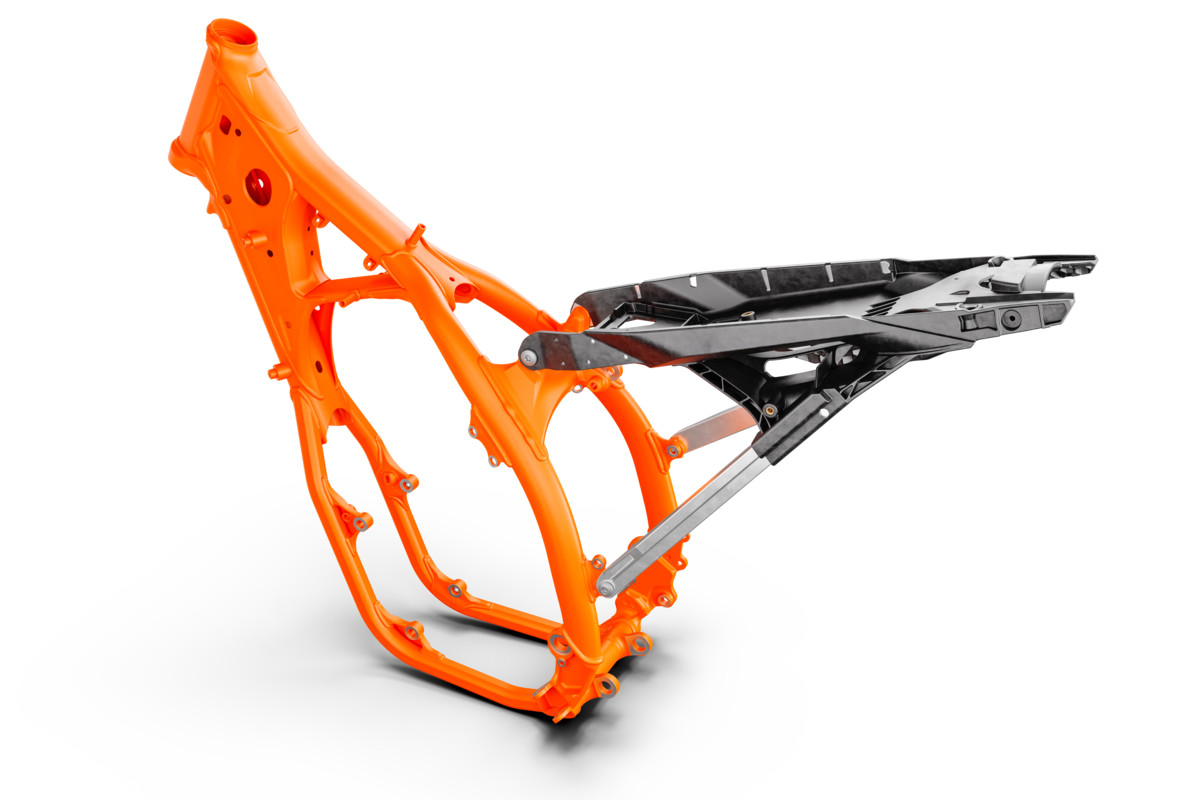 The limited edition SX models feature cast aluminium lower subframe spars and frame mounts with an injection moulded, polyamide section up top. KTM say it improves handling by allowing some flex but is strong and weighs 4lb (1.815kg).
Engine changes
These SX-F power plants have had fewer changes than the chassis it seems but the 250F gets the most attention.
As ever, the phrase "optimised mass centralisation" features heavily with the chief design change being a tilt backwards of 2° for both 250 and 450 engines in the frame. The 250F's handling should benefit most thanks to also dropping the engine by 8mm.
The SOHC cylinder head on the 450 is redesigned but the DOHC 250 top end has more work. New valves and timing, different bore and stroke, inlet port, new camshaft, cylinder and piston. The compression ratio is 14.5:1 and the stroke is now 48.5mm. That should all make for a freer revving 250F engine.
See above for the changes to the swingarm and chain guide but the new engine position is also helping by allowing the front sprocket to sit 3mm lower. There's a new shift-shaft in the gearboxes as well.
Electrickery
We've been awaiting more electronic gizmos on the 4T EXCs for a few years now, since KTM launched the power adjuster app on the SX models. A new multi-functional map switch on the handlebars to make the bikes more useful in different riding conditions at the press of a button is overdue too. There's a neat, combined on/off switch on the bars here which we'd like to see on the 2023 EXC please KTM.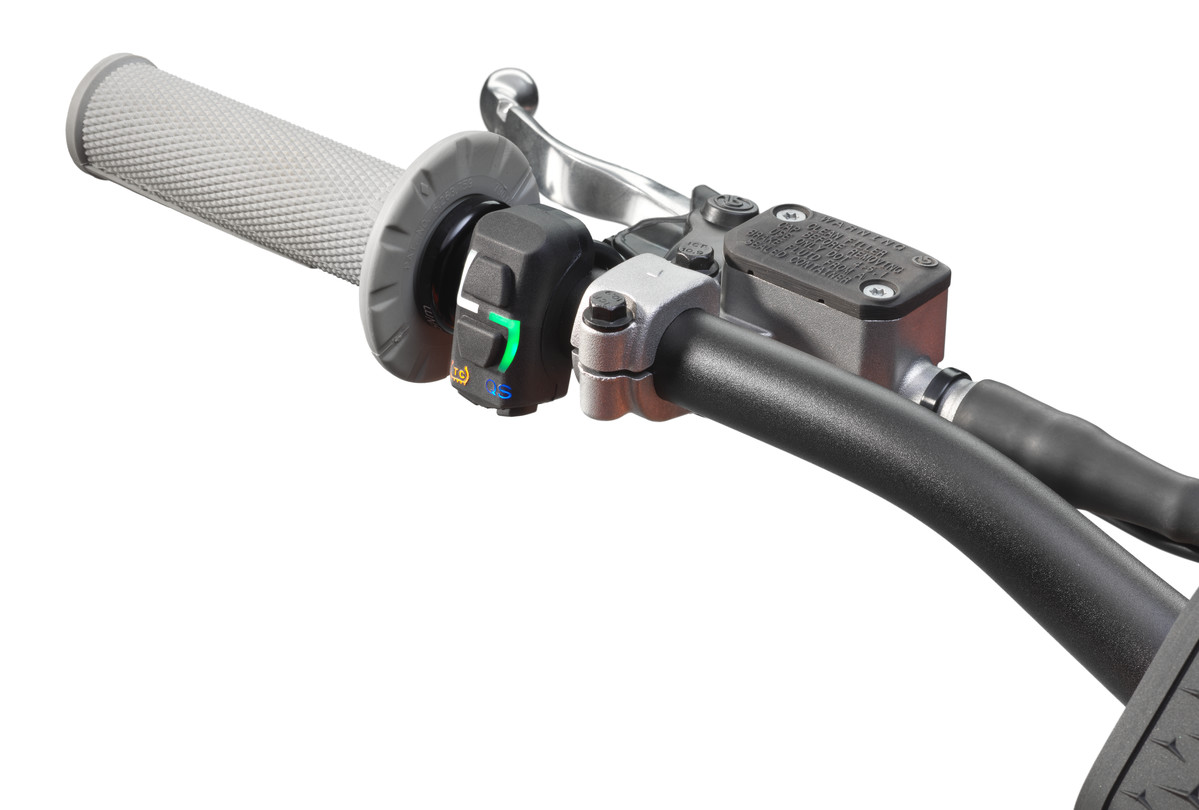 Would seem-less, clutch-less gear shifting work for enduro? It is unlikely we'll see it as standard on any KTM (likely as an option) but though mapping options on the bars aren't new, more options for traction control and launch control are the norm from other manufacturers.
Not every form of off-road and enduro needs quick shifters but for XC racing or trail riding? Wouldn't it be cool?
KTM say the function interrupts the ignition for a fraction of a second to "allow upshifting without the use of the clutch lever, while the throttle is fully opened". A sensor on the shift drum notices your foot force on the gear lever, sends the signal to the ECU and the ignition timing is interrupted. They add it is only active from second to fifth gears on this bike to prevent unintended shifts and false neutrals.
What about the two-strokes?
Right (*rolls up sleeves…), if any or all of the above was speculation on our part as to what will come next on the four-stroke EXC models then this next bit surely is. Two things are clear about the next generation two-strokes from KTM: everybody wants to know what's coming, particularly in terms of the fuel injected engines, but the reality is no-one knows and the internet is full of crap talk.
It is quite possible we will not see any change to the current TPI engine bikes until 2024 at the very least. Current generation TPI bikes are further developed to those launched way back in 2018. They ride better, perform better and for a large majority, are exceptionally practical in terms of ease of use (no fuel mixing, carb jetting, altitude changes etc.). All that stuff KTM told us at the beginning is true for most customers.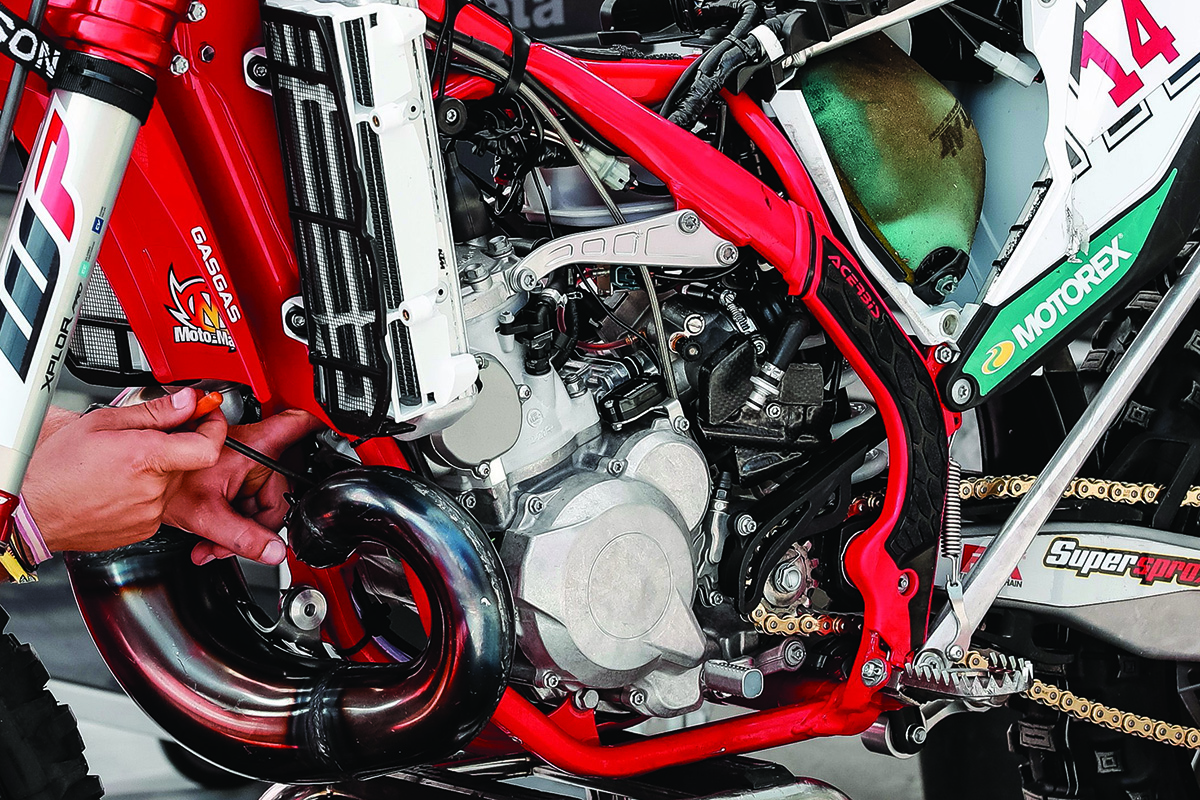 Enduro21 is familiar with TPI owners, through riding bikes, reader contact and of course through a million online platforms, who tell us the TPI bikes do not always behave themselves. It seems clear by now that not all bikes are the same, they can run what feels like too lean and/or inconsistently sometimes.
It is common knowledge that some factory KTM, Husqvarna and GASGAS riders in the Hard Enduro World Championship, plus the AMA Extreme Championship, have been using different fuel injection systems during the 2021 season.
Will we see a more direct injection system on the customer two-stroke EXCs anytime soon? Probably not.
The TPI system has been in a constant state of evolution all this time and most people riding them are happy. If the work for the majority, why would you change it?
The factory race bikes competing for a world championship are now fighting with Sherco and Beta at the highest level and do not have humans like us standing on the pegs and twisting the throttle. They needed to work in a different way to help some riders – although it is worth pointing out not every factory rider has been using the direct injection system, notably Mani for much of the season.
The only reason for KTM to develop a new two-stroke injection system (ignoring ever-increasing emissions regulations) would be to improve on what they already had for the majority of EXC customers.
They don't make the bikes we buy in the showroom for Mani and Billy otherwise they'd have factory suspension and cost a tonne more. From KTM's point of view, at the moment it doesn't seem necessary to change the two-strokes for enduro.
It's a great bit of bar room debate though…buy us a beer and we'll talk some more.
We need your support
If you've enjoyed this article, if you've found it informative, interesting, entertaining even, please support us.
We want to continue doing what we do, to the best of our ability, serving the enduro and off-road community.
Please consider a donation, every little helps…
Thank you.
Photo Credit: KTM | Mitterbauer