Pro Bike: Eero Remes' 2022 Husqvarna FE350 Scandinavian cross-country weapon
A trip to Sweden and the Gotland Grand National brought Enduro21 into close contact with some sweet Scandinavian cross-country enduro machines – take a closer look at one, Eero Remes' Husqvarna FE350 built and prepared by Bloms MX.
Swedish Off-Road race team Bloms MX signed up three-times world champ Eero Remes on his retirement from the EnduroGP series last year. They employed the Finnish legend to race selected Scandinavian events including the Swedish classics Ranneslattsloppet (which he won in 2022) and Gotland Grand National where Enduro21 caught up with the team and their Husqvarna FE350 took Eero took to overall victory in the 2022 Finnish Cross Country Championship.
There's nothing very special about this bike in terms of special parts, the Bloms boys tell Enduro21 as we poke around and check the details during a break in training ahead of GGN.
The motorcycle shop and race team based in Vimmerby, Sweden have a lot of experience in enduro as well as motocross and it's partly for that reason we were surprised to learn it is 'just' an FE350. Maybe we were expecting more of an FX or FC model hybrid for XC racing but this is largely a stock enduro bike.
These guys know what works and a huge amount of experience also comes from three world championships Remes holds having worked with the best in the world at GP level. The overriding feedback from talking to different people is that although he has a couple of very specific set-up quirks, Eero makes the difference here.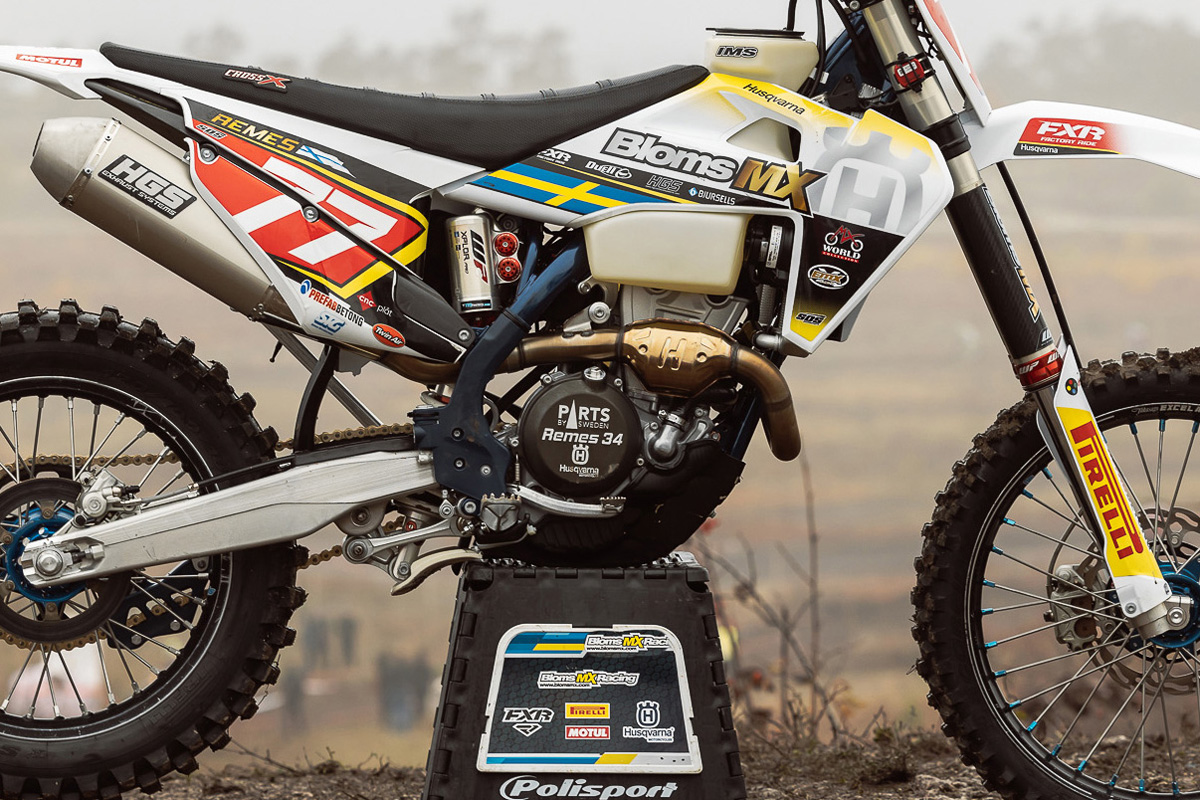 Engine and gearing
The standard FE350 came via Husqvarna Scandinavia for BHloms MX to build up for Remes to race. That FE not an FC thing? Some people prefer swapping the FE engines for the sharper FC motocross power units in enduro but not for these guys.
That means six-speed gearbox which is obviously a benefit on fast, open cross-country races and there's "nothing special" about the engine build except they use a more aggressive cam profile (that is from the FC).
Remes runs 13-50 final drive gearing at most races including this race, the Gotland Grand National.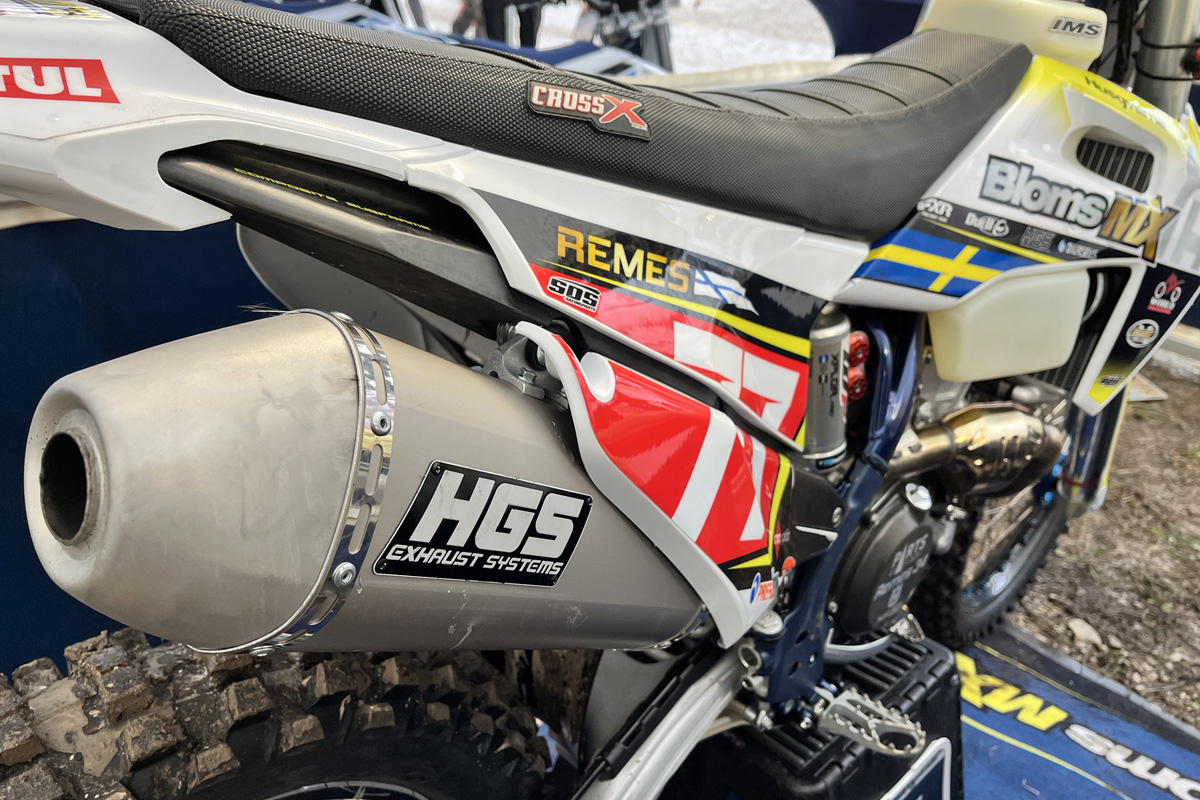 HGS Enduro exhausts system
The other bolt-on part making a difference to this bike's power is full HGS exhaust system. It's tuned for enduro and different spec to the one the Bloms team use on their MX race bikes. The system is lighter than the stock part as you'd expect but also makes the engine and throttle response "crisper but not too aggressive" they tell us.
Suspension settings
Famously Eero Remes is not the biggest of riders, just over 1.6metres they say and he weighs about as much as a MotoGP rider. Bloms tune their own WP Suspension for all their race bikes as well as customers and Eero's set-up on the 350 Husky uses off-the-shelf WP Pro Components.
Front WP Xplor Pro 7548 model forks use 0.44 springs and are held in place by the upgraded Husqvarana accessories 'factory triple clamps'. The rear shock is the WP Xplor Pro 8950 using a 4.2Nm spring.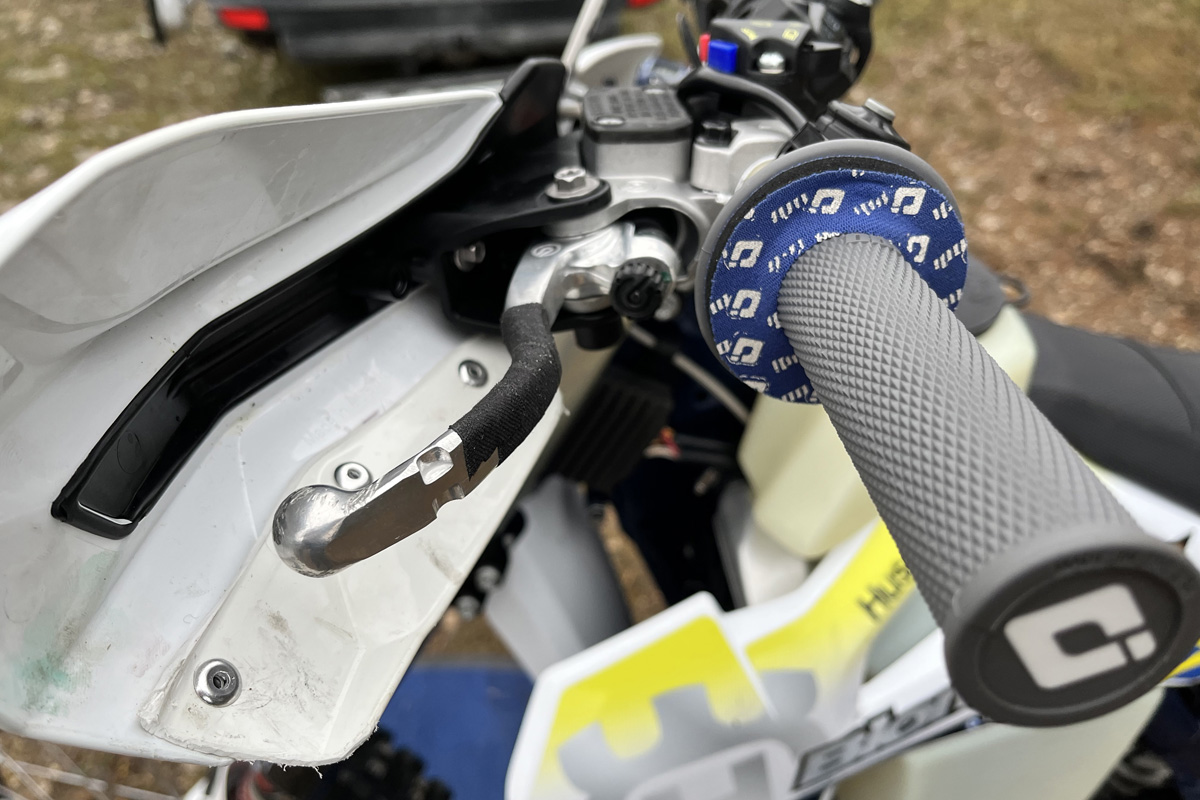 Special parts? Levers on another level
A lot of people have a very personal sweet-spot where they like their levers set to, both where they are clamped on the bars and how far out the span is adjusted to. Remes takes that to another level with the front brake and clutch levers – he shaves them thinner.
He basically grinds them down himself and brings them in his kit bag to the races (switching between practice bike at home and race bike which is based with Bloms MX in Vimmerby, Sweden).
Eero wraps grippy tape around the levers where his fingers reach partly for feel but also warmth. With so much riding in this part of the world being in sub-zero temperatures, the metal lever only add to the pain.
The only danger of course is being thinner makes the levers more vulnerable to breaking he drops the bike.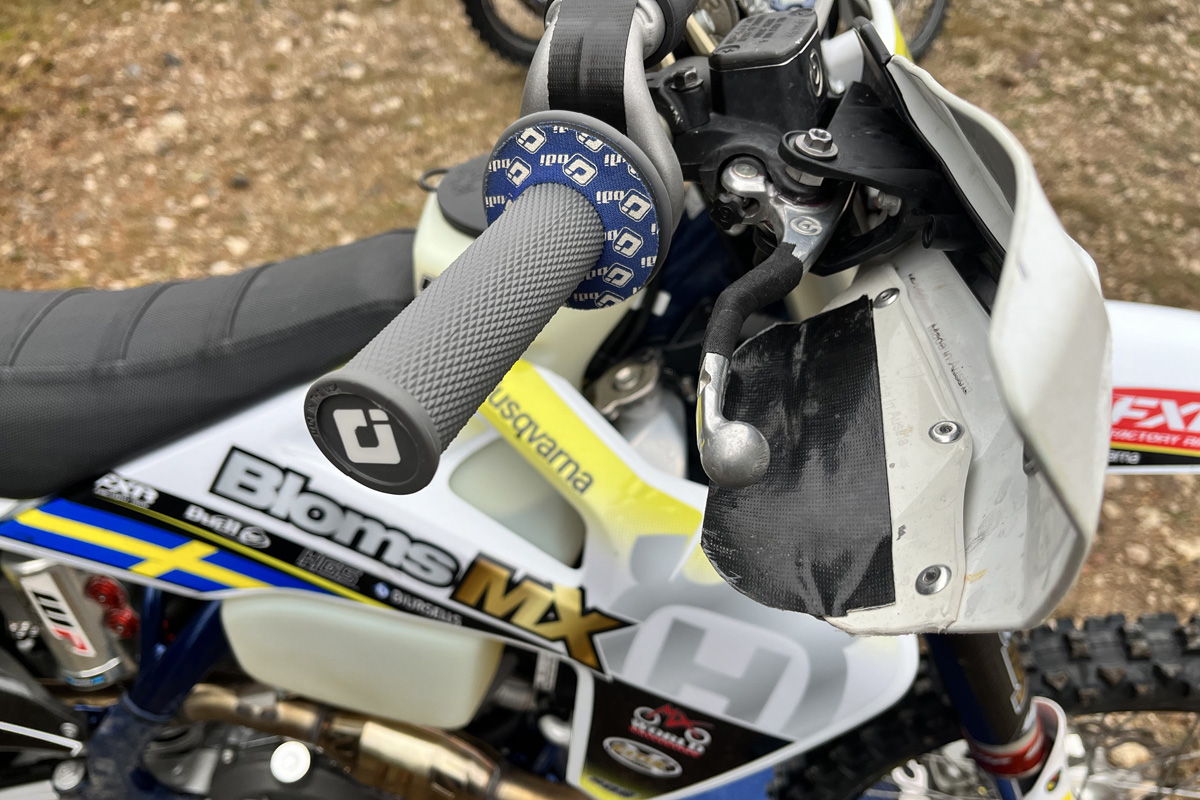 The feel is actually quite noticeable and it makes sense (we tried it for size while it sat there on the paddock stand). Anyway if it works for Eero, who's arguing.
You'll also spot a small mod on the handguards to extend them. Again, it can get cold up this far north of the planet and it's another trick to keep wind blast as well as dirt and water splashing up off the hands and fingers. That bit of tape up and over the join in the throttle twist grip housing is a good tip also for keep water (and ice) out.
Switching to Brembo brakes
Sticking with the brake system, Bloms boys replace the standard brake system (Braktec on the current crop of Huskies) – calipers and master cylinders – with Brembo parts out of preference. They also fit a solid rear brake disc to the blue anodised SOS Racing Parts hub(s) for more consistent performance in the cold and wet dirt.
They use Pirelli Scorpion XC cross-country tyres and switch between the soft, medium and harder options (mousses also) depending on conditions.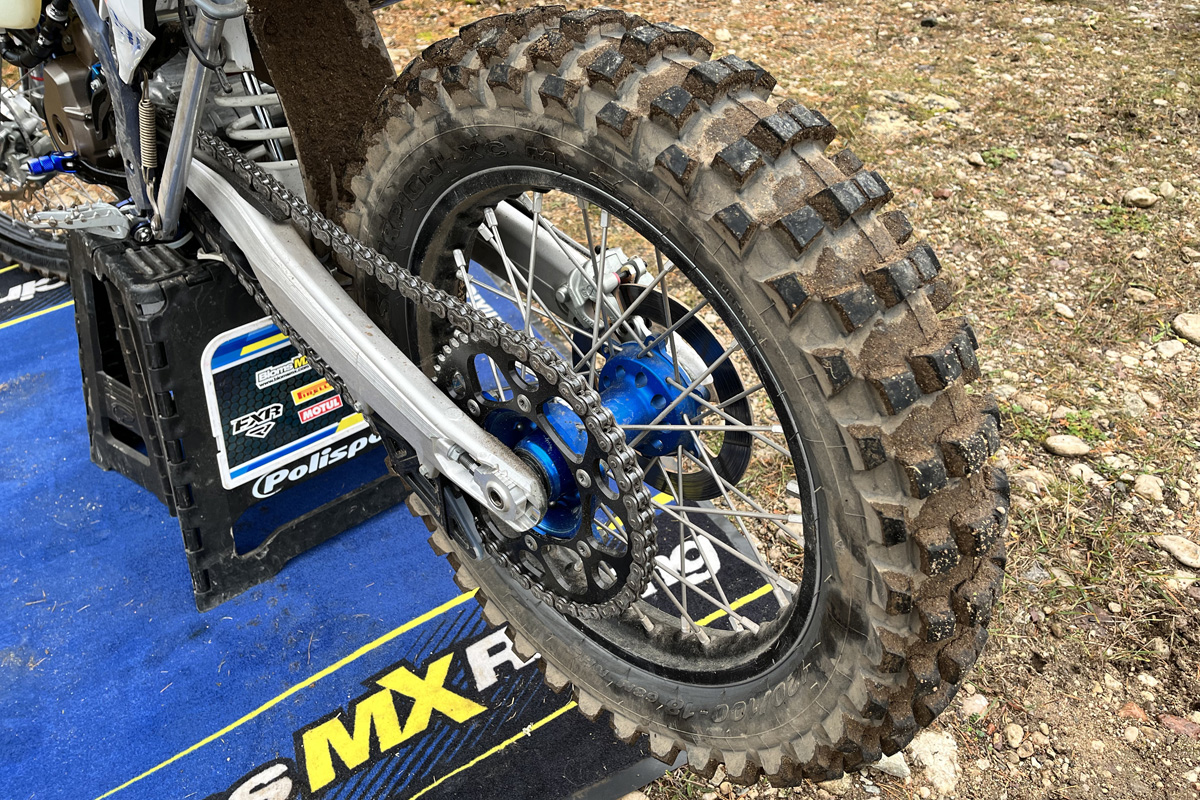 Other details around the bike to suit the diminutive Finnish rider include 999 bend Renthal bars and but no change to the footrests which are standard. Eero also uses standard seat height with the CrossX striped seat cover.
You'll also have spotted the larger, quick fill IMS tank which holds 11.4 litres. Using it for the Gotland Grand National meant they needed just one fill-up during the three-hour race.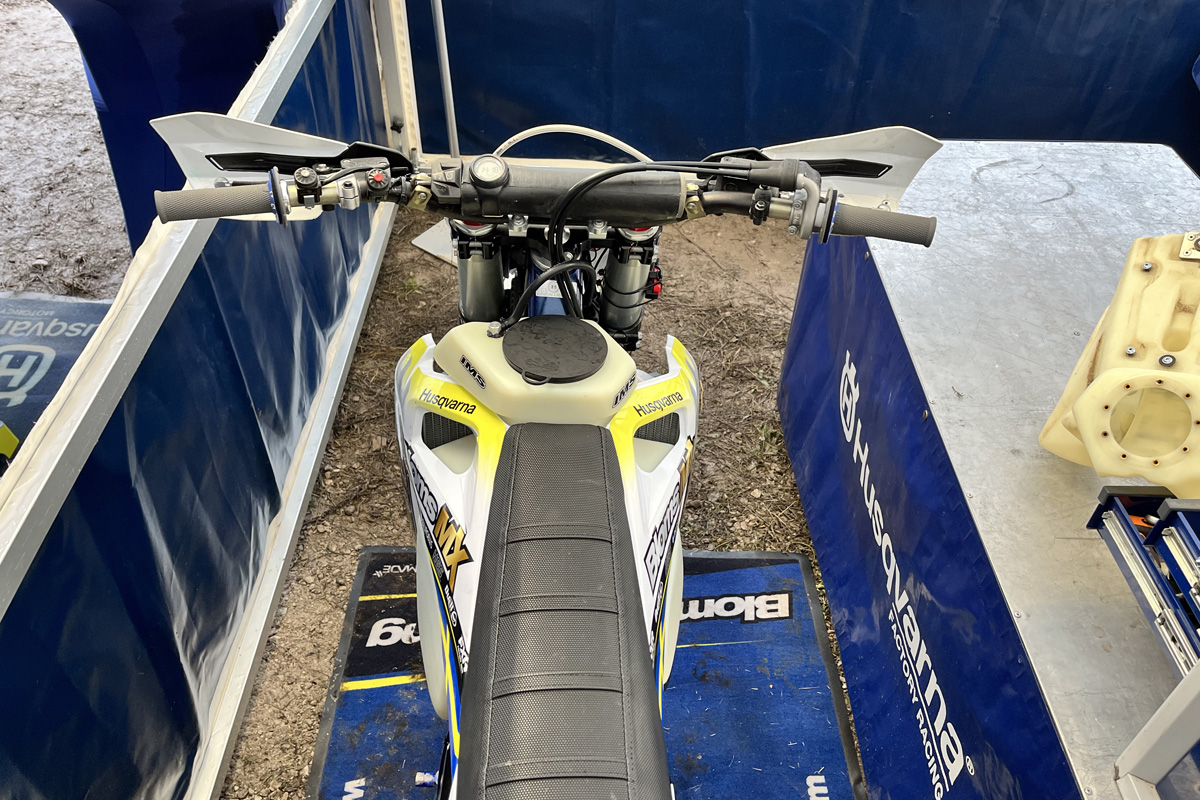 Tailormade ECU
The levers aren't the only special parts here. A piece of personalised bling fitted to the bike before GGN '22 was the Parts by Sweden clutch cover. It seemed a shame to spoil it!
Apart from that the unseen gem is Remes' own tailormade ECU which he also apparently is prone to carrying around in hand luggage.
The main difference is his preference is to have more engine braking dialled in basically so that chopping the throttle has more of an effect on the back wheel.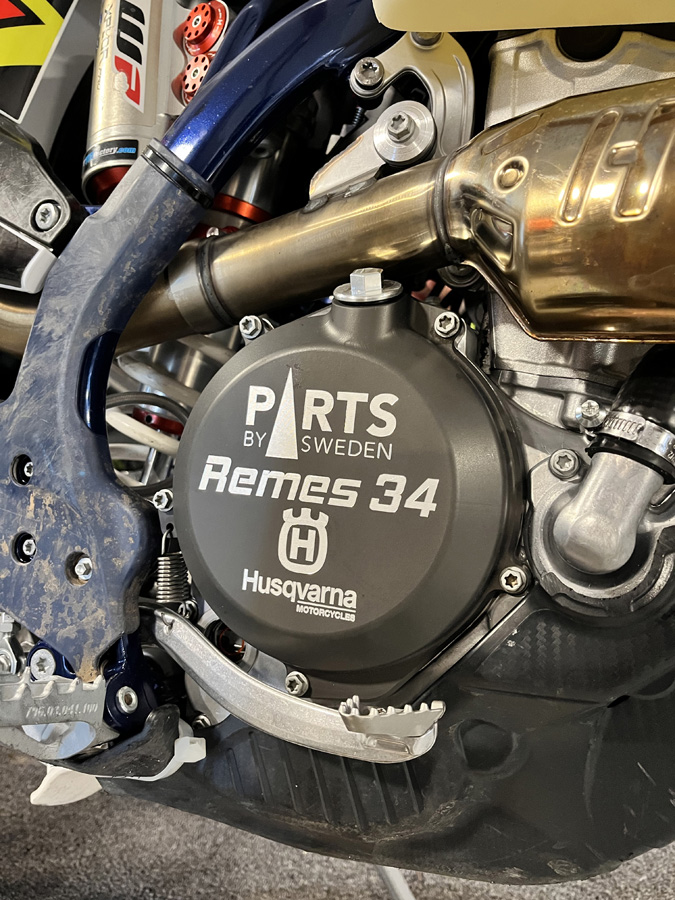 That's about it. Thanks to the Bloms MX Team for letting us snoop around the bike. The comparisons between Northern European XC bike and a North American GNCC bike is not so far removed it turns out!
Photo Credit: Antii Helston + Enduro21