Tested: Tom Sagar's 2021 Sherco SE 250
Covid-19 has restricted the hell out of us at Enduro21 to the point where new model bike tests have been non-existent but we got one, at last, Tom Sagar's Fast Eddy Racing 2021 Sherco SE 250 two-stroke as raced in the British Sprint Enduro Championship.
Chances of testing the whole Sherco range were zero but step up Mr Paul Edmondson at Fast Eddy Racing with a casual offer, "you can test one of our bikes if you like?" We jumped at the chance.
Launched earlier this year, Sherco's 2021 model range saw significant upgrades including anti-vibration balancer shafts for the big two-strokes and a weight loss diet to shave 1.2kg of the engines.
That chance turned out to be a bike test with benefits because the bike on offer, a 2021 Sherco 250 SE two-stroke, is actually Tom Sagar's British Sprint Enduro bike. For those who don't know Tom is a former World Championship level racer, factory rider, British Champion and these days also in charge of the Fast Eddy Racing events like the Hawkstone Park Cross-Country. No-one told Tom Sagar we were borrowing his bike though!
We wouldn't have swung a leg over Tom's bike if it was too far away from the standard Sherco model, there'd be no point. The idea was always to get our hands on a 2021 model Sherco to get a feel for the upgrades.
2021 Sherco Enduro model highlights:
1.2kg lighter engine (250/300 SE)
Anti-vibration balancer (250/300 SE)
Lower compression cylinder head (250/300 SE)
Titanium Akrapovic Exhausts systems for 4T Factory models
New ignition coil control unit improves the intensity and durability of sparkplugs (250/300 SE)
Tilt sensor (250/300 SEF)
New connecting rod bottom end bearing to help reduce stalling (250/300 SEF)
New crankcase design (250/300 SEF)
Sherco's range stands at two versions per model, Racing and upgraded Factory option which comes ready to race with KYB suspension, FMF exhaust, Galfer discs, SM Pro black rims and Selle Della Valle seats among other smaller details. The idea is to have two price point options with different specifications depending on customers' needs.
What's different on Sagar's bike?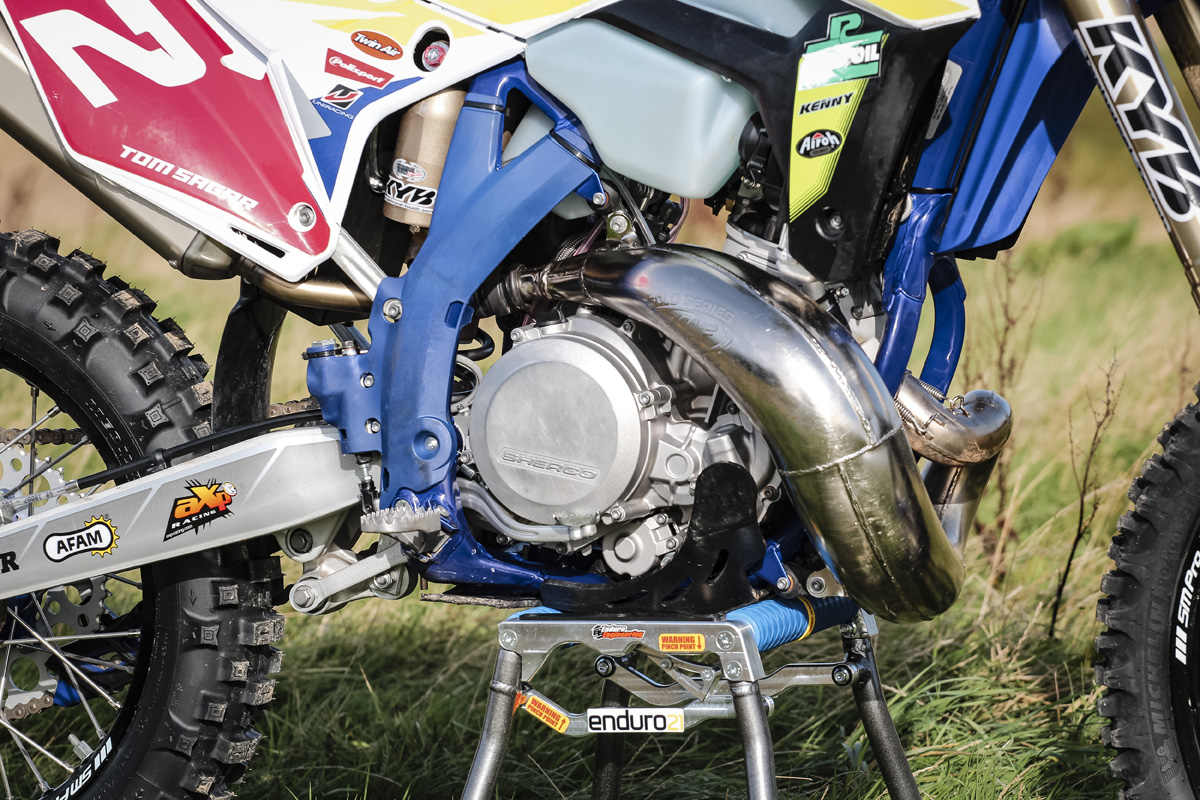 "Basically it's standard" is the response Enduro21 gets when we throw the question at Tom, Paul Eddy and even Jack Edmondson who's on-hand and helping us out on the test day. The reality isn't a highly developed machine fit only for a Pro rider. The Fast Eddy team run tests pre-season to set up a bike to suit their riders but also to gain knowledge and options which they can offer customers to the race shop.
The results is a bike which we're testing with slight changes but still in essence a 2021 SE 250. For the record Sagar's bike has different jetting in the carburettor, different springs in the KYB forks and a set Renthal handlebars – basically that is it.
Confidence on the cambers
Our test track for the day is the British Championship Sprint Enduro venue and also a favoured testing ground for the team. It runs partly around an old-fashion scramble track (so no serious MX jumps), a flat grass test, a scrub field with loads of bumpy off-cambers and a sweet woods section with different lines threaded through it. Check our onboard video:
"The bike felt nosy" – Tom Sagar
Parts of this track lure you into a front end crash if you're not careful – bumpy, off-camber downhill sections and on this day hard-packed under silty piles of dirt pretending to be berms. The Sherco SE 250 inspires confidence from the first laps though and I'm quickly trusting the front Michelin to hit the lines I'm aiming at, grip and turn.
The KYB suspension on the Racing models are just one of the reasons why people head for Shercos and it is no urban myth they are good straight out the crate. As mentioned already though, things aren't quite standard here because the fork springs are slightly heavier – upgraded from 4.0 to 4.4s.
"We did a lot of testing," explains Sagar, "and I never felt quite comfortable. Even though I think I was happy with the stock setting the shock felt as if it was a little out of sync with the forks and the bike felt nosy, if you know what I mean."
The solution was the slightly harder front fork spring to help the bike hold up better and give more feel "especially on those downhill camber bumps," adds Tom. It worked at my slower pace too and between the forks and the shock the chassis is controlled and balanced evenly around this track.
Vibe-free riding
The other major difference the 2021 big capacity two-strokes (both 250 and 300cc models) can boast is the vibe-free feeling for the rider. The new balancer shaft in the engine means fewer vibes work their way through to the bars and footpegs. Arguably it's something Sherco are a year or so late with compared to rival manufacturers but it is a noticeable and welcome update for the 250 and 300 2T models.
We did not test this bike for three hours straight so cannot say how the balancer shaft affects you over a longer period hanging onto the bars but by all accounts it's a very effective change for the better.
An advert for carbs
The crisp throttle response on Sagar's SE 250 is all the advert you will ever need for a carburettor engine. This 250 2T responds perfectly to even the smallest throttle adjustments whether I'm high in the revs asking for power or chugging at the bottom and trying to feel for grip.
"Down on the pilot jet and up on the main jet" is all Sagar will tell me about their changes to the stock carburettor. Sagar says it was never that the standard Sherco SE 250 didn't work well just that "a couple of things didn't quite meet what I wanted" and making those slight changes to the jetting delivered a bit more response and top-end grunt.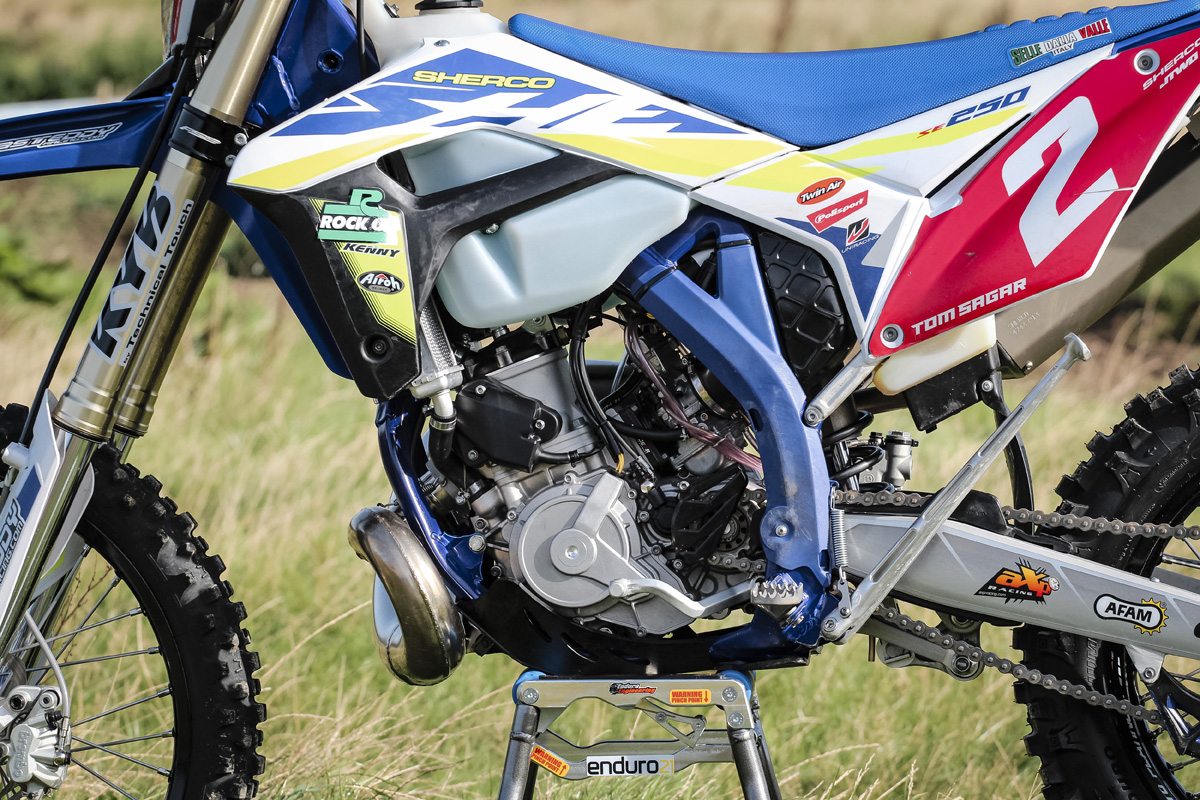 The engine pick-up from zero revs makes getting up a steep bank in the woods from walking pace an easy task with no need for the clutch in the correct gear because the feel is there. The connection with the back tyre across choppy cambers is appreciable and when you rip up through the gears, the clean revving engine carries through to the highest rpm.
Sherco introduced a new cylinder head for the 2021 250 and 300 models which was developed by the race teams with lower compression and dishing out higher rpm without losing any low-end performance. The result adds to that precision and feel for the throttle delivery which helps you dial the amount of power you want in different gears and different parts of the rev-range. Long gone are those peaky two-stroke power curves.
Brakes with bite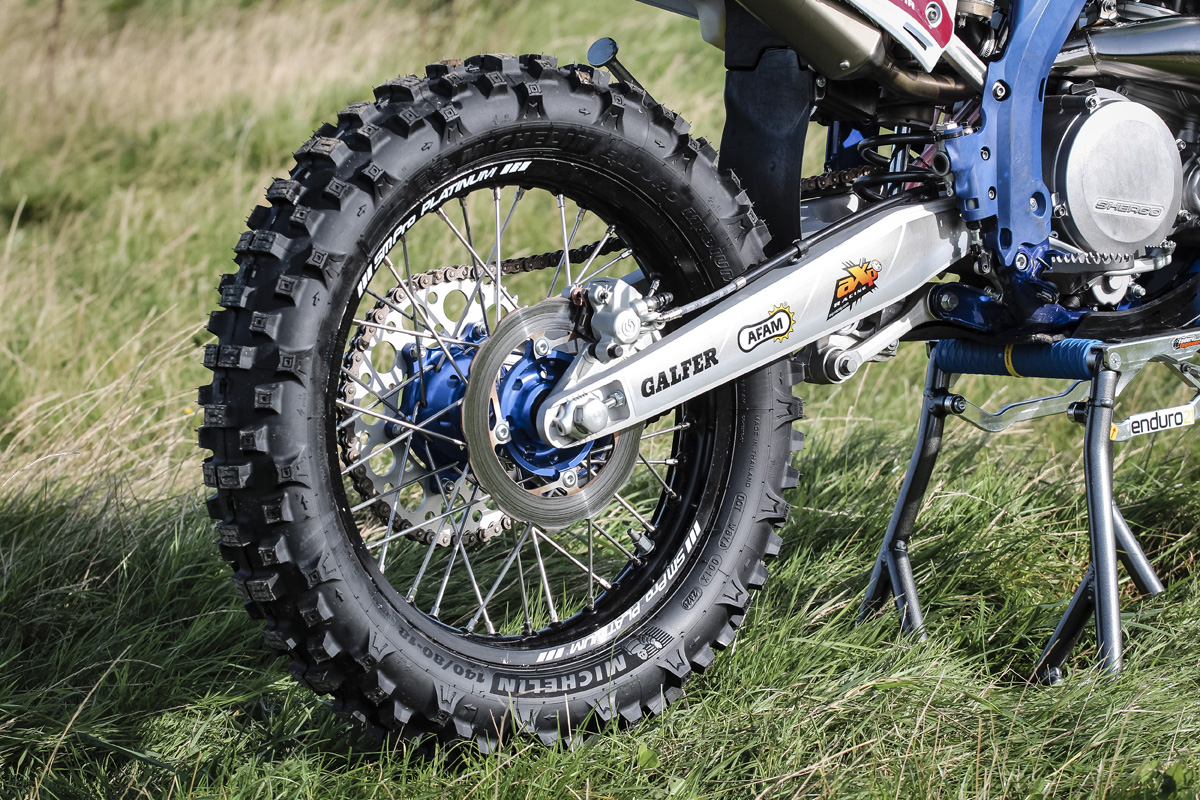 For good measure we tested the standard SE-F 250 alongside the 250 2T and (apart from proving how great the little four-banger makes you feel) it showed how effective the standard equipment brake set-up is on the Racing models.
They run Brembo brake calipers biting Galfer brake discs with a skinny and light front disc paired with a solid rear rotor which is a good combination. The power is there but, in the harder braking areas where you want the power but need to know how much grip you've got, you also have the confidence to hang on the lever hard.
The footpeg and handlebar position feels comfortable and familiar to my six foot (185cm) frame. The Fast Eddy Racing team run Renthal bars which are a 999 bend on Sagar's bike but, again, it is a pretty standard position.
2021 improvements
Both of the bigger capacity SE two-strokes also have improved gearbox selector mechanisms, new gear ratios, are lighter by 600gms and overall the engine is over a kilo (over 2.5 pounds) lighter for 2021. In case you were wondering about gearing Sagar says they tested different options but went back to standard in the end.
With the two ignition maps, hard and soft on the handlebar switch, offering a five-horsepower difference depending on terrain, you have what feels like a very broad range of power which in turn gives you different gear options if you want for different conditions. The softer power mode didn't make a huge difference when we tried it on this test because of the track conditions but it does work where the dirt is slicker by flattening the power just enough to take the edges off and iron-out any sudden bursts of power.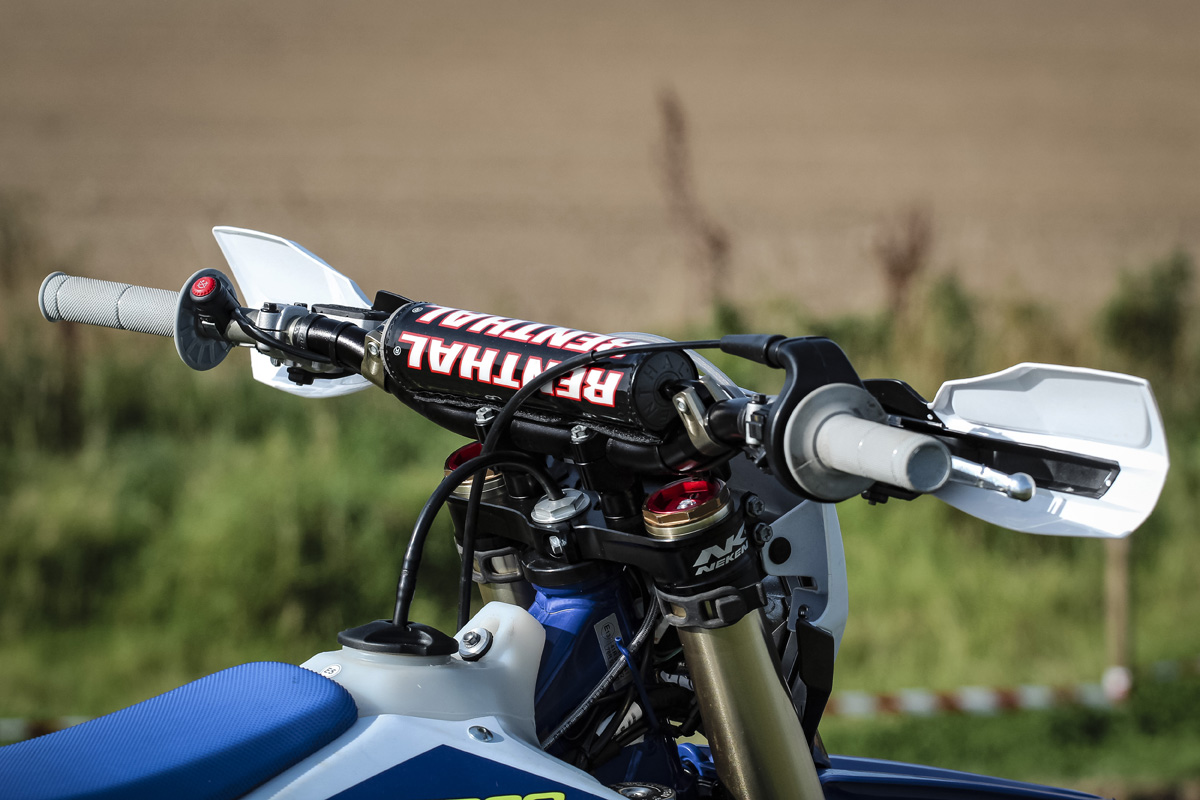 Overall the 2021 Sherco SE 250 Factory we tested stood as a more versatile bike than maybe I'd expected. I gelled with how precise it felt and really enjoyed the confidence inspired by grip feel in the woods or out on those grass turns and horrible cambers.
Sherco's updates for the 2021 models, particularly the counter-balancer shaft on the big two-strokes, is a noticable improvement. the riding experience. Riding with well set-up suspension with what seemed on the day to be a perfectly jetted carburettor, I jumped off wanting nothing more than to go racing Sprint Enduro right there and then.
More information: Sherco.com or for more details about this bike and set-up: FastEddyMotorcycles.com
Photo and Video Credit: Enduro21