Tested: 2022 Yamaha WR250F
The list of updates to the 2022 Yamaha WR250F is a long one, almost as long as our wait to swing a leg over it – Enduro21 finally tests the revamped baby WR boasting a new chassis and more power where it matters.
Yamaha nailed the launch test venue for the 2022 Yamaha WR250F. They basically took over a farm and served up a track which mixed graded stubble fields, a long enduro loop around the fields, had us ducking under bridges, through tight, root-infested woods with fallen trees and a neat little SuperEnduro area (for added arm pump) was a contrast to a rolling motocross track that let us stretch the throttle cable and get up through the gearbox.
We made a video on the day, go check it out on the Enduro21 You Tube channel.
It was just about perfect mix of riding to get the best impression of Yamaha's new baby 250 four-stroke enduro model. A bike with a new free-revving and more powerful engine, updated suspension and brakes plus a new chassis needed a proper test and it surely got it. Feel-good factor is everything on dirt bikes.
Ripper of a new engine
If the 'feel-good factor' of the '22 WR250F hinges on anything it is the updated engine. Like much of the new bike, it derives from the motocross, YZ model but is tailored considerably for enduro: improved ducting in the forward-facing air intake, a new cylinder head, a wider intake port, improved intake flow rate, a redesigned exhaust camshaft…it's the kind of list you expect for an engine boasting "higher combustion efficiency and increased power across the rpm range".
In reality, when the words are replaced by wheels on the ground, is a noticeable upgrade and the engine biggest difference you will find with the 2022 bike.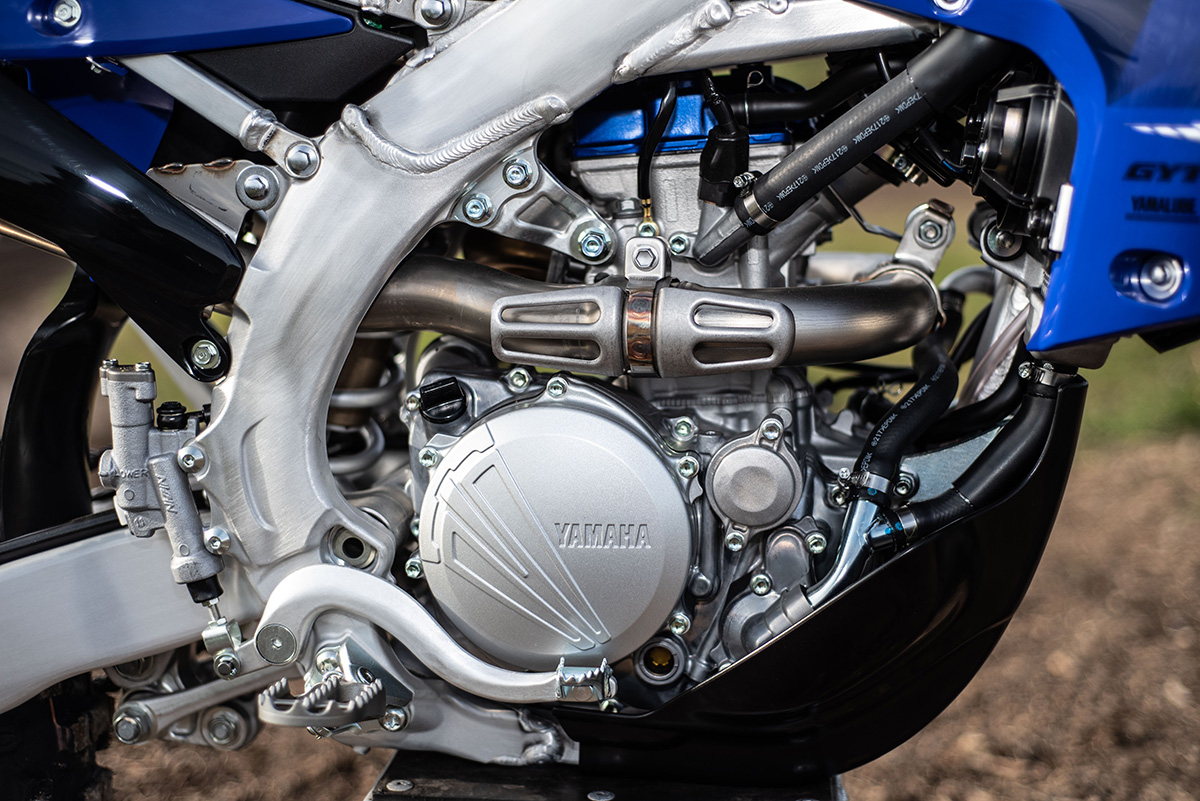 More power through the mid-range to the top end where it also feels like it revs more freely is basically it. The engine response is "crisper" you might say and more willing to rev freely, and for longer. On the stubble field section of our test course, when we were drifting into turns, getting on the gas early and nailing it towards the next big straw bale, the new engine was singing like an alto in a choir.
It's still a 250 of course and needs more work and gear changes than a bigger capacity engine but the usable power on the new model feels more readily available. That means you can hold a gear for longer (who doesn't want less gear changes?) and use the more flexible motor. Ultimately that makes new WR easier to ride faster.
Speaking of holding gears for longer, the gear change is peachy on this '22 250F. Sure, these were new bikes and still running in when we started the day but we had the same bike for about five hours riding and it wasn't getting treated lightly.
Yamaha say new ECU settings, a redesigned balancer to keep those vibes away and a new gear shift cam are all helping with smoother and easier gear shifting.
Bilateral frame versus steel backbone
The 2022 WR250F's aluminium bilateral beam frame is another doner part from the sister YZ250F and enduro bikes derived from motocross bikes always feel stiffer. Some people like that depending on what kind of riding they do but naturally plenty prefer the steel frames and their more flexible nature.
But Yamaha don't simply bolt on a few parts to an MX bike, chuck in a smaller rear wheel and call it an enduro bike. This is an important point about the WR: for all the YZ-derived talk it is an enduro bike most of all.
The WR feels different to the YZ when you ride and that's clearer the faster you go. There is more give than the YZ in the chassis as a whole (not just the suspension) and it has a nature which lets you exploit chassis set-up, rather than being just another MX bike with lights on.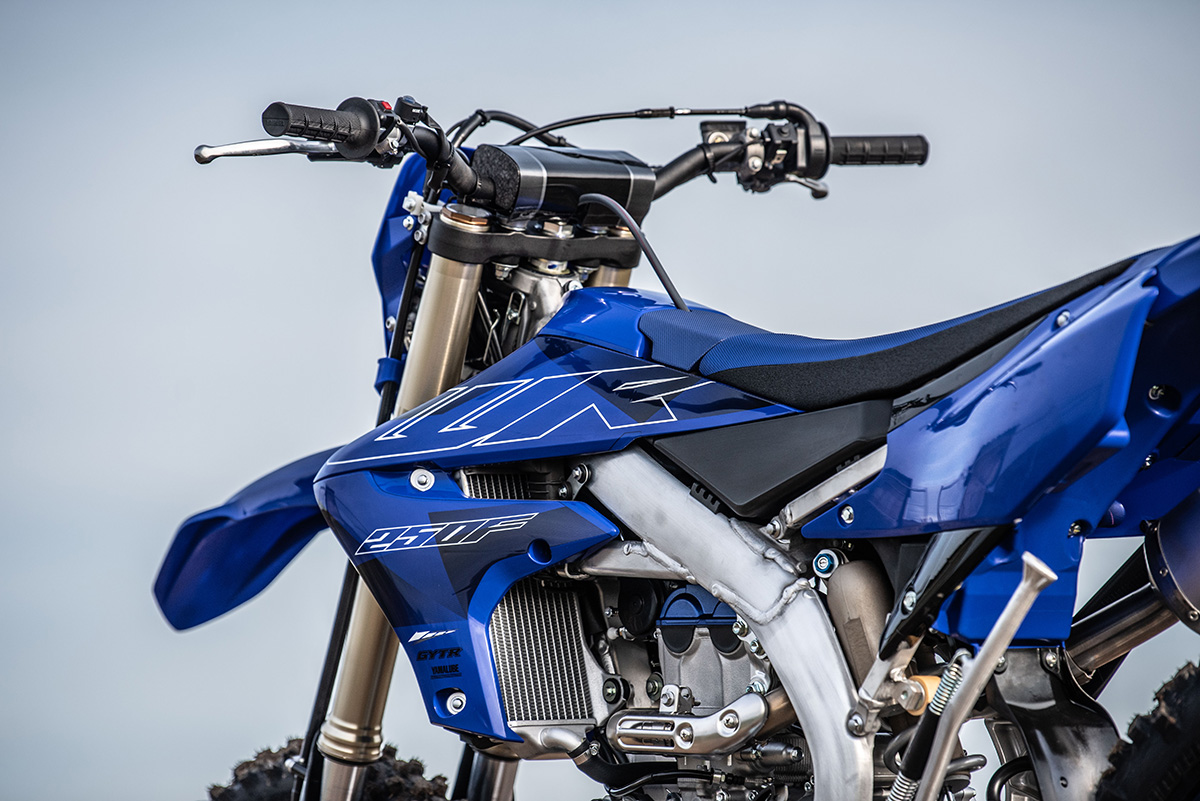 The extra stiffness of the bilateral frame compared to a steely backbone type is complimented on a Yamaha by very good standard KYB suspension, this is common knowledge by now. The stock suspension lets you exploit the best of the WR in enduro conditions and although the chassis might be stiffer than a steely, the overall package is better for enduro competition.
That KYB suspension remains one of the Yamaha's biggest selling points. It makes a bike more positive (call it stiffer if you like) but that means when you can ride harder, like in an enduro let's say, and the truth is it works better than the Austrian enduro bikes do for competition straight out the box. That gap may just have widened with the '22 model WR.
A bike which behaves itself
We played with suspension settings a little to go softer and turn it into a more trail friendly, non-competition bike. It's just as capable of doing that as it is going the other way, and tweaking stiffer to cope with racing conditions.
The point is with this KYB suspension you can do both on one bike without visiting a suspension specialist. The new WR250F goes further too with a change to the front end feel and braking performance for 2022.
A more powerful front brake set-up direct from the YZ250F has a 30% more rigid front caliper with 25.4mm pistons and a new 270mm front disc, plus new brake pads with a 25% greater surface area compared to the previous system
More power and plenty of feel from the front brake is only part of it. Add into the equation new damping settings in the forks, a redesigned top triple clamp, new handlebar clamps and front axle and overall you have a bike which behaves itself better and gives you more confidence in the corners.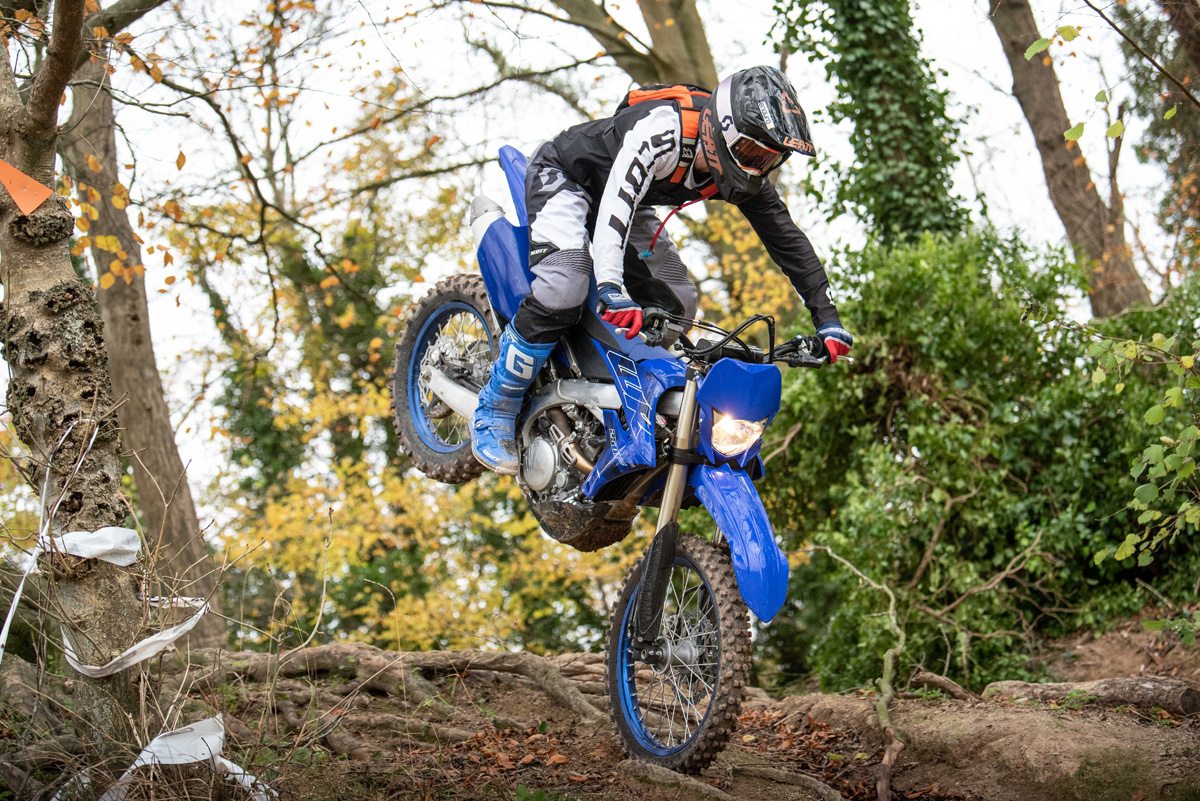 When a manufacturer lists changes like these you often wonder if you can feel it but the front end feel on the '22 WR250F, the overall effect on how confident you feel on the brakes, is an improvement we really did notice.
Admittedly we were testing in conditions and at a location which mostly suited the WR's skills, but it wasn't all stubble fields and fast stuff. The woods sections were tight, first and second gear, tree bashing stuff and we spent time tackling big logs, rally gnarly root sections and some trials-like extreme riding.
That more technical riding needed good feel on the footpegs, throttle and clutch to make the tyres work and this WR has more feel thanks to a more positive front end.
Hot start problems? They all do it sir...
One question mark about any four-stroke is the hot start – basically how quickly and easily it fires back into life when you stall it while you're riding.
Broadly speaking you can say the European 4T enduro bike manufacturers seem to have this issue nailed better than the Japanese, but it is still 'a thing' common to all four-strokes. Even Billy Bolt stalled his Husqvarna at the first SuperEnduro round of 2022 in Poland and had trouble restarting.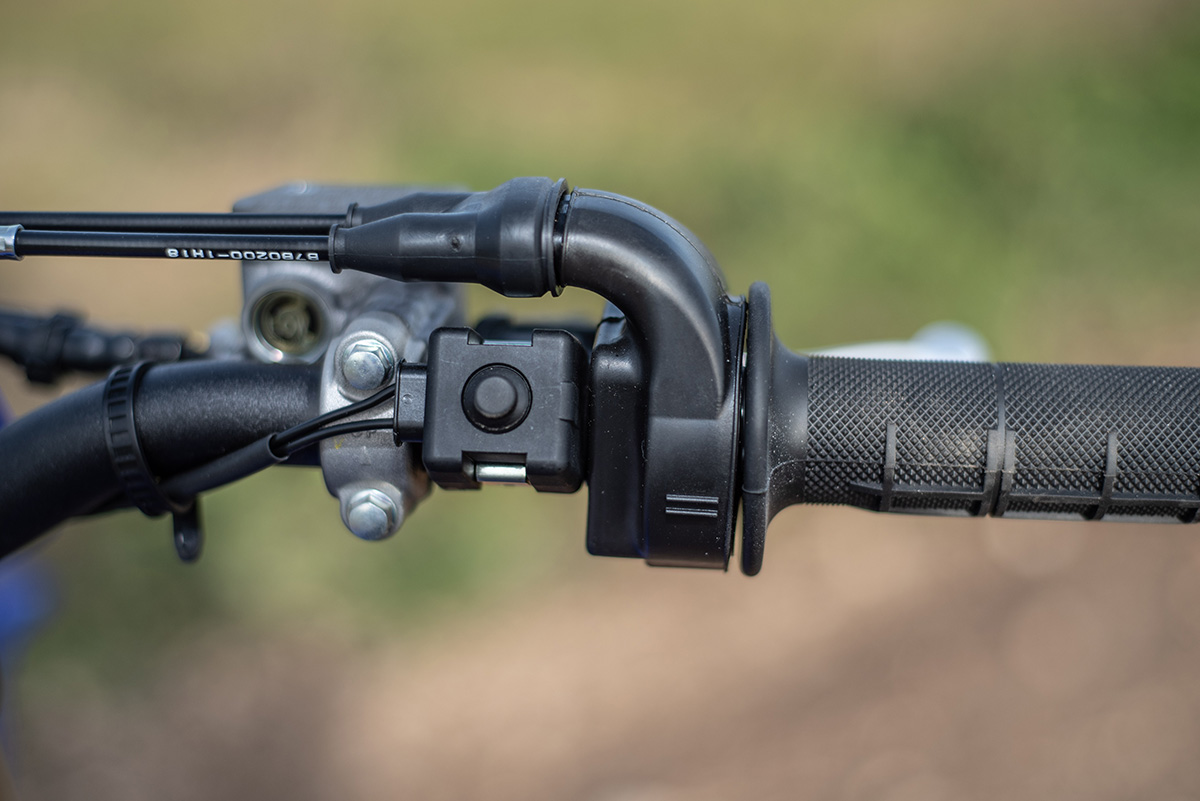 It's a question a few people threw at Enduro21 ahead of this launch and we were conscious over the whole day testing just how much we were stalling or having a problem restarting – for sure it was more than a 2T bike would have been doing.
This has always been a problem but the truth is things aren't as bad as they used to be and the Yamaha's changes to the WR's engine have improved things, though not cured it. There's a trick on the Yamahas which helps too, match up a line on the throttle grip cuff with two lines on the throttle housing (effectively opening the throttle a small percentage), helps her fire back up.
A bit of muscle memory helps, but once you get used to how this bike starts, we reckon you'll get used to it and consequently it will happen less.
Hydraulic clutch? Who needs it?
Another question posted to us from Enduro21 readers (thanks for your feedback and questions always by the way) was about the Yamaha's continued use of the cable operated clutch. We asked Yamaha about it and their reasons are straightforward: it is strong, simple mechanically (no chance of split hoses or smashed master cylinders) if you crash and offers a consistent biting point when it gets hot.
We tested that boast about it being consistent and it seems true. A heap of hard use in more extreme woods section doing some of these images made no difference to the feel or biting point.
It's also lighter than some hydraulic clutches which is contrary to popular belief. We've had a 300 TPI on test for a few weeks and the hydraulic clutch on that is harder work on the left forearm muscle than the cable clutch on this WR.
Playing with the mapping
Yamaha's Power Tuner App is a cool addition to this bike and it was a good learning curve playing with it on this test, our first real try of it on an enduro bike. Yamaha Off Road Experience's Dylan Jones (UK training school) has more understanding of how all this works and helped us a lot with different maps to try.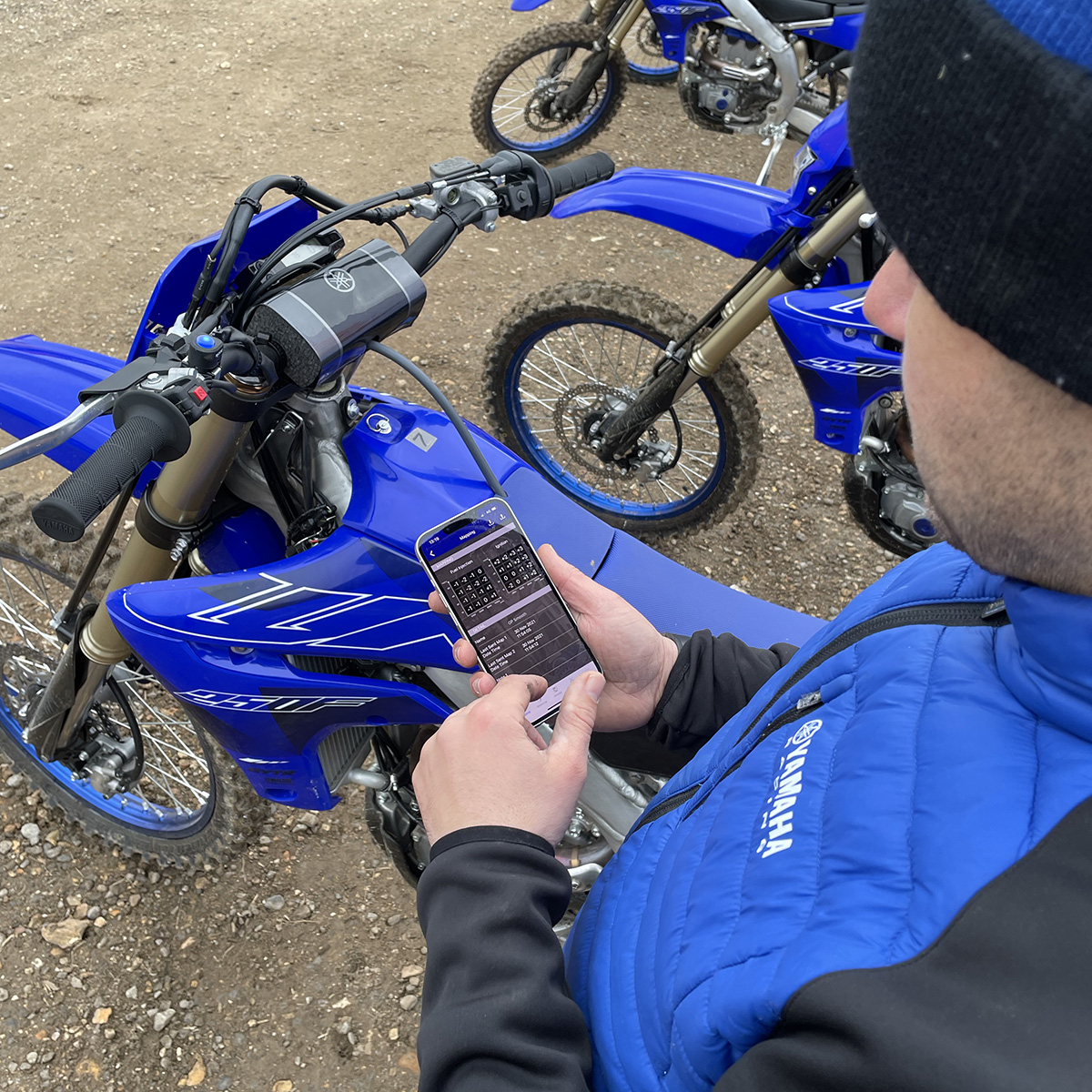 We tested different ends of the scale in terms of power character using the app. We dialled in different settings (it takes seconds) including a softer map, better suited to extreme and slower riding (which was less inclined to stall also), right to the other end of the scale and a map basically like the YZ250's.
By the way, if you are into sprint enduros, tweaking the map YZ-style and fitting the optional Akrapovic race pipe make the WR more lively.
As with previous models, there is a mode button on the handlebar too, switchable while you ride between full power and a softer map. Don't dismiss the second map, in technical stuff or mud it really can be the better option and because it is easy to change you can make choices while you ride.
Got the FX?
It's worth pointing out we were testing the full-fat WR250F here, how it comes in the UK where we did this test and how it is sold as a non-homologated off-road bike. The FX model is common in different countries around the world, which is basically the same bike but detuned slightly for emissions and noise, mostly through a different exhaust and mapping as we understand it.
If the FX and not the WR is the one available in your country, it should be no problem to get the performance kit from the Yamaha dealer to "unlock" the potential.
Bigging up the baby four-stroke
When it comes down to it you can find situations where a two-stroke would be better than this bike. A few minutes attacking a fallen tree from an angle, using the foot on top and a clutch blip to hoik the bike over trials-style, showed the '22 WR needed a lot more commitment than a 2T bike would have done in the same situation.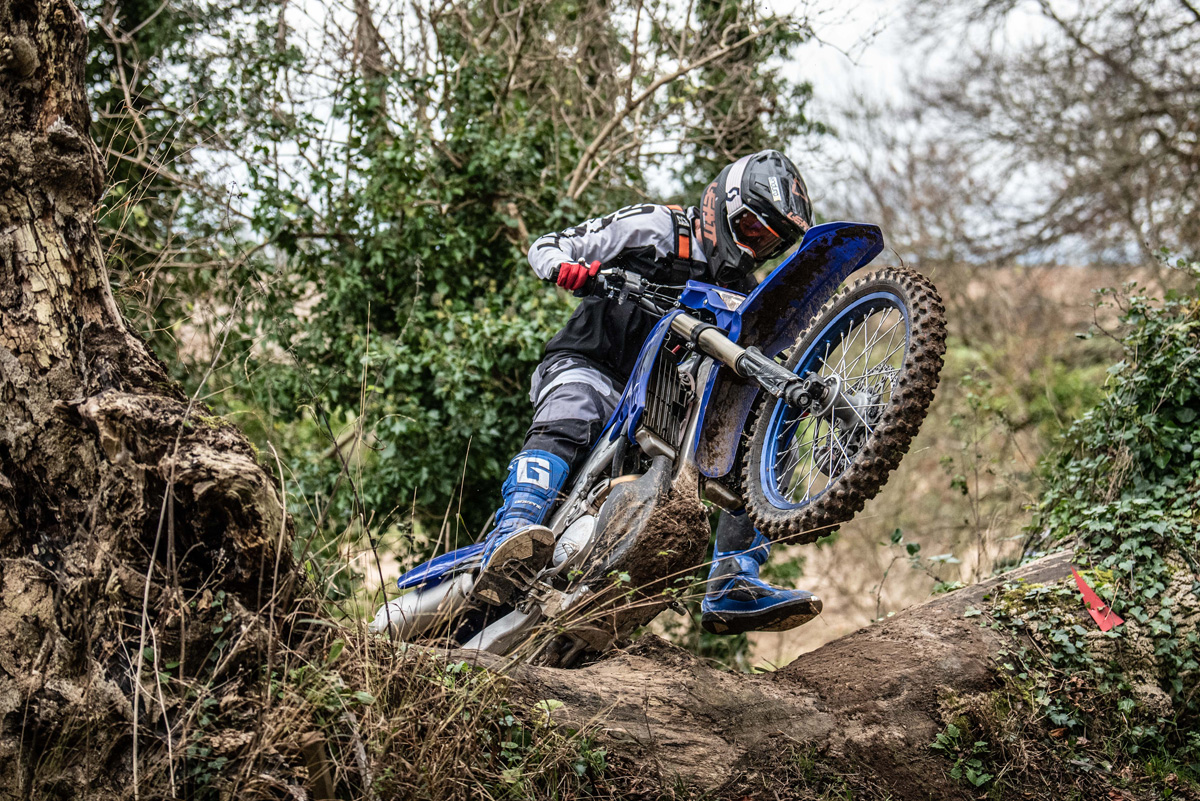 But the range of riding you can do on the '22 WR 250F has grown broader over the years and that fallen tree proved a point that this new generation WR is the best yet.
It is typical of a 250F in that it makes you want to do more, whether that is attacking a big log or going a bit harder and for a bit longer around a stubble field.
There are plenty of things a four-stroke does better than a two-stroke but chiefly a 250F is as good as it gets for encouragement. This is one bike which makes you go looking for more not less to ride over.
Verdict...
It will come as no surprise to hear us tell you the 2022 Yamaha WR250F is better than the old one. It looks better in the flesh, matching the latest gen Yamaha family with more blue than ever and the matching wheels look cool.
Feel good factor is everything like we said at the start of this test report and the new WR250F has more of that in store. It is more capable in different riding conditions and a better bike for that.
We didn't spend too much time riding along in trail mode on this test, mainly because it was too damn encouraging to keep riding like a kid with a new toy. But the overall civility of the '22 WR250F has improved and that should translate to a better trail bike. Dial the suspension softer and you will have a perfectly useful and reliable bike that'll do 100 hours no sweat (so long as you keep changing the oil – 0.95 of a litre oil capacity needs regular replacement).
The new engine felt like the key to this being a better bike though. A 250 four-stroke which is happier to pull gears and hold revs longer makes it addictive to ride.
The changes to the front end felt like a bonus to us too. More feel from the brake and bigger confidence into corners with the new chassis add nicely with that livelier engine to give you more of what we like – a bike that makes you want to ride more.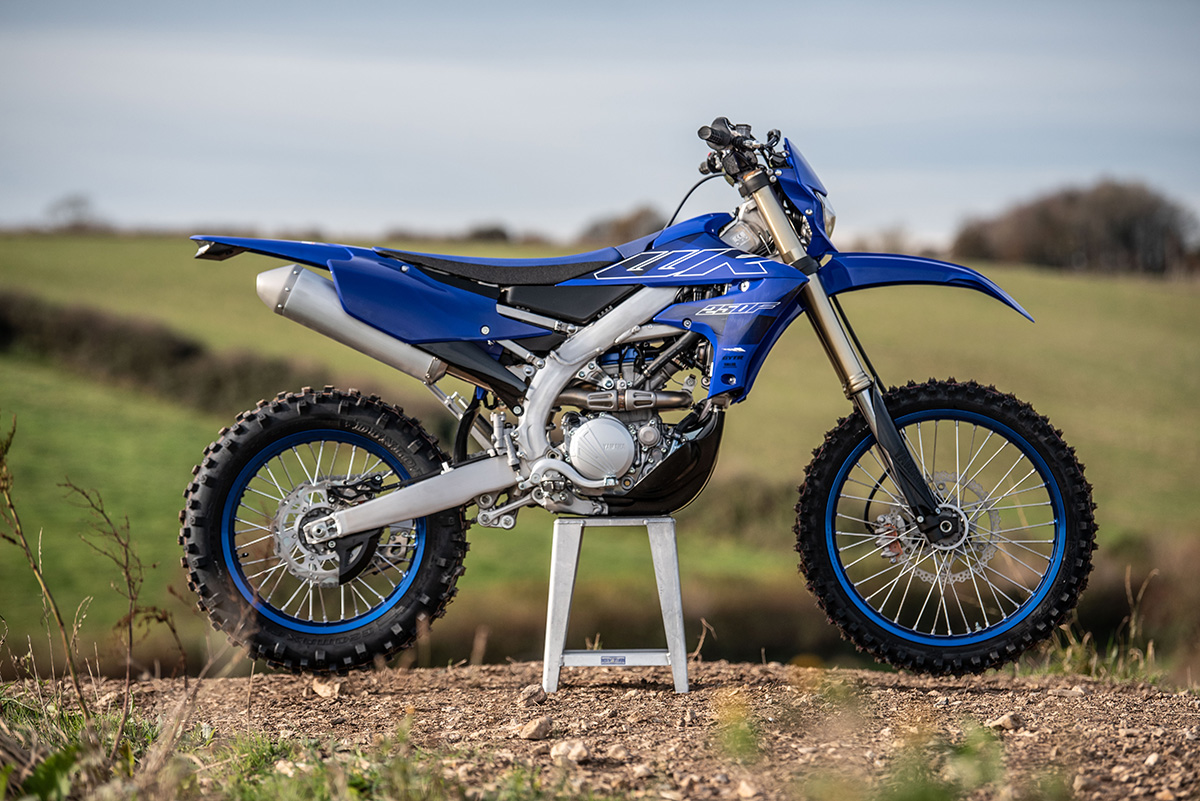 What are the changes for 2022? The list is long – 2022 Yamaha WR250F highlights:
New YZ250F type cylinder head
New YZ250F exhaust camshaft
New YZ250F intake port
New YZ250F type intake joint
Improved cam chain tensioner design
Redesigned engine balancer
New gearbox shift cam
New CF-die cast aluminium Deltabox frame
New engine brackets with WR-specific rigidity levels
Industry leading KYB speed sensitive forks with revised damping settings
New top triple clamp with redesigned handlebar clamps
New YZ250F type footrests, handlebars and front axle
New multi-function meter (dashboard)
Stronger chain guide bracket
New 270mm front disc with 16% larger surface area
New more rigid front brake caliper with larger pistons
New front brake pads giving 25% more contact area with disc
New exhaust heat guard
New stronger muffler bracket
2022 WR250F technical specifications:
250cc, liquid-cooled, 4-stroke, DOHC engine
Reversed cylinder head with forward facing inlet
77.0 × 53.6mm bore and stroke
13.8 : 1 compression ratio
Yamaha Power Tuner for smartphone engine tuning
Electric start
Radiator fan as standard
Six-speed enduro transmission, o-ring chain
7.9 litre fuel tank
Light feeling clutch, cable end quick-adjuster
Aluminium Deltabox bilateral beam frame
27º10 caster angle
116mm trail
955mm seat height
1480mm wheelbase
15kg wet weight (incl. fuel and oil)
KYB speed sensitive damping coil spring front forks, 310mm travel
KYB with link-type rear shock and suspension, 317mm travel
320mm ground clearance
Hydraulic single disc front brake, Ø 270mm
Hydraulic single disc rear brake, Ø 245mm
Front tyre 90/90-21 54R (tubes as standard)
Rear tyre 140/80-18 70R
Four-position rubber-mounted adjustable handlebars
Handlebar-mounted dual-mode engine mapping switch
Lightweight resin skid plate as standard
Icon Blue bodywork with in-mould graphics
Blue wheel rims
Aluminium sidestand
Photo Credit: TooFastMedia