Tested: Husqvarna Norden 901 on Jarvis's off-road tour of Portugal
Enduro21 sends a regular enduro rider to Graham Jarvis's Portuguese tour and a chance to test the Husqvarna Norden 901 adventure bike, the former Swedish brand's biggest bike and see how it fares if you're used to lightweight, off-roaders.
When it was launched, Husqvarna defined the new Norden 901 as "an exceptional 'adventure tourer' with which to explore the world in your own way". Through the eyes of an enduro rider, a regular guy how goes out riding trails at the weekends for fun, it is a huge departure from the norm.
Aside from the look of the thing, the size and weight is one giant leap away from what many of us are used to – even if our tester is used to an old Yamaha WR!
So we took advantage of our visit to the Jarvis Experience Tours in Portugal, where they have different Husqvarna models for customers including the Norden, to get some time on the world's biggest Husky.
Getting used to the the big bike
At first glance, the Norden 901 appears a bulky motorcycle, especially due to its large 19-litre fuel tank which has a theoretical range of more than 400 kilometres, according to Huqvarna. If you're used to enduro bikes this kind of range seems unbelievable.
However, first appearances are deceiving when you get on this bike which mixes new design with a retro-looking trail feel all in a sober overall characteristic with the round headlight standing out – which bears a certain resemblance to the sight glass of old diving suits.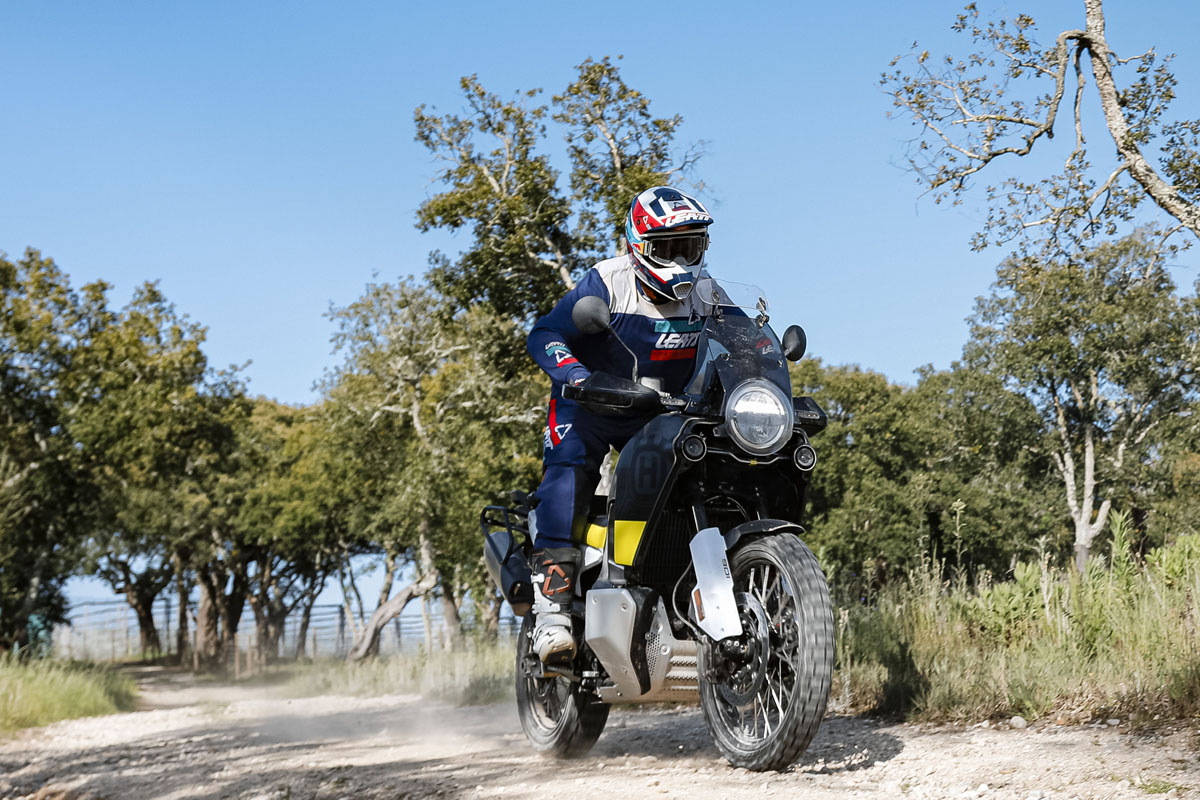 A bike to do 'soft enduro'
Don't expect to get on the 901 and feel the slender proportions of an enduro bike, although its quickly clear how hugely comfortable it is for sitting down to ride – and also standing on the footrests on the off-road sections.
Thanks to the trellis frame used extensively by the KTM Group in its many models, and despite its 220 kilos loaded with fuel which is twice the weight of any of the current enduro, it hides the weight well with a low centre of gravity.
One thing to keep in mind when you ride is the inertia. You can't ignore it when stopping the bike which wears medium grip Pirelli Scorpion Rally STR tyres on 21-inch front and 18-inch at the rear (tubeless) rims. It means the braking distances are not the same at all as with an enduro.
As ever with this segment of the tyre market, they are designed for 50/50 off-road and asphalt, according to Pirelli so what you lose off-road, you gain on it.
Although they have grip on the dirt, they suffer from a lack of poise at the front so, if you're going to change them for more off-road biased hoops, you shouldn't rule out the option of fitting a more knobbly front to get that feel back. If you also swap the rear, take into account how hard it is since with 105 horses you can finish with the destroyed rubber relatively quickly.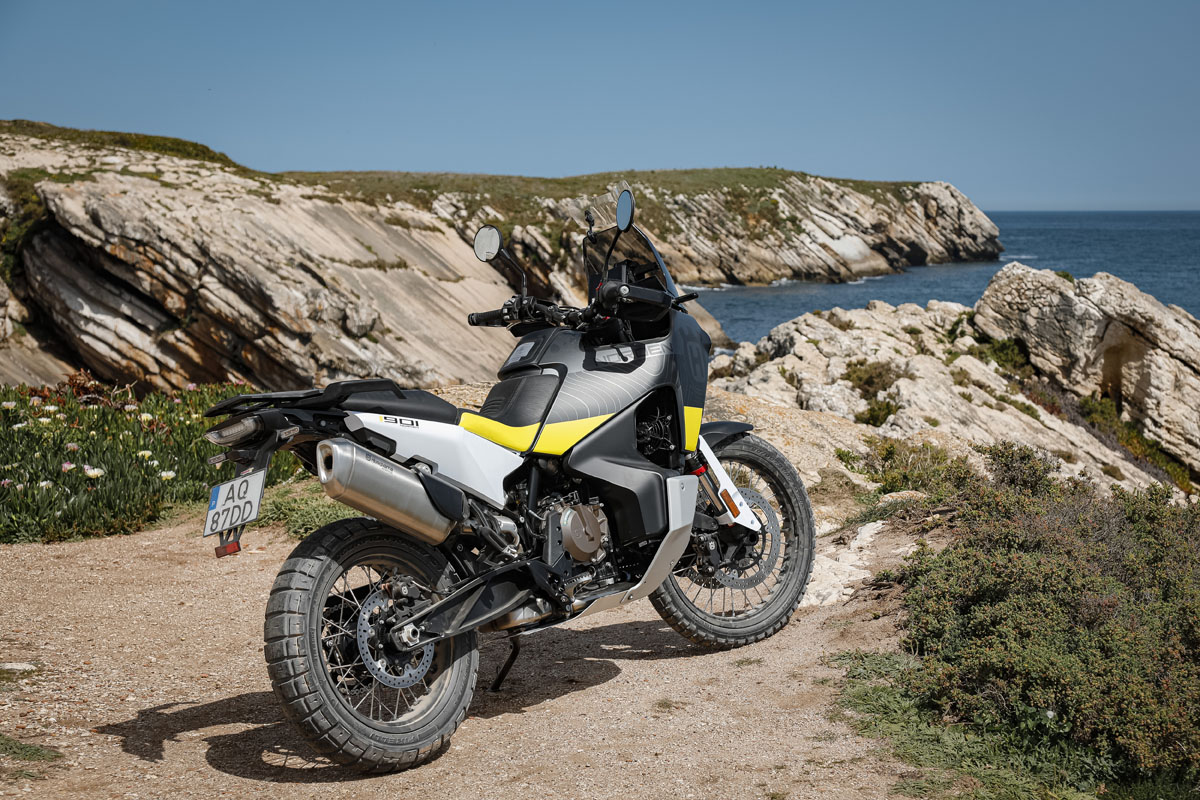 Power to spare
The Norden 901 mounts the same 889cc twin-cylinder engine as its orange sister, the KTM 890 Adventure. An engine extensively tested by the Mattighofen factory that offers 105hp – much more than you need on dirt and you are forced to curb your enthusiasm often with the throttle.
Its robust Austrian-built LC8 engine is aided by an Easy Shift gear-shift and three driving modes (Street, Rain and Offroad) to make life easier. However, despite this test having some road riding, as the G.O.A.T. was in charge, we focus on the 'Offroad' mode.
The modes are easily accessed from the button located on the left handlebar. With three simple clicks power is adjusted and you can deactivate the rear wheel traction control and keeping the ABS up front.
Configurable modes for off-road
It also has an optional, fully configurable 'Explorer' mode and it's one we recommend from our point of view if you want to use it off-road. You can customise the throttle response, the ABS and up to nine different positions for throttle control and multi-traction control (MTC).
In the suspension department you've got options as well. The WP 43mm APEX front suspension has 220mm of travel, and the rear has 215mm of travel with preload and rebound adjustment.
For our liking it's a bit harsh when riding on dirt and the added adventure bodywork makes quite a noise when riding at speed on an uneven surface, but it doesn't give bad feedback.
Another thing is that hot conditions, as we found in Portugal, you feel the heat coming up from the engine, especially on the slower bits of the route.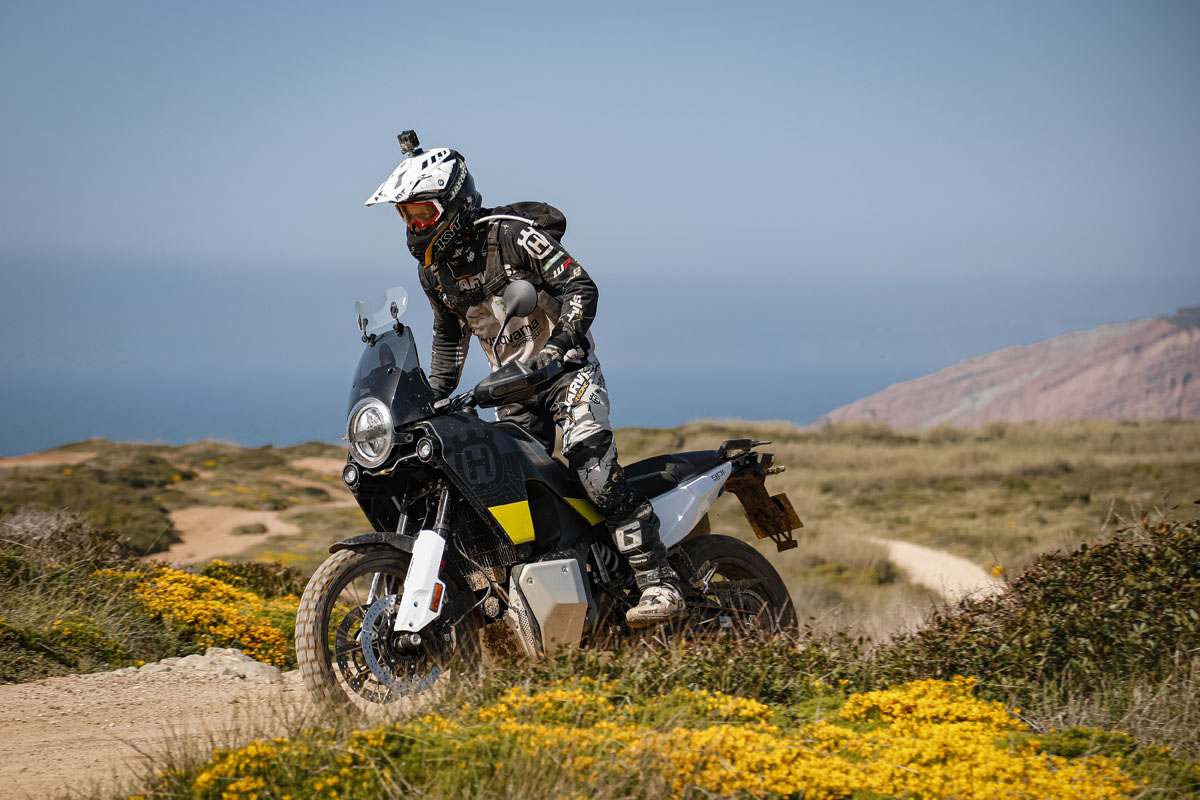 No need hard enduro stunts
The adventurer Mike Horn and the five-time Dakar winner, Cyril Despres, were in charge of showing the versatility of the Norden 901 with a trip through Iceland at the initial global launch time.
Cyril reported it was a bike "capable of crossing rivers, going over rocks and going slowly and with control when and where you need it", in addition to being a "very powerful bike to use on straight sections." It was some statement by the experienced French rally-raid rider that despite seeming PR talk, you have to take notice of.
In reality the Norden 901 is capable of riding at a good pace on tracks and open roads, and even on wide single tracks, you just need to naturally be more cautious than with an enduro bike.
The Norden 901 is a motorcycle capable of riding at a happy pace on tracks and open roads, and even wide trails, albeit at much more cautious speeds than with an enduro bike. In fact, Husqvarna have distanced themselves from that concept so fashionable today among the adventure community of putting a hard enduro rider on a bike and showing it off.
Although the Norden is a motorcycle capable of taking you to the end of the world, as they say, forget about seeing Billy Bolt or Graham Jarvis doing impossible stunts. Husqvarna is clear it already has a wide range of enduro models for that game.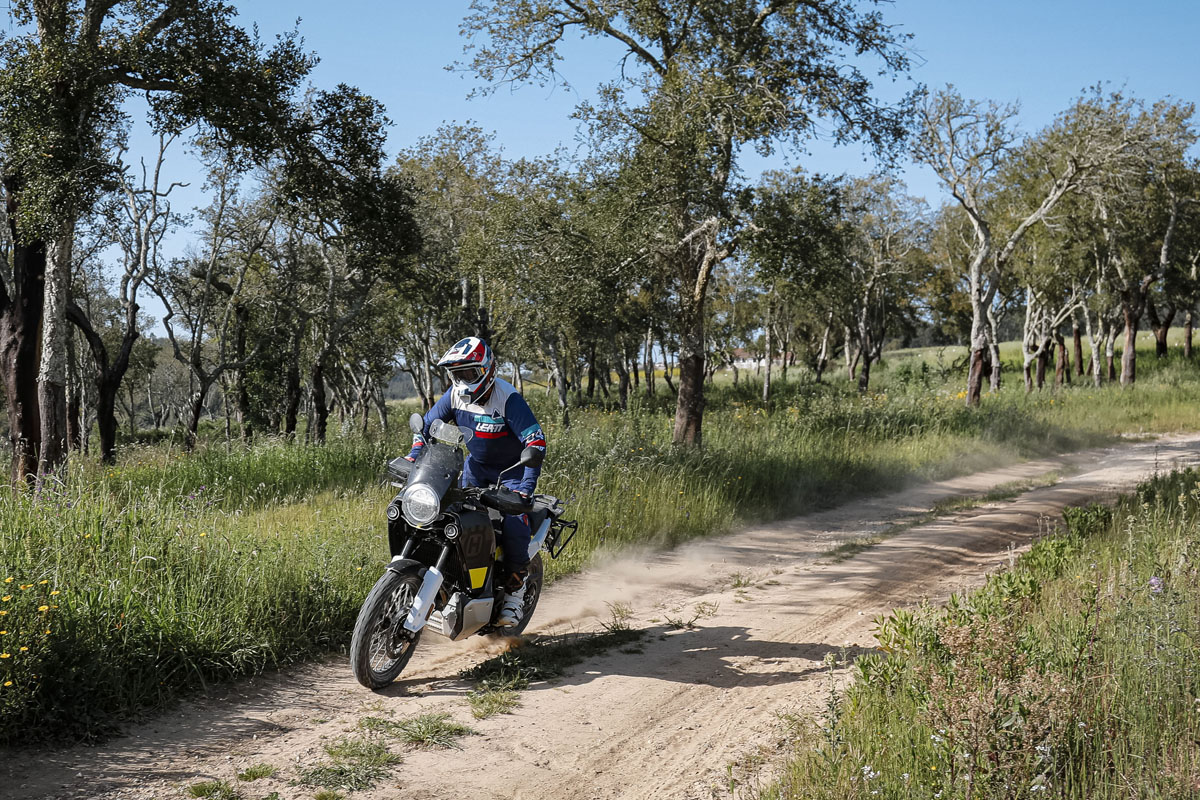 Enduro21 verdict: A "duplicated" off-road capable bike
The Norden 901 is a motorcycle capable of venturing off-road, stepping on stones and mud, and even wading through a river without fear of getting into any mess. You're always concious it is of a full 220 kilogramme motorcycle with less steering lock and that everything in general is duplicated when compared an enduro bike – the twin-cylinder engine, weight, inertia and the stopping distances. If you are clear about all this, you'll surely enjoy an XXL version off-road as soon as you become familiar with it.
As Husqvarna points out, it is a 50/50 trail bike, its low fender also confirms this. Maybe it's a little too wide at the front but the almost 20-litre tank can take you to places where it may be difficult to find a gas station and you can plan long routes without thinking much about fuel – an alien concept if you're used an enduro gas tank range.
It is recommended to carry out maintenance every 15,000 kilometres, although if you are going to use it for off-road, we recommend that you shorten the periods given the increased wear and tear.
Unlike other maxi trail bikes from the Austrian manufacturer, such as the KTM 790 or 890 Adventure, the Husqvarna Norden 901 avoids the racing character and the association with the world of competition. This bike has a 'premium' air and occupies its own space within a market segment.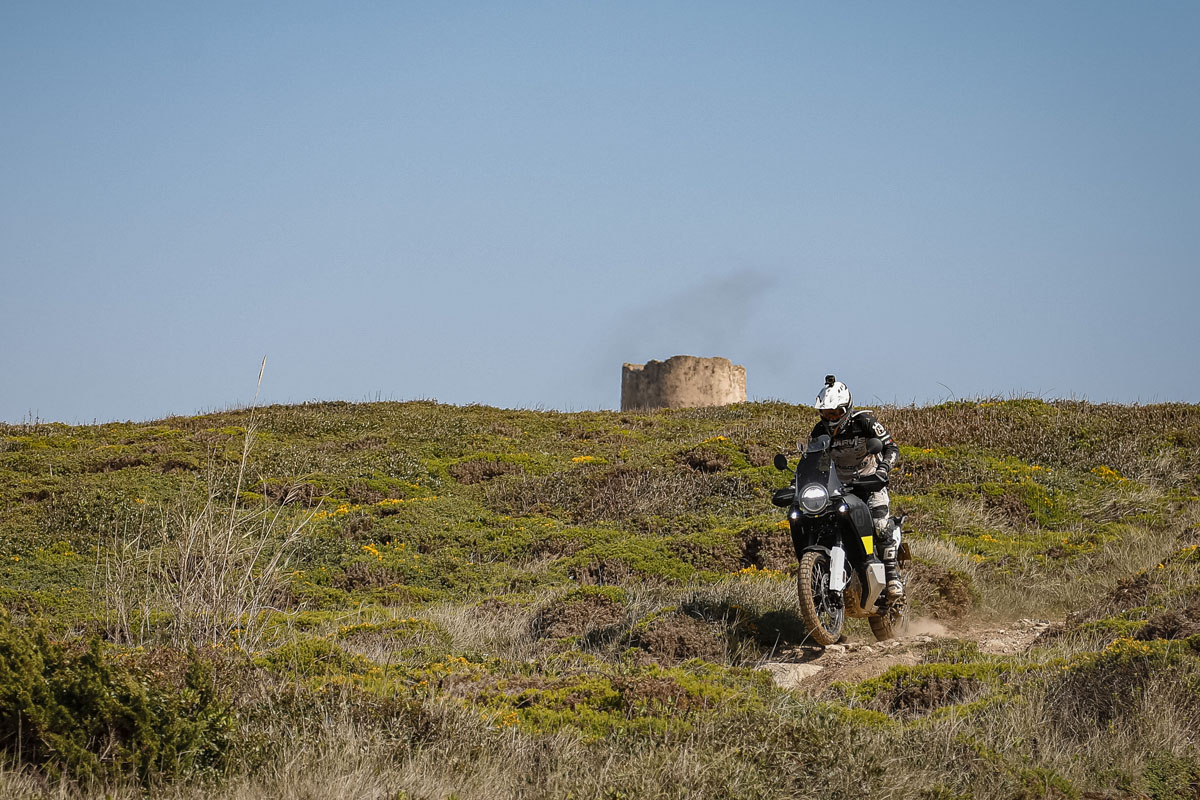 What we wore
With high temperatures and the type of largely off-road route promised by Jarvis Tours, we decided to use a complete enduro kit instead of trail or adventure gear.
A Leatt Moto 3.5 v22 set of pants and jersey with good breathability and matching gloves. A light (Leatt 4.5) jacket had removable sleeves and gave ample ventilation with a practical pocket on the back where we could safely store our mobile, documentation and spare gloves.
In the protection department we used a Leatt Moto 3.5 v22 helmet which proved pretty good at higher speeds thanks to its air passage openings. We also used the Airflex chest protector from the South African firm which was light and ventilated and largely went unnoticeable while wearing it.
Add to that comfortable Leatt 4.5 Enduro boots, which did not cause us any chafing despite wearing them for the first time on this test.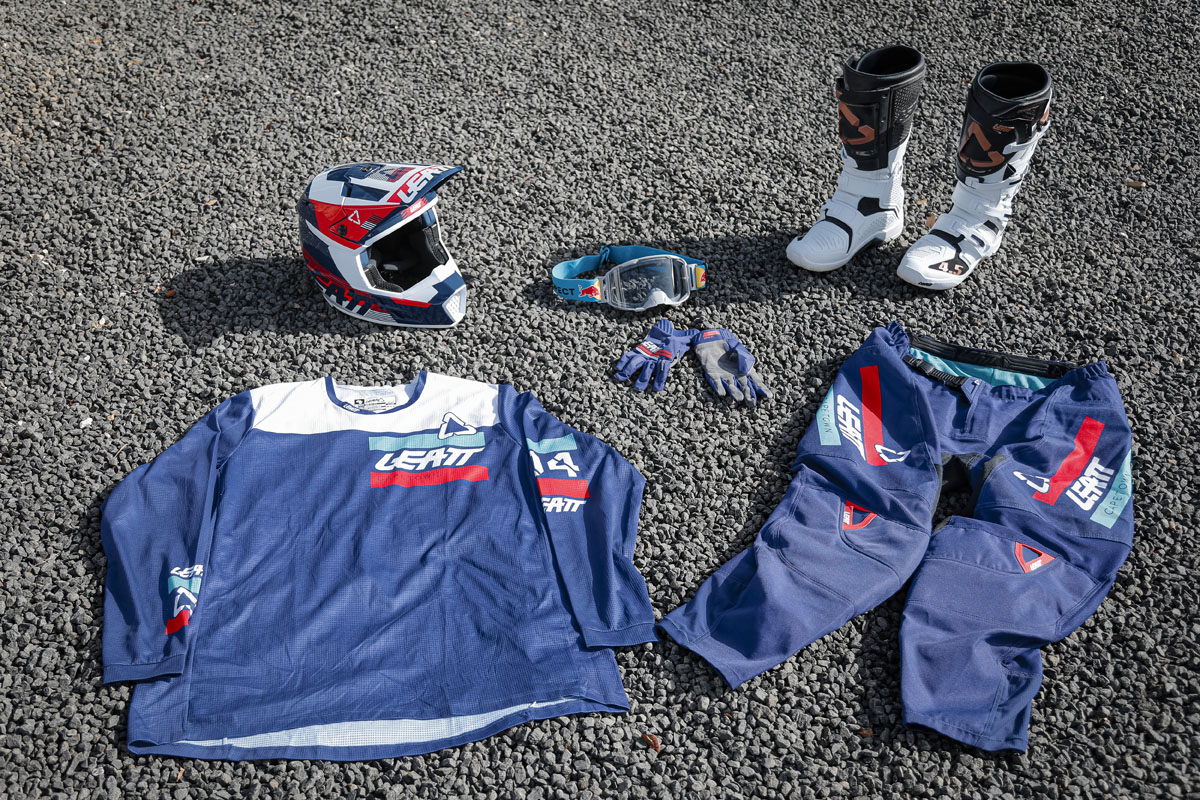 It was a complete set from Leatt's mid-range with which looked good and was protective. We were lucky enough to try the new Strive model from the Red Bull Eyewear range from the Spanish importer Mundo Talio.
There aw no danger of fogging in this weather but the protection from any impact or branches was good and they have a practical protector for the nose plus light refracting lens to protect from sun damage to eyes.
Photo Credit: Endurodesinquieto, Diogo Guerra and Future7Media