Tested: KTM 690 Enduro R
KTM's 690 Enduro R carries Dakar-winning DNA, boasts off-road skills and stands as an anti-dote to Adventure bike behemoths – Enduro21 put it to the test.
On the face of it the KTM 690 Enduro R sits on the periphery of bikes Enduro21 would normally test. At 146kg and sitting within KTM's Adventure bike range what right do they have calling it "Enduro"?
But here's the thing (or two)… Firstly, they called it an Enduro model, so we wanted to prove that one way or the other. Secondly, we (and KTM) know well enough that a hell of a lot of people don't care about tracks but love trails – those that enjoy nothing more than weekend rides, going places, going anywhere. The 690 R promises a do-it-all package, which strides the great divide between off-road and adventure.
Putting the 690 Enduro R in context
The KTM off-road range is a wide one, spanning from mini motocross models through the EXCs across to the mighty adventure bikes. Viewing the entire off-road motorcycle range in its entirety highlights the jump between lighter and more purposeful competition motorcycles and Adventure bikes. Has KTM pulled a master stroke dropping the 690 Enduro R into a part of the bike market where more and more people live and ride?
Single cylinder goodness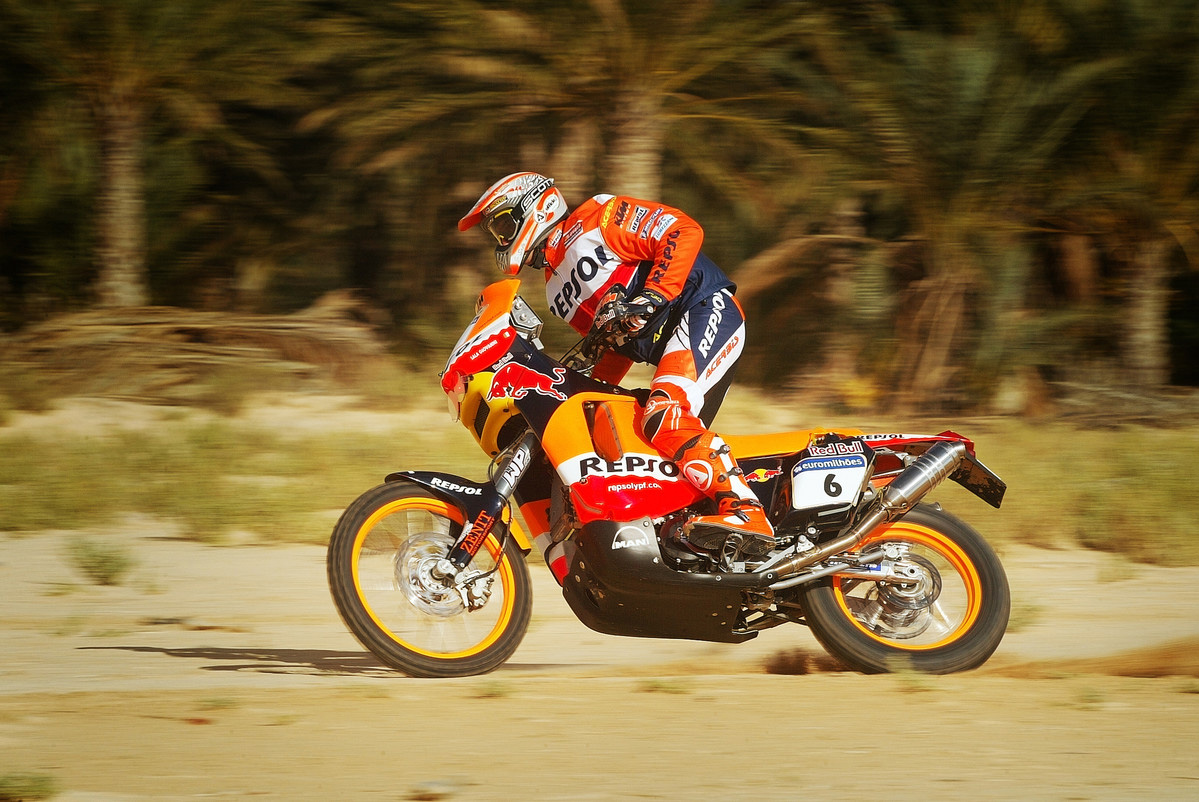 "We are convinced the single cylinder engine has its place in motorcycling" KTM announced at the world launch of the 690 Enduro R in 2019. At the time we scratched our heads, all the bikes we ride have single cylinders, we thought? The largely road-biased bunch of bike journalists used to street and adventure bikes didn't even blink.
First introduced in 1987, KTM's single cylinder LC4 motor has been one of their longest and perhaps most iconic. Found in Duke models and Supermoto SMCs, LC4s carried KTM to the Dakar in 1994 and took their first of 18 Dakar trophies in 2001. By now the engine has earned a place in the history books.
From a rider's point of view the LC4 was always a no-nonsense engine full of purpose and not short on kickbacks, literally if you ever tried to kickstart one of those older models. Since the rules for Rally changed and Dakar race bikes dropped down to 450cc engines – not to mention the demise of the big Supermoto bikes (and sport) – the LC4 went into oblivion and has merged into the background while KTM takes ever greater strides with off-road, street and adventure bike ranges. Is there still a place for lumpy four-stroke singles?
Learning from history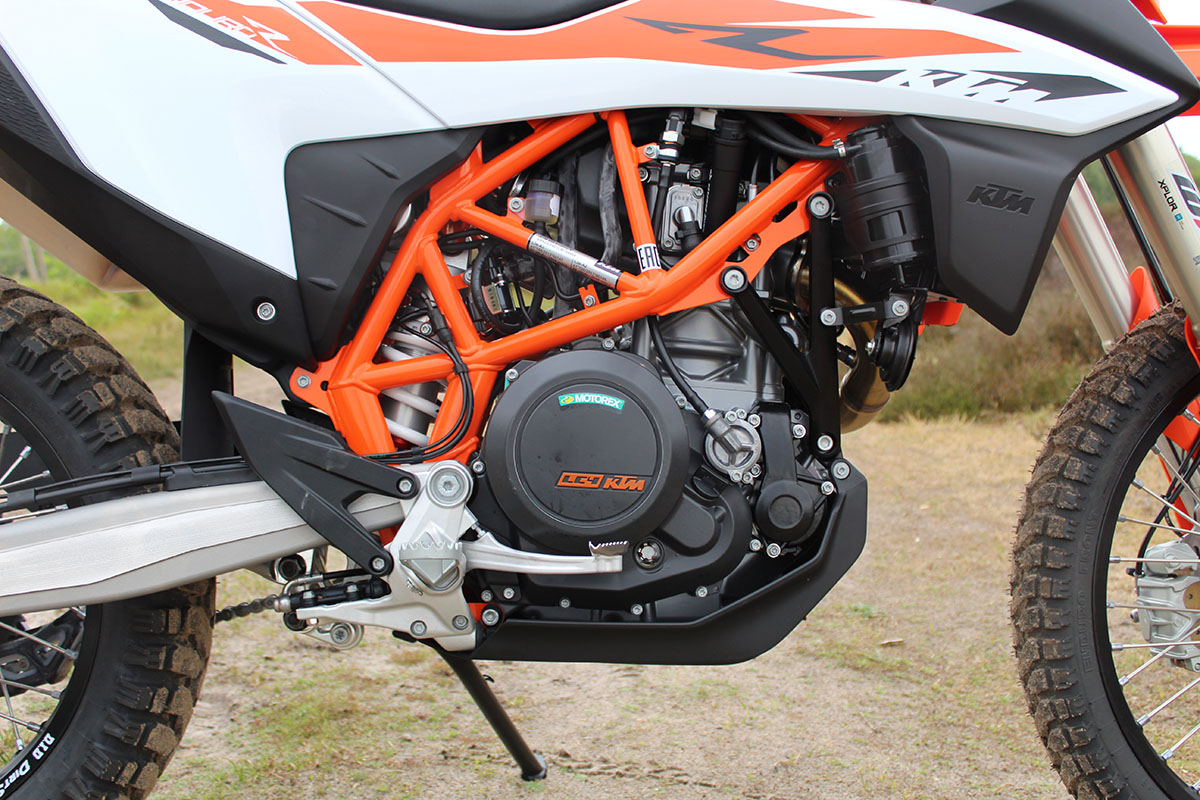 Smooth and vibe-free is not the way you could describe the old LC4 engine. You want numb hands? Go for a ride on a 2007 660 SMC. Trust us, we know. The difference between an old LC4 engine and this new-gen version is so big you'd think it was a different engine.
The claimed 74hp power arrives softly at the bottom in any gear making it useful riding slowly in heavy traffic or tiptoeing along a tricky, single track off-road trail. Through the gears and the rev-range it responds and feels alert enough for an engine this size, turning a comfortable 70 mph cruising speed and with enough zip in the mid-range to make overtakes on the road easy (without needing to drop down two gears either).
The bigger bore, shorter stroke, new LC4 has a hydraulic slipper clutch, quickshifter, twin spark plugs and importantly a balancer shaft. It is a crucial element in removing those vibes but also in ironing out the lumpy aggression of old.
The clutch is light too, adding to an overall package which any new rider or experienced and capable trail junky heading out for a few hundred miles off-road will appreciate.
Adventure lite or enduro heavy?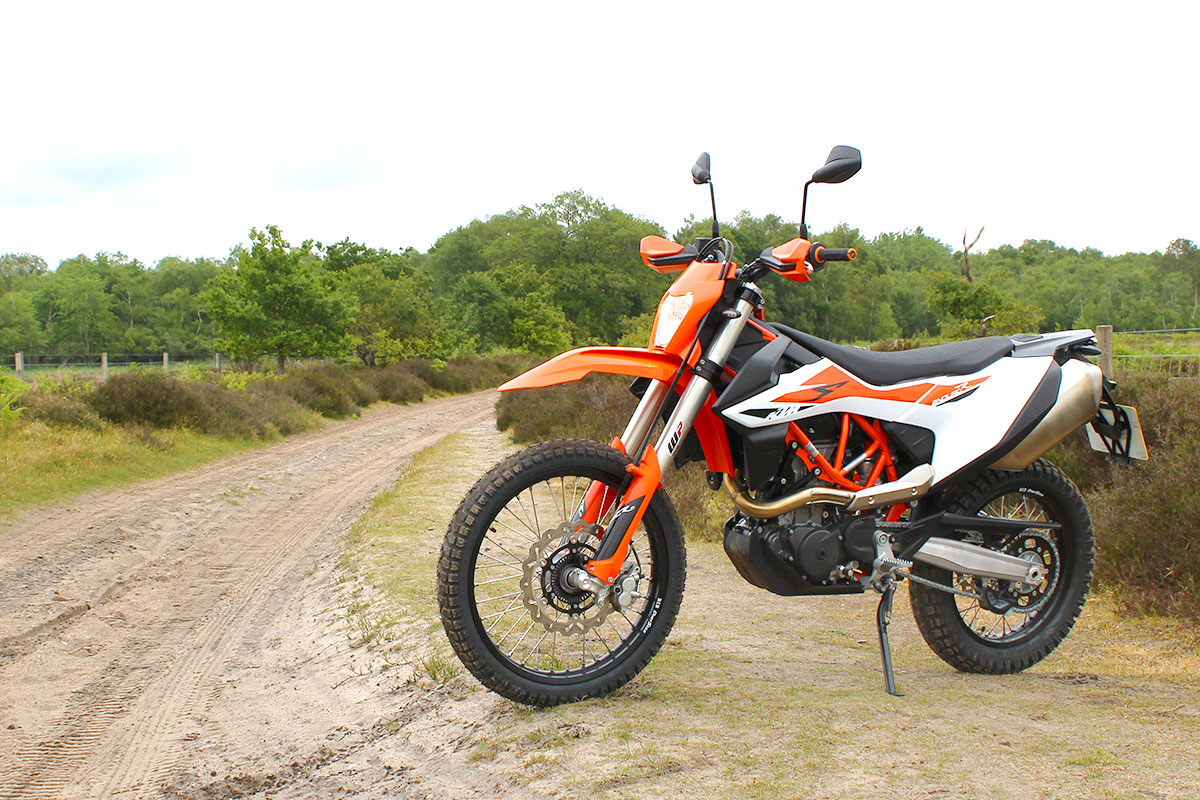 The ease with which the 690 Enduro R takes to the trail quickly had us thinking how much better this bike would be for the many hordes of Adventure bike owners who seemingly have a hard time off-road (and sometimes on it) with physically bigger and heavier ADV machines.
Adventure bikes are as popular as ice creams but by design many are heavy off-road – we know they can lap-up the dirt, but it takes a certain amount of confidence and experience to do it. We understand many people want the road bike comforts and the distance-crunching luxuries but if that's why you're into ADV then this bike isn't for you.
If however you want dual sport skills, those take any road or trail freedoms, the 690 is a solid answer. Why? Because it can go places. We've had this bike on test for a month or so and have made a point of using it nipping to the shops, on trail days and even to a practice session at an enduro track (more on that later). The 690 R took all in its stride.
Nowhere does it prove the point better than if you get yourself in a spot of bother on a trail or find yourself down a trail which is too technical. The 690's dimensions and weight mean you can spin around more or less like you would with an EXC and head back the other way, which is something you definitely cannot do with most adventure bikes.
Electronic rider aides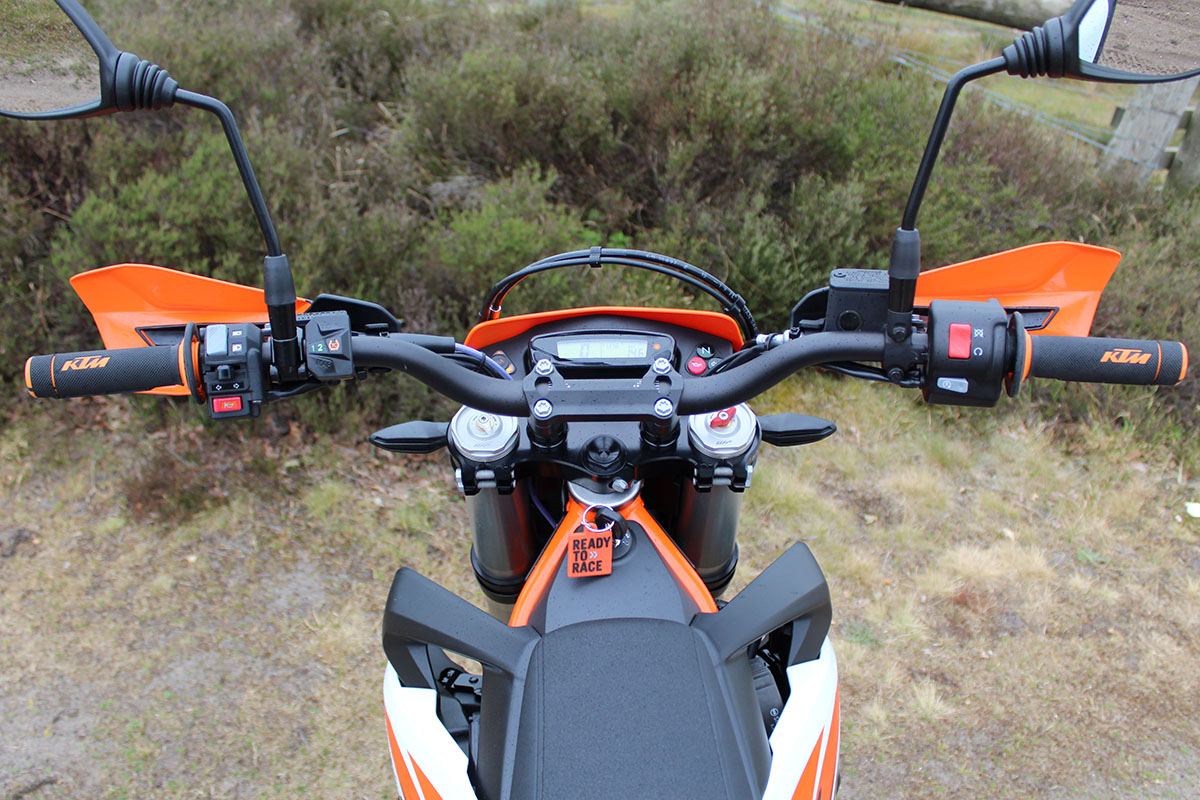 Filtering downwards from KTM's bigger and more technically advanced bikes is a whole list of electronic wizardry included on the 690 R – the stuff some say we will find on EXCs in the future. ABS, traction control (MTC), lean angle sensors controlling the cornering ABS and the rear wheel traction, a quickshifter, two power modes…it seems a lot for a single cylinder bike. Apparently, there's a USB charger on there somewhere but we never found it.
For the most part we trusted the electronics to do what it says on the packaging and got on with riding, only turning off the ABS (via a button on the dashboard) to stop it interfering off-road. There are options for off-road use with all of this electronic assistance including an Off-Road ABS option (in the KTM Powerparts catalogue) that works on the front wheel only, isn't lean angle sensitive and doesn't detect front wheel lofting).
There were times when we could have done without the quickshifter changing gears just because a toe caught the lever. Similarly, the anti-wheelie system cutting the power when you need to loft the wheel over a whoop or hole was a bit of a pain.
But you've got options to switch things via the different power modes: Mode 1 is more aggressive for street riding, KTM says, but has anti-wheelie and more intervention from the traction control. Mode 2 is for off-road, softens the power, plus allows wheel spin and wheelies. In reality neither was quite right for us. We'd prefer the full power and to be able to loft the wheel, although you can turn traction control off in either mode.
Why should I spend the money when I could get an old XR?
You might quite rightly be thinking, "Yeah, but why spend all that money when I could just get an old trail bike?" Honestly, we've been there and there is no contest. This is night and day different. Unless you're prepared to spend a hell of a lot of money upgrading brakes, suspension and engine performance it won't even come close and that's not to mention size and weight.
The 690 R carries its weight much like a 450 4T enduro bike from seven or eight years ago and with genuine decent performance from the chassis it can be ridden at a lick through the trees. The true answer to that question is, many times over, this is a better bike.
That EXC look
As a mate pointed out during one lazy day trail ride, the 690 R has some genuine "enduro" cred about it. Things like levers, bars, footpegs and grips are already set for off-road where in his experience many ADV bikes need that kit adding for an extra cost. The addition of the EXC front fender, headlight and handguards is a strong one for looks and attitude.
By contrast we liked the quietness of the engine and exhaust note when taking to the trails. Though a performance pipe upgrade is available in the KTM Powerparts catalogue, the standard exhaust is pretty unassuming and inoffensive to hikers, horse riders or the world around you as you ride.
Does it work off-road?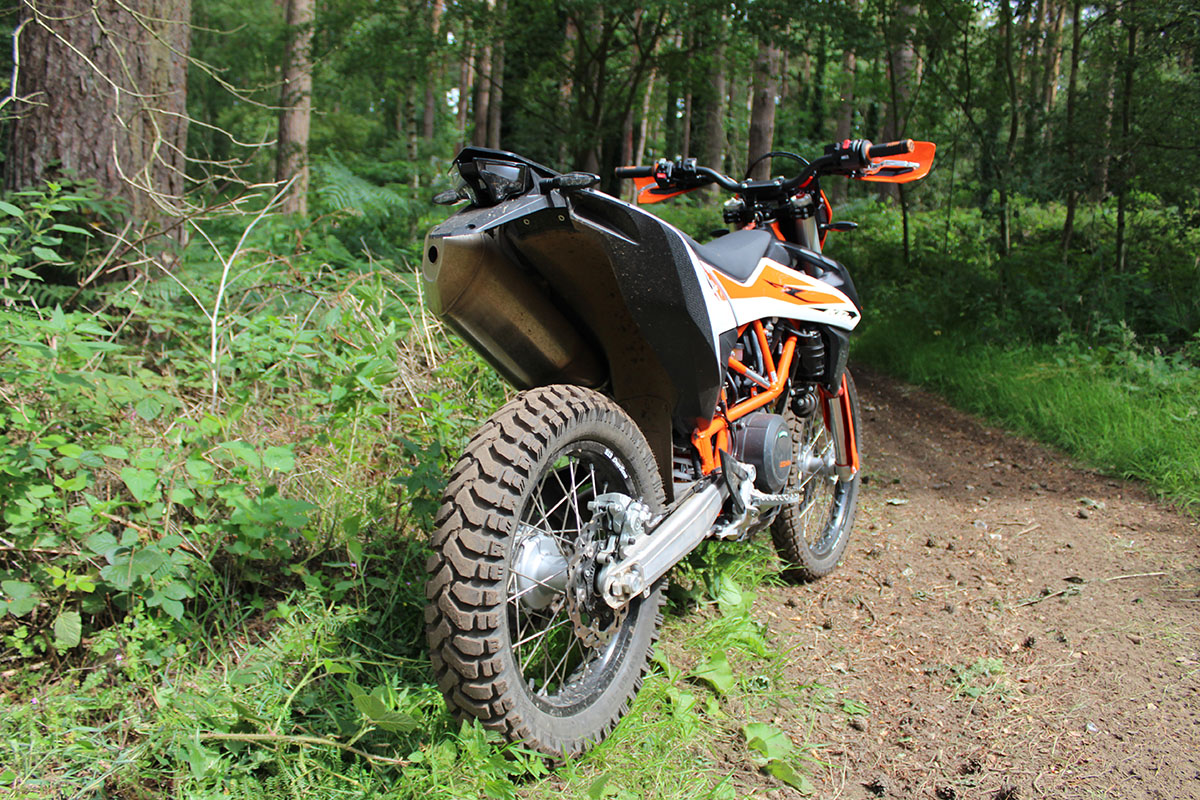 Short answer: yes. First chance we had after lockdown we took the 690 Enduro R to our local woods practice ground to answer that question. It's a great little place where riders of all abilities come to wear their tyres and legs out.
The thread of track snaking through the trees proved the 690 can handle itself pretty well actually. Yes, it is approximately 40kg heavier than the bikes we'd normally be riding on the same track but it hides that weight and lets you treat it like a proper dirt bike for the most part. The riding position is pretty standard too, which makes body movement around the bike natural.
Adding a handful of turns to the rear suspension clickers (12 clicks out compression and rebound worked well enough) set the 690 up for more cornering confidence and transformed a whooped out straight from a place where you have to back off the throttle into a stretch of track where you could double jump your way through. It was a blast skipping through there and the WP Xplor forks were more than up for taking a hit when we mis-timed the jumps a few times.
Our only negatives off-road on the 690 R would be the front brake is leaning a bit too much towards street use – meaning you need a little extra caution at the lever. We'd be removing the rubber mounts on the handlebars if it were our bike too. We know they are there for comfort but the movement under braking was a little too much so we'd switch to standard bar mounts or a different top yoke out of preference.
Which tyres?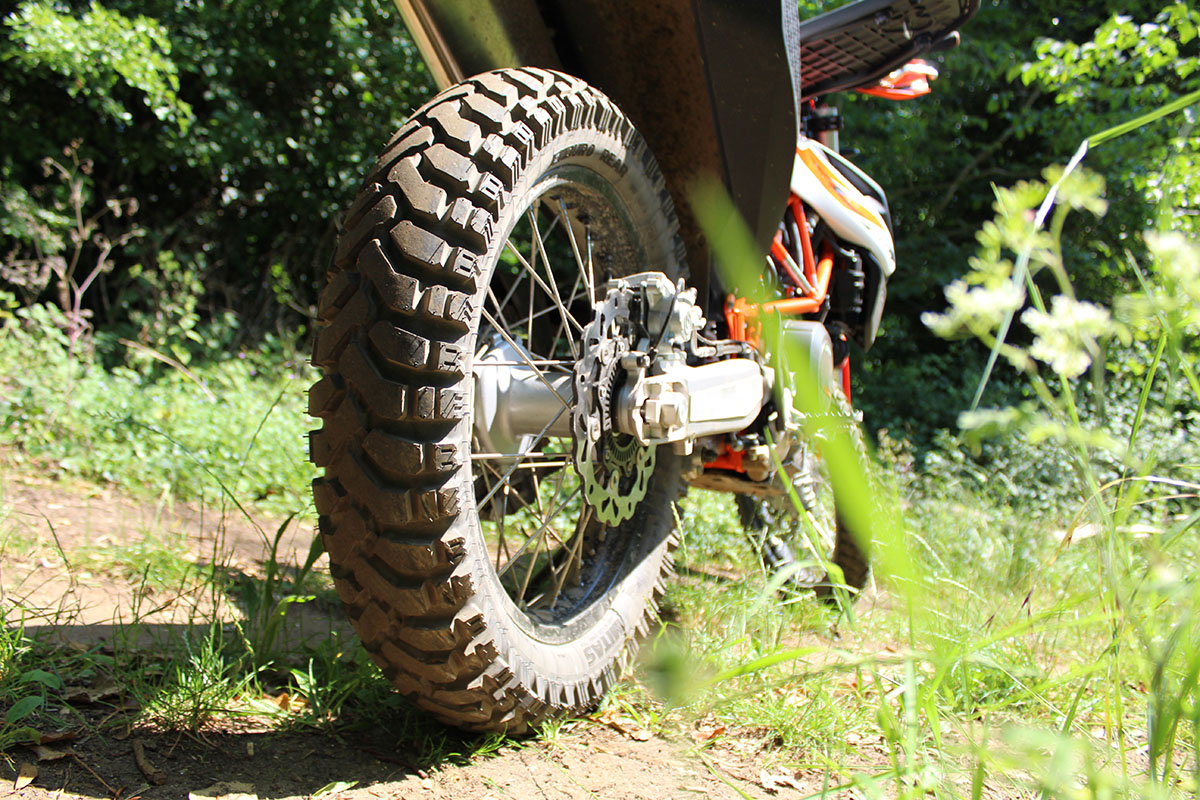 690 Enduro R models on sale in Europe arrive with the Mitas E07 (shown) while USA and Australia bikes have Continental TKC80s. It's the first time we have spent any time on Mitas' E07 and they soaked up the range of on and off the road riding we threw at them.
They have good feel on the road and grip well on different dirt conditions though when pushed off-road naturally they lack edge grip, especially at the front, which was part of the problem with the larger front brake. But we'd stepped beyond the E07s remit on occasions in the dirt and would switch to a knobbly set if we were doing sustained off-road riding.
We need your support
If you've enjoyed this article, if you've found it informative, interesting, entertaining even, please support us.
We want to continue doing what we do, to the best of our ability, serving the enduro and off-road community.
Please consider a donation, every little helps…
Thank you.
Conclusion
What more can we say? 170 miles from a tank of fuel (easily), EXC-like feel and looks but with a smooth, powerful, single cylinder engine – this feels like a trail bike should be. Is it an Adventure bike? Nah, this is dual sport for us all day long.
We enjoyed a morning at the track but not as much as we enjoyed the idea that we could head there via tracks and trails as part of a full day's riding. KTM's 690 Enduro R is a great advert for just getting out the door and going for a ride, wherever you like to ride.
KTM 690 Enduro R technical specifications:
Engine: 693cc, single cylinder, l/c, four-stroke
Bore and stroke: 105mm x 80mm
Power and torque: 74hp/73.5ft-lb (claimed)
Gearbox: Six-speed
Frame: chromoly tubular steel trellis
Dry weight: 146kg
Seat height: 910mm
Suspension: 48mm, USD WP Xplor forks, WP Xplor linkage shock, 250mm travel
Ground clearance: 270mm
Fuel capacity: 13.5 litres
Tested tank range: 170miles (comfortably)
More information and prices in your country: KTM.com
Photo Credit: Enduro21