2022 E2 World Champion Wil Ruprecht: world titles don't come easy
Australian Wil Ruprecht talks candidly about his route to the top of the EnduroGP World Championship – illness, crashes, why only a very few riders really want to win bad enough and why politics plays a role in the EnduroGP paddock.
New E2 Enduro World Champion Wil Ruprecht hasn't had the easiest route chasing his childhood dream. The young Aussie can now rank himself among the very select few (four) who have come up from down under and conquered the European-based world series. But it certainly hasn't been plain sailing since Wil started ticking off Australian Off-Road Championship (AORC) Junior titles in 2013.
That string of AORC titles led to a one-off ride at the last EnduroGP round in 2018 and when he turned up and beat the best in Junior class (including future teammate Matteo Cavallo who was crowned EJ champ that year and '22 outright EnduroGP World Champion Andrea Verona), teams certainly sat up and took notice. The career ball was rolling in Europe.
In these revealing interview extracts shared with us by the good guys at Transmoto, Wil talks about the long and at times tough road to the top. That includes dealing with the debilitating Mononucleosis virus, adapting to Europe (including cooking for himself for the first time!), the story behind his withdrawal from the 2022 ISDE team, being the fourth Aussie ever to win a world championship and jumping ship to race with Sherco for 2023.
Let's go right back to 2018 and your first visit to Europe, you made quite an impact…
Wil Ruprecht: "Racing the Enduro World Championship was always by long-term goal for me. In that 2018 season, when I started riding the 450 in Oz with the Active8 Yamaha team, I had good pace, but […] shoulder injuries side-lined me for pretty much half the season.
"I was really fortunate that my team boss, AJ Roberts, helped create an opportunity for me to get a wildcard entry with the Johansson Yamaha team for the final round of the World Enduro Championship in Germany that year.
"I won the EJ class [Enduro Junior, Under 23] on the Saturday and that's what attracted the attention of a few of the team managers. After that ride, I did a deal with Johansson Yamaha to race the full 2019 World Championship season in the EJ class."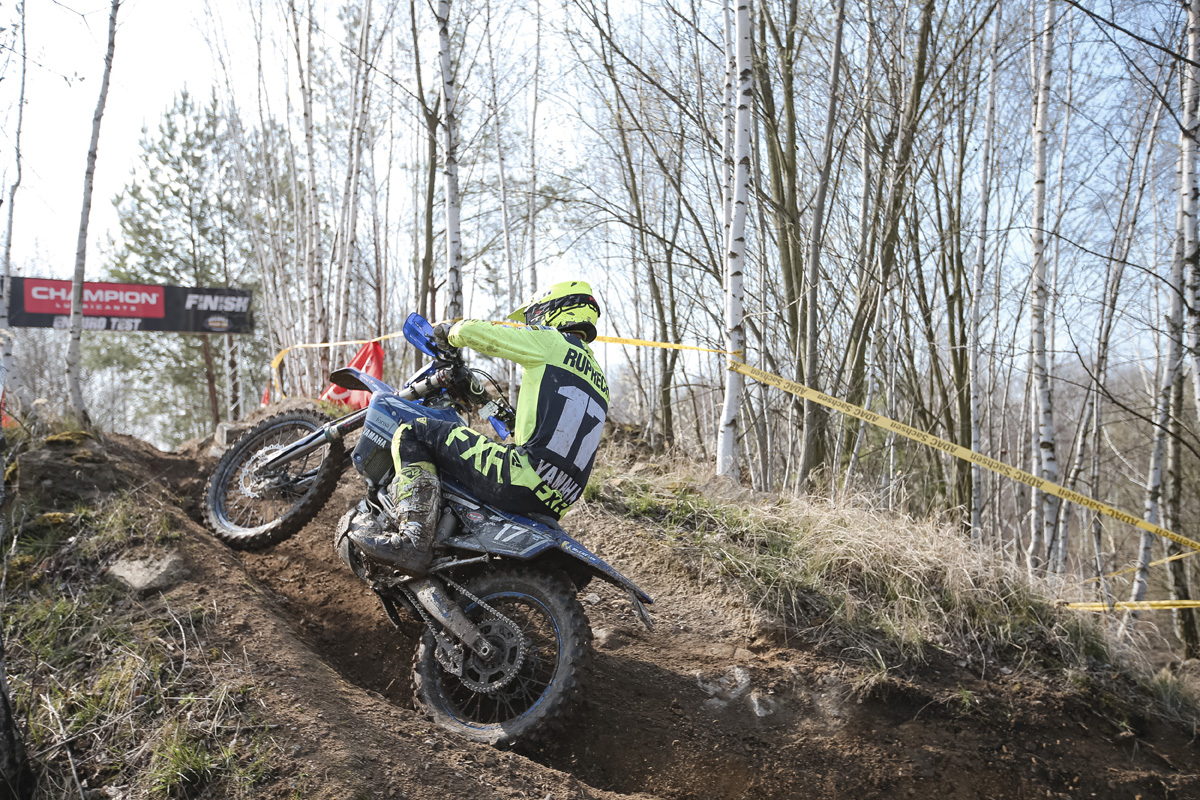 Did being able to win on debut surprise you?
"I knew I had the raw speed to win, but I really didn't think it'd come that easily at my first race as a wildcard. Based on that experience, I started thinking to myself that, for 2019, if I just keep doing what I'm doing, then I'd have boys in the EJ class covered."
But that's not how it played out in 2019, right?
"No, not at all [laughs]. At the first race in 2019, I got my arse kicked. I mean, I went 3-2 in the class, but the gap to the guys winning the class was surprisingly big.
"As the bonuses were only 200 Euros back then, I was flying back to Australia to work as a removalist so I could pay for the next round's racing. I trained like a mongrel and had the attitude that, when I got back to Europe, I was going to win at all costs. And it worked. Late that season, I actually posted the fastest outright time for quite a few tests."
But the travel and effort paid a toll on Ruprecht and when he was diagnosed with Mononucleosis, one of the strains of the Epstein Barr virus family, those early stellar results dried up as basically his energy sapped away during each race weekend.
With doctors advising him to sit on the couch for three months and drink water to flush his blood, he tried to continue to the end of the season but it just wasn't working…"I'd ride like I normally would for the first two-thirds of Saturday, and then suddenly my times would be 20 percent off the pace." Wil explains. "Sunday was a horror story!"
In the end he made the decision with the team to pull out of the last few rounds of 2019 in the hope they'd get on top of the health issues for the following year.
So you rock up in Italy without a deal, and with a large question mark over your health…
"Yep. It was a weird situation. The teams weren't sure whether I actually had something wrong with me or whether I'd lost my drive and was giving up. I can see how I might have felt like a gamble for the teams, given what had happened in the back half of 2019.
"That's why I was appreciative when I got a deal with the Boano team, a satellite Beta team back then. We had a big squad in the team – like eight guys who were all around the same age – which made training fun."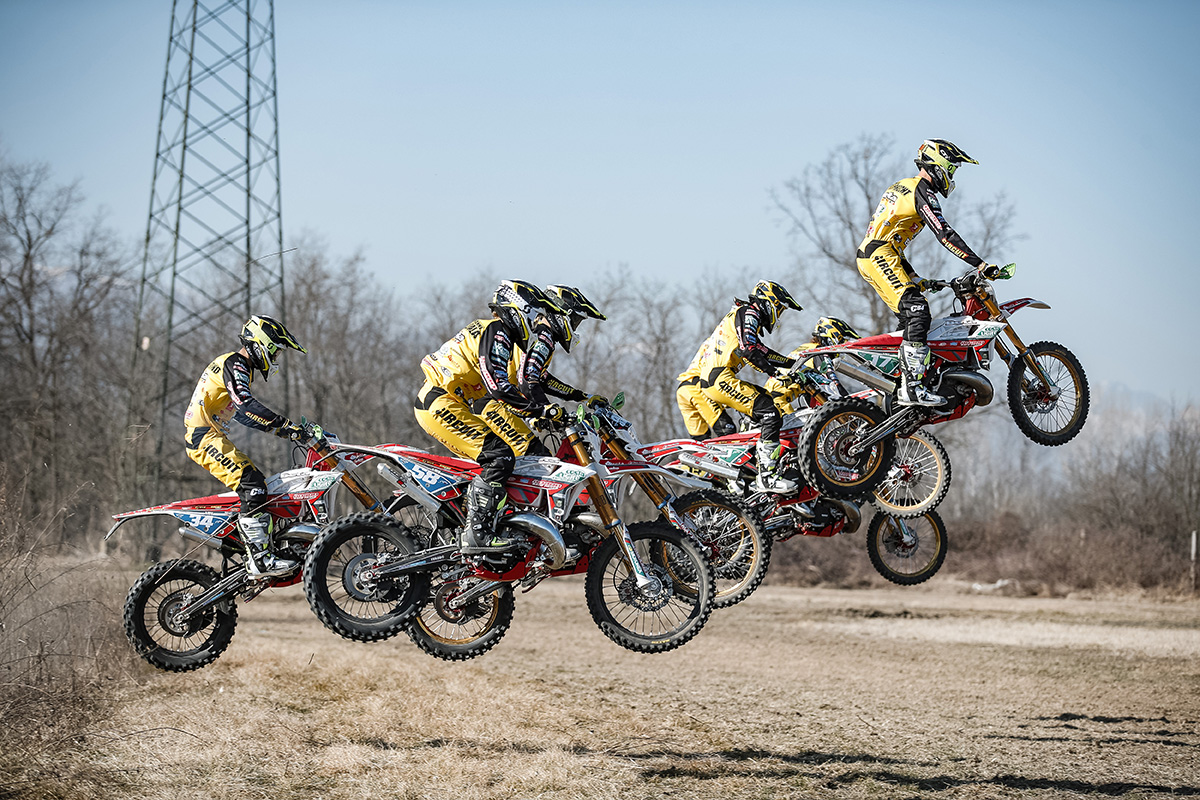 When most Aussies take that huge step to race in Europe, they struggle to adapt. There are things like language, food, culture…what was your experience with that?
"At the ISDE, you can always see that Aussies riders have world-class speed. But you're right; 70 percent of the game with racing the Enduro World Championship is being able to put yourself in an environment where you can thrive.
"When I look back at my energy-sapping virus in 2019, that was a result of all the stress I'd put on my body – all the travel and training and challenges of a completely new life on the other side of the world.
"I mean, back then as a 20-year-old, I'd never cooked a meal in my life. And then all of a sudden, I had to cook for myself. But there's a lot more to it. It's about learning to navigate relationships with Europeans, because language barriers can cause a lot of misunderstandings.
"That can be a challenge when you're trying to communicate what you think the team needs to do to improve the bike, for example. It requires constant evolution to be comfortable in your environment and to manage both the team's and your own expectations."
And all those elements finally came together for you this season?
"Yep. A lack of consistency has really worked against me for the past five years. I've been fast enough at most races, but I haven't ever put a full season together. So, heading in the 2022 season, I made a conscious decision that at rounds where I found myself riding on the edge to take the win, I'd dial it back two percent and salvage the points rather than throw it away.
"Plus, I knew I was up against a stacked field in the E2 class. So, on the days when I didn't have the pace to get the job done, I wanted to make sure I was always up there to at least force mistakes from the other guys. And that strategy paid off in the end."
Wil's 2022 season wasn't without it's ups and downs...
Have you stopped to remind yourself that you're only the fourth Aussie to ever win an Enduro World Championship title, joining Shane Watts, Stefan Merriman and Matt Phillips?
"To be put in a category with those guys who I've looked up to for so long is … well, it's surreal.
"I remember when Merriman came back from Europe to race in Australia, I was a young teenager. I was very curious about the European scene and he had a lot of time for me and all my questions. After hearing what he had to say, I had my mind set on going to Europe to race. Or at least, that solidified my dreams to one day race the World Championship.
"Matty Phillips was dominant in that 2013 through 2016 era. Stefan was a real grinder who could have ridden any bike to victory, whereas Matt made it look way easier than what it was. Those were the two guys who set the precedent, who inspired me and gave me a sense of what was possible for an Aussie to achieve on the World Enduro stage.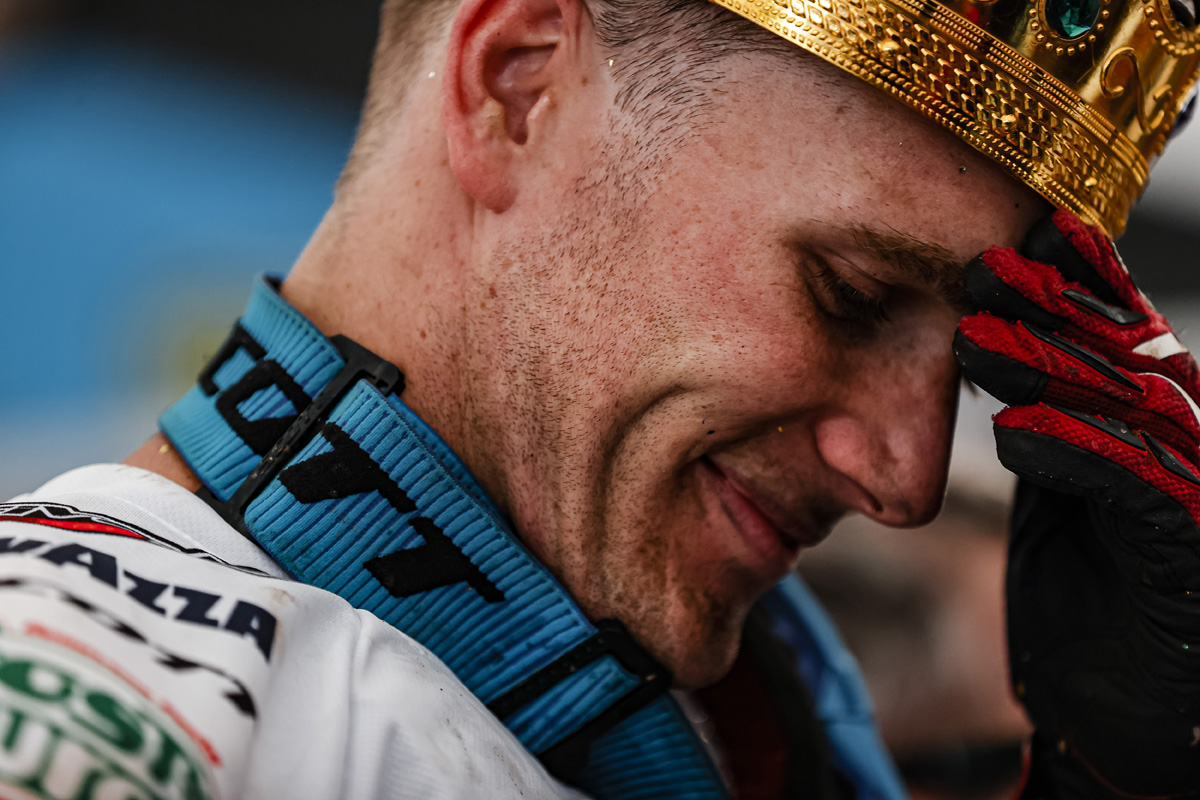 "I knew that my speed was always there, but that I just needed to work out how to adapt to all the foreign things that comes with racing in Europe. That was always going to be the biggest challenge, so it's really gratifying that I finally got there and claimed a title.
"I don't want to sound cocky, but I always knew I would be a world champion one day because I've always had the attitude that I'm prepared to do whatever it takes to make that happen."
"I know I want it more than most riders"
You're saying you want it more than anyone else in the World Enduro paddock?
"After being here for four years, I know I want it more than most riders. I'd say there are a few guys who want it as much as me, and then there are lot who aren't even close. Once I understood that, it was just a matter of working out the game.
"If I was to offer any advice to the Aussies who come to Europe but don't make it, it's not that they aren't talented enough as riders. It's because Europe is unforgiving and people quickly forget about you.
"You see it with Steve Holcombe at the moment. He had some injuries this season, and suddenly no one thinks he'll be able to win another title. But if you know the speed the guy can run and his will to win, you wouldn't bet against him. He could win the EnduroGP class next season.
"Sure, racing in Europe is an experience that'll improve your riding as an Aussie, but if you're not hell-bent on becoming a world champion, then racing in Europe is probably not for you. Also, what riders get paid over here – how little they get paid, that is – would really surprise people."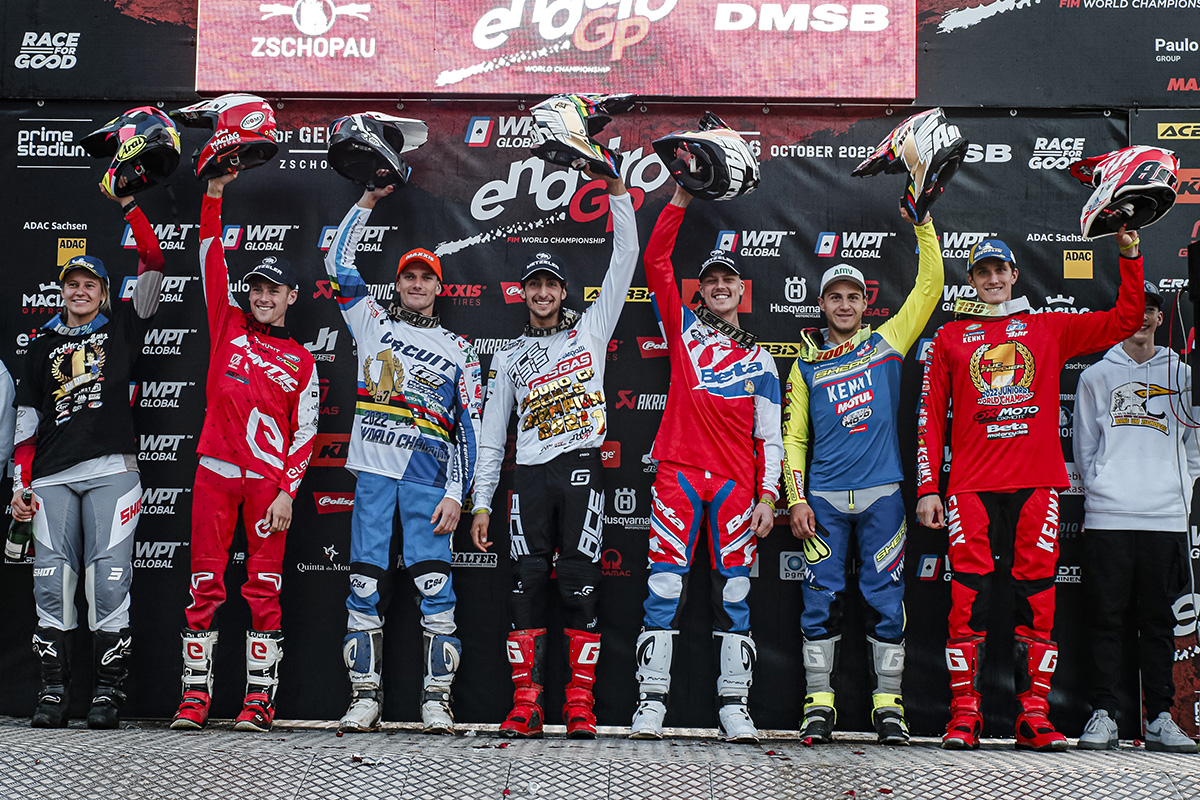 How little do they get paid?
"Put it this way, I've been in the top-five group of guys for a few years now, so you'd think I'd be on a good wicket. But the reality is that I've been scraping through this year, living pay-cheque to pay-cheque. I could have a much cruisier life if I was in the top three in Australia – getting good bonuses and doing a little coaching on the side.
"I've had my moments and questioned what I'm doing on occasion here in Europe, but being hell-bent on winning a title is what's made me stick it out.
"There are only four guys with salaries in the six figures – as in, more than 100,000 Euros – even though the industry in Europe is way bigger than it is in Australia. And with many of the teams being Italian, the team managers all talk a lot and seem to work together to cap riders' salaries."
"There seems to be a gentleman's agreement that these teams won't steal each other's riders, and that serves to keep riders' salaries down…"
For real? Isn't that called market collusion?
"You said it, not me. What I've observed is that there seems to be a gentleman's agreement that these teams won't steal each other's riders, and that serves to keep riders' salaries down to a level that the teams think is "respectable".
"Things might change in the next year or two when Triumph and Ducati join the paddock. Hopefully, that'll shake things up a bit.
"At the moment though, there are only kind of four manufacturers who pay pretty well, and I was on one of those teams. But…well, let's just say that you really need to pay attention when you're signing a contract with a European-based team, especially when it's a two-year contract! You need to be vigilant about that."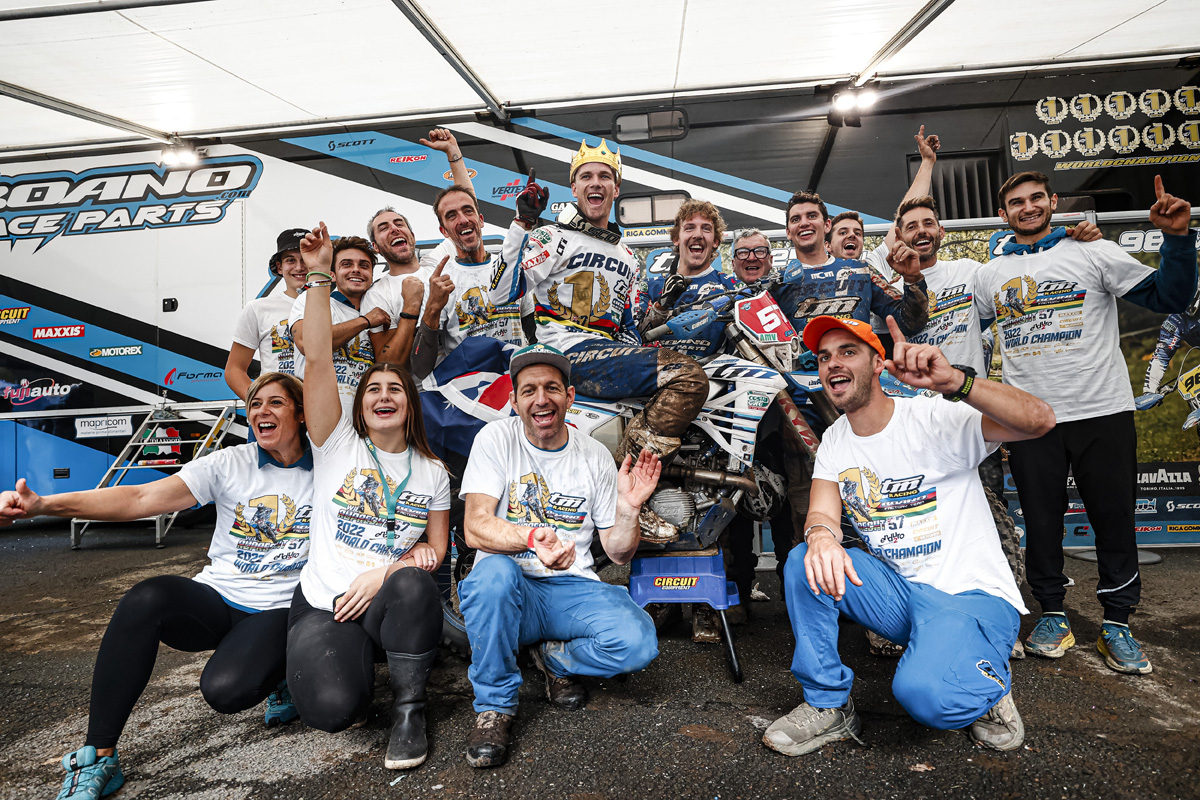 Can you elaborate on that?
"If I'd signed midway through this year to stay on with TM for 2023, it would have made what I was paid this year a lot better. But I decided to move because I wasn't happy with the way some things were going. After that, the team fell back on some small-print clause in the contract, which meant I still didn't make 50,000 Euros salary for the year.
"I was able to make some decent money with the win bonuses, but the way the team conducted themselves was pretty disappointing. That's why I didn't see a future in this environment and why I knew I needed to get out.
"A lot of people were critical of my decision to change teams for next season, but the simple fact is that it was starting to limit my potential. There are a few of us now running the same pace at the top of EnduroGP, but I want to be in an environment with the resources that'll help me take it up another level.
"I want to get to the point where I'm in my comfort zone when those guys are going flat-out. I feel that there's another level of speed to be found, and that I haven't tapped into that yet."
So, let's talk about the 2023 season. There's been no official announcement yet, but rumour has it that you've signed with Sherco.
"Yep, that's accurate. I've done a two-year deal with the CH Racing Sherco team. You're right; it's not yet official, but there's been a lot of talk in Europe about it, so it might as well be official [laughs].
"When I look back on my three years with Boano – a year on the two-stroke Beta and then two years with TM – I'm super-thankful for the experience. It was a rocky road and I learned a lot of hard lessons along the way, but it shaped me for the better. All I'm focused on now is looking forward; on becoming the best enduro rider in the world."
CH Racing – the same Sherco team that Matt Phillips had his 2016 title success with! And New Zealand's Hamish Macdonald will be your 2023 teammate, right?
"That's right. The same team with most of the same mechanics too. Hamish will also be riding the E2 class. With guys like me, Hamish, Josep Garcia and Steve Holcombe, the E2 class will be stacked with talent again next year.
"Hamish will be riding the 300 because he wants to ride something familiar after coming back from his knee injury. I had the choice to ride whatever I wanted because Sherco is also focused on the outright results, so that's why I've elected to continue racing a 300cc four-stroke too."
"They know they've got you by the balls"
What's the real story behind you not being able to race the ISDE this year on the Aussie team?
"That was a big disappointment for me, for sure. Basically, what happened is that the TM team's mechanics had been burnt-out from doing the ISDE the previous two years. They usually take their summer holidays in the two-month gap in the World Enduro season, but the Six Days was bang in the middle of that, so I do get that they would rather take that time off.
"About a month out from this year's Six Day, it became apparent to me that they weren't really interested in going to the event. So, I spoke with my team manager and reminded him that supplying me a bike, tyres and spare parts for the Six Day was in my contract. I mean, obviously I wanted to race the event because I'd already committed to the Australian team.
"Plus there was a lot of expectation riding on that team because, on paper, we had a really good chance of winning. As I told the TM guys, I was happy to load the bike and tyres into my van and drive to the event in France, where the Aussie team could then look after me."
Even then, they weren't prepared to help you out?
"Well, around this same time, I'd been in talks with other teams and I'd made it clear that I wasn't going to re-sign with TM. The day after that, my team manager said the factory wasn't prepared to supply me with anything for the ISDE.
"I reminded them that it was in my contract, but they gave me the old, 'Well, what are you going to do?' look. They know they've got you by the balls. What, am I going to take these guys to court to force them to honour the contract and supply me equipment for the Six-Day? The court fees alone would have probably been bigger than my salary!
"The whole thing was very disappointing, and just another example of why I made the decision to make the move to another team. Honestly, there were half a dozen similar examples that confirm I made the right decision."
But you kept trying. Didn't you offer to rent a bike from TM to race the ISDE?
"Yep. I asked them how much? They said that, as a factory rider, I was not able to race a standard bike; because that it was in my contract. And that was that. I'd explored all avenues, but simply couldn't make it happen. And I'm really sorry to everyone in Oz for having to withdraw from the team at that point. I had no choice."
This is an extract taken from two longer fascinating interviews with Wil published by Transmoto. Read them both in full here:
https://transmoto.com.au/australias-wil-ruprecht-world-enduro-champ-pt-1/
https://transmoto.com.au/australias-wil-ruprecht-world-enduro-champ-pt-2/
Interview Credit: Andy Wigan | Transmoto
Photo credit: Future7Media