EnduroGP Champion to GNCC 'rookie' – Steve Holcombe talks racing Stateside
From bike set-up and race craft to the brutal Big Buck course and burgers, Steve Holcombe explains to Enduro21 how GNCC Racing really compares to the EnduroGP World Championship.
With seven world titles under his belt, you'd think Steve Holcombe had experienced everything in his dirt biking life. But the Beta Factory Racing rider says even after growing up riding three-hour cross-country races in Britain and going on to become one of the most dominant forces in the EnduroGP World Championship, nothing quite prepared him for his first GNCC race.
Enduro21 fires some questions at the Holcombe who ticked off the Big Buck last weekend, the first of three GNCC races he'll contest ahead of returning to Europe for the start of the EnduroGP season in May.
We wanted to know how GNCC compares to GPs, how his bike set-up differs, how rough Big Buck got out there, how fast those guys are, how come he got such horrendous blisters and, most importantly, how many burgers he's eaten…
Where are you at right now? How are the hands healing up?
Steve Holcombe: "Howdy! I'm currently in Florida. We left the day after Big Buck on roughly a seven and a half hour drive down here to train and acclimatise. It's currently 28/29 degrees down here so pretty nice weather. The sun's good but there are a lot of old people around!
"The hand was pretty sore as you can imagine but it's healing up well and although I had to keep off the bike a little longer, I'm back on it now – although we've got the weekend off to go and watch Supercross in Texas."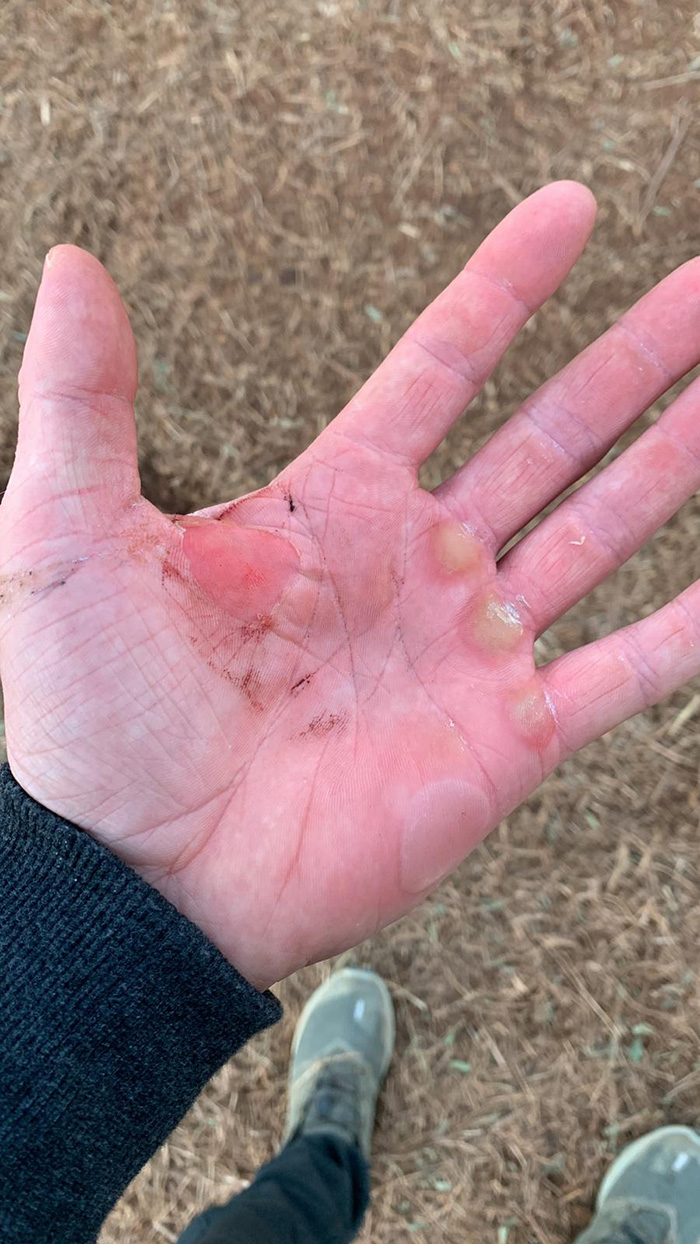 Your maiden GNCC race looked a tough one and didn't go to plan – you must have hoped to be more competitive?
"Yeah, really. I didn't have any great expectations before coming here but I did expect to be a bit more competitive and I ended up disappointed.
"I think I got a little bit too excited on the first half lap or so and just pumped-up. I never really suffer from arm pump, it's not something that I've ever experienced in my career and that really made me struggle in the first two laps.
"I was riding with a few guys but kept losing the back wheel of the guy in front, and then the guy behind me would peel in and fill the gap, and it just kept going like that. Then it was me and Garcia and we had a bit of a battle but if I'm honest I think I held him up for about a lap and half until he got around."
Where did the arm pump come from then?
"I was basically running my normal set-up, just a little bit stiffer and I struggled with having it a bit too soft on the front. We don't normally ride anything like as rough as it is here and the bike was basically beating me up the whole time.
"I was trying to relax and rest my arm but with that set-up it wasn't really happening. I over-compensated with my left arm and that's what gave me some pretty bad blisters on my left hand. It was a vicious circle.
"In the 20-odd years of racing I've never had a blister like that on my hand ever!"
What was it like rolling into the GNCC paddock for the first time? How did the atmosphere compare to a World Championship or British Enduro?
"Yeah, that was a shock. We turned up on Friday afternoon and there were probably already 1500 people there. Because the track passes through the pro pits, that bit felt like the EnduroGP paddock. The top 10 overall pit in a pit called Pro row but everyone else has to pit round the corner which was interesting.
"The main thing is there's obviously a lot more people because there are so many classes racing and that was great to see. We get a lot of spectators at certain GPs so that bit wasn't so different but overall it just feels bigger in the paddock.
"Sadly, I didn't get to catch up with many other riders because of the size of the place and because we were pretty much on our own programme for the weekend, trying to get as much of the track dialled as possible."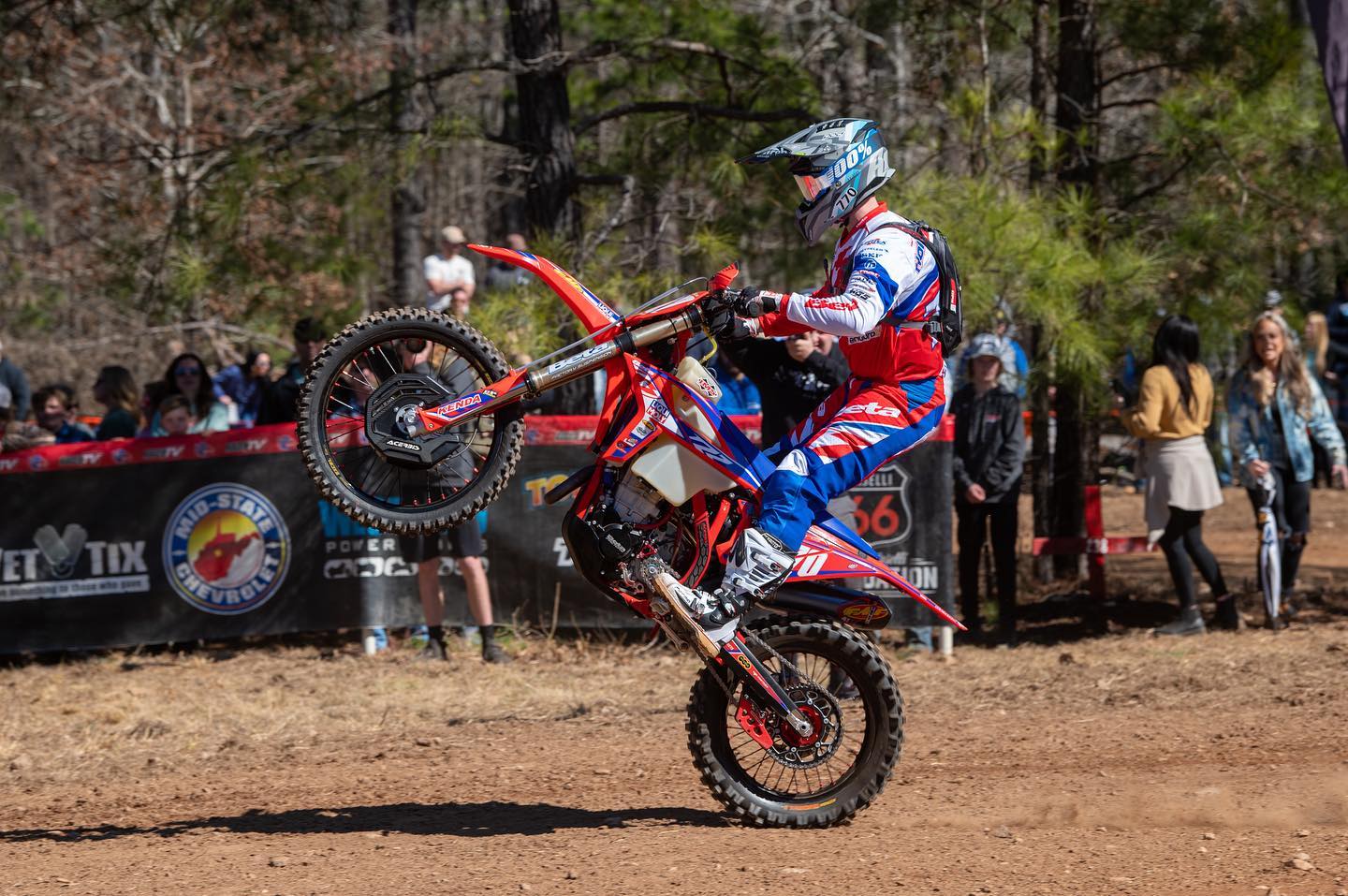 What other differences are there at the GNCC weekend? Do you walk (or cycle) the whole 12-mile track before the race?
"It's obviously one big lap and you can ride an e-bike around it from Friday but we did a lot of it around Saturday lunchtime.
"It's harder than walking I would say because you don't have as much time to look over things. If you try and get some laps in on the Friday you've got to think of the amount of racing that goes on over the weekend and how much the track will change. After Saturday, and even Sunday morning, the track changes massively.
"We cruised round on the e-bikes and it was rough from the last 15 years GNCC has raced there but even with that, the difference to when you arrive on the first lap was massive.
"There's also the different lines which some of the regular riders know and I obviously had no idea about. So the first lap there were people going every which way and we were riding parts of the track I hadn't even seen."
How does the actual condition of the course compare to European enduro tests? The quads and so many other races must rip up the track a lot?
"The dirt felt a bit different in a way but the main thing is the huge range of different riders and bikes on the course. The quads obviously rip up the corners and make some strange ruts. The bumps around the track aren't really that nice either and are mostly really sharp edged a lot of the time because amateur riders trend to ride different lines and speeds obviously.
"That didn't help me with my slightly soft set-up. I felt like I was always in the holes and could never get over the top of them.
"The other thing is an enduro test tends to have one or two lines where-as here the track can be 30 metres wide with seven or eight different lines and you have to choose them as you arrive.
"The course isn't as technical as we face in GPs either, mainly because so many people riding means the rocks and roots were not actually slippery."
Did you actually have much time to prepare for the race, what was it like out there?
"I came over about 10 days before round one to get set-up and do some riding but there was a bit of a delay with the bike shipment. So I didn't actually see my bike until race week. I did some riding but I didn't want to end up riding too much heading into the Big Buck round – three hours is obviously a big effort to ride especially not knowing what to expect.
"Honestly, I've never ridden anything either at home or anywhere which was this rough. We didn't do anything like it in training so it was definitely a little bit of a shock. But I don't think even if I'd ridden more it would have changed how I approached the first race, it was just very unexpected how rough it was."
You're on the same Beta 390 four-stroke, what are the big differences in your bike set-up for a GNCC race compared to EnduroGP?
"Yep, I'm on a 390 but it doesn't feel the same and the bike I'm using here is pretty much stock. There are a couple of minor things in the engine which aren't the same plus a different ECU than they would run over here. I'm using a front pipe from Beta in Europe but the team over here is sponsored by FMF so we're using one of their tail pipes.
"My bike in Europe is heavily modified and that means there's quite a big difference in the way the two ride. Obviously one thing is the bigger tank which puts more weight on the front end and makes it harder to move. There's a compression mod in the suspension to help it with the heavier fuel tank but that's about it compared to standard."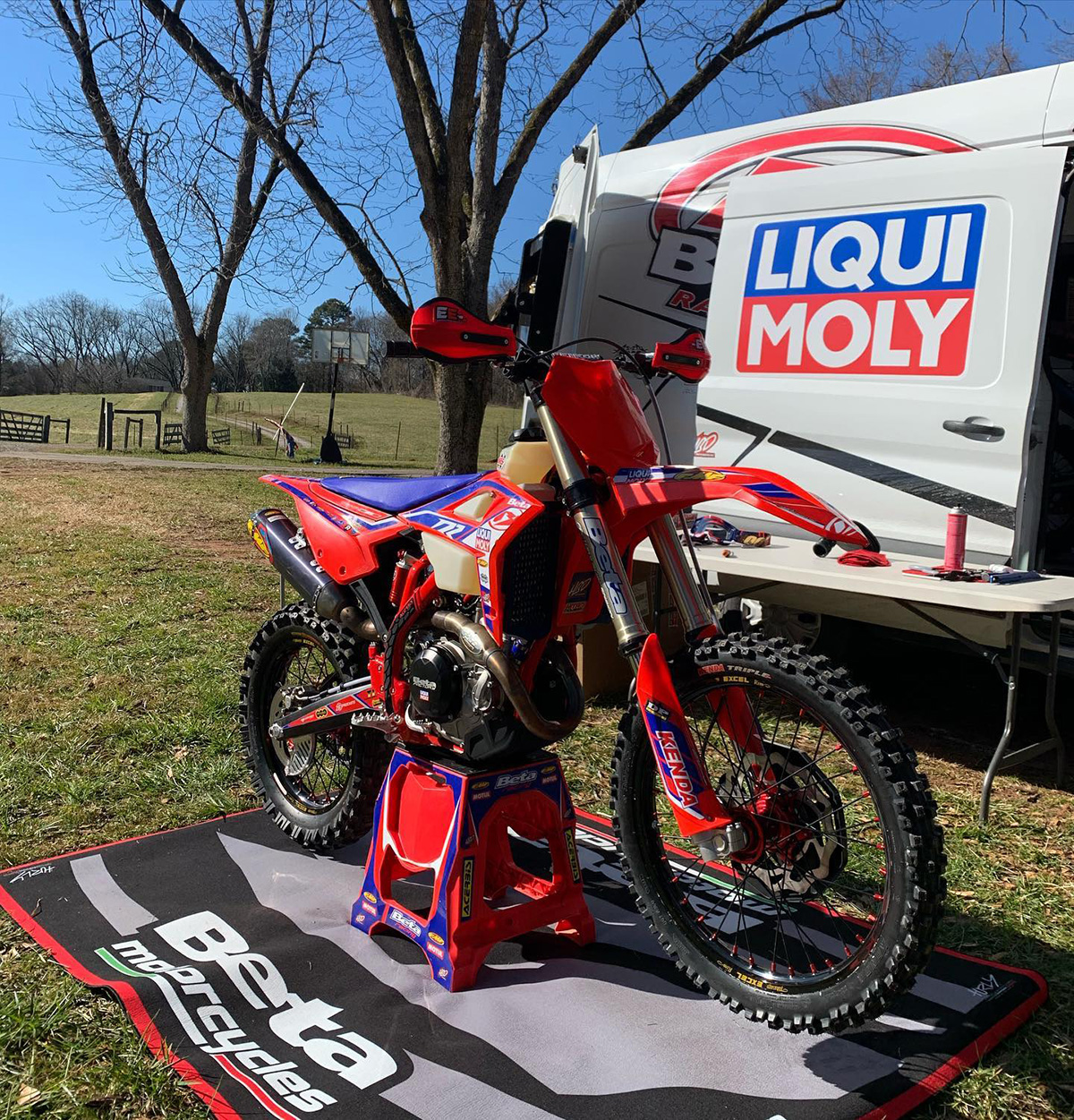 "Other than that it's honestly things which might seem minor to some people but actually make quite a difference. Things like the standard rear brake lever here where my normal race bike has a slightly longer one, or slightly taller triple clamps and bar risers on this bike. They are small things you might think but added up each one makes you a little bit more uncomfortable compared to normal. It sounds petty and they certainly aren't the reasons why I didn't win!
"Another thing which maybe not everyone realises is the bikes have less power because of the fuel. The highest octane fuel you can get from the pump here is 93Ron. So my bike wasn't running very well for a start, it is set-up to run on higher octane so we had to go and buy some race fuel which was still only 97. That is obviously the standard fuel out of a pump for us in Europe but it was 90 dollars for five gallons so we won't use too much of it!"
What about the way the GNCC regulars approached the race. Was the first lap a bit mad?
"Well, unfortunately I didn't get to see the front guys enough! But from what I did see, having watched it back and from what the mechanics say, the front guys basically just sprinted from the get-go. I didn't get a great start, made a couple of passes in the first corners but then pumped-up and ended up handing the places back.
"It's a bit manic because you're trying to stay close to make passes when you get chance but you don't really know where the guy in front is going to go with so many lines. So it feels like you're constantly reacting while all the while trying to fend off the guy behind you revving his bike and trying to do the same to you.
"For sure these guys aren't going 100% balls to the wall like we would ride a special test but they're going at 90-95% where it is tolerable to maintain that pace. Some riders were backing it down a bit mid-race, not taking it easy but coming back a little in lap three and four and then getting ready to go again on lap five and six I think.
"It was interesting to look back on the times and see where I was in terms of pace and overall it helps me feel better to know with all those issues I wasn't too far behind in terms of time. I could find a minute a lap on a lap like that just by not having arm pump!"
Next weekend is round two in the Florida sand, you had a good ride at a Fast Eddy XC race at Hawkstone Park last year (famously sandy), do you wipe the slate and go again there?
"The biggest difference here will be the temperature and the sand is softer. That and of course how rough it is going to be again with so many amateur riders racing over the same course and making the bumps sharper and so on. That is what it is of course.
"I'm by no means a sand specialist but I can normally hold my own in it so I'm really looking forward to making some changes to the bike and hopefully get a better start and try to run with the guys.
"I'm hoping to get a top 10 before I head back to Europe. That's the goal. Forget about not riding so well but learn from Big Buck and we should be good."
The EnduroGP season is your priority so how can flogging your body for three hours in a GNCC race help?
"Basically, it has given me a focus. Normally I would take time off after the GP season but I didn't want to lose too much fitness this off-season so I kept riding, trying to do some longer motos to adapt for here.
"But it is really all about bike fitness. If you can do three hours here you can definitely do a seven hour day in a GP with an hour or so of special test within that.
"Although it's not very specific for what we normally do it all helps and I think it's better than just smashing out special tests every week from January because I think a lot of guys can get sick of that come August or even May time when the GPs start.
"I actually wanted to come over last year but Covid played a big part in not being able to so it is great to be able to make it happen with Beta USA's help this year. At least with the GPs not starting until May we have time to get back from this and start knocking out the special tests to come out swinging at the first round."
Massive blisters aside, did you enjoy the three-hour race against actual people rather than the clock?
"Three-hour races are actually what I grew-up doing and it has always been something in the back of my mind. I also watched lots of videos of Paul Edmondson, Knighter and Juha Salminen who all came over here and did well when I was younger.
"But I really enjoyed it and I do enjoy the XC races which is why I was so disappointed with the first round because I know I'm better than that and I wasn't able to show what I can do.
"I think it suits my style more to race longer races. It sounds a bit mad, but I've never been that good at riding 100% and pushing that limit. At these races you can't ride 100%. I'm quite a smooth rider and it plays into my hands to carry speed and save energy.
"I'd be open for coming over here full-time but certainly for now I'm focused on GPs and that's obviously where I've had some good success."
How is America treating you generally? The weather looks better than Europe for a start…
"The whole trip has been awesome so far. The Beta USA rider Evan Smith basically picked me up at the airport and I stayed at his house the first night and he's been really welcoming, showing me round and so on. He's been super helpful along with the Beta US guys.
"It's been really interesting to see how they work and train over here, what they do. I've spent a bit of time with Russell Bobbitt who's very experienced and it has been interesting to learn from people like that who have spent their whole career racing these championships.
"There's obviously no language barriers and everyone is super-kind. It's certainly been good to see how they do things differently and to be able to train in decent weather."
Are you road tripping in a van or truck, or how are you getting around?
"I'm basically in a long wheelbase Transit with my two bikes. My Beta mechanic flew over while I was first here in Georgia and he then flew home and I've been van road tripping pretty much like back home to be honest. The eight or so hours from South Carolina, across Georgia to Florida was pretty much like going from the top of France down to Italy or the middle of Germany.
"I travel quite a lot in Europe in the van so it actually isn't that much different although it does feel like everything is close,r even if it's not because you're crossing states not countries, if that makes sense."
How many burgers have you eaten since you landed on US soil?
"I've actually only had one since I've been here! The good thing about beer is you can drink it whether you win or lose, it helps numbs the pain. So after the first round I treated myself to a burger and a beer in one of the chain restaurants.
"Where I'm staying in Georgia is known for its small breweries, so I've sampled a few of the IPAs responsibly! We've also been out for breakfast a couple of times and I'd never had waffles for breakfast so tried those. I had them for breakfast on race day actually so maybe I'll change my diet for the next one!
"Generally, you do have to watch how much you eat here, literally everywhere you go the portions are so much bigger than back home. I'm careful about what and when I eat normally so I'm conscious of not wanting to pile on the kilos whilst over here. I'm just trying to enjoy my time and experience the culture in America, enjoy some good races and make the most of the opportunity.
"It's been a good experience and I'm looking forward to the next two GNCC races, then getting back to the grind in Europe, taking in a couple of Italian Championship races and arrive swinging at the World Championship season start."
Photo Credit: Future7Media + Steve Holcombe + Ken Hill