Jonny Walker: "rookie" 2022 EnduroCross season, injuries and his Beta two-stroke
The 2022 AMA EnduroCross six-round series begins this weekend in Oregon with an all-star line-up of American and European SuperEnduro riders ready to hit the rocks and concrete pipes. Enduro21 catches up with series "rookie" Jonny Walker to talk about injury rehab, how the two series compare and his Beta two-stroke bike set-up…
2022 has been a strange season for injuries, particularly when you look at the group of riders who trade the SuperEnduro World Championship in Europe, the Hard Enduro World Championship and, from this coming weekend in Salt Lake City, the EnduroCross series in North America.
The '22 EnduroCross season promises much with reigning champion Colton Haaker joined by former champions Cody Webb, Taddy Blazusiak plus home favourites Trystan Hart and Cooper Abbott and the series "rookie" Jonny Walker (among others!).
Walker concluded the 2022 FIM SuperEnduro World Championship with a hard fought second place overall behind Billy Bolt. The Beta factory supported rider runs his own team these days with just his mechanic Marc and it is fair to say this has been a lean six month for them both.
Jonny missed the entire Hard Enduro World Championship after electing to have surgery on a ruined ACL and a shoulder which "kept falling out". Check our interview with Jonny and his injury here: Jonny Walker out of HEWC round 1 – "I go to put my shoes on and my shoulder falls out"
The long recovery process is over, Walker is back on his bike and has been training hard. Enduro21 catches up with Jonny while he's doing exactly that in Colorado, clocking up the bike time ahead of the new EnduroCross season beginning in Utah this weekend…
After a season off with major surgery and recovery, are you fit and ready?
Jonny Walker: "Well, kinda of. I'm four months out from ACL surgery and six months from my shoulder but the shoulder was really big surgery while the ACL was just a standard hamstring but I needed it done because it's been like that for like three or four years and it was just getting worse.
"It is a bit too early to be riding to be honest, I should really be starting to ride now but I was desperate, was getting a bit of pressure and definitely I was feeling pressure myself because it was frustrating not racing for so long.
So to say if I'm fit and ready, well, I wouldn't say I'm 100% but I've come to the US to race my way back in to fitness. I've been riding for three and a half weeks now doing motocross and then stepping up to EnduroCross something like two weeks ago.
"I'm just taking it steady, I feel like my speed's good but it'll just be my fitness that could be an issue."
How come Endurocross and not some outdoor HEWC races first?
"Basically, I just decided there's no point going into the outdoors when it's pretty much over for the season. I'm not doing the full championship so I decided to do Endurocross and I'm going to race the full championship, that's the plan."
With you, Taddy back again, Cody back from injury, Trystan, Cooper Abbott, and of course Colton it's going to be a good EnduroCross season…are you ready for the fight?
"Yeah, there are a few of us who have been injured and I think I'm the last one to be back out of those guys racing here. But yeah, I'm ready to fight. I'm confident because I've done the last 12 weeks at the Red Bull facility in Austria getting rehab and with full training schedule all summer so my fitness is pretty good, it's just bike fitness that I'm not so up to scratch with.
"It was difficult to rehab shoulder and knee because obviously you normally work one area of your body to rehab the injury and when both upper and lower movement is restricted or recovering it is difficult but we worked hard.
"But honestly I'm not too stressed. I feel like I'm definitely ready to fight and I'm feeling confident. When I got back on the bike on the EnduroCross track it didn't feel like I lost anything so that's good."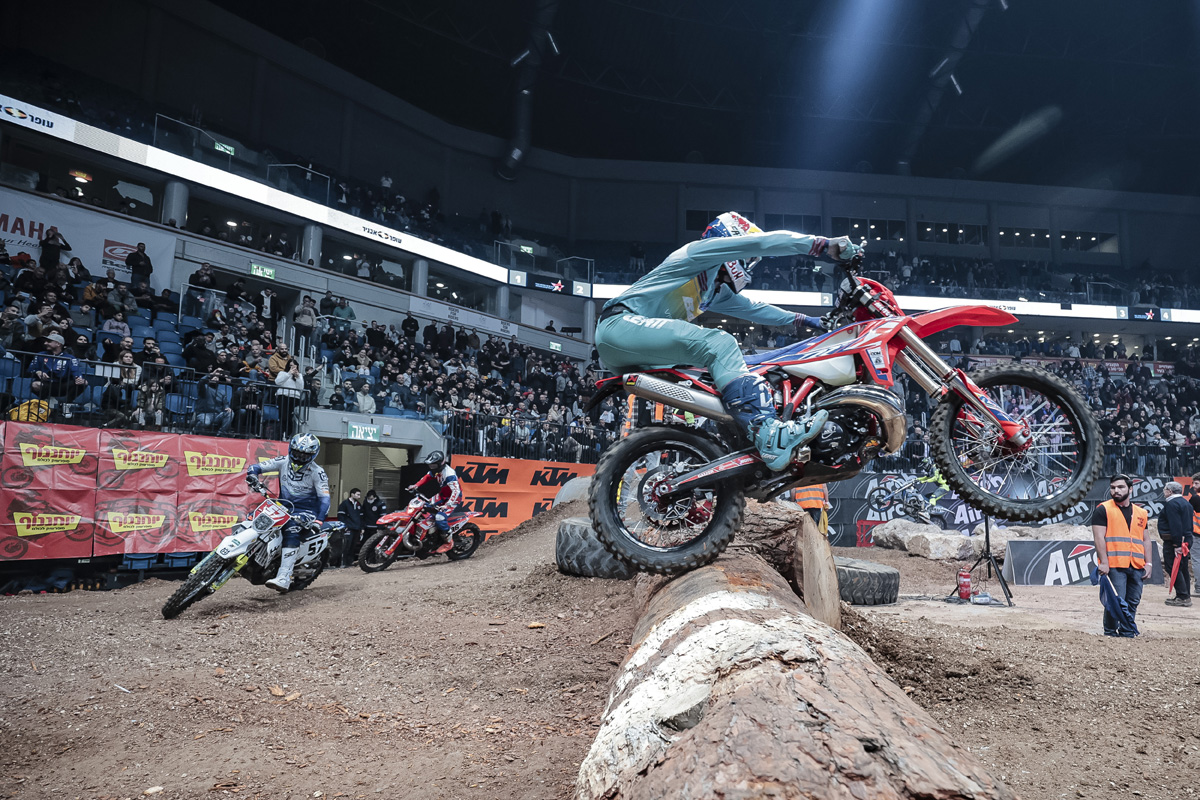 How different do you expect the EnduroCross tracks to be compared to SuperEnduro?
"The tracks out here look totally different and obviously I've not really raced any except a couple of X Games events back in the day.
"They like they have got more flow than we've got back in Europe where it is a more tight. So I'm hoping everything should be good with the tracks and they also look like they have good rock gardens and I feel like I'm strong in the rocks normally so, yeah, I'm excited and ready to race."
So that's SuperEnduro last winter to EnduroCross and then more or less straight into SuperEnduro 2023 season, is that the plan?
"I was super happy to be second in the SuperEnduro championship and then I wanted to fight for the Hard Enduro World Championship but I damaged my shoulder in the second last round and there was just no chance. We tried to rehab my shoulder without getting surgery in the five weeks between SuperEnduro and the first hard enduro round but it was so bad and we lost five weeks there but it was because I wanted to race.
"So yeah, straight into EnduroCross now which I feel like it's going to be a slower start to the season getting back into it and I'm looking forward to racing a new series.
"It will mean coming into the SuperEnduro strong too which is kind of what I want to do because before we never normally get the opportunity to do that. We usually come from the last outdoor round straight into the SuperEnduro championship with like very little practise so I'm happy to come into that confident knowing that I can obviously fight for the win."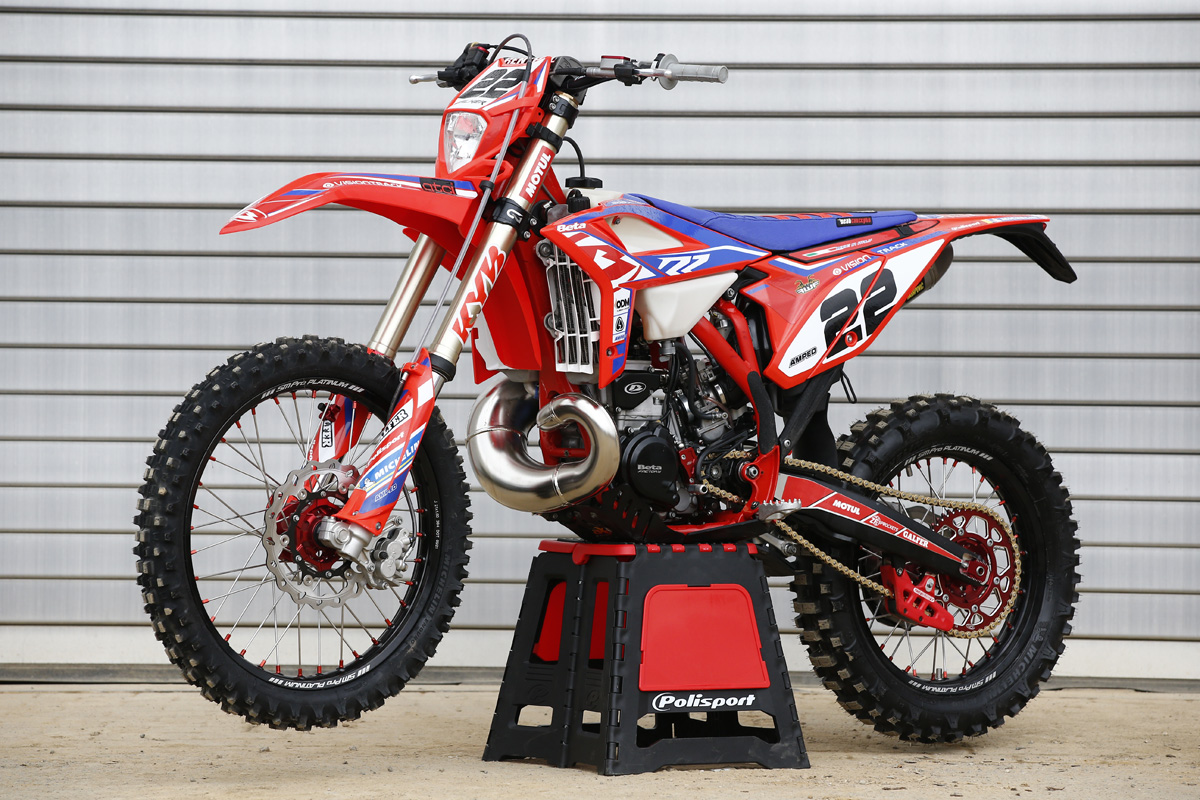 How long have you been off the bike this year and what's been the biggest part of the recovery from both knee and shoulder operations?
"It's been a long time coming back on to the bike that's for sure! I was lucky to have Red Bull to go and help me recover and get the physio. The problem was having the two surgeries. I had to have my shoulder surgery first because it was so bad and then I had to wait six weeks to then get my ACL done because obviously I need to use crutches after the knee surgery. I wanted to get them both done together but that wasn't possible and I'm kind of glad because of pain from each surgery was so bad.
"To be honest the shoulder's been the worst one to rehab. An ACL surgery is pretty easy to come back from, you just need to keep on top of it, but the shoulder is complicated because it 360 movement and so on. When I told Red Bull that I wanted to race EnduroCross they were like, no chance.
"But we managed to push a little bit and they said it is at your own risk to go which I was happy to take because it feels pretty good. I still have a little bit of pain but the main thing has been I couldn't cycle to keep fit and with my shoulder and couldn't row or anything because of the shoulder so it's taken a lot of fitness out my body and I put a little bit too much weight to be honest but managed to shred it the last few weeks riding again."
You missed the entire '22 HEWC season, what do you think of how it panned out? It's been an odd one with you Billy and Taddy injured, Mani winning back from injury then issues in Romania, Graham excluded (again) by the Erzberg crew, Trystan getting on the podium three times and winning TKO…
"Yes, missing the entire championship at home, watching when you know you could be there if you're healthy was really bad. I think it was tough one Graham to get excluded form Erzberg especially when he lost so much time and then, yeah, it is what it is with Mani at Romaniacs I wouldn't want to get involved so yeah and then obviously Trystan was really solid in the rounds he did. I think he's going to be really good at the EnduroCross this year.
"It was amazing for Graham to win Romaniacs, I'm so happy for him to win especially as it was last year did his knee injury there. I've been speaking to Billy a lot because we were at the rehab centre together, I'm sure he'll be back soon.
"But yeah, I missed being at the races because I love racing a motorbike and I'm going to be like Graham and keep racing for as many years as possible. It pissed me off to be sat at home watching the results but it makes you realise what you love and though I've missed so many races it makes you determined to do the right thing to get back and be stronger."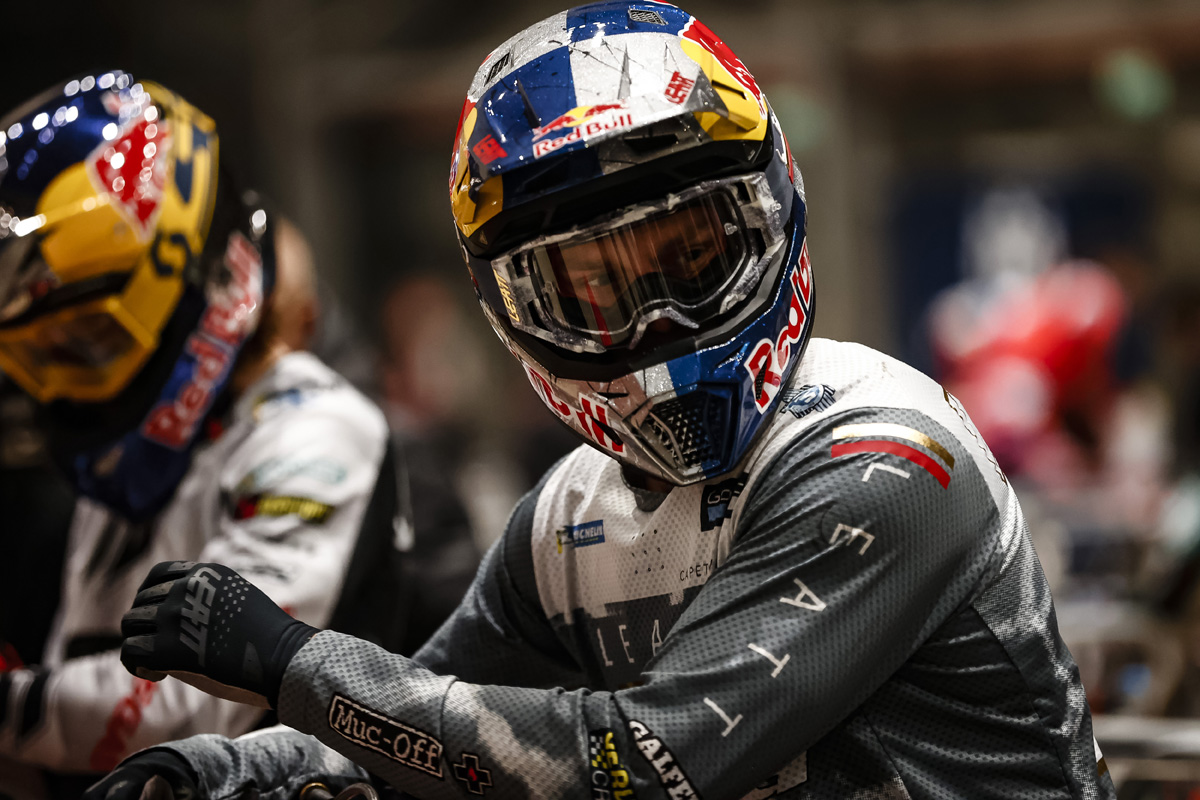 Tells us a bit about you bike, how much prep have you put into set-up on the Beta two-stroke for the EX series?
"My bike is basically just the standard two-stroke 300 engine and just with different set-up to what I'd use for hard enduro. Like jetting for example, you can change the power so much by just by jetting it differently depending on conditions so we lean it of for the EnduroCross. There are a few little things like we take the powervalve spacer off and stuff like that but pretty much it's just the same engine and chassis just with totally different suspension setttings, just a lot stiffer."
Is it different to SuperEnduro last year and have you had time to develop it more since last SE season?
"I'm planning if I can to do a little bit testing for suspension out here in the US because I never got time to do anything last year during the SuperEnduro season. We tried to change it one day and we just went all in the wrong direction. So we've decided to go back with my suspension settings from before and then work a little from there. I'm looking forward to seeing how the bike works on these tracks but I feel like I've got a good set-up."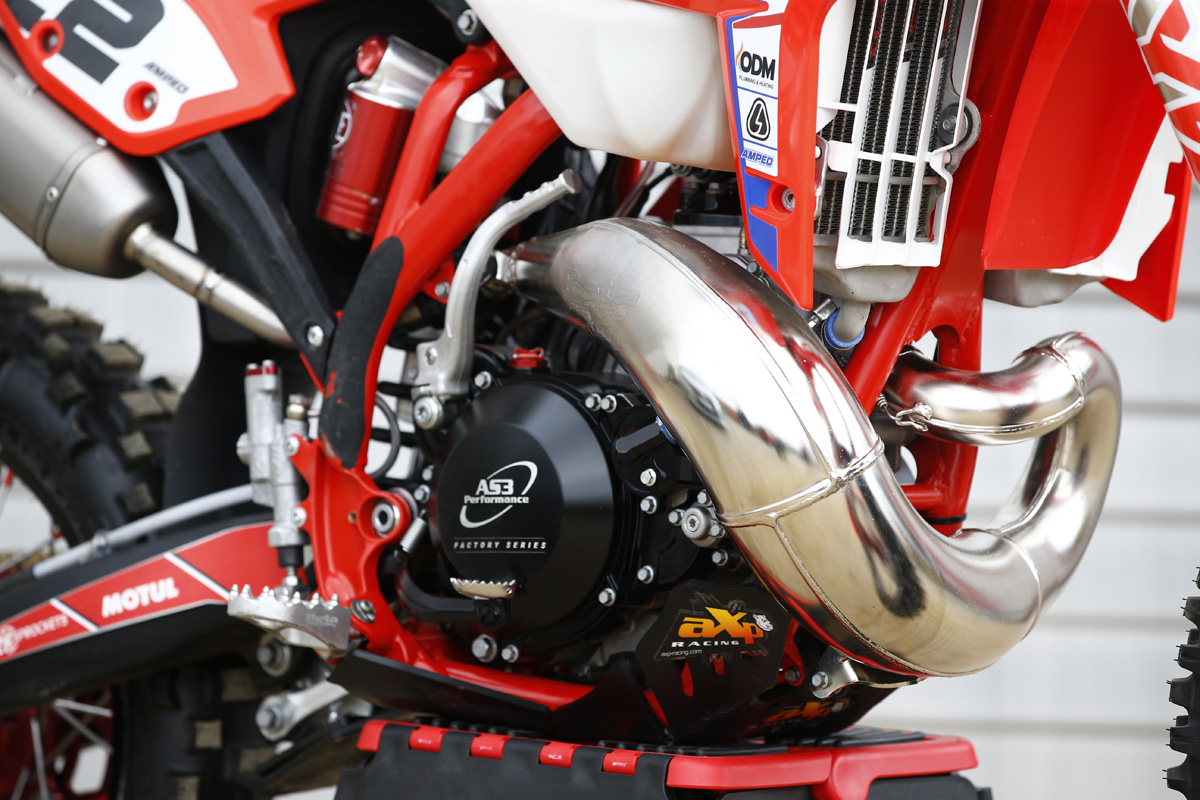 You're not like the other guys going for a four-stroke indoors, how different is your 300 2T to the HEWC set-up?
"To be honest I would prefer to ride a four-stroke but I have never had the time to set things up properly and it takes time. Obviously the other brands already have everything set from 10 years ago when they started racing four-strokes, everything is in place and you can't just build a bike for SuperEnduro in like a week, you know, you need a lot of time testing and it's something that I don't really have.
"I don't really have the resources to do it or the factory support to run four-stroke so I just keep it simple on the two-stroke, I know what the bike's gonna do and I still think it's good enough to win. Obviously we were second in the world championship last year on the bike so it's definitely good enough to win.
"We're always finding new things each race, working on things but you also don't always know until you get to a track what you need, when you get there it's often different. So for EnduroCross we are literally just gonna go to the first round with the base set-up from SuperEnduro and go form there.
"I think my suspension will be a little bit too soft but we'll just go with it and see. Obvioulsy racing a hot lap is one thing and then racing's another because it's easy to be too stiff for that fast lap but then when you get tired in the moto, if it's too stiff, you can't ride it properly so we'll see how we go."
2022 AMA Endurocross schedule:
Rd. 1, Sept. 17: Maverik Center, Salt Lake City, Utah
Rd. 2, Sept 24: First Interstate Bank Center, Redmond, Oregon
Rd. 3, Oct. 1: National Western Events Center, Denver, Colorado
Rd. 4, Oct. 22: Findlay Toyota Center, Prescott Valley, Arizona
Rd. 5, Nov 5: Ford Idaho Center, Boise, Idaho
Rd. 6, Nov. 19, Reno-Sparks Livestock Events Center, Reno, Nevada
Photo Credit: Future7Media | Andrea Belluschi + Nicki Martinez