"Still in the mix" Graham Jarvis Erzbergrodeo interview
As all eyes focus on the biggest and toughest single day Hard Enduro on planet earth, the 2022 Red Bull Erzbergrodeo, Graham Jarvis talks about his lessons learned and how to win as he aims for a record sixth victory.
Approaching two decades of racing the Erzbergrodeo, and nearly 10 years after his first win, Graham Jarvis is chasing a record-breaking sixth winner's trophy. No-one knows more than Graham himself how difficult the task is to be successful once, let alone hold such a record.
In this edited version of an interview, Graham explains what really makes the difference at Erzberg, why he is proud of himself "for still being in there mixing it" with the younger riders and why he might already have been a seven-times winner at this iconic extreme enduro.
What do you remember about your first Erzberg win in 2013?
Graham Jarvis:"That was in 2013 after a few disqualifications! Things really went my way that year. I got some good luck off the start and things went really well. Obviously, with what had happened the years earlier I remember I was a bit stressed about making sure I stayed on the right track 100% and didn't let any silly mistakes deny me of the win.
"It was such a relief to finally win. When you've worked hard, raced hard, and been denied a win, to finally get the result you want, the result you know you deserve, it's a great feeling."
2013 Erzbergrodeo Hare Scramble results: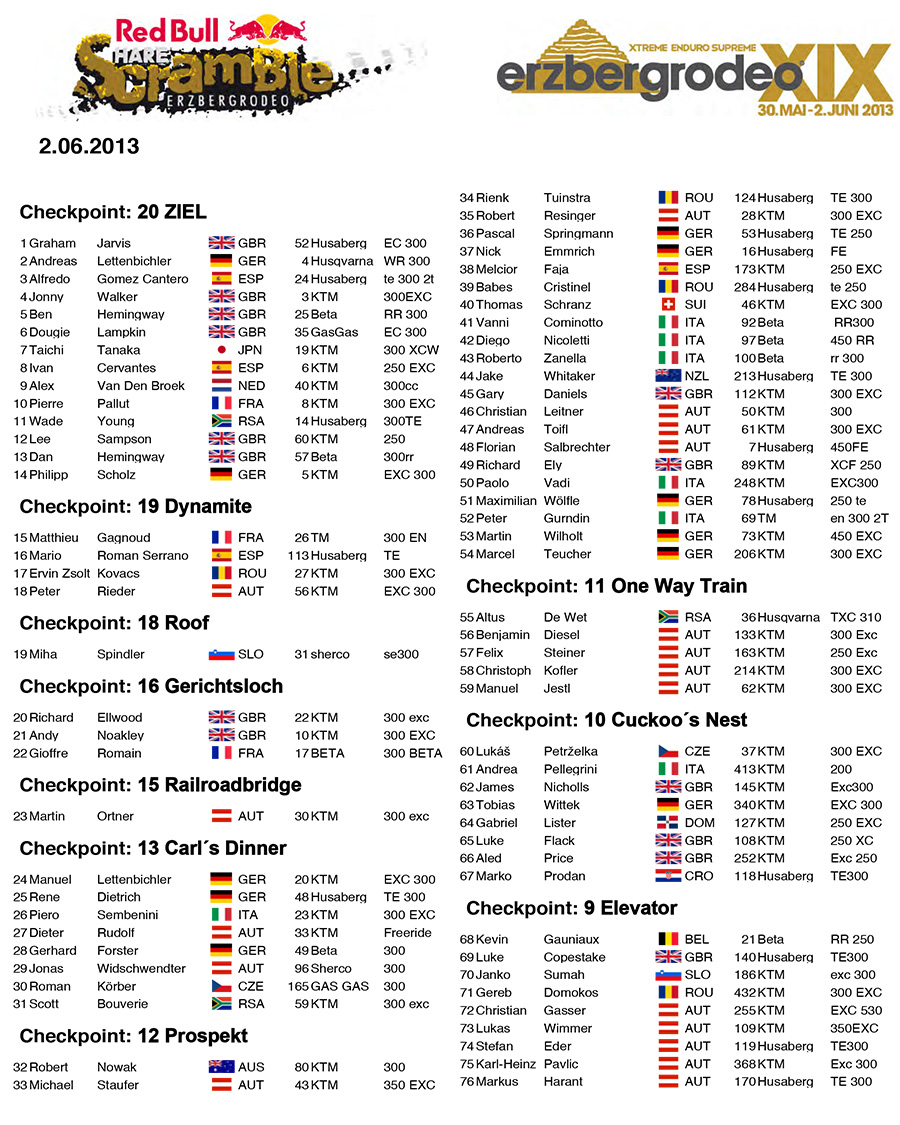 You would already have six or seven wins without those mishaps. What springs to your mind when you think about the wins that got away from you?
"To this day I still don't know where I went wrong, not really. One year, yeah, maybe that was my fault. But one of the other times I was disqualified, I have no idea where I went wrong.
"I guess back then I was super disappointed, but these things can happen, and it's not something that I think about too much these days. Even though I didn't win those years, I proved that I could win, that I had what was needed to win. That pushed me to keep returning to Erzberg. And to finally win, and then take more victories, it's pretty special."
How much of an advantage is your experience when it comes to conquering the Iron Giant?
"I think being a few years older certainly helps. For me the biggest thing is not getting too excited, being able to keep my emotions in check throughout a race like Erzberg.
"Obviously, from start to finish I know what to expect from the race, more or less, but I have learned that mistakes will happen and it's how you react to them, how you deal with them that really matters.
"I don't think there is a rider that has ever had a trouble-free ride to the finish at Erzberg, so being able to deal with whatever the race throws at you is key. Keeping calm at the start isn't easy but being able to focus on good lines from the beginning of the race is something my experience and age allows me to do."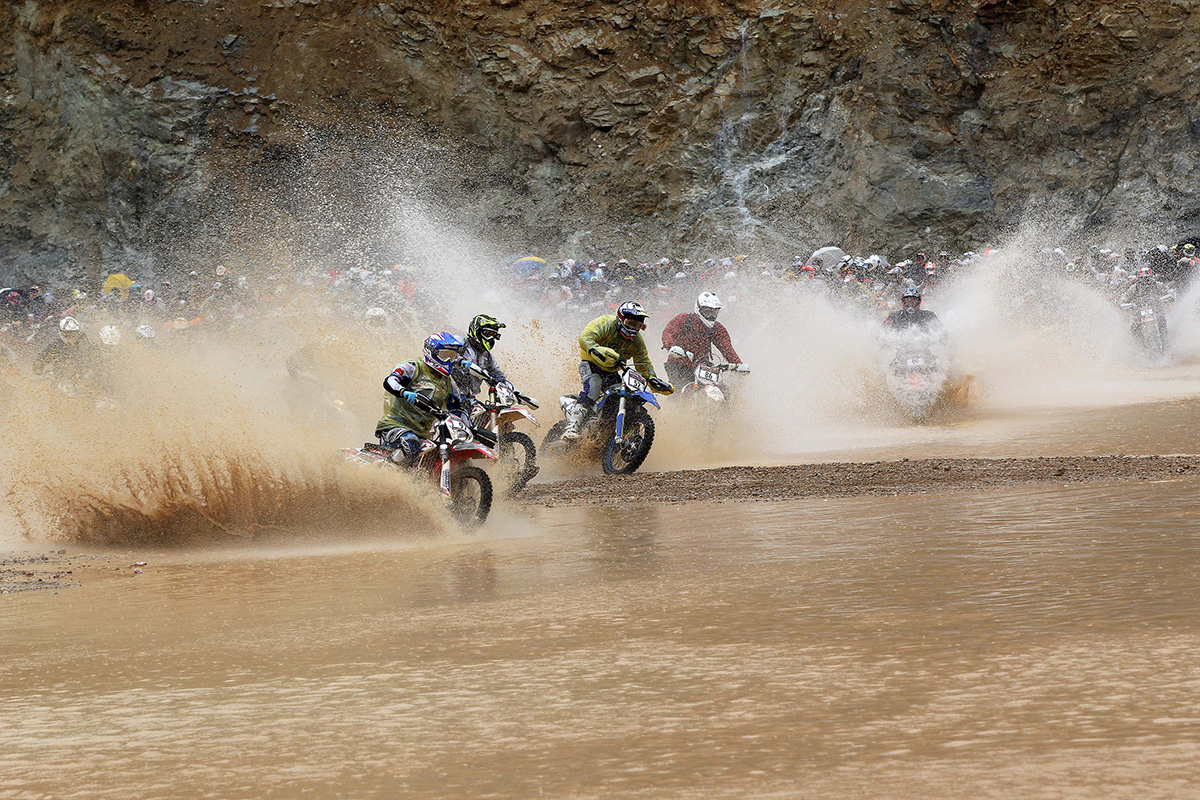 Erzberg is unique in so many ways. What do you like most about the event?
"It's the biggest race of the year, so there is a lot of pressure. Everyone is there, it's on live TV, and winning Erzberg is a really big thing. There aren't too many races where we have helicopters flying around our heads the entire race, so it's certainly a unique atmosphere on race day.
"Also, the location never lets you forget where you are. The mountain is so, so big and so unique looking, it all comes together to create a really cool and unique atmosphere. It's easy to get swept up in it all, so staying calm is really important."
Do you think people focus on your age too much?
"I think the age thing is something other people make more of than I do. I can't change my age, so I just keep on doing what I love, which is racing and riding bikes.
"I think being older has advantages and disadvantages. I have a lot of experience, and maybe find it easier to just focus on what I need to do. But then it takes me longer to get over injuries now.
"I have a huge amount of respect for all the guys I race against, I know they are working just as hard as I am to be the best they can be. I enjoy racing against them and I'm proud of myself for still being in there mixing it with them and trying to keep showing that age isn't that important!"
Erzberg has changed over the years to become a flag-to-flag race, which typically doesn't suit you. How do you keep in the mix for victory?
"It's a kind of sprint, but it's still long enough that there is enough endurance involved. I think the race has evolved as the motorcycles, tyres, and riders have evolved. I'm not sure I would call it a sprint, but I guess compared to some of the longer, multi-day races it could be seen as a sprint.
"When I started it was just as hard as it is now, but the bikes weren't as good. Because Erzberg is in a working quarry there is always something new, especially at the lower sections of the track. Up higher it's always similar tracks."
Carl's Dinner – one of the most iconic sections of Erzberg – is a place you have often gained big time on your rivals. How important is it?
"That's always a really important section of the track, one of the iconic places. It's somewhere I normally do well at. It changes each year, sometimes it's longer, sometimes we start and finish in different places, but generally speaking it's always a place where you can make up or lose a lot of time.
"Carl's Dinner is on the way back to the finish of the race, so by the time we normally get there a lot has happened already. I never really plan to make up time there, but that's what's happened on a few occasions. You can make time or lose time anywhere at Erzberg.
"Not making mistakes and keeping your wheels turning is really important. I think some riders get too physical with it and they just get too tired. You really have to work with your bike there."
Throwback footage of Graham in Carl's Dinner in 2013...
What are your top three 'must-do' tips for success at Erzberg?
"Qualifying is important. I've done well from the second row before, but it makes things so much harder. I'm not the fastest rider but getting a front row starting position is what I always aim for. That allows me to get away with the riders I'll be racing with.
"A clean start, surviving the start, is super important. It's simple, the more time you lose at the start the more you have to earn back later in the race, that's why starting on the front row is important.
"After the start it's all about taking your time, not rushing things, or pushing too hard. You have to let the race come to you by making good line choices. A lot can happen in the closing sections of the race, so it's never over until the finish."
In 10 years, after you've hung up your boots, how do you think you will be remembered?
"If they remember me at all I'll be happy. Hopefully it'll be for the right reasons, as someone that helped progress the sport and as someone who won a few races along the way.
"Or, maybe they'll just remember me as the rider who fell through a garden shed on his bike during lockdown!"
The full version of this interview conducted for Husqvarna Motorcycles can be read on www.husqvarna-motorcycles.com
Photo Credit: Future7Media