First look: Leatt 5.5 Wrist Brace
Leatt have introduced a new wrist support, the 5.5 Wrist Brace, to its extensive off-road protection catalogue to safeguard against hyperextension and provide confidence for those emerging from an injury.
If you do enduro, or practice pretty much any outdoor sport discipline especially on two wheels, surely somewhere along the way you've suffered a wrist injury. Unfortunately for most humans, the first instinct when we go to the ground is to put the hand out. An unconscious protective gesture that often ends in injuries to the wrist or parts of the upper body such as the elbow, shoulder or collarbone.
Sometimes, these types of injuries can also occur without having touched the ground – a sudden jolt through the handlebars after a heavy impact.
It's for exactly these scenarios that Leatt has created the new 5.5 Wrist Brace. The new product uses an exoskeleton-shaped protection system, adjustable to the contour of your wrist and "designed to offer maximum confidence and support when piloting after a wrist injury, limiting movement and reducing the risk of hyperextension", according to Leatt.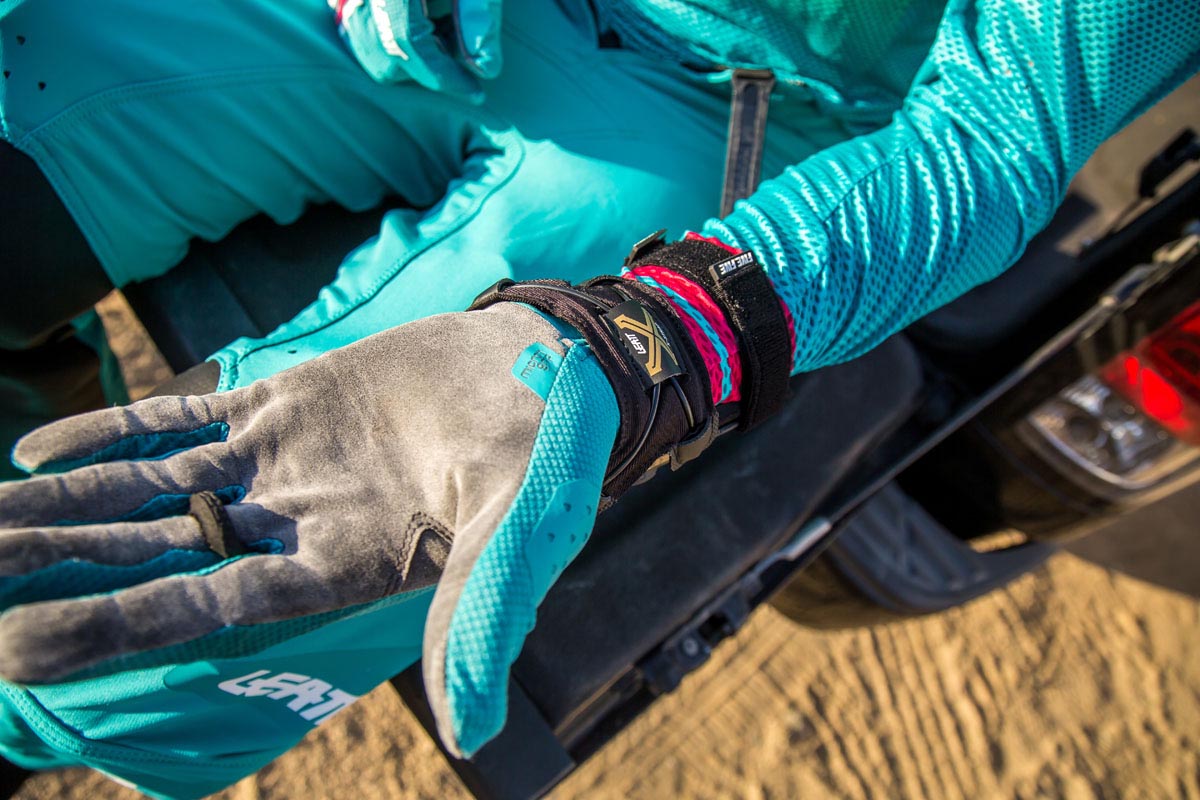 At first glance it seems not only like a good solution for people who need support while riding as a protection system, but also those who come out of an injury and need an extra dose of confidence and protection.
The design aims to protect the joint from possible injuries without compromising their natural movement on the handlebars. We've got some experience of using wrist supports, post-scaphoid injuries and so on, and they can be restrictive.
The Leatt 5.5 Wrist Brace includes two flexible interchangeable struts with the option to adjust and limit backward movement secured with an ATOP cable system. In addition, the wrist strap is elasticated to prevent arm swelling and includes a replacement padding kit.
The main features of the new Leatt 5.5 Wrist Brace:
• Rigid matrix construction.
• Interchangeable flexible tips.
• Medium or low flexion.
• ATOP cable fastening system.
• Double section neoprene lining for comfort.
• Spare padding kit included.
• Elastic wrist strap to prevent swelling of the arm.
• Two-finger location for added convenience.
• Tested and CE certified according to personal protection standards (PPE Regulation (EU)) 2016/425.
• Sizes: S/M - L/XL
• Plastic-free recyclable packaging
Mundo Talio, official importer of Leatt products in Spain, informs that its retail price will be €209 per unit (check with your nearest stockist).
More information: www.leatt.com