First look: new AXP chain guide and swingarm guard
AXP Racing has released an updated version of their light and durable chain guide and sprocket protector – now with an optional swingarm guard.
At Enduro21 we like a simple off-road product which has been tested properly out in the field. Those kinds of bike parts which work because they've been designed and developed by riders doing it for real.
French company AXP Racing are just such manufacturer who are putting their products to the test in EnduroGP, Hard Enduro World Championship, EnduroCross and more places besides.
This new version of their chain guide has been tested by the likes of Mario Roman and Wade Young and it's an evolution of the durable UHMW plastic guide and sprocket protector Enduro21 has fitted to our own test bikes over many seasons – a part which is our 'go to' part before hard enduro riding if we are honest.
New and improved
The new guide is updated to better protect the front fixation bolt head, a vulnerable part on any chain guide. AXP say few others on the market are looking carefully enough at how the bolt heads sit there in the line of fire from rocks and they've redesigned the guide itself (independently of any separate swingarm guard – see below) to reduce the risk of the bolt heads breaking.
Add the swing arm guard
To further boost the protection down in that vulnerable area of the bike, AXP has designed a reinforced swingarm guard to go with the chain guide.
The guard (sold separately) completely covers the fixing bolt heads to avoid damage, protecting the bolts and the lower end of the swingarm, but the smart thing here is how it attaches: the guide and guard can be removed as one part, rather than the guard attaching to the swingarm directly like others on the market.
One thing to note is although other swingarm guards will fit with the new AXP chain guide, the AXP swingarm guard only fits the AXP chain guide.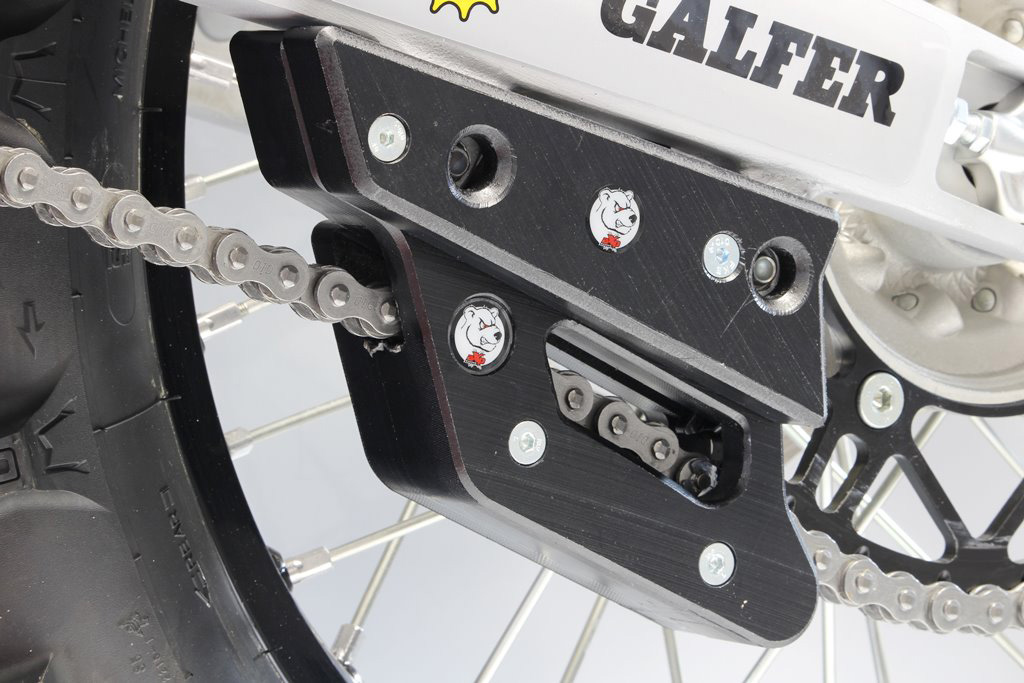 A new chain guide and swingarm guard are on their way to Enduro21 to test as we write this, so stay tuned for a real world look at fitting and how the product fairs on our bikes.
Cost
Chain guide: €82.50
Swingarm guard: €40
Available colours: Black, Orange, Red, Dark Blue and Blue (for KTM/GASGAS/Sherco/ Husqvarna).
More information and global distributors: www.axp-racing.com