Product focus: Leatt neck braces and their benefits
Does a neck brace minimize the risk of spine injuries if you crash? After a decade of investigations and data from 8,500 accidents the numbers don't lie. Enduro21 takes a look at the Leatt neck brace model range and reasons to use one.
A decade or more ago if you wore a neck brace at an off-road event you stood out. In 2022 their use is far more common, to the point where it's getting more unusual to see riders without them. Some race series' have made them mandatory too, especially for youth racing.
Leatt started it all off and has endured being at the forefront of our education behind using neck braces. It's possible you know this story already but Leatt's founder, Doctor Chris Leatt, conducted a study about the dynamics of off-road bike crashes to find a solution which "minimised the risks of suffering severe cervical injuries while practicing off-road sports."
Chris's driving force behind this research was to keep his own child safer on a bike, as he explains in this video, "LEATT Heritage video: Episode 2, how the neck brace was born".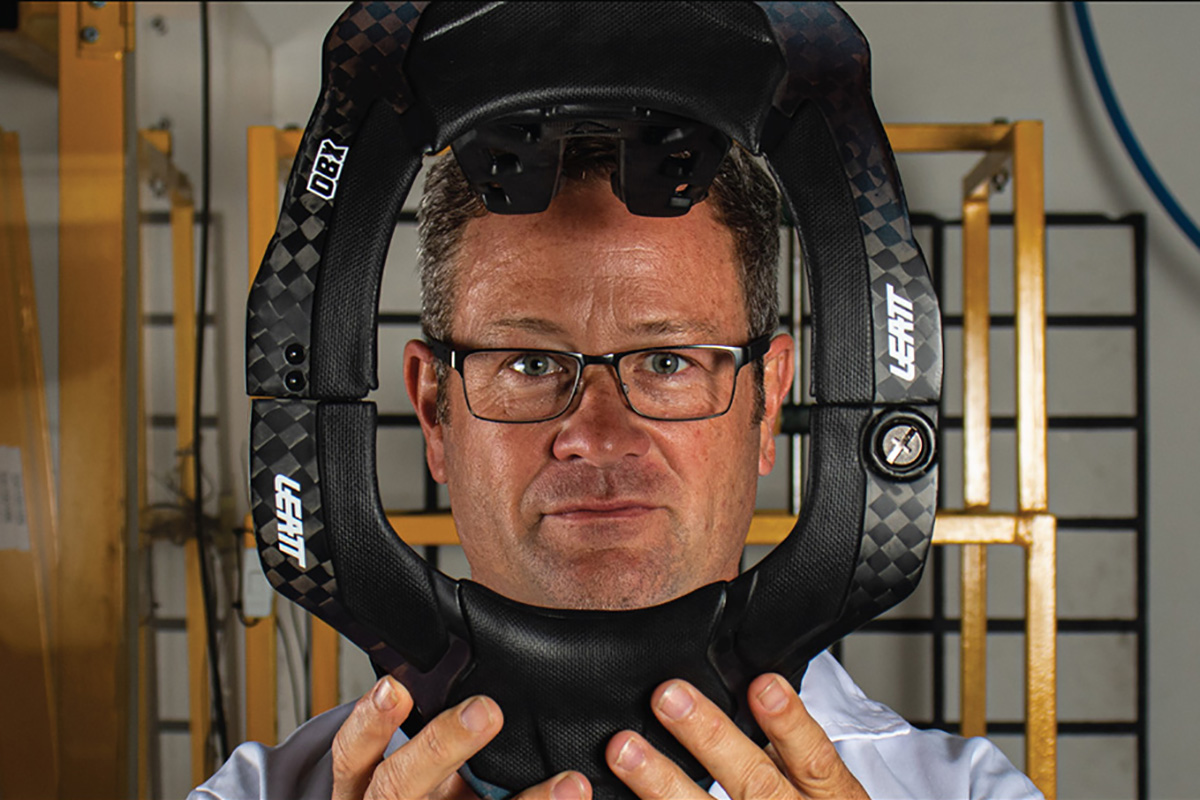 "I realized that I could not allow my son to ride and expose himself to risks of this type. I couldn't believe there wasn't a product for it. And it was at that precise moment when I started working on the whole project to develop the collar", explains Dr. Leatt.
Data check: using a neck brace realities
After 10 years, an independent study by Action Sports EMS has proved the fact that a neck brace helps prevent the risk of injuries in two-wheel motorsports.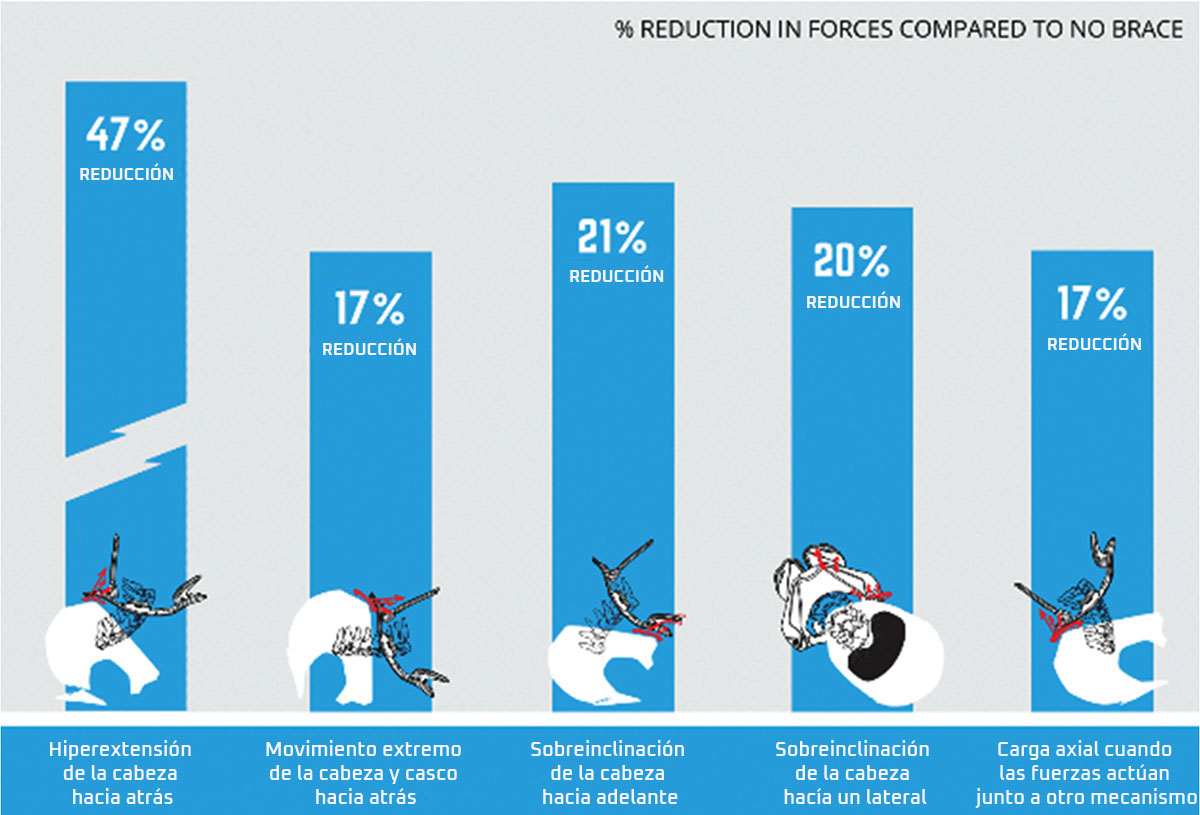 Action Sports EMS runs the ambulance service at the North American motocross events and has evaluated more than 8,500 crashes and pointed out the consequences linked, or not, to the use of the neck brace.
This research study has been continuous from 2009 to now and reveals some data about the effectiveness of wearing the neck brace:
A Critical Cervical Spine injury is 89% more likely without a neck brace.
Death is 69%+* more likely (due to Cervical Spine Injury) without a neck brace
A Non-Critical Cervical Spine injury is 75% more likely without a neck brace.
Cervical Spine injuries sustained without a neck brace are more severe, require greater care.
A Cervical Spine injury of any kind is 82% more likely without a neck brace.
Leatt says that the "zero risk doesn't exist", but you can mitigate the impact of these injuries, and many others, by using the correct protection.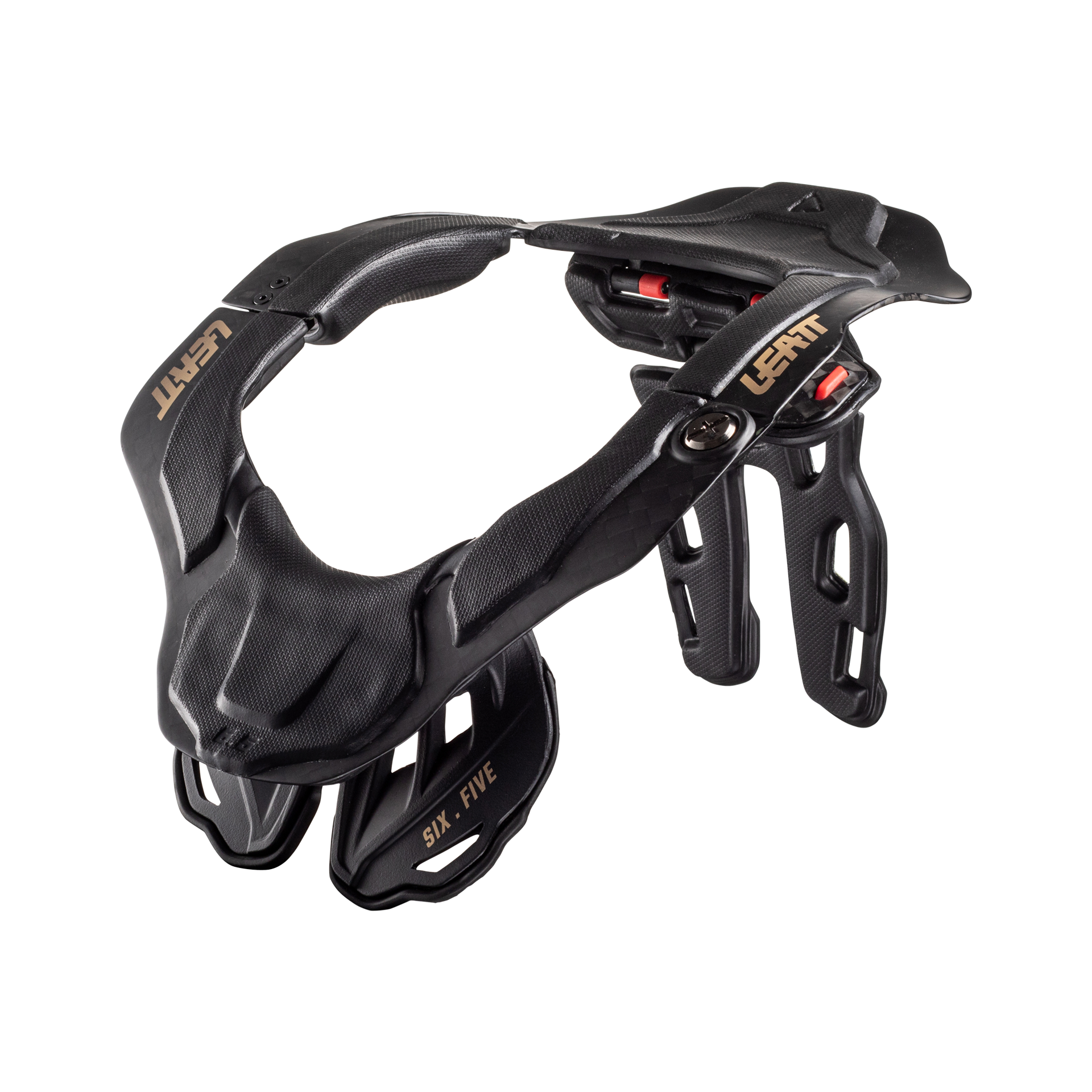 Leatt's three neck brace model range, and their differences
6.5 Neck Brace
Carbon matrix platform allows for the most efficient reduction in neck forces
Optimal helmet rim striking platform is designed to redistribute neck forces and provides the helmet with freedom of movement
CoreFlex split rear folding thoracic strut is designed to work with the body's natural movements for a more comfortable fit and break away before applying excessive pressure to the back
Sliding front and rear SureFit adjusters offer Three-way adjustability for that perfect fit
Sculptured, split front for improved comfort and fit
Low profile push-button open/closure system
Easy-to-use emergency release mechanism
Injected, durable and easy-to-clean foam padding
CE tested and certified as Personal Protective Equipment 89/686/EEC
Weight: from 600g (1.32lbs)
Price: €499
5.5 Neck Brace

Composite matrix platform allows for the most efficient reduction in neck forces
Optimal helmet rim striking platform is designed to redistribute neck forces and provides the helmet with freedom of movement
CoreFlex split rear folding thoracic strut is designed to work with the body's natural movements for a more comfortable fit and break away before applying excessive pressure to the back
Sliding front and rear SureFit adjusters offer Three-way adjustability for that perfect fit
Sculptured, split front for improved comfort and fit
Low profile push-button open/closure system
Easy-to-use emergency release mechanism
Injected, durable and easy-to-clean foam padding
CE tested and certified as Personal Protective Equipment 89/686/EEC
Weight: from 790g (1.74lbs)
Price: €369
3.5 Neck Brace

Polymer matrix platform allows for the most efficient reduction in neck forces
Optimal helmet rim striking platform is designed to redistribute neck forces and provides the helmet with freedom of movement
CoreFlex split rear folding thoracic strut is designed to work with the body's natural movements for a more comfortable fit and break away before applying excessive pressure to the back
Sculptured, split front for improved comfort and fit
Air flow ribbed body padding for optimum ventilation
CE tested and certified as Personal Protective Equipment 89/686/EEC
Weight: 497g (1.1lbs)
More Information: www.leatt.com