Quick look: Dunlop Geomax AT81 EX – the best extreme enduro tyre you've never heard of?
Enduro21 takes a closer look at Dunlop's AT81 EX off-road tyre developed for EnduroCross but, with 20mm tread depth and a soft compound, could this be the best extreme enduro tyre you've never heard of?
The first thing to say about the Dunlop Geomax AT81 EX is that it is not new. It kind of went under the radar when Dunlop launched it as a softer version of AT81 off-road tyre, mainly in Europe where even now you'll be hard pushed to find much info about it.
The AT81 has been incredibly successful in GNCC (for one example) because it offers all-round, cross-country performance. The EX version adds more grip to the equation at the expense of some longevity and stability naturally with 20mm deep tread blocks and more flex to bite the dirt, rocks and logs.
AT81EX quick facts:
The AT81 was officially released in the US way back in 2016, then in Europe early in 2017.
AT81 EX model launched in the USA at the end of 2017 as a rear only and replaced the D756 EX. Technically that tyre became available in Europe during 2018 but import was restricted.
Full availability of AT81 EX in all European markets was from March 2019 after the front version was introduced but a pandemic arrived and affected the general awareness of the tyre and the rest is history.
The AT81 EX is built on the same tread pattern and construction as the AT81, but adds ultra grippy compounds to the equation.
The rear tread block shape and distribution, plus "flexible knobs", help the AT81 penetrate down through the surface dirt for extra traction across a broad range of off-road applications.
High-wear-resistance compound offers enhanced chipping, tearing, and wear appearance
Rear tyre carcass features two nylon plies
Lateral grooves on the shoulder knobs provide additional biting edges and allow the knobs to be more flexible
Rear centre blocks are in-line to provide a larger contact patch for maximum traction
Dunlop's "plush pad" recess design between tread blocks improve bump absorption and ride comfort
Front tyre construction includes two plies of nylon wrapped with a third ply of polyester for a strong base
The AT81 EX was developed with the help of Cody Webb and Destry Abbott. Webb used the AT81 EX to win the 2017 EnduroCross title and Colton Haaker has since taken consecutive EX titles with it.
The tyre (or tire if you prefer) is available globally and although it can be hard to find in Europe, we're saying that's partly because not enough people know about it.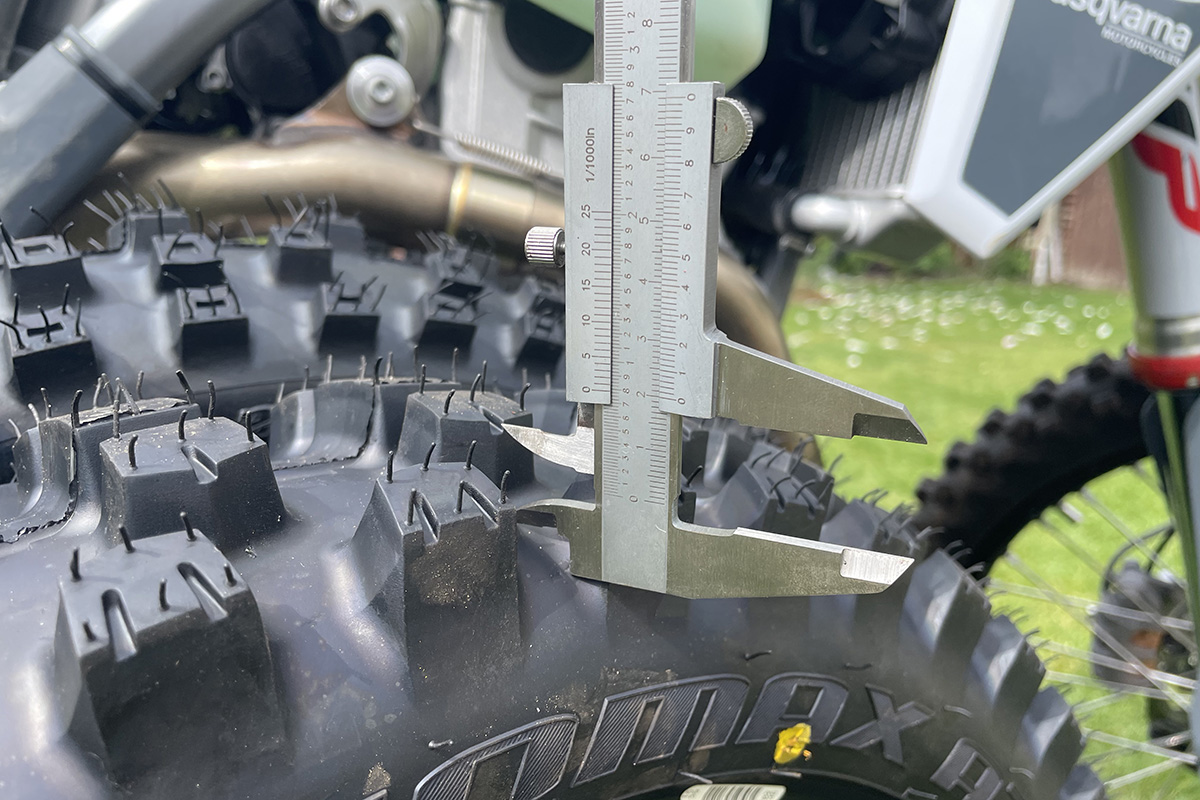 No FIM-approval? No problem...
The FIM regulations dictate a 13mm tread depth for enduro tyres which you'll find on many of the most commonly used brands from Dunlop, Michelin, Metzeler and Pirelli for example. Riders using those FIM-spec tyres includes Billy Bolt in the Hard Enduro World Championship or Brad Freeman in the EnduroGP.
FYI in Europe the official FIM-approved Dunlop tyre for enduro is the EN91 which notably has been used by teams at the ISDE (Team USA used it to take the World Trophy in Portugal 2019).
The AT81 EX however has too much tread for that FIM approval. Dunlop quote a maximum 20mm for the blocks which offer a decent amount more bite so if you're riding in events which don't operate under the FIM regulations then this tyre is boasting significant improvements in grip.
Dunlop AT81 fitment/sizes:
Front:
80/100-21 51M TT GEOMAX AT81 EX
80/100-21 51M TT GEOMAX AT81
90/90-21 54M TT GEOMAX AT81F
Rear:
110/100-18 64M TT GEOMAX AT81 EX
110/100-18 64M TT GEOMAX AT81
110/90-18 61M TT GEOMAX AT81
120/90-18 65M TT GEOMAX AT81
The US market also has the AT81RC with a heavy duty, reinforced carcass which is not available in Europe. The RC comes in the same rear sizes as the standard AT81 tyre.
The right tyre for the right job obviously makes a big difference and having a soft – or gummy as people prefer to say in North America – for extreme riding really does transform the chances of making it up/over/through more technical terrain.
Introduce mud into the equation and the AT81 EX could hold an advantage over those 13mm restricted, FIM approved tyres.
Enduro21 has this set on test which we'll be putting out to pasture in the near future.
More information: www.dunlop.eu & www.dunlopmotorcycletires.com
Photo Credit: Enduro21