Tested: Polisport ProOctane 20 litre fuel dump
Enduro21 puts Polisport's ProOctane 20 litre fuel filler can through real world testing across two years of riding and racing – splash and dash refilling the easy way.
We are not all factory pilots with a team of people buzzing round every time we call in the pits for fuel and fresh goggles. Some of us usually go it solo without helpers most the time and though for the most part (if we're honest) a pitstop can be a welcome breather, getting in and out as quickly as possible matters.
Wherever you're refuelling it can be a real faff if you're using an open filler can or with a funnel. Being able to stop, stay on the bike, refill and go makes life a lot easier.
Which is where a quick fill system like Polisport's ProOctane 20 litre can comes in. There are expensive options as used so effectively in GNCC Racing for example, but Enduro21 tends to ride a bit more low-key, for shits and giggles as they say. We just wanted a simple can which holds enough fuel for a few hours riding, is quick and easy to use by yourself…
They say:
Polisport ProOctane is more than a regular utility can. Produced with highly durable and resistant walls and a leak-proof cap for transport. The two-handle design was developed to make the filling process easy and effortless and you have options for a hose filling system or the quick fill spout.
The re-filling process is easy with a fluid stream of gas and an auto-stop system so you can avoid the spillage. The cap has an oil/fuel mix indicator so you can select your fuel mix and there's an oil mixer included which locates handily in the side for transport.
The ProOctane filler is also homologated as a portable fuel container for Europe (complies with ADR standards).
We say:
We've had this can on test for a couple of years now and have certainly put it through a genuine mixture of riding. From really wet and muddy extreme events, grass field XC races and a tonne of days out riding at practice tracks.
It caught our eye in the first place because it promises spill-free fast refuelling. Having a tough can which will strap in the back of the van or trailer and put up with rough life is a must. We just wanted a fuel can which would do its job and avoid needing three hands or dreaded spilled fuel on the balls.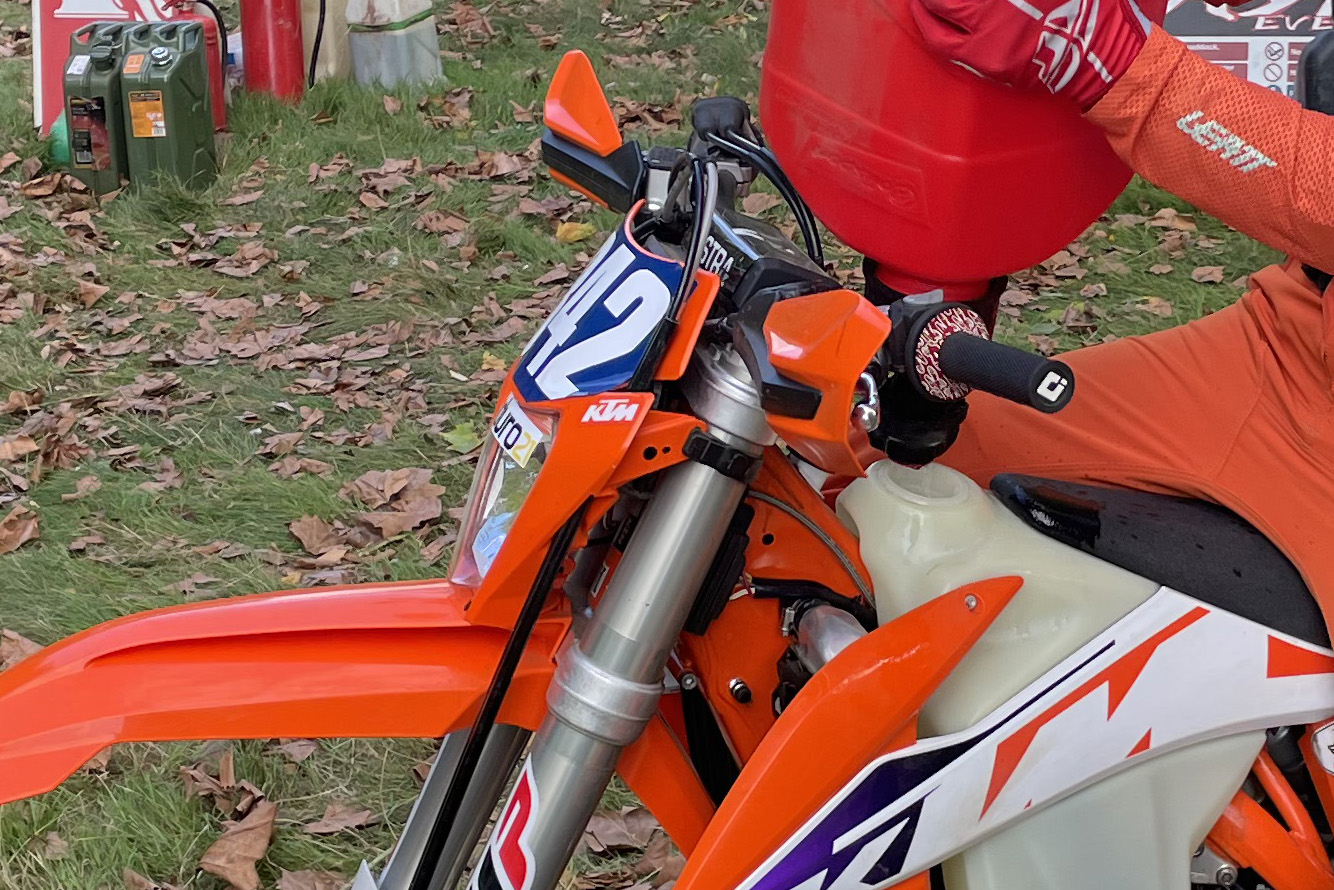 How does it work? When you pick the can up and ram it home, the neck of the bike tank offers the resistance you push against, releasing the quick fill mechanism (on a spring) in the can filler and creates the gap for fuel to flow out. Release the downward pressure on the can into the fuel tank and it springs back shut. It's as simple as that.
It weighs a claimed 1640g/3.6lb and so feels pretty much as heavy as the amount of fuel you're holding.
Unlike some of the cheaper fuel dumps like this, the Polisport can cap fits a bike fuel tank well. KTM/GASGAS/Husqvarna fuel tanks don't have much room in the neck, the way it forms around the upper frame is right there inside, so some fuel dumpers can be too long, making it easy to spill or spray fuel as you refill.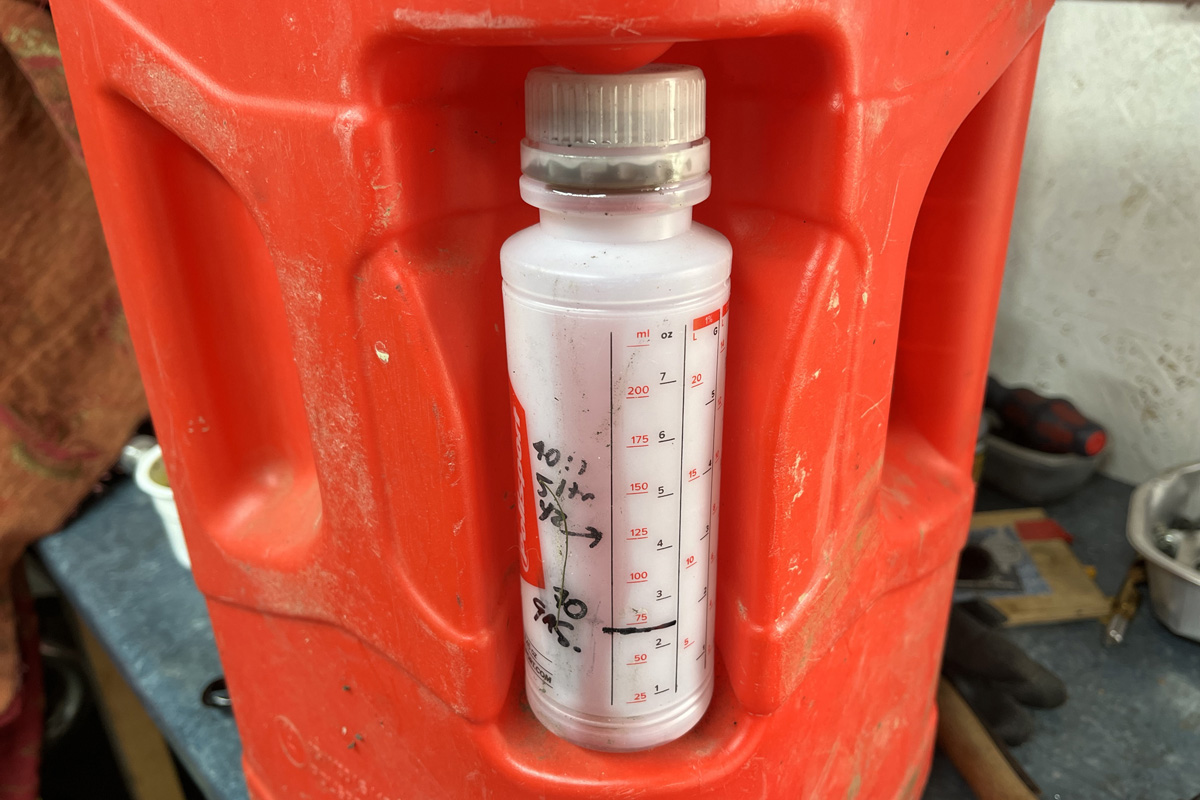 It comes with a measuring bottle with mix ratios handily marked on the side to help with pre-mixing. It slots into a side recess if you want but the 20 litre can capacity is always enough for one ride we find so the mix bottle tends to live at home (marked up for different bikes/ratios).
The beauty of the can is it doesn't have to be treated too carefully. Dropping it after refuelling and coming back to it 90 minutes later doesn't result in fuel spilled everywhere. It puts up with being thrown in with the dirty kit until the trailer is unpacked the next day too.
The option for an additional pouring hose if you prefer is there and we've used both but prefer the fuel dump most the time unless the bike's filler orifice is small like on a trials bike for example.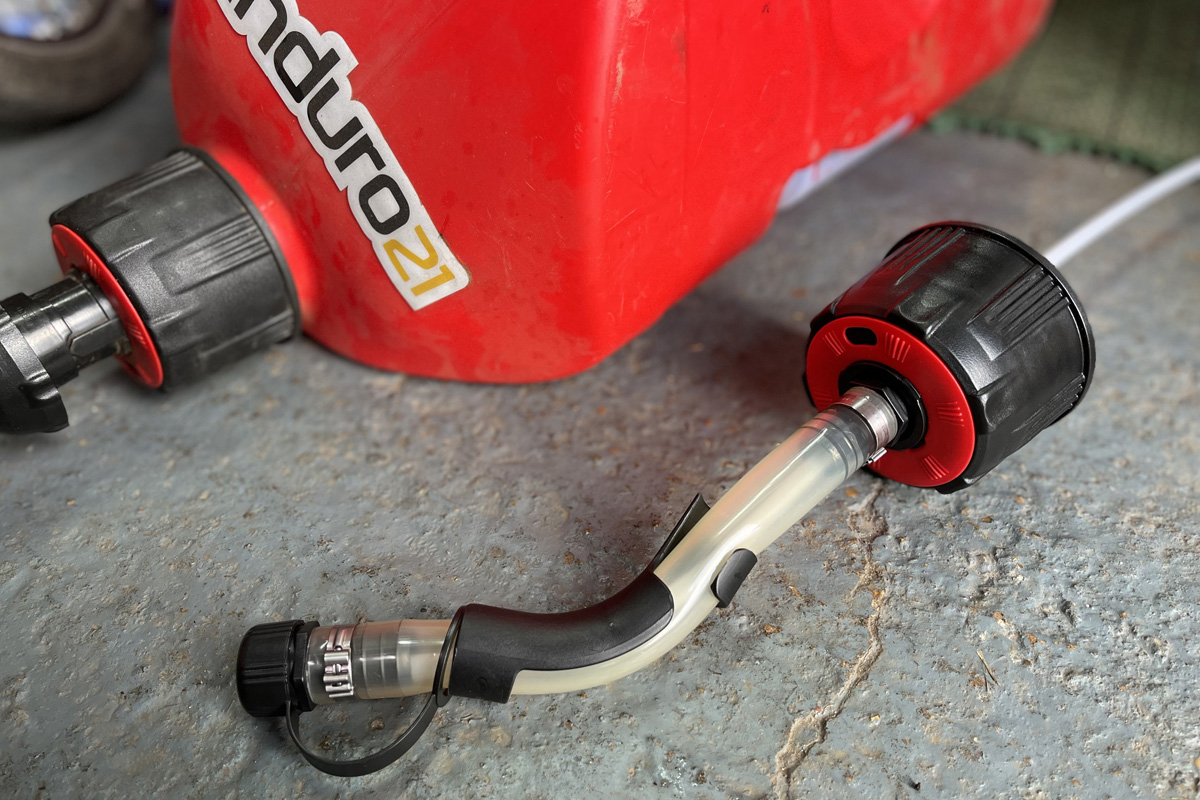 Are there any minus points?
A couple of things have happened during it's life with us so far but both were quickly fixed. Firstly, the rubber o-ring around the spring-loaded cap unseated once which meant the fuel sprayed out a little unevenly and then didn't close properly. It was 10 second fix to just re-seat the o-ring in place and it hasn't happened since.
Similarly, the breather hose inside the can, which sucks air as the fuel leaves the can in refilling (and helps prevent that gulping effect you get when pouring liquid), dropped off its locating plug inside of the cap. Again, it was an easy fix and just needed placing back where it belongs.
Like we said, it's a fuel filler can we've used over a lot of bike riding hours and every stop feels like a splash and dash now. It's not all about racing and fast pitstops we know, but wherever we've been riding, the can is practical, tough and easy to use. What more do you need from a fuel can?
Cost: RRP £45/€50/$50
Contact: www.polisport.com
Photo Credit: Enduro21