USWE 'Buddy' trolley bag – The best kit bag we've ever used?
USWE expand their riding gear range with the Buddy Athlete Gear Travel Bag, a heavy duty 150 litre trolley bag designed to swallow your complete off-road riding kit – Enduro21 puts it to the test and reckon this could be the best kit bag we've ever used…
It's pretty high praise to say this could be the best kit bag we've ever had. USWE's recent jump into the athlete gear bag world means the 'Buddy' has stiff competition from many different manufacturers.
With decades of dirt bike riding under our belts, we're not strangers to the good, the bad and the ugly when it comes to places to stuff your gear either and if we're honest, take something like this way too seriously.
What all good kit bags need
A good kit bag must be well-constructed, have strong grab handles in the right places, solid wheels and an extendable pull bar that doesn't wobble and rattle like a cheap camping chair. It also needs separate compartments for boots, clothing, goggles/sundries and a large main storage compartment. At least…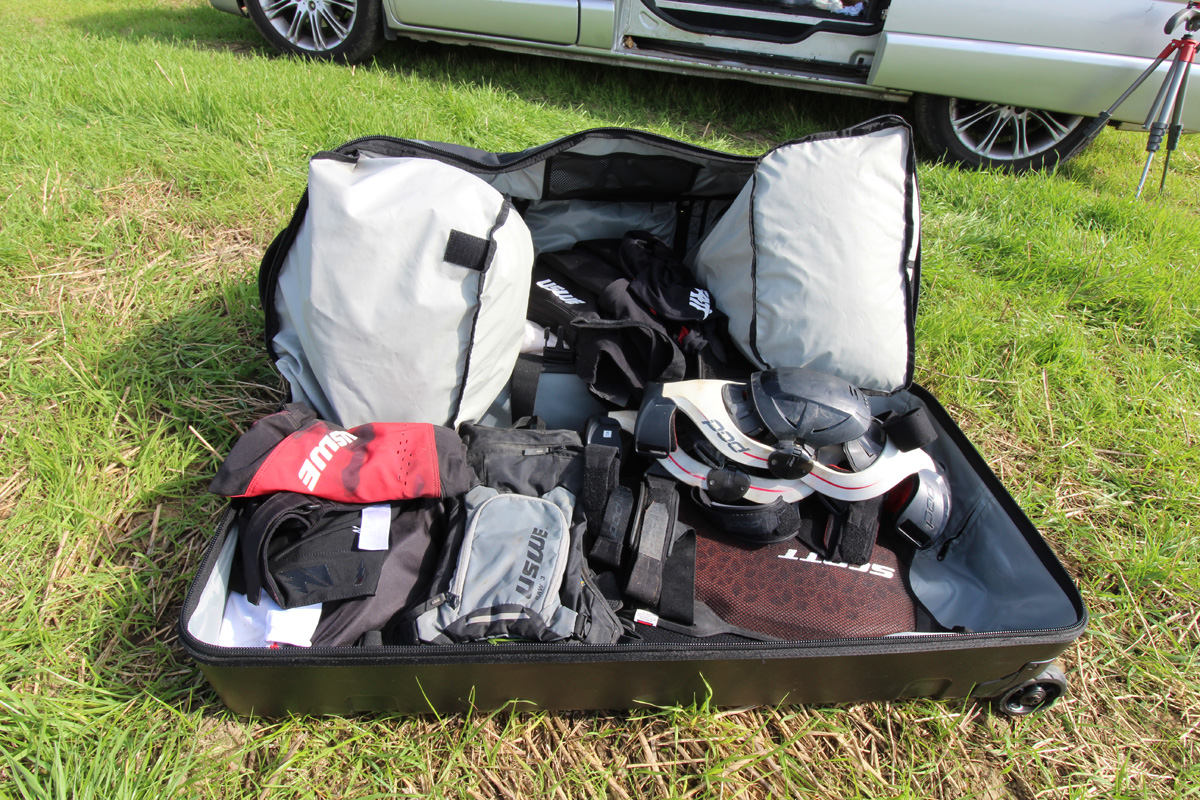 They say:
The 150L Buddy Athlete Gear Travel bag is developed for your full riding kit to perform in a heavy-duty environment and to provide premium quality and functionality.
There are four key compartments: a boot and knee brace pocket with a waterproof liner, padded helmet section, goggle vault, and a generously sized main compartment for multiple gear sets, protective equipment and gear to change into after the race.
Moulded Polycarbonate Hard Shell base
Heavy duty wheel assembly
Padded helmet/protection compartment
Waterproof Boot/Knee brace compartment
Padded goggle vault + lens pocket
Telescopic handle
Multiple storage and pocket options
100% waterproof fold away mat
Dimensions: 91cm height, 42cm width, 40cm depth
We say:
Enduro21 knows from previous experience that USWE put a lot into their kit. We've stacked-up thousands of hours on their "No More dancing Monkey" hydration packs – no exaggeration – and happily say they are the definition of function for enduro riding.
With that in mind we naturally expected the same as they expand their range to include the new 'Buddy' kit bags (there's a smaller, 40 litre travel pack option too) and they delivered.
As with other products in the USWE range, the Buddy trolley bag hits you with its quality of material, design, construction and solutions to the problems of stowing a stack of riding kit which , we know, it at once odd shaped, sized, frequently wet or muddy.
When it first turned up, we found ourselves digging around and investigating the different compartments so much that family members (the wife) were asking, "what are you doing with that bag weirdo?!"
Giving it the hard life
Previous bags in the Enduro21 test department cupboard have definitely had a hard life. Travelling the world through airports, living in the back of the van and trailer, trekking off to major race events like Dakar Rally and Romaniacs – life ain't easy for a kit bag even if you are the kind of person who takes care of things.
Two of the Enduro21 team have had the 150 litre Buddy bag on test for a few months now, so not a long test, and we won't pretend to give any great claims about its durability at this stage.
But it has been given a healthy dose of life in the back of the van at race meetings including Romaniacs, plus it has already faced the roulette of treatment at airports with some overseas trips including the GASGAS media launch.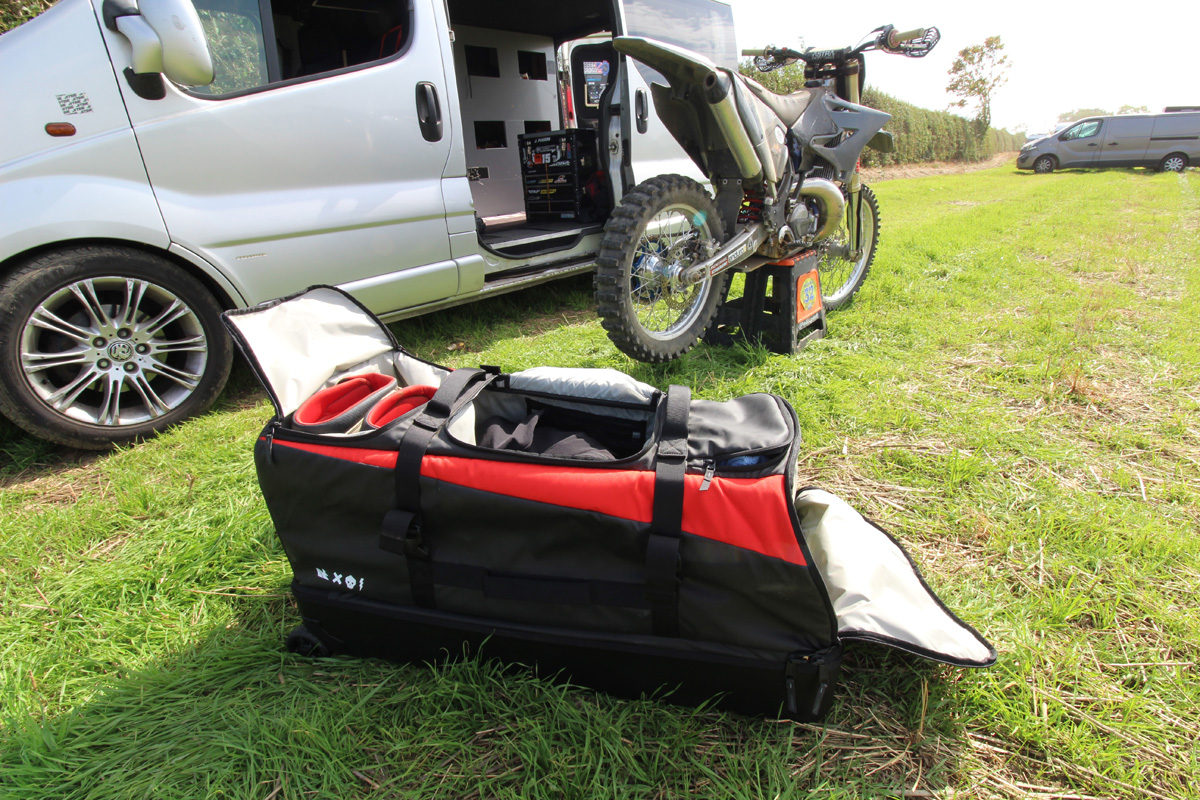 Real world tested
The Buddy is robust and that tough, half and wheels are standing up to the hits of getting chucked in the van/trailer/truck/airport carousel. It's not heavy like some large trolley bags and that serves it well with airlines who like to charge extra for heavy bags.
R&D'd using riders and racers from across different off-road disciplines to make sure it is delivering when they say: "developed to perform in a heavy-duty environment and to provide premium quality and functionality."
That is clear from the practical point of view when packing kit. A large pocket one end is big enough for not just boots but knee braces as well. That stiffer pocket allows you to park the bag on its end without it collapsing and it is nicely weighted when loaded too. We can even report its pretty happy having a run through an airport when you are late for a flight…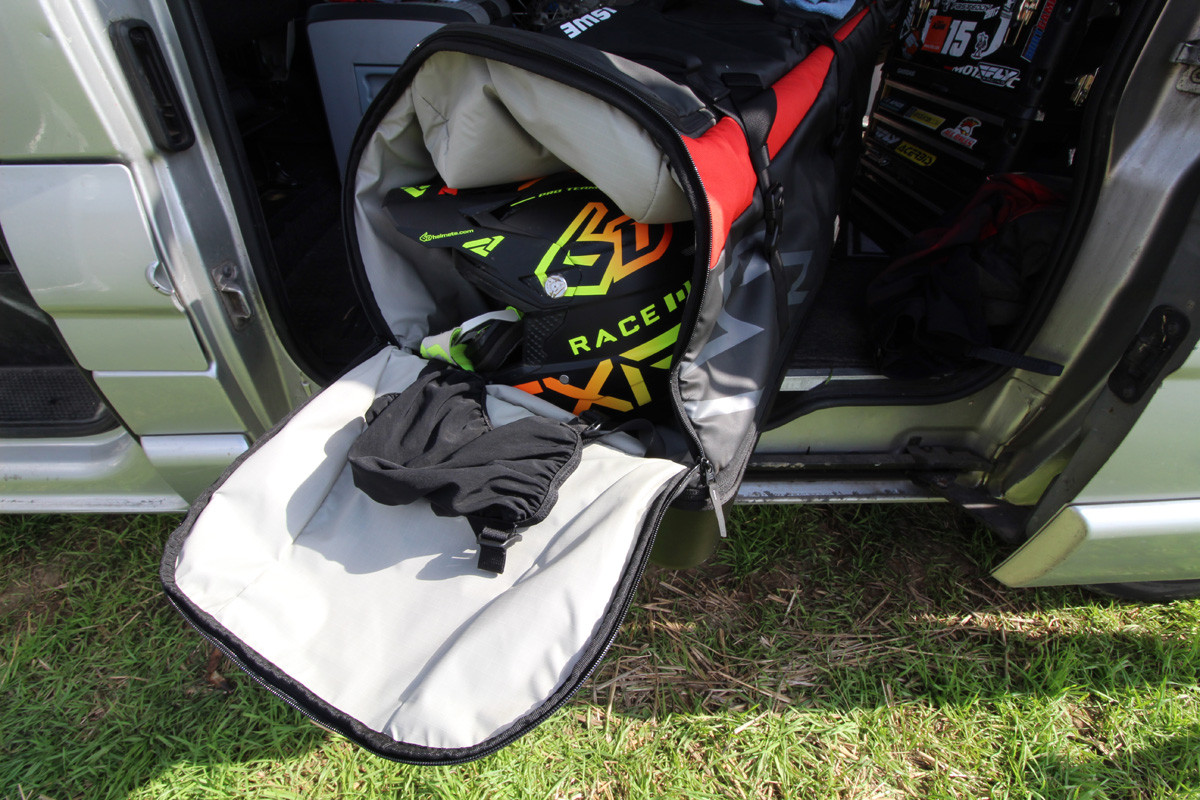 The 'top' end houses a softer and voluminous pocket big enough for a helmet without removing the visor or peak and has a parachute-like, stretchy catch bag to hold the helmet more secure.
We admit we've not stowed the helmet in here travelling through airports – if you trust baggage handlers with your helmet then you are braver than us – but in the van or trailer it goes in there no problem. Like the boot compartment, the helmet pocket is easy to wash out after a mudder race.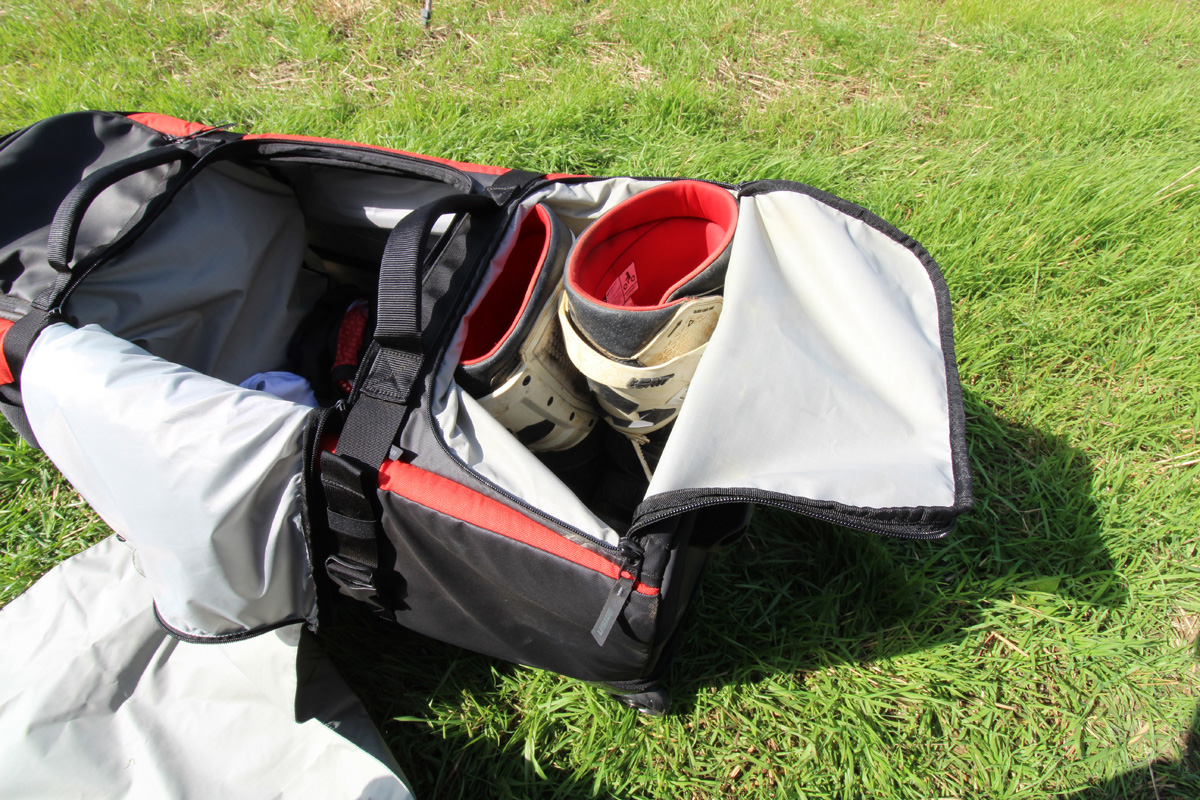 Access to the main storage compartment has two options: a flip top lid which lets you dive in or a full wrap-around zip which basically cuts the bag in half for full access.
The flip-top lid also houses a second compartment which contains a waterproof, fold-out changing mat. Starting the day with wet socks is never a good thing and having somewhere clean and dry to stand after a ride is great – we love this feature.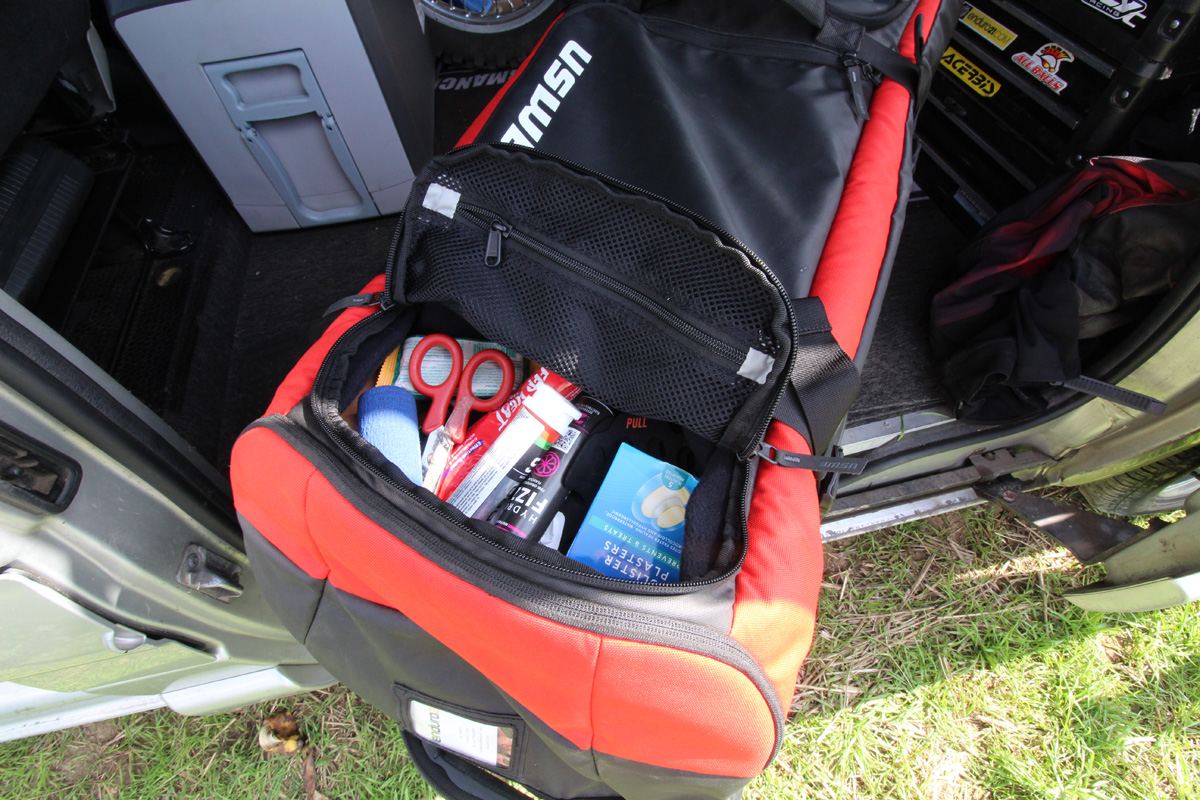 On top there's also a soft pocket designed for goggles. Without thinking about it too much we naturally started using this for the sundries we take riding like tape, plasters, scissors, hydration tablets and such like – we know it's designed for goggles but somehow it seems like just the right size and position to access all that extra stuff.
It will however take three of four sets of goggles no problem and has a mesh pocket for goggle care items or tear-offs.
Second opinion – E21's Spanish Junior Editor Igor (and his USWE bag) take on Romaniacs
"USWE sent me one of these bags for my maiden trip Red Bull Romaniacs and it couldn't have been any handier.
"My kit included five gear combos, a jacket, a raincoat, USWE's Warm Changing Robe, knee braces, boots, helmet, goggles, tools, two Raw 8 backpacks, one Zulo 6L waist pack, and basically everything I needed for the race.
"It was a lot for almost a week's riding in Romania but it was super-easy as it has more than enough space.
"The hard bottom to the bag makes it tough for travel as you can be confident none of the things inside will get damaged – this bag made the trip back and forward from Spain to Romania in a truck with 35 rider's bikes and kit and is still in perfect condition.
"One thing that I recommend is loading your boots and helmet in first, then the rest as it'll make fitting everything else easier.
"The extendable changing mat is also a great addition if you're getting changed outside and want to keep your feet clean before putting your boots on."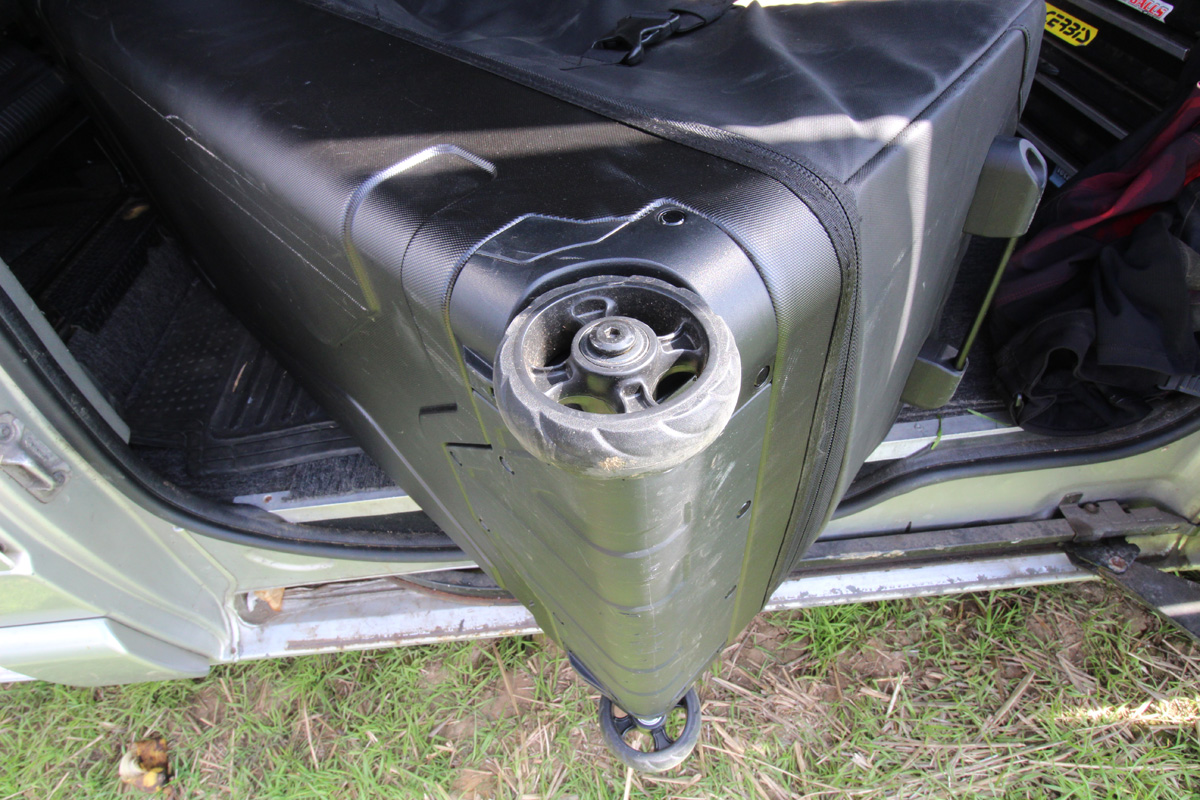 Enduro21 Verdict
Top marks are awarded then to USWE's Buddy bag simply because it is doing all the right things and more for anyone who riders dirt bikes. It's practical, protective, well-built, and designed for the hard life it is already leading with us.
150 litres mean it has easily swallowed everything we've needed for multiple days riding and with different compartments for the hard and muddy stuff, your helmet and the main section for riding clothing it keeps everything in its own place, just where you need it.
Enduro21 will keep ticking off the races and trips with this one to make sure we have more to say about its durability over time. But so far, so very good with our new 'best ever' kit bag.
Cost: $399 / £384.95 / €449
Contact: www.uswe.com