700 kilometres of snow – Eemil Pohjola conquers epic Lake Päijänne Finnish enduro
Epic "Päitsi21" classic Finnish Enduro clocks up 700 kilometres and tests as long as 40 minutes as 200 riders take a lap of Lake Päijänne – Eemil Pohjola takes his second victory in the deep snow.
The feature of this year's Lake Päijänne race, which formed the third round of the Finnish National Championship and formed a round of the EnduroGP World Championship in 2017-2018, was snow and lots of it. Sure, snow is normal round these parts but day one on Saturday saw around 70cm of snow in some parts of the track making those ruts through the trees deeper than normal.
Tough test of rider and machine
Lake Päijänne is a notoriously tough test for riders and bikes with a race start at 8am in Vierumäki with day one finishing at 9pm. Sunday continues at 8am to around a 4pm finish in Vantaa after over 700 kilometers in total and almost six hours of special test times. The longest special test (of the 28) was about 40 minutes long...
Pohjola on fire
Eemil Pohjola took the lead from the first test and simply ran away with the 2021 event to take his second overall victory. After Saturday he was leading by over four minutes and went onto simply cruise on Sunday to take his second victory, the first being in 2019.
So far Eemil has been on fire in the Finnish races since events resumed after the pandemic restrictions lifted in 2020. Racing his second year on the Honda CRF450RX also seems to be paying dividend for the rider who's hoping to get back into EnduroGP this season. "I got good lead early on, so it was quite easy race for me." Explains Pohjola. "Sunday I crashed good and my leg got stuck between the rear tyre and fender. Spikes from tyre tore my pants and I got some marks on my thigh also. But it is okay and in the end it was a comfortable win."
Antti Hänninen took second ahead of Eero Remes. Remes was second in Saturday morning, but admitted he could not keep the pace of Pohjola or Hänninen as the event progressed. Speaking at the finish, Hänninen said Pohjola was simply too fast. "I felt that I did not ride my best, but that is not the reason I lost. Pohjola was just too fast. I came here to win, so I can´t be to happy with second. Saturday some of the tests were really hard, with so many bumps and deep snow."
Remes back on the TM 300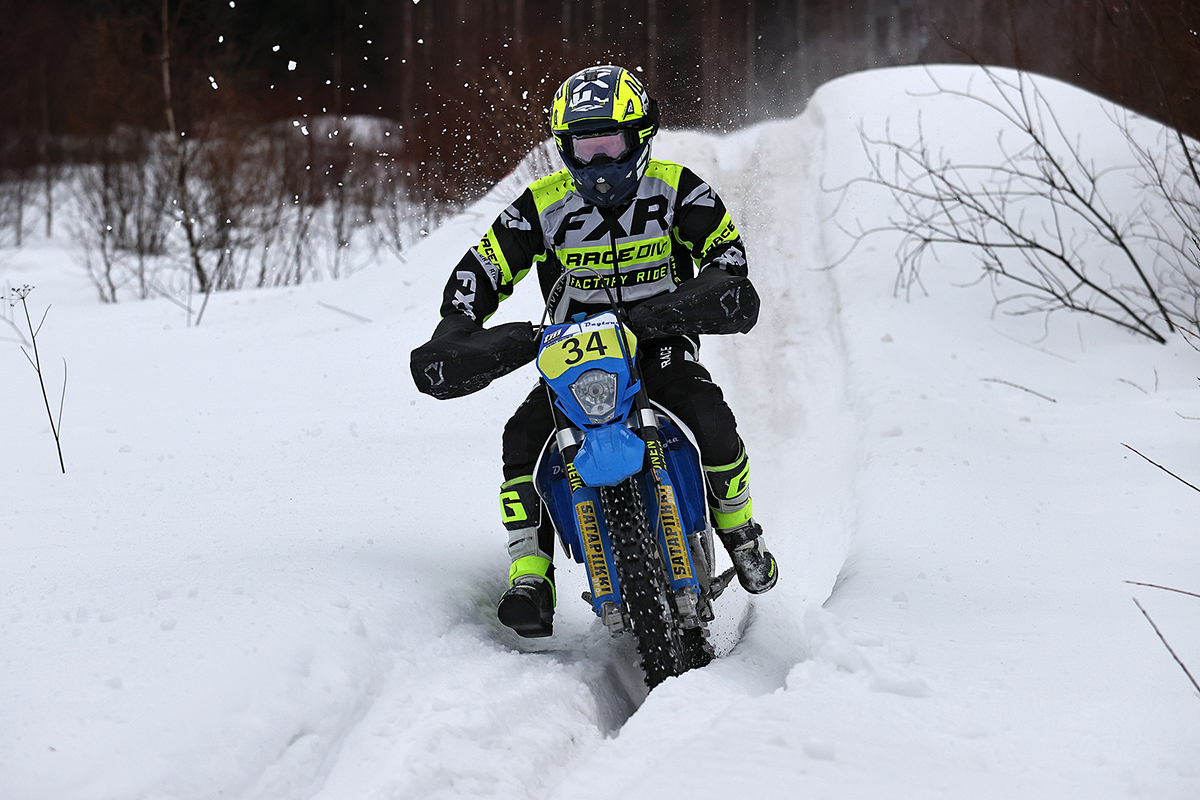 For Eero Remes, who's back on the TM this season, it was familiar territory to stand on the podium at this historic event. "I've won the race, been second and third. So I think this means I don´t have to race it again." Said Eero.
"Saturday I crashed about seven times, but in this race everyone has some problems. With all this deep snow I just didn't have the speed for Pohjola or Hänninen."
Peetu Juupaluoma was fourth and Hugo Svärd fifth and victorious in E1 class with his 125cc Fantic. Pohjola took also his Honda 450 to E3 class victory and Remes E2 with his TM 300. Youth class victory went to Eetu Puhakainen.
2021 Lake Päijänne top 10 results overall:
Pohjola Eemil JSMK Honda Red Moto 5:43:50,18
Hänninen Antti SsMK Husqvarna +4:55,85
Remes Eero TuMK TM +8:59,38
Juupaluoma Peetu JSMK Husqvarna +13:59,26
Svärd Hugo SiMK Fantic +14:44,72
Laankoski Niklas KaMoKe Yamaha +19:37,40
Puhakainen Samuli HlMK TM +20:28,11
Ahtila Antti HlMK KTM +22:59,47
Puhakainen Eetu HlMK TM +23:53,72
Salonen Jani SyMK KTM +24:34,31
Words and Photo Credit: Jani Hovi | XRacing.fi