Finnish Enduro: Eemil Pohjola dominates in 2020 Championship
Eemil Pohjola sealed a 100% winning record at the final round of the 2020 Finnish Enduro Championship in Seinäjoki with his third win of the season for the Honda SE-Team to take the series title.
The national enduro series in Finland was only able to run three rounds in 2020 because of COVID-19. The first, in what feels like another year by now, was held in winter, the second in August and last round was last Sunday, September 27, in 20 degrees and nice weather for that time of the year in Finland (their words not ours!).
The Seinäjoki round ran a lap of around 65km with four special tests – riders raced 2.5 laps and 10 special tests. Two of the tests were sandy and fast, as the two others traditional Finnish terrain, with lots of rocks.
Pohjola's year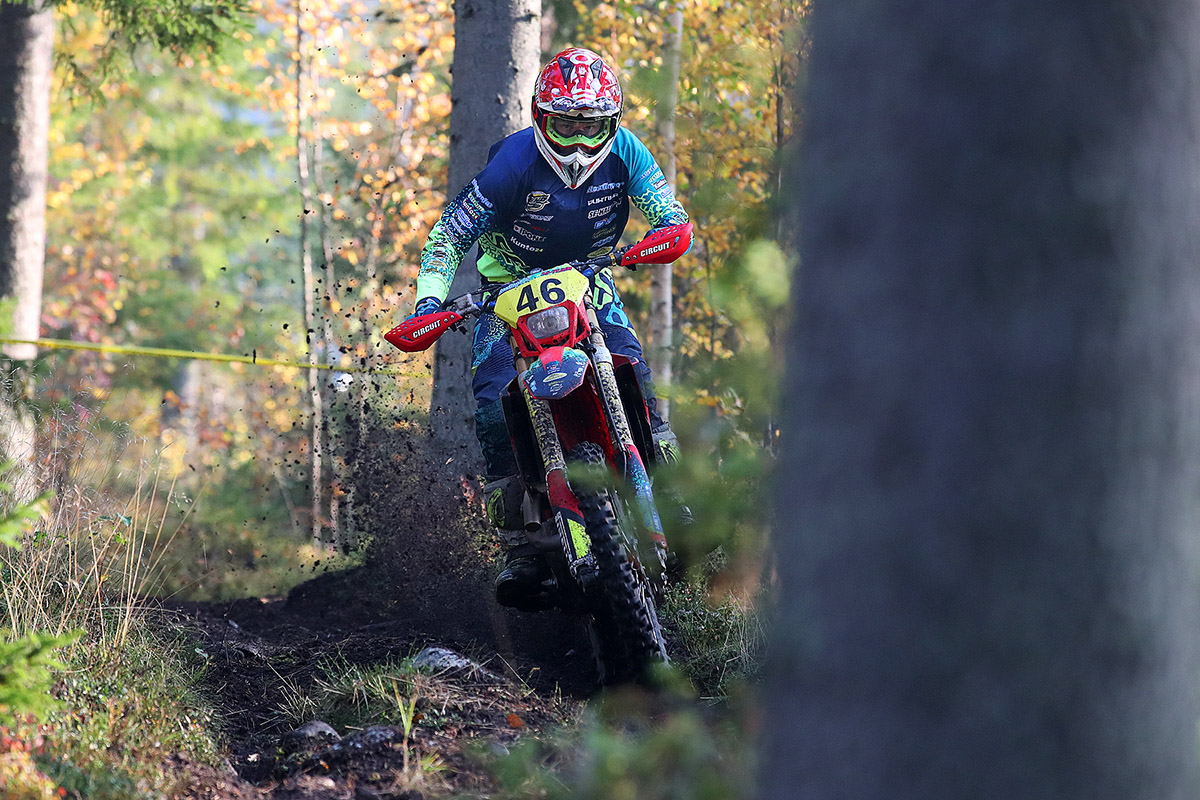 Overall winner of the race was Eemil Pohjola who has won every race in 2020 in dominant fashion. Eemil is racing Honda 450 with SE-Team this season which means he sealed the 2020 E2 Finnish Championship and his eighth national title.
"I did not feel any pressure when I came here, as I had a good lead in points." Explained Eemil. "But I did not want to take it easy and tried to win again. I liked track and only third test was a to slow for my 450. But had lots of fun and it´s always nice to end the season with the title"
https://www.instagram.com/p/CFpAbUsAiwI/
Second in Seinäjoki was Lari Jukola (former EJ-rider in EnduroGP) who took the E1 class in this race and placed second overall in E1 championship for 2020. Third in Seinäjoki was Antti Hänninen (also former EJ-rider in EnduroGP) who won E3 class and also won the E3 title.
Peetu Juupaluoma was fourth and took third in E2 class championship with Paavo Henriksson fifth overall, second in E1 but with that crowned E1 champion – first national title. In Juniors, Tiitus Enjala got the win and also the championship.
Heartbrake story of the day goes to Samuli Puhakainen who was leading E1 and Junior class before the race (in Finland you can race juniors and E1 at the same time – all U20 riders go into Juniors results). Puhakainen was fifth in overall after six tests and was on course for two titles before his gearbox broke. As it was such a short 2020 series, the DNF means he dropped out of medals in both classes.
Seinäjoki overall top 10:
Eemil Pohjola 1:20:15
Lari Jukola +1:12
Antti Hänninen +1:19
Peetu Juupaluoma +2:17
Paavo Henriksson +3:00
Roni Salin +3:05
Antti Ahtila +3:08
Niklas Laankoski +3:28
Jiri Leino +3:34
Henry Olenius +3:44
Final points of the 2020 championship:
E1
Paavo Henriksson 47
Lari Jukola 46
Roni Kytönen 40
Samuli Puhakainen 38
Antti Ahtila 35
E2
Eemil Pohjola 75
Henry Olenius 46
Peetu Juupaluoma 44
Jani Salonen 40
Niklas Laankoski 35
E3
Antti Hänninen 70
Mika Tamminen 57
Jiri Leino 56
Teemu Lehtimäki 37
Aleksi Karjalainen 26
U20
Tiitus Enjala 33
Kristian Aatsinki 31
Niko Puotsaari 26
Samuli Puhakainen 25
Lukas Kuhmonen 24
Words and Photo Credit: Jani Hovi | XRacing.fi