2022 AMA EnduroCross: Big win for Jonny Walker at penultimate round in Boise
Jonny Walker tops the results at 2022 AMA EnduroCross round five in Boise, setting up a series showdown as title contenders Trystan Hart, Taddy Blazusiak and Cody Webb suffer – Haaker takes first podium of the season…
You might have thought the GEICO AMA EnduroCross Championship was winding up nicely for Trystan Hart and KTM. A 15 point lead as the series headed to Nampa, Idaho for the penultimate round of the 2022 series meant things were looking favourable for the Canadian.
But Jonny Walker had other ideas this weekend and clocked the most consistent score of any rider this season – 1-1-2 across the three motos – to close the points gap to one with just one round remaining in two weeks time.
A typically action-packed night in Boise saw Rockstar Husqvarna's reigning EnduroCross champion Colton Haaker on the podium for the first time this season, taking second overall with 2-3-1 scorecard ahead of Ryder Leblond back on the box with 6-4-4 finishes.
Just what the doctor ordered for Walker
After winning the second round of the EnduroCross series back in September, Walker has been hitting out the hot laps, moto wins and landing on overall podiums but never quite standing on the top step again.
After the previous round, the big questions were has Trystan Hart already done enough to take the championship – 97 points meant a 15-points lead over Walker and Taddy Blazusiak both on 82 – and who would be second?
But Walker turned that around this weekend with the overall victory, and a maximum points hall while his main rivals (Hart and Blazusiak) both took poor results.
Trystan flounders
The points leader Trystan Hart was not alone in making too many errors on the fast Boise track and it had a big effect on his points margin. From 15 to one point.
A mistake early in moto one saw him drop down the order and needing the whole race to get back to fifth. It set the pattern for the night as moto two's reverse grid brought the usual mayhem and left Hart mid-pack and struggling up to sixth. The final moto saw the FMF KTM rider mid-pack again on the opening lap and clearly not finding the flow of Walker and Haaker. A late race mistake in the matrix cost him a better result and he rounded the night with a 5-6-8 scorecard for fifth overall.
"Boise is done and dusted." Explains Hart. "It wasn't ideal for me but I'm still in one piece and ready to keep pushing. I'm ahead by one point in the championship so it's going to be a dogfight at the final round in Reno, for sure."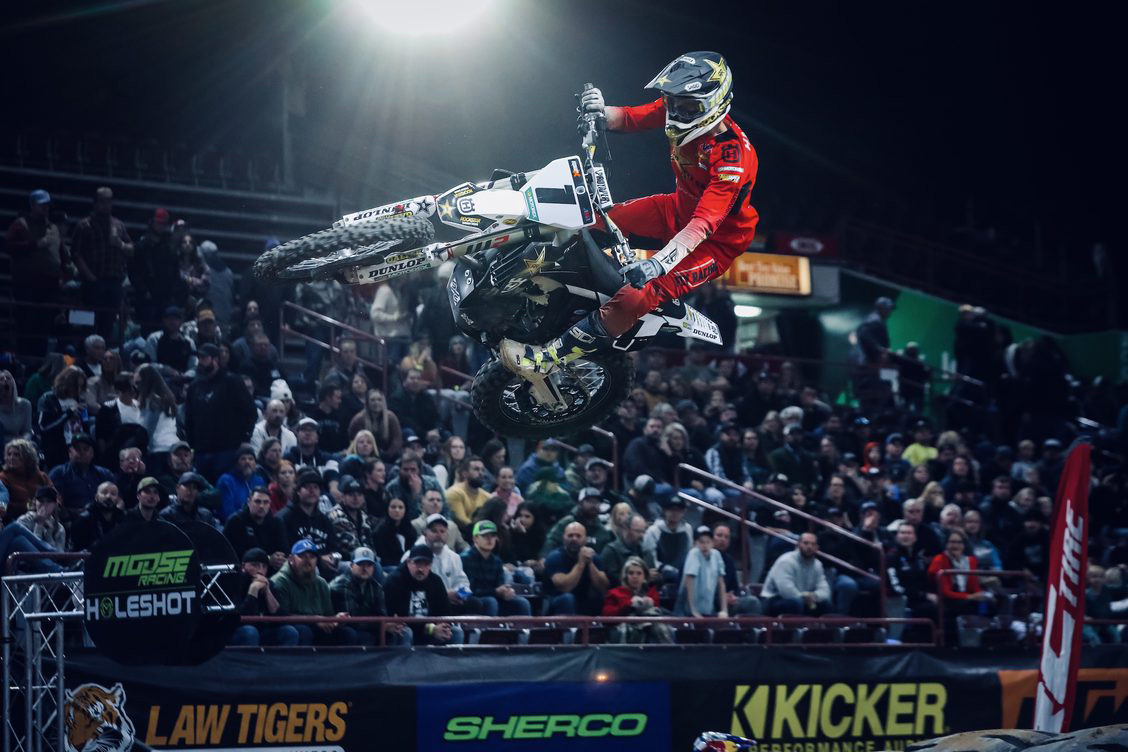 First podium of the season for Colton? Really?
It seems mad to write this but the reigning EX champion Colton Haaker took his first podium of the season in Boise, five rounds down in the 2022 series. How did that happen?
A combination of crashes and bad luck in each of the previous rounds have left the five times champion down in fifth place.
It's not through lack of trying or speed. "I finally had a breakthrough performance," Haaker said. "It's been a tough season, but I feel like I got the monkey off my back. Looking forward to the final round and ending on the highest note."
2022 EnduroCross points standings after round five:
1. Trystan Hart 113 points
2. Jonny Walker 112 points
3. Taddy Blazusiak 96 points
4. Cody Webb 95 points
5. Colton Haaker 90 points
How the round five night unfolded...
Colton Haaker started the first moto strongly with the Moose Racing Holeshot and an early lead, ahead of Walker. The round five track proved challenging with a lot of pro racers crashing throughout night.
What did that track look like? Check out the onboard
Moto 1
Hart made his first mistake of the night early on, Taddy Blazusiak also went down hard over a log after a collision with Webb which affect both their nights.
Early leader Haaker got tripped up midway through the race and Walker capitalised, take the lead which he would maintain to the flag.
Colton finished second ahead of Cooper Abbott with Max Gerston in fourth and Hart rallying to fifth. Blazusiak would finish in 16th place after multiple crashes.
Moto 1 results: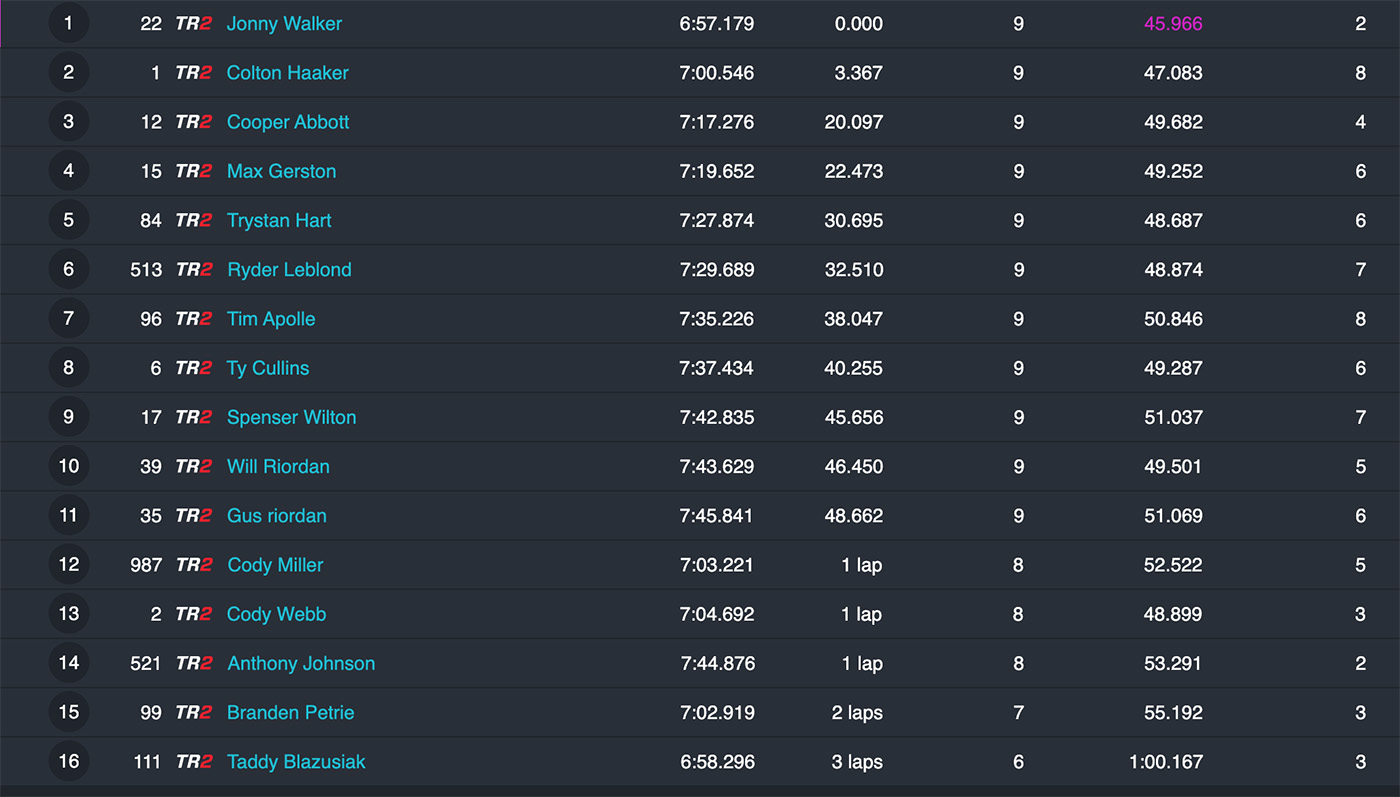 Moto 2
The second moto inverts the 16 riders' finish positions from race one for gate picks, so the top eight riders start on the second row. Blazusiak regrouped and took the holeshot to lead for much of the race.
Walker, who started in 10th place, continued to look the most comfortable of pro riders on the track and moved into second place behind Blazusiak midway through the race. On lap eight Jonny passed Taddy for his second moto win in a row. Blazusiak held second-place to the flag ahead of Haaker.
LeBlond came in fourth place ahead of Webb and the points leader Hart who struggled getting his elbows out in the pack and though he was as high as fifth, a late mistake saw him finish sixth.
Moto 2 results: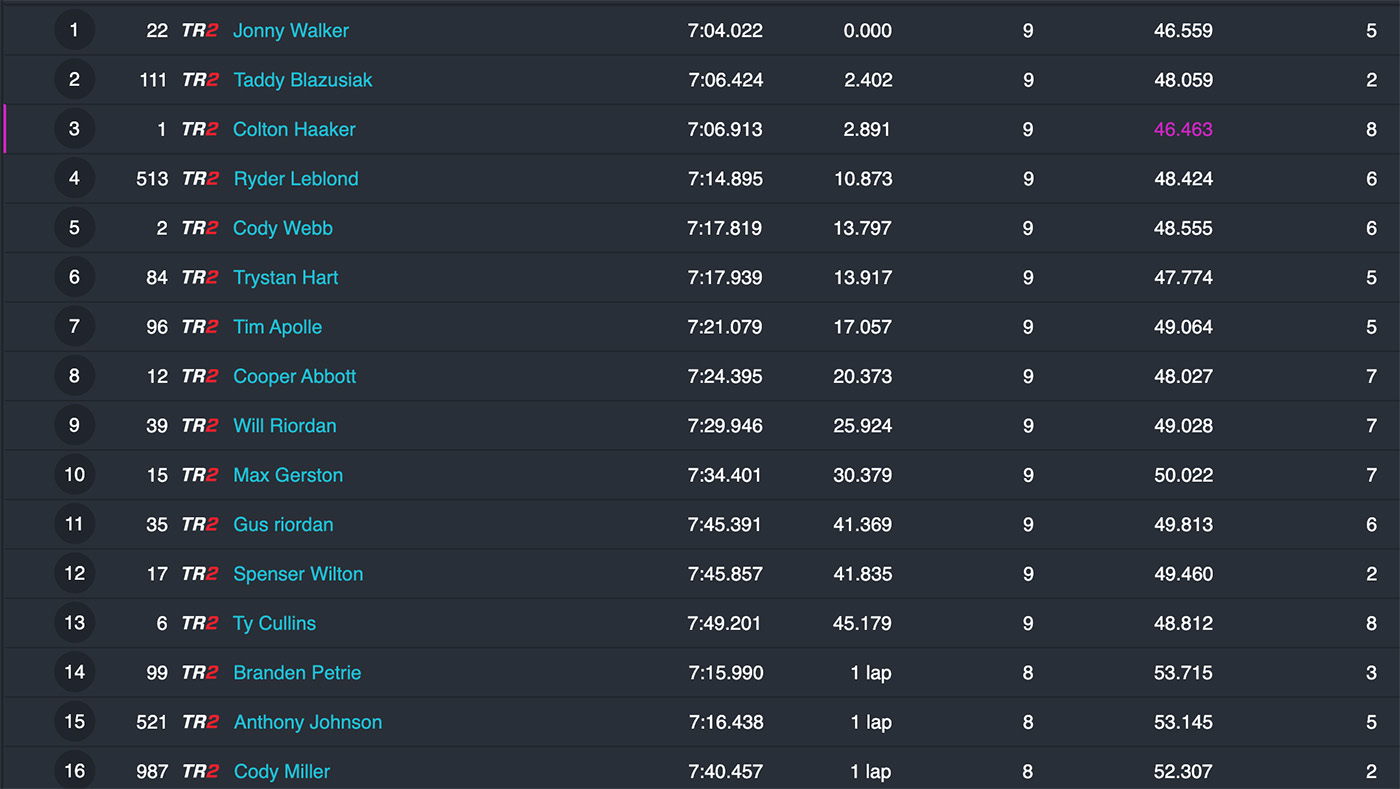 Moto 3
After their clash in moto one, Webb and Blazusiak were still elbow to elbow in the final moto with Cody narrowly edging the early lead ahead of Taddy, Haaker and Walker.
Haaker would pass Blazusiak quickly into second place with Walker not far behind, and the Husqvarna rider moved on to make the pass on Webb and take the lead in the third lap. It was plain sialing for Colton from then on and he claim the top spot in the moto, securing his first overall podium finish of the 2022 series.
Webb and Walker would battle the next three laps before Walker made the pass on the sixth lap. Walker held second spot ahead of Webb right to the flag ahead of LeBlond, who claimed fourth ahead of Blazusiak, for third overall on the night.
"I kept it consistent and smooth." Said LeBlond. "I don't think I was the fastest one out there in any of the motos, but I just put myself in good positions and ended up on the podium with a 6-4-4. Solid night of racing. I'm happy."
Moto 3 results: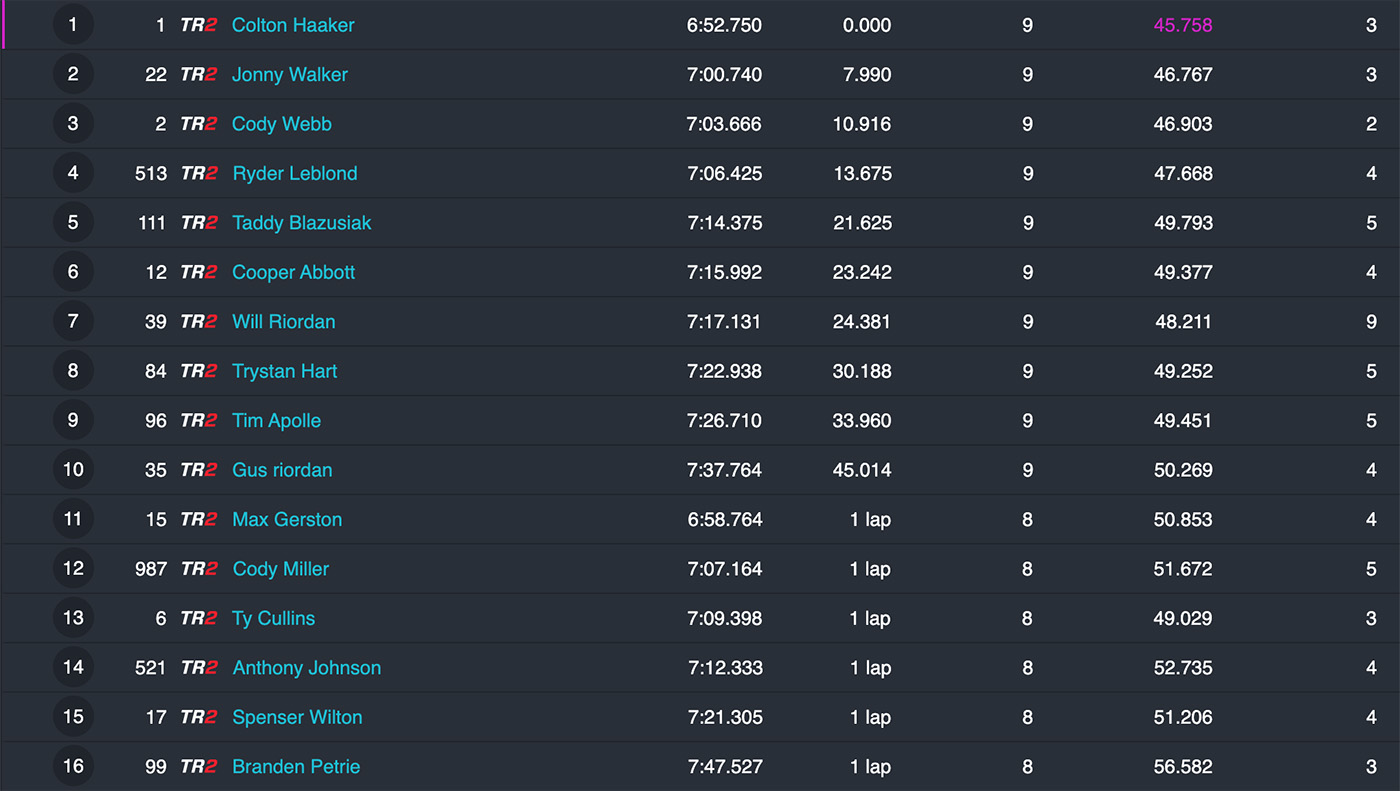 2022 AMA EnduroCross Rnd 5: Overall (top 10):
1. Jonny Walker, 1-1-2, Beta
2. Colton Haaker, 2-3-1, Husqvarna
3. Ryder LeBlond, 6-4-4, Husqvarna
4. Cooper Abbott, 3-8-6, Sherco
5. Trystan Hart, 5-6-8, KTM
6. Cody Webb, 13-5-3, Sherco
7. Taddy Blazusiak, 16-2-5 GASGAS
8. Tim Apolle, 7-7-9, Beta
9. Max Gerston, 4-10-11, GASGAS
10. Will Riordan, 10-10-7, KTM
Turner wins once again in Women's class
In the Women's Pro class, four-time Women's EnduroCross champion Shelby Turner took the win ahead of Rachel Gutish who finished P2 and Hallie Marks.
James Flynn won the Expert class main event ahead of Nick Tolman in second and Dustin Hedwall in third.
The Intermediate class main event was won by Jack Williford ahead of Hayden Vonolnhausen in second and Braxton Hintze in third.
David Kamo won the Veterans class with Tyler Kinkade in second and Ryan Gouveia in third. The Novice class was won by Austin Daniels. Justin Webb came in second and Fernando Pascal in third.
Braxton Hintze won the Junior class, which is limited to riders that are 12 to 17 years of age. Jack Williford came in second place ahead of Seth Steiner in third.
The final round of the 2022 GEICO AMA EnduroCross Championship Series will take place on Saturday, November 19, in Reno, Nevada.
Photo Credit: Jack Jaxson