EnduroCross 2020: Six rounds in two venues this season?
The organisers of the EnduroCross championship are close to finalising details of the six round series for October and November 2020.
In a slight change to original plans, the 2020 EnduroCross championship now looks likely take place at just two venues hosting multiple events to meet the six round promise already laid down.
In a social media post today, August 6, the EnduroCross team has asked us all to keep patient and adds though organising this year's series is problematic, they are still hoping to be able to have limited fan attendance. The live, pay-per-view webcast plan remains in place for all six events ensuring we won't miss the action, even if we cannot smell and hear it.
Speaking about the difficulties in organising the series this badly affected season, the president and founder of Cycle City Promotions, Tod Hammock, said earlier this summer they are doing everything possible to create the best series they can while addressing the necessary safety protocols. "The coronavirus pandemic has changed everything and things seem to change every day," Hammock explained. "The ability to have fans or not weighs into the plans and we could use one or more venue without fans if necessary."
Who is in it to win it?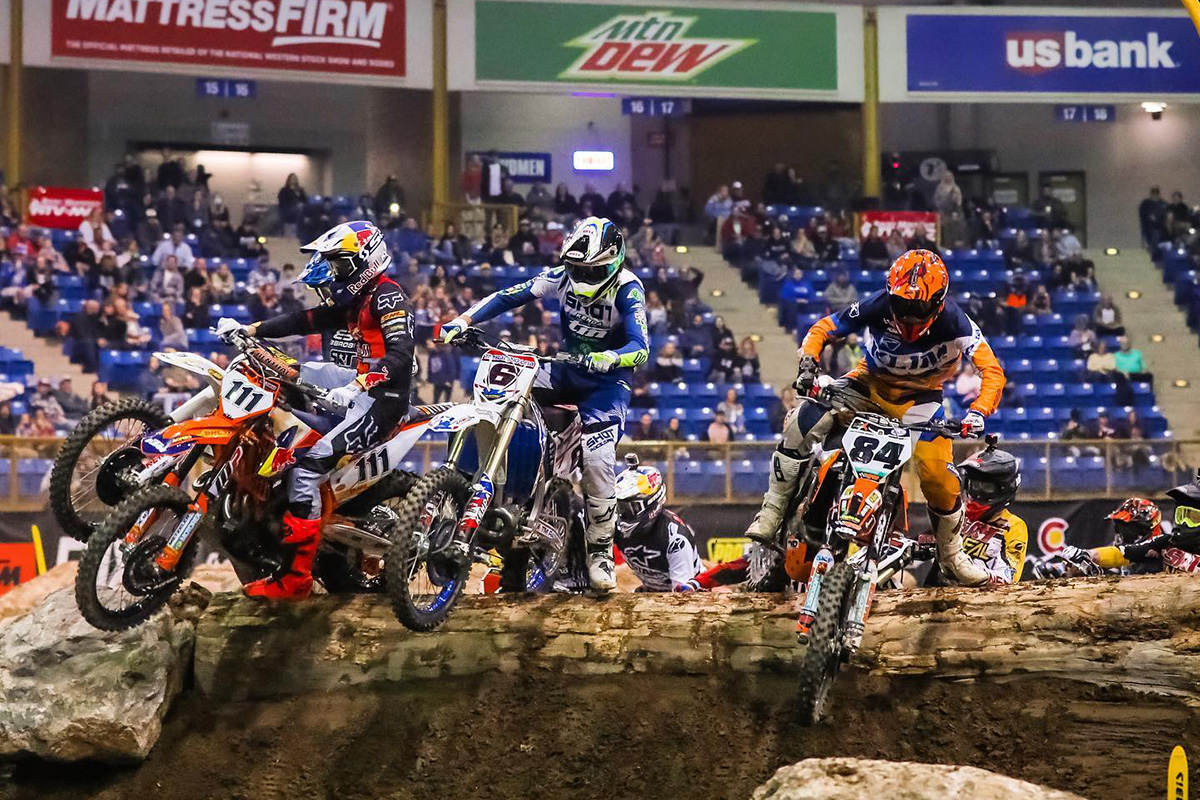 In terms of riders, the 2020 season looks set to be a hot one although defending champion Colton Haaker recently injured his hand so will arrive at round one with doubts over his fitness – no doubt the extra time before round one is helping here.
By now most people will also know Cody Webb has joined the FactoryOne Sherco team and looks to be in awesome form. Each of them has won three championships and will surely continue their long rivalry aiming for a fourth.
Canadian Trystan Hart has closed the gap on the top two riders having beaten Webb at the Battle of the Goats AMA East Extreme Enduro. After finishing third overall behind Haaker and Taddy Blazusiak in 2019 he will be aiming high in 2020.
The Beta USA team will be strong consisting of Max Gerston and Chile's Benjamin Herrera – both are also making waves in the AMA Extreme series with Herrera standing on the podium already.
Five-time EnduroCross champion Taddy Blazusiak remains a doubtful participant, chiefly because of commitments in Europe and any potential travel restrictions. Cory Graffunder, Noah Kepple, Ty Cullins (the defending EnduroCross Junior champion) and Cooper Abbott and this should prove to be a very exciting season to watch.
More information: EnduroCross.com
Photo Credit: Jack Jaxon