2021 EnduroGP World Championship: Portugal part II – it's crunch time
This weekend sees the penultimate round of the 2021 FIM EnduroGP World Championship in Santiago do Cacem, our second visit of the season to Portugal and just one ahead of the finale in France – it's time to get serious!
11 weeks have passed over EnduroGP season summer break and it seems like a lifetime ago we left the Swedish GP behind and were wondering how this super-competitive season could wrap itself up. The time is now as riders and teams are already on course and walking the tests at Santiago do Cacem ahead of round five in Portugal.
Brad Freeman holds a 22-point lead heading into this penultimate round, such is the nature of this season that we had to double-check the points were correct – how has Brad got such a lead?
Along with Wil Ruprecht, Josep Garcia, Andrea Verona and Steve Holcombe (before he was injured) this has been a fast and furious fight to top the time sheets at each and every test and across each of the eight days racing so far.
Brad though has answered that question purely by being fast and making less mistakes. He holds that 22-point lead because he has been the most consistent rider come the end of each day. Surrounded by such classy competition, it is a no mean feat to be sitting that pretty at this stage of the year.
ISDE formbook
There are still plenty of points to play for at the two remaining GPs and though mathematically Freeman could wrap up the E3 title, in EnduroGP class he has to watch out for at least Garcia and Ruprecht.
Since we left off, many of the GP elite riders headed to the ISDE in Italy (notably Freeman was one exception as Great Britain didn't send a team) and it proved a successful one for Josep Garcia and Andrea Verona who finished first and second overall.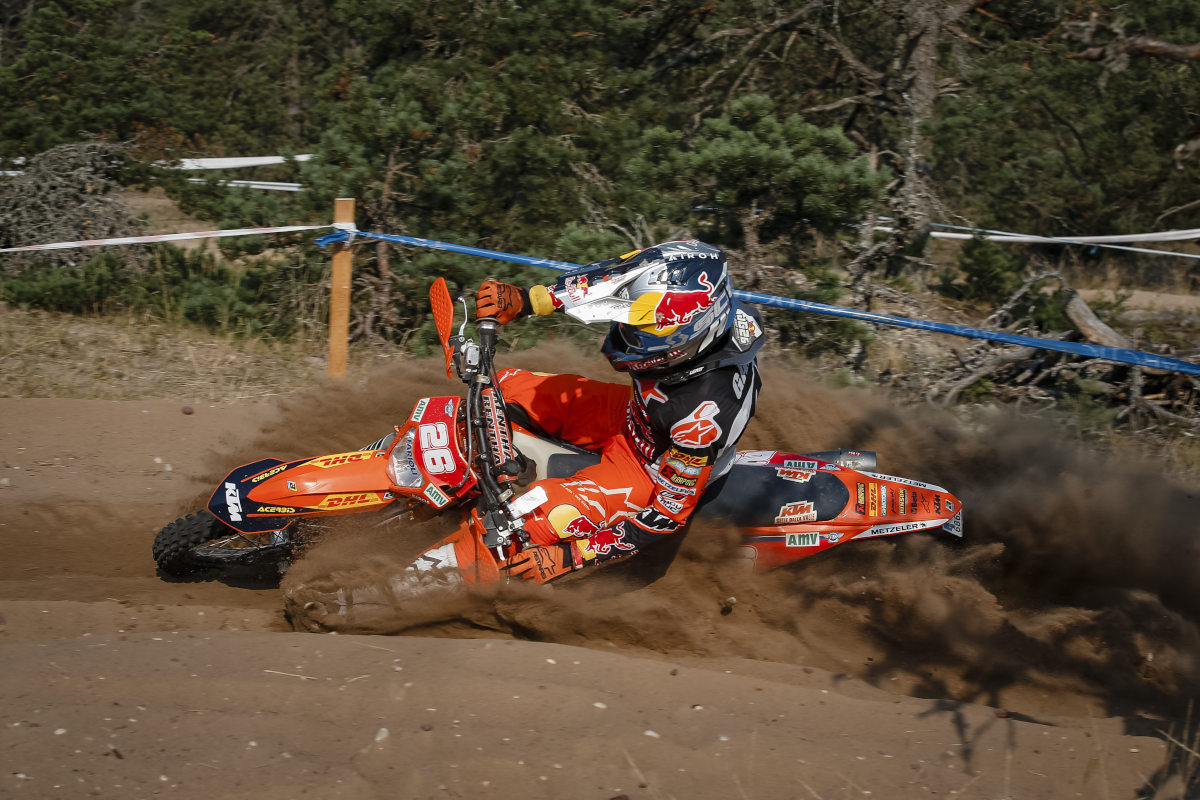 If the ability to be fast as hell and not crash is the key in this game then both, but Garcia especially, seemed to have that nailed at the ISDE. That could be ominous for these remaining rounds.
Garcia and Ruprecht have four points between them in EGP scratch and five points for the E2 title which is the hot class to watch, just as it has been all year. With Holcombe returning from injury, Hamish Macdonald growing in confidence and sand specialist in Nathan Watson re-joining the party, the E2 fight is fierce.
Watch out also for the continuing fight in the E1 class between Verona and compatriot Davide Guarneri.
One thing they will have to contend with in Portugal is the dirt. It's down south of Lisbon and the lay of the land over there on the west coast of Portugal is sandy. The test are fast too and will be closer to the previous rounds' conditions in Sweden – next weekend's French GP grass tests in Langeac will be a big contrast.
Juniors and Youths
Another close battle for supremacy is in the Enduro Junior World Championship is between TM Racing teammates Matteo Pavoni and Lorenzo Macoritto. Separated by just six points in Pavoni's favour, the pair have traded win all year and at ISDE – this one is going down to the wire.
One thing is for certain, the Enduro Youth World Championship will go to a Fantic rider and Sweden's Albin Norrbin has one hand on the trophy. He is 32 points ahead of his nearest challenger, Harry Edmondson, and could take the title in Santiago do Cacem.
Enduro21 will bring you all the news, results, rider interviews, videos and more direct from the Portuguese GP paddock across the weekend. Stay tuned.
Photo Credit: Future7Media | Andrea Belluschi + Nicki Martinez