2023 EnduroGP Results & Highlights: Brad Freeman sets the Super Test pace in Finland
Results and video highlights from the Friday Super Test at the 2023 EnduroGP World Championship round three, the GP of Finland in Heinola where Brad Freeman clocked the fastest time of all ahead of Matteo Cavallo and Theo Espinasse.
2023 EnduroGP of Finland Super Test in a nutshell:
The Friday Super Test takes many shapes but it always seems unfair on the first riders out there. Without reference they find the holes, the logs which aren't quite. Bike's length apart and have all the eyes on them.
Tonight that was the role of the Enduro Women's class who took to the Heinola MX track which snaked neatly around with some cool drop offs, tyre and log matrix sections.
If you thought Jane Daniels had her head turned by Fantic whisking her away to race Rally bikes, then think again. She muscled an almost two minutes dead time, five seconds faster than French rider Elodie Chaplot second with a 2:05.93. Rosie Rowett clocked third in 2:06.7, a full six seconds faster than the first Scandi girl, Hedvig Malm fourth with Jetset Gardiner fifth.
125 Youth riders hit the course next with plenty of blue smoke. It was copybook results for the noisy boys too with championship points leader Kevin Cristino putting the second Fantic on top tonight with a 1:40.7. Thibault Giraudon got the better of his compatriot Leo Joyon for second and third in class.
Fantics ruled the Juniors with three riders in the top four. Jed Etchells was the clear fastest with the first sub-1:40 of the night, a 1:38.2 which good enough for seventh scratch by the finish.
Albin Norrbin went second in class ahead of his Swedish compatriot and round one Super test pace-setter Axel Semb.
First of the seniors to better Etchells' time was Daniel Milner 30 riders in but his TM teammate Matteo Cavallo again showed Super Test skills going quicker still with a 1:37.5 which would eventually place him P2.
A lot of riders looked "low down" the results sheets – including Josep Garcia down in P11 for example. But it was easy to blow a second or two on the logs and look at the times and there's nothing in it.
As is often the case in the Super Test though, the fastest went last and we had to wait to the very end for Brad Freeman to blast the best time of the night, a 1:36.32.
The Super Test is just the first of 19 tests this weekend in Finland with the real action starting tomorrow from 9am local time.
2023 EnduroGP of Finland scratch Super Test results: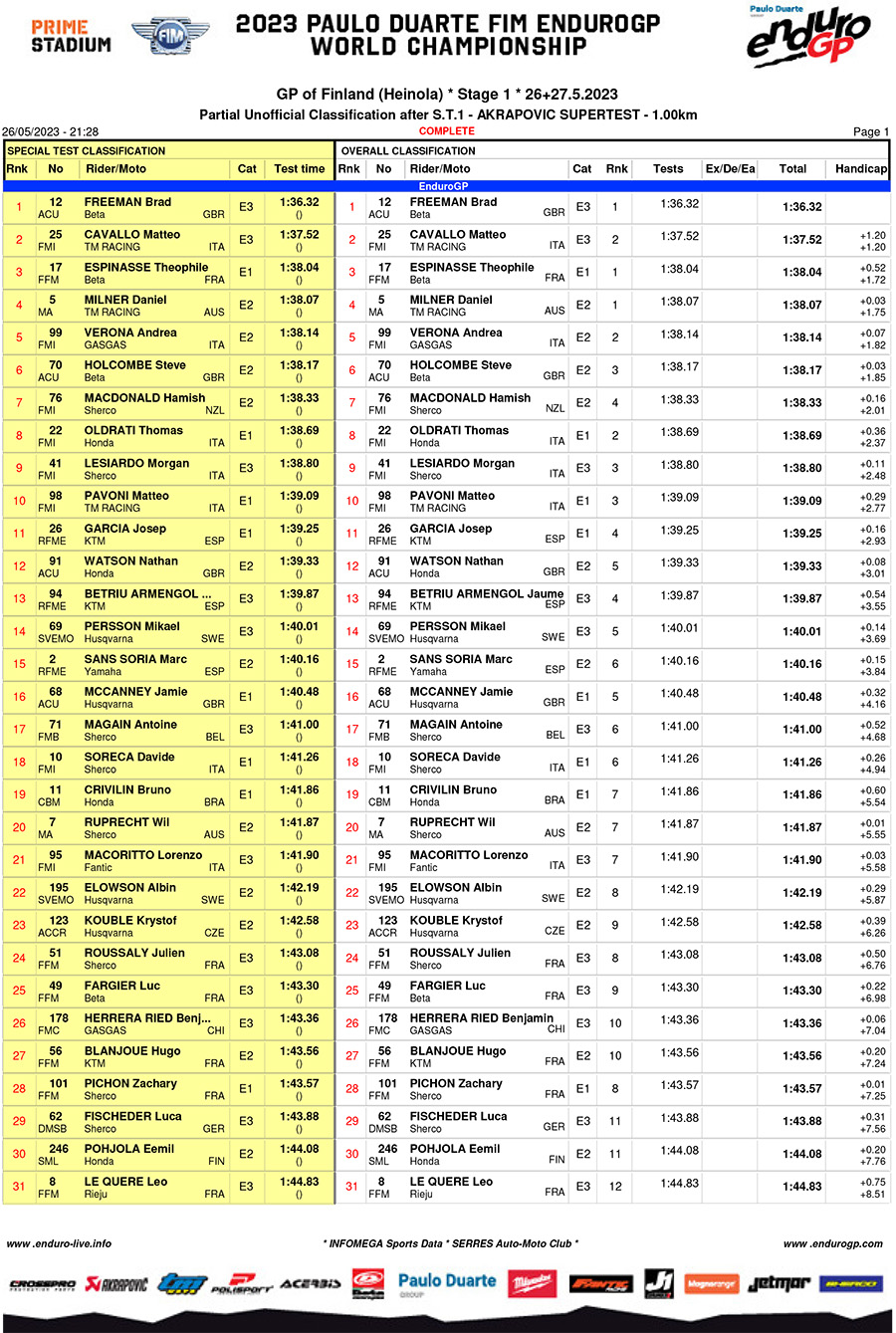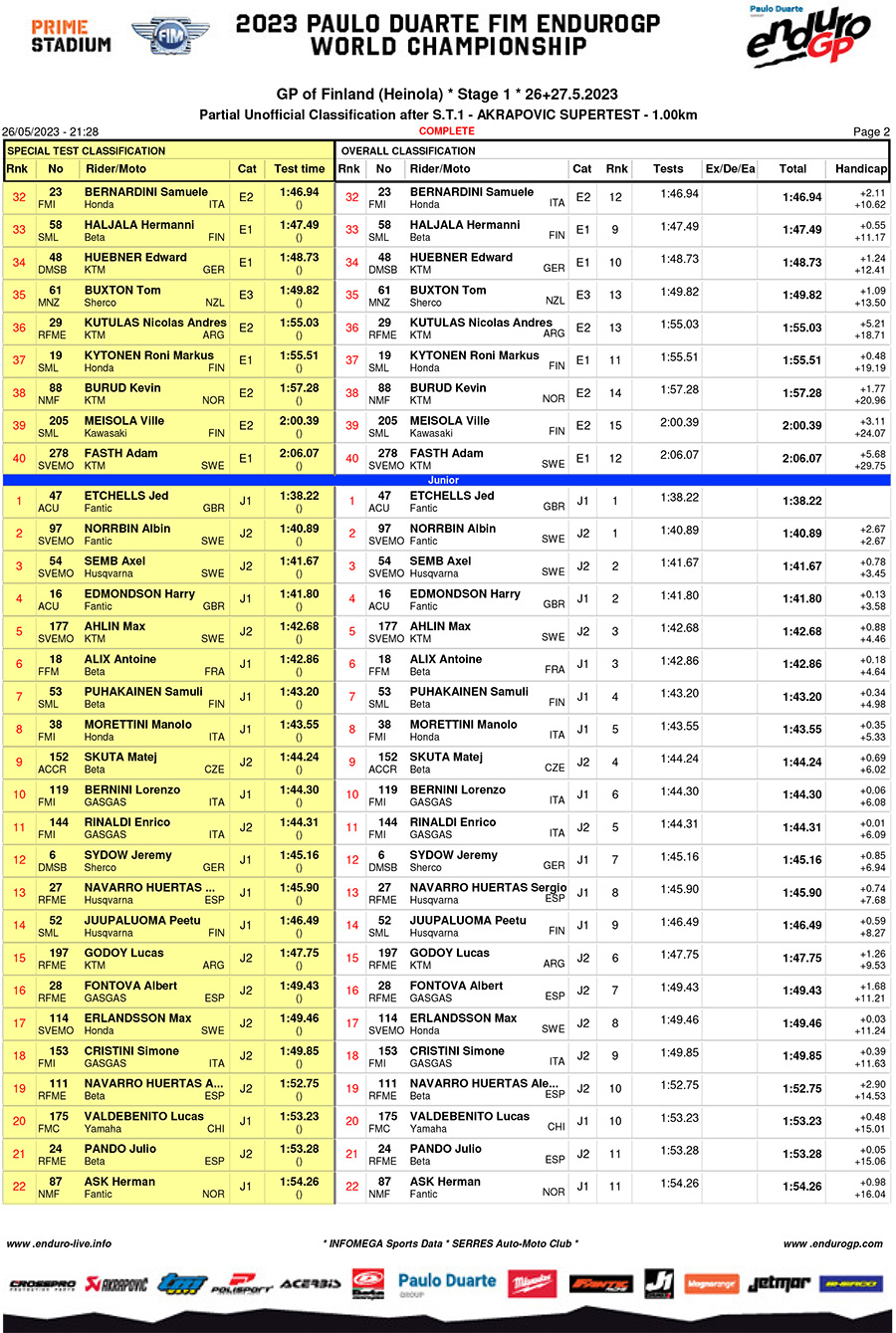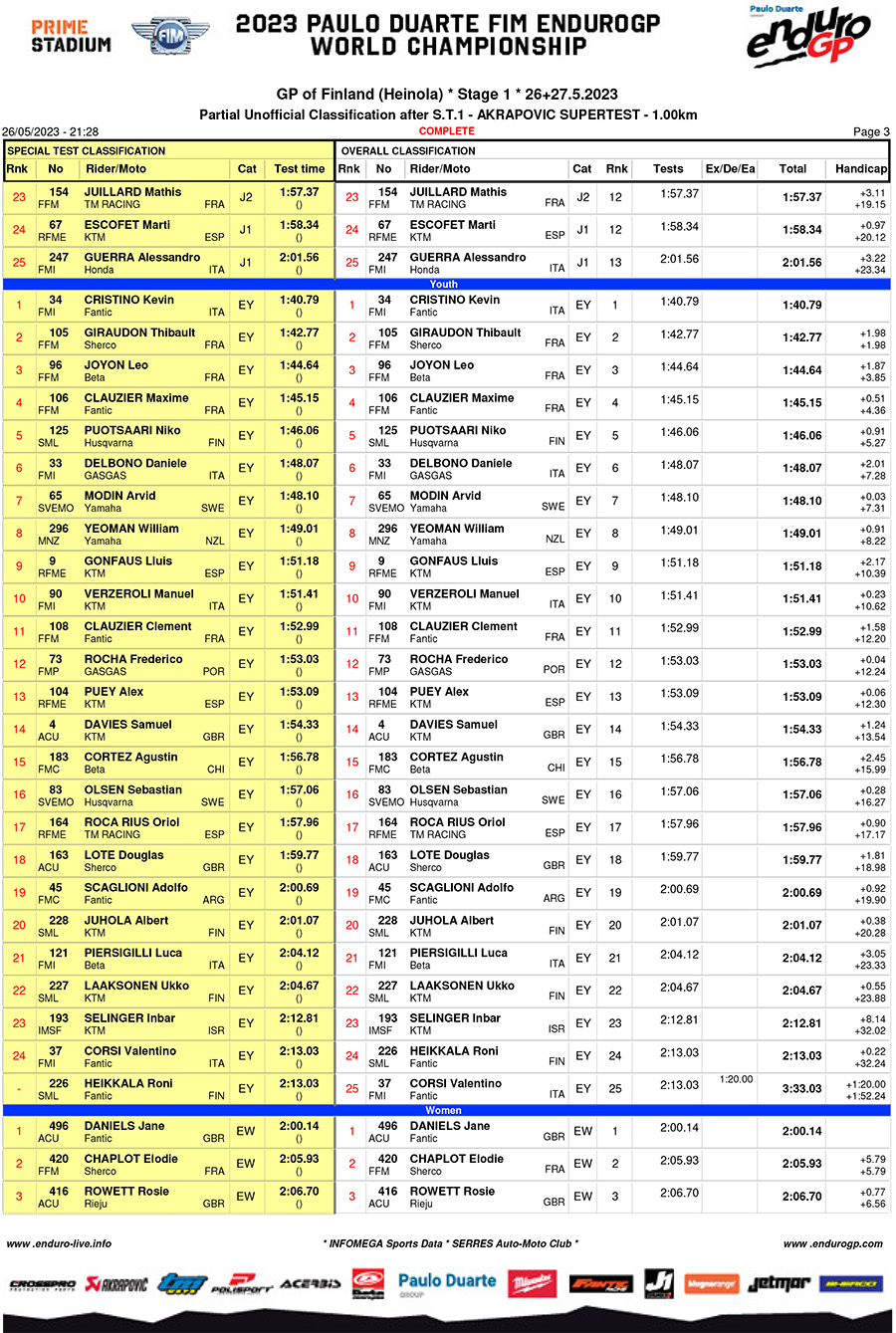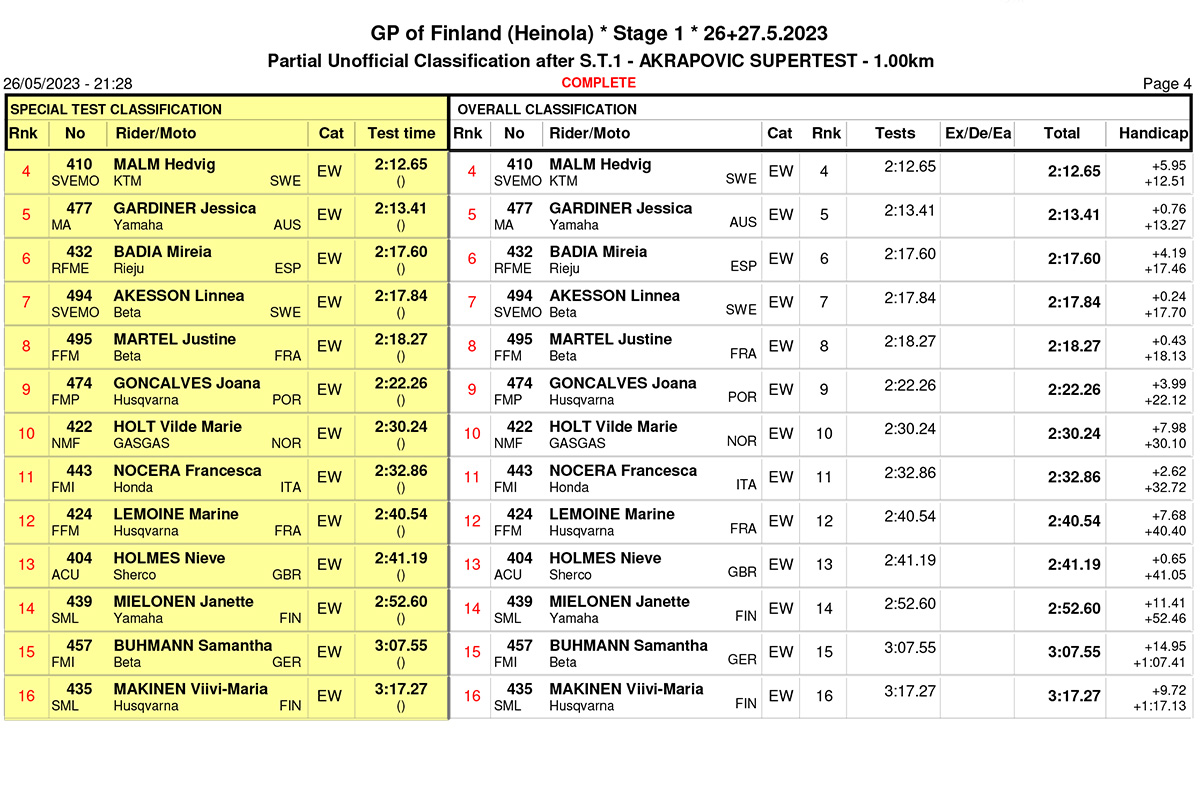 Video Credit: MCD Media
Photo Credit: Future7Media