EnduroGP results: Garcia wins on day 1 in France – E1, E2 and E3 World Champions crowned
Results from day one of the 2021 FIM EnduroGP World Championship final round in Langeac, France where Josep Garcia takes a narrow scratch win and regains the E2 world crown as Andrea Verona and Brad Freeman are also crowned 2021 World Champions.
2021 EnduroGP of France, day 1 in a nutshell:
Josep Garcia made up for time lost after a crash on the Super Test last night by taking the first three test wins on a frosty morning in Langeac. It put the day win within reach but the Beta boys had other ideas with Brad Freeman holding a scratch lead all day and Steve Holcombe challenging with three test on lap two.
The race for the win came down to the last tests (doesn't it always) and it was Garcia who kept it upright while Brad and Steve had minor tip-offs, handing the win to the Spaniard by three seconds.
Cue the floodgates of senior class world titles flowing with Andrea Verona (sixth on the day but first in class) signing off E1, Garcia E2 and Brad the E3 crowns. Check Enduro21's Instagram story feed for the champ reactions.
Third on the day for Steve Holcombe, 10 seconds back from the win, saw him back to where we're accustomed to seeing him: "I started a bit slow, but got fed up with that and tried to push a bit more and had a really good second lap to win every test! I made a couple of mistakes in the last lap but I'm happy to be on the podium overall and in E2 again."
Jed Etchells took his first overall Junior win of the season, narrowly ahead of Bernat Cortes by two seconds. "It's been a really tough year for me," says Jed, "but I knew coming here it would be back to some proper enduro. I really wanted to get the class win but to get the overall I'm really over the moon and I want to do the same again tomorrow." Championship protagonists Matteo Pavoni and Lorenzo Macoritto finished fourth and fifth.
In the Youth 125 class, Albin Norrbin was supreme again in winning by 44 seconds ahead of homeboy Thibault Giraudon. Harry Edmondson made sure the fight for the Youth podium places swung back in his direction with third today.
Things were pretty simple today in the Women's class. Laia Sanz won every test and by the end of their two laps, she had a minute lead ahead of Jane Daniels who in turn had a similar margin over Mireia Badia in third. "I didn't need to do a perfect day," said Laia, "I didn't feel really fast but then I was fastest in every test, I think without making any big mistakes and being smooth and that puts me I a good position for tomorrow."
The Open class scratch result went to Frenchman Corentin Poutignat ahead of young British rider Harry Houghton – both taking their best results of the season and the Open 4T and Open 2T class victories respectively.
Best wishes to the rider air lifted out of the test today.
EnduroGP of France, day 1 EnduroGP scratch results: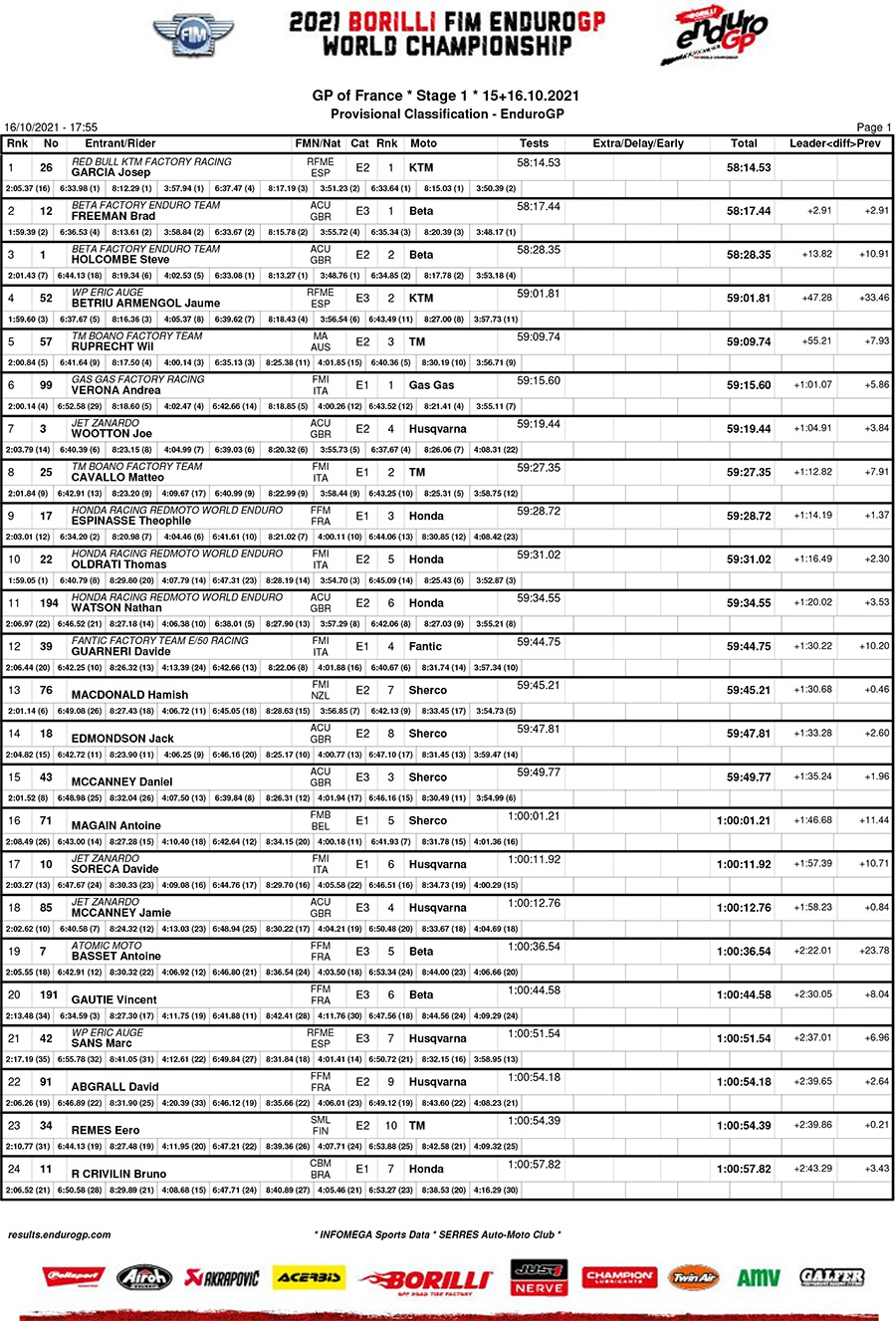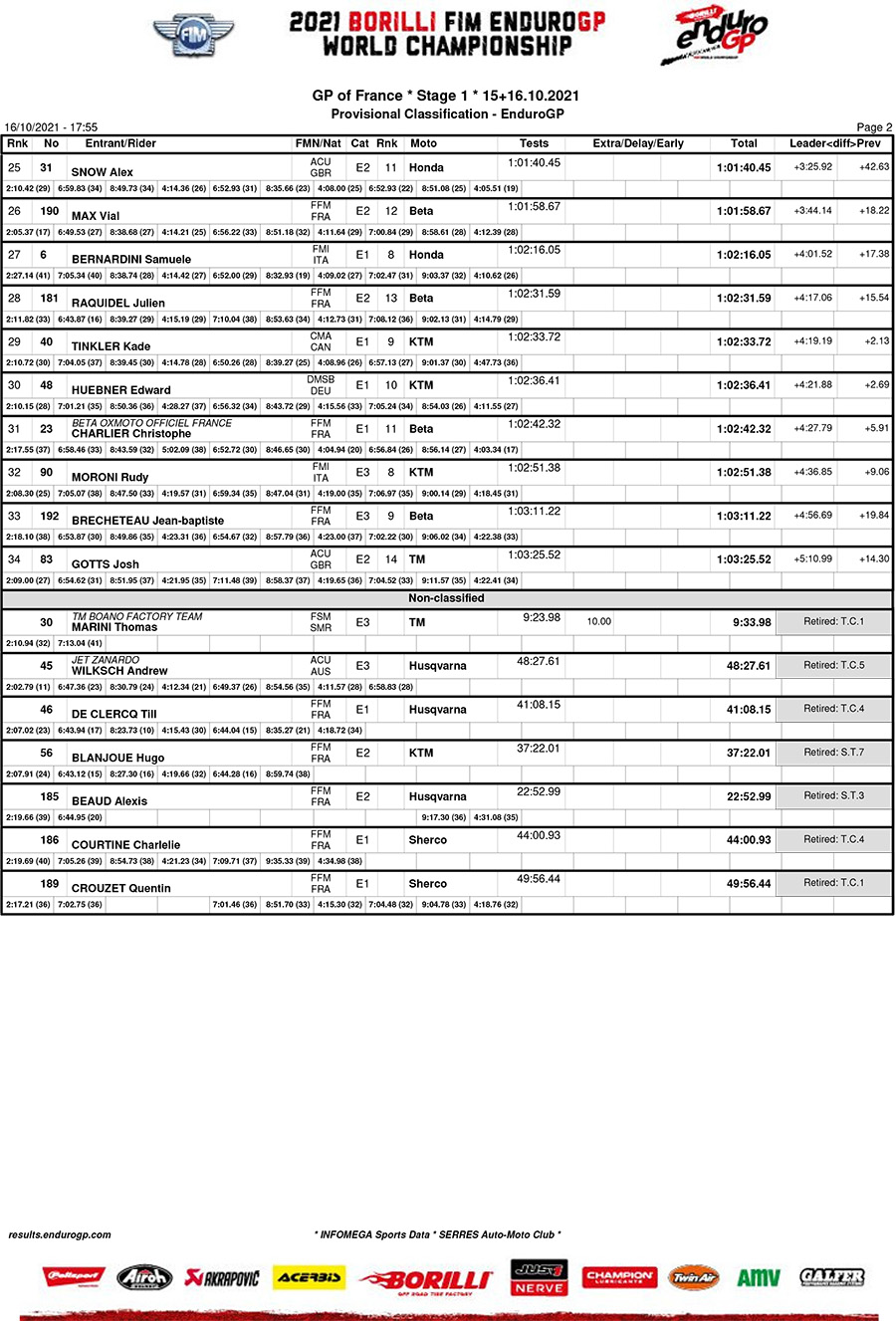 Junior class results scratch: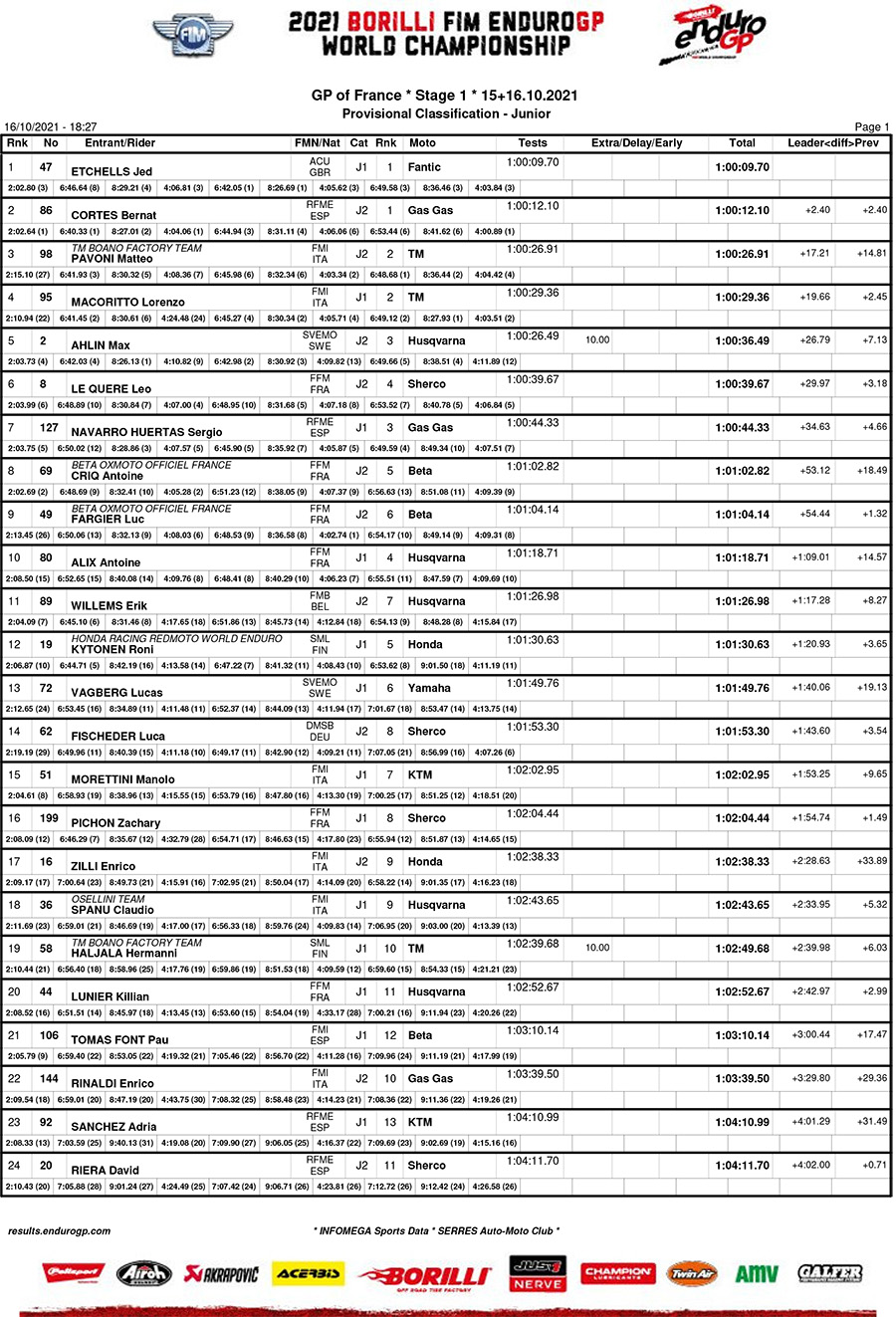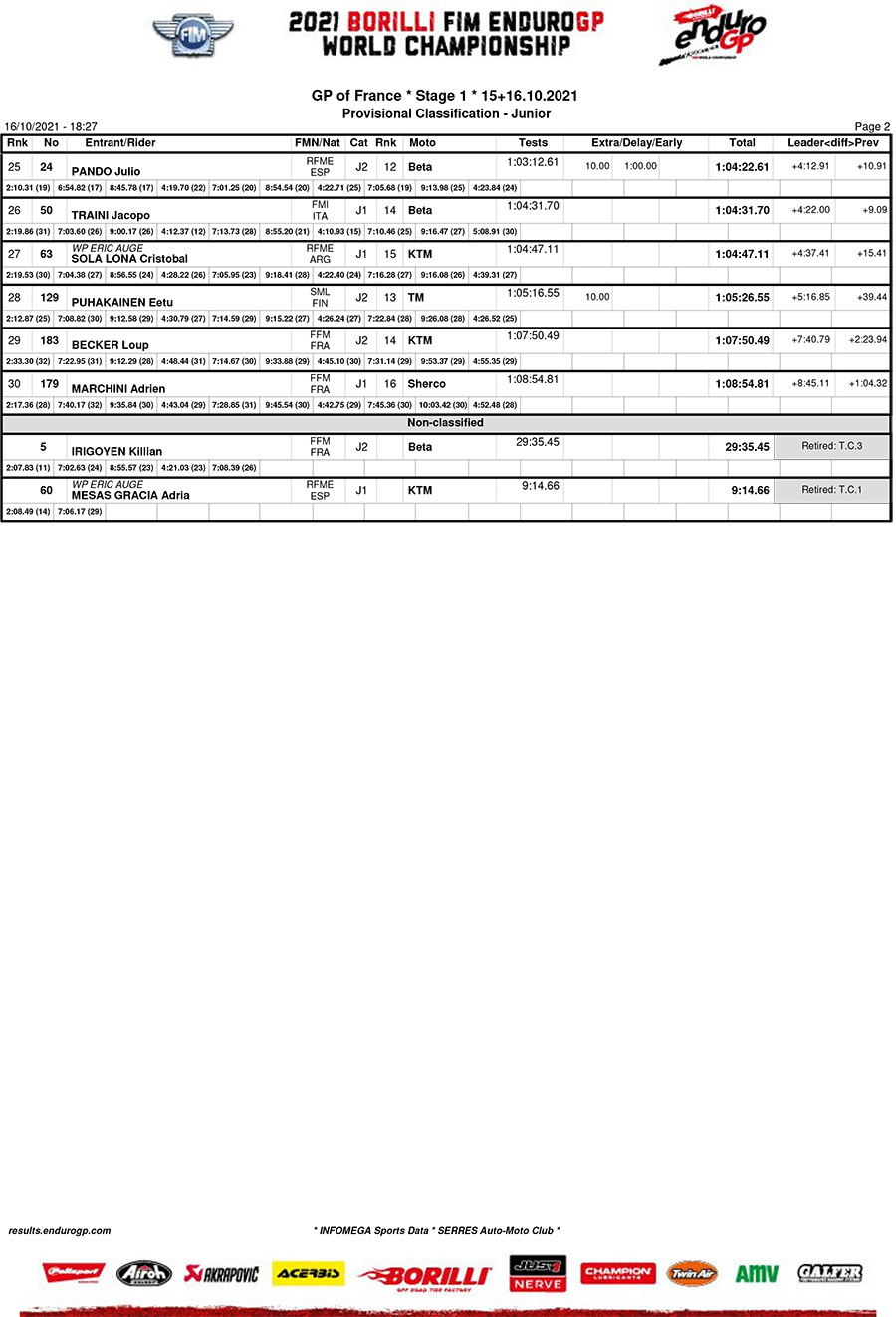 Youth 125 class results: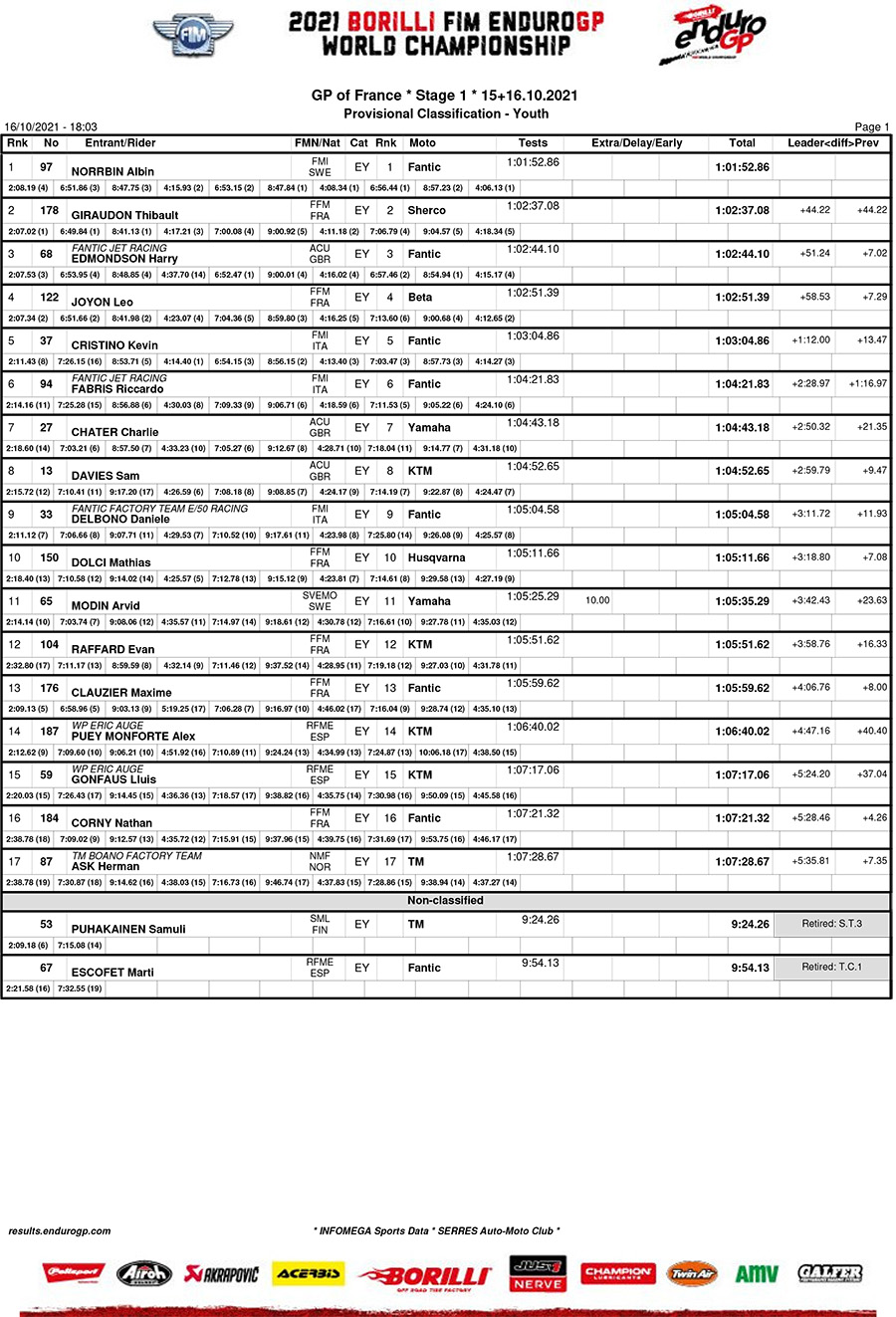 Women's class results: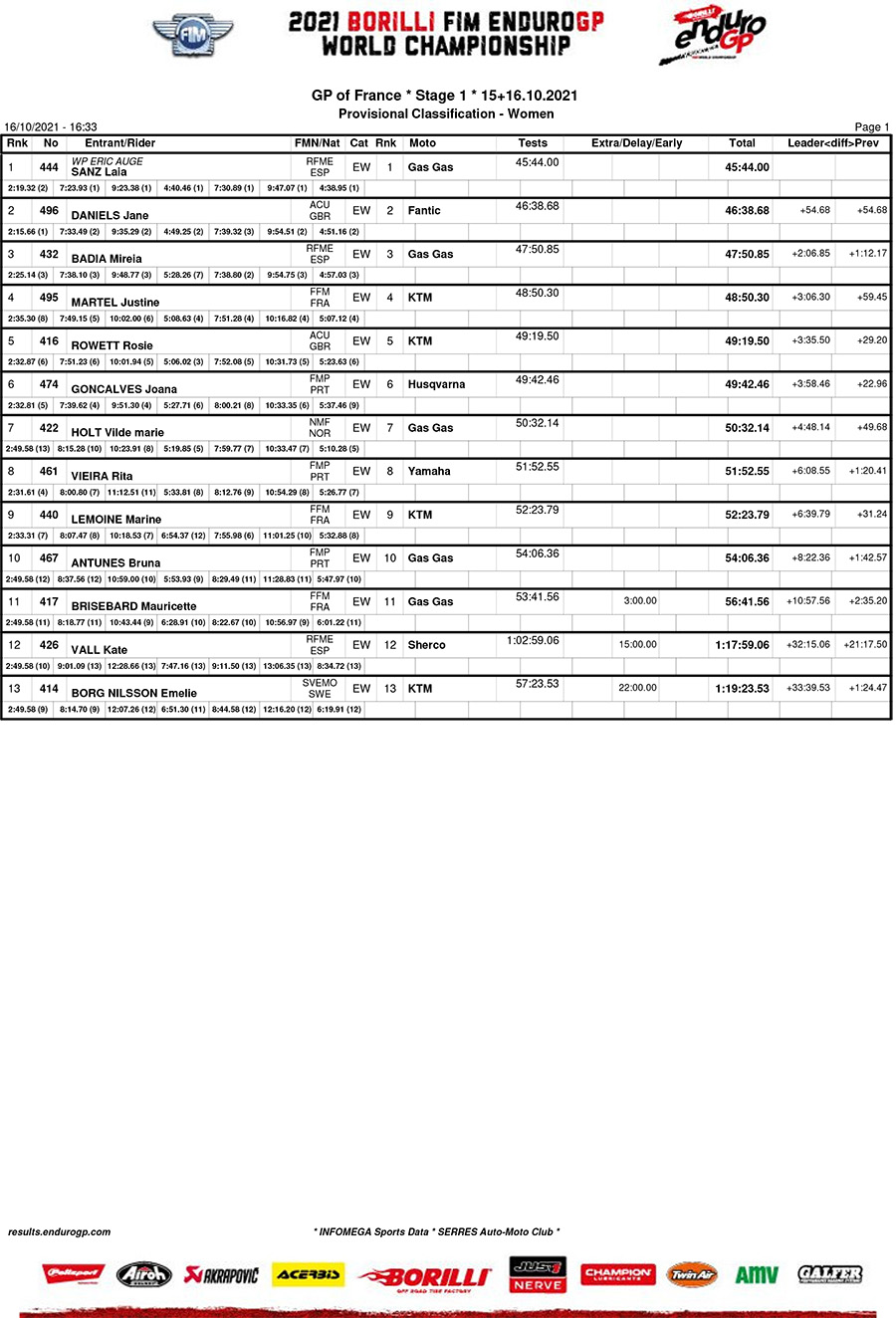 Open class scratch results: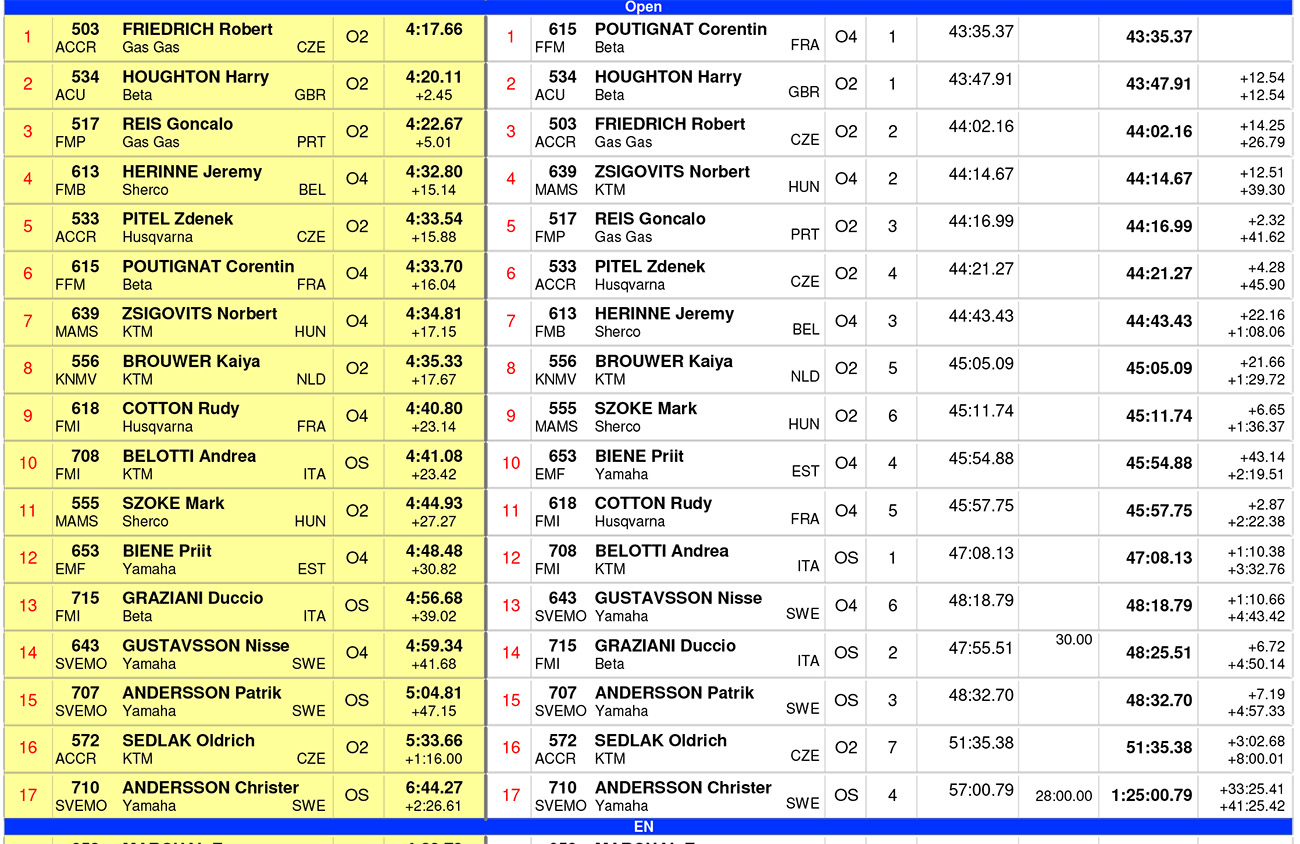 Photo Credit: Future7Media | Andrea Belluschi + Nicki Martinez