AMA Extreme Enduro: Hart dominates "4hr marathon" Donner Hard Enduro
Intense conditions over four "gruelling" hours racing at the Donner Hard Enduro in California saw Trystan Hart take the win and the upper hand in the AMA Extreme Enduro overall series title dogfight with Cody Webb.
The battle between FMF KTM Factory Racing's Trystan Hart and FactoryONE Sherco's Cody Webb in the 2021 AMA Extreme Enduro series is like a pendulum swinging between both East and West series' for the overall championship.
The Donner Hard Enduro was latest battle site and the final round of the Extreme West series and played out across a four-hour marathon in 90+ degree heat, across grippy granite rocks and very silty dirt in Norden, California.
The weekend kicked off on Saturday with a Pro qualifier in the afternoon where Hart won ahead of his teammate Taylor Robert who was having a stronger weekend on what riders said was a faster course. Webb was third in the prologue ahead of Colton Haaker and Ryder Leblond completing the front row for Sunday's main event.
"Sprinting in a four-plus hour marathon"
In Sunday's main race Robert lead Hart and Webb for the first couple of laps before Hart made a move into the lead on lap three. Webb also got by Taylor for P2 but wasn't able to match Hart's pace and instead had to work hard to maintain his place ahead of Robert.
By the conclusion of the four-hour time limit Hart had steadily amassed an impressive almost 13 minutes margin for one of his most impressive wins of the season. "This weekend's track wasn't particularly the hardest but it was relentless for four hours." Explained Hart. "The 90 degree temperatures, combined with the excessive dust, also made it a long gruelling race. I had some good battles with my teammate Taylor on the first two laps and on lap three, I got a gap and continued to stretch it for the remainder of the race. It was a tough day on the body and I'm happy it's over, as well as getting the win!"
Runner-up Cody Webb meanwhile declared, "That was miserable. It completely beat me down. Not because it was so technical, but because it felt like I was sprinting in a four-plus hour marathon."
Conditions suit Robert
Taylor Robert was back on the podium at the Donner Hard Enduro and brutal hot riding conditions seemingly suiting the super-fit FMF KTM rider. Robert led the first two laps of the race before first Hart and then Webb overtook when Taylor got caught behind lappers.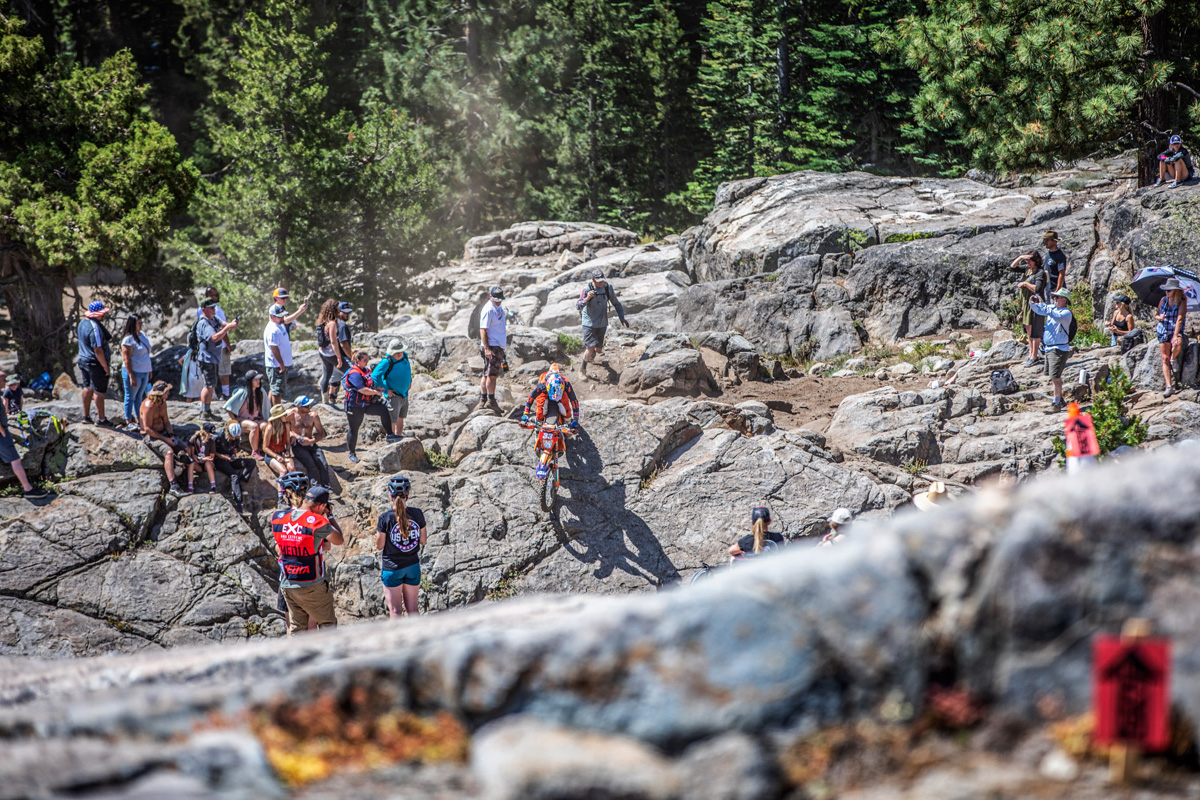 "The day was a pretty brutal, it was long, hot and dusty." Explained Robert. "I got off to a good start and I had a good little race with Trystan for a bit but man, he was riding really good today. He got away from me and then Cody got by me when I got stuck with a lapper for minute but after that, I just kind of rode around in third for the rest of the race.
"I didn't really race with any guys other than seeing some lappers. It wasn't the most technical race of the year but it was brutal on the body with relentless rock gardens and silt beds. I felt good today but it was definitely a beat down for sure."
Donner Hard Enduro top 20 results (5 from 114 finishers completed 6 laps):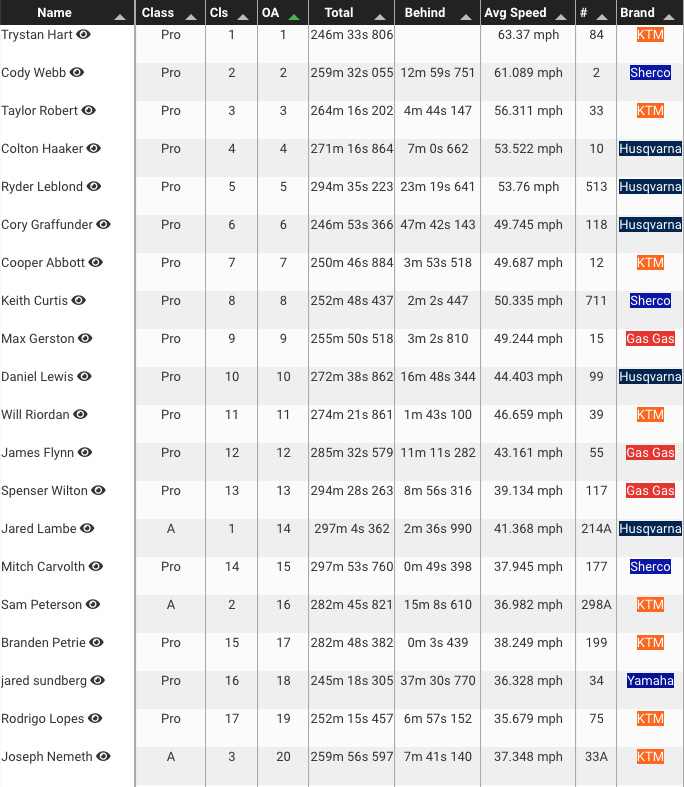 (Full results: https://www.livelaps.com/livelaps/scores/11304)
The race is on for the overall AMA Extreme title
The Donner Hard Enduro concludes the AMA West series with Webb running out winner 140 points to 135 over Hart. The overall AMA Extreme championship is still very much up for grabs with two rounds remaining although Hart now has the advantage heading to the final two rounds (also East Extreme races) at Bad Medicine this coming weekend and Battle of the Goats early in August – as a footnote Cody will also race Red Bull Romaniacs between those two rounds so has a busy schedule ahead.
"Honestly it doesn't mean much to me. That was never the goal." Says Webb about his West Extreme regional title. "The goal has always been the overall and I am in a dogfight right now. I have two races left to obtain that goal. I am going to give it everything I have."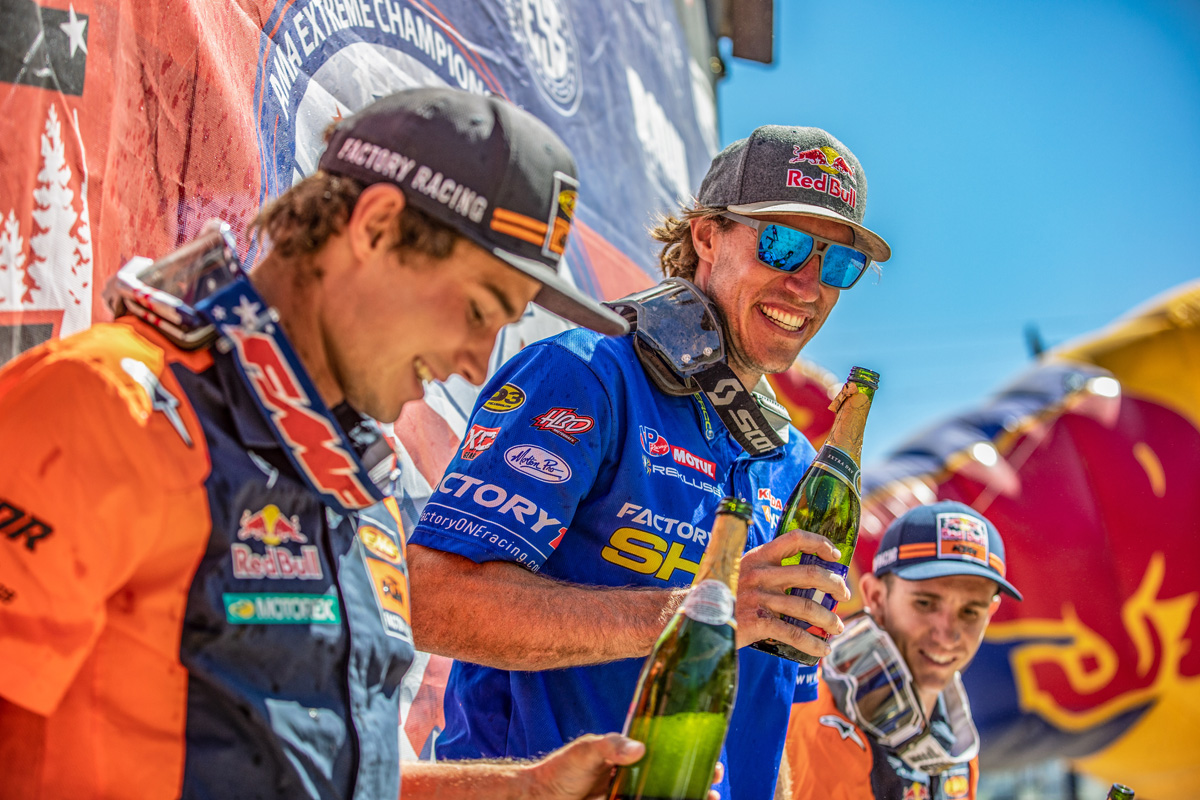 Hart's points cushion means Webb will need to finish ahead of Trystan in both races to win the overall championship because nine from 10 race scores count in the overall. Because Cody has a worst finish of third while Trystan has not placed lower than second that means the KTM rider has the points lead but the mathematics will bring Cody closer come the final tally.
Overall AMA Extreme top 5 championship points after round 8:
Trystan Hart 221
Cody Webb 215
Colton Haaker 153
Taylor Robert 137
Ryder Leblond 116
Forsley makes it a double West win for Sherco
After setting the standard time in the Women's class in the Saturday qualifier, Lousie Forsley lined up in the main race having already sealed the AMA West title.
Lining up in the main race alongside the Pro men with rival Kylee Sweeten, Forsley led her class early doors but a bent brake rotor cost her a heap of time getting through lap one and then to fix the problem in the pits.
But Forsley again proved she is the class rider in the Women's Elite field by not just making all the time back on Sweeten but pushing on to complete three laps and finish 32nd overall.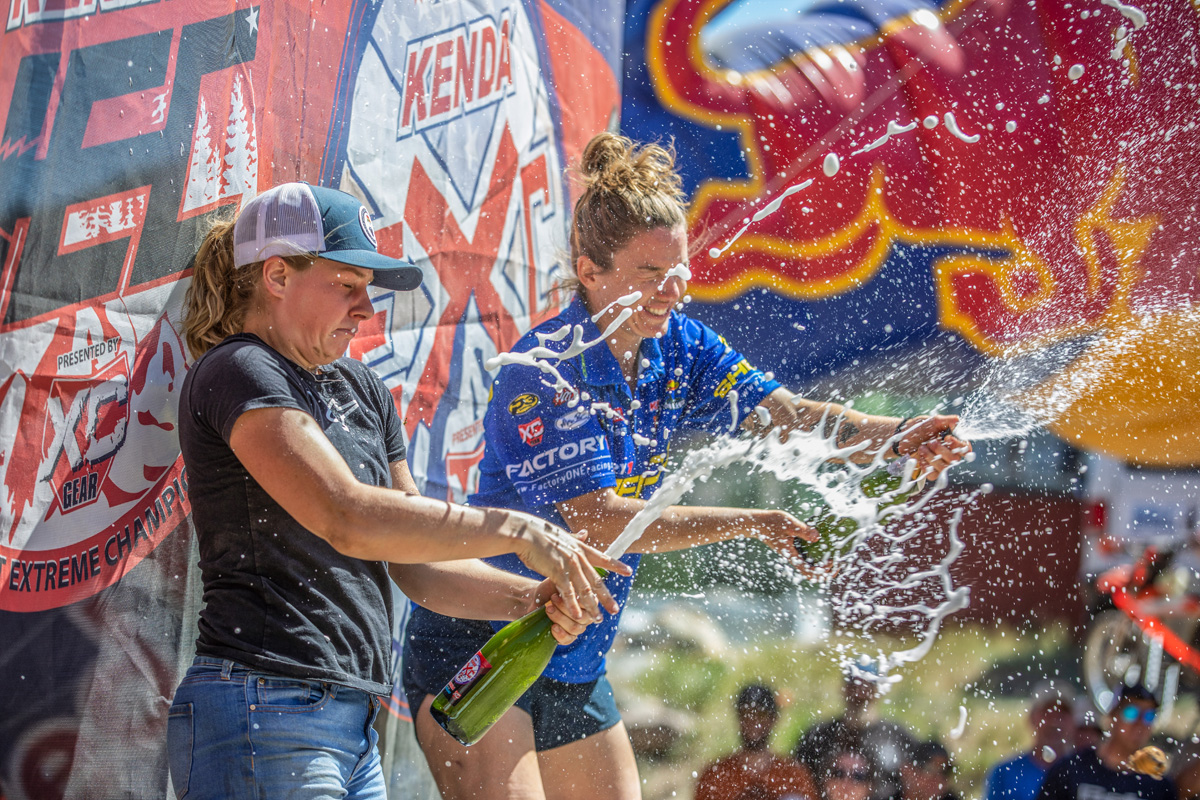 "Today really pushed me both mentally and physically." Explained Louise after the race. "It was hard, but manageable at the same time, which was appealing to me. Racing for four and a half hours in the heat and elevation was a mental battle.
"My first lap was rough. I had bent my rotor and thus, Kylee passed me about half way so I was behind her for awhile. I heard I was down more than 6 minutes at a checkpoint. I was able to fix my rotor and then was able to find my flow on lap two.
"Somewhere in there I managed to make up that time and then put a gap on her. When I went out for my third lap, I wasn't quite sure how far I could make it under the time limit. I just kept pushing and was able to complete a third. I was really happy to have gotten in the 3rd lap and finishing 32 overall."
Next Race: Round 5 EEC – July 17 – Bad Medicine at Fallen Timbers in Little Hocking, Ohio
More information: www.amaextremechampionship.com
Photo Credit: MJSMotoPhotos | Mary Rinell