Billy Bolt takes victory at British Extreme Enduro Rnd2
Bill Bolt shrugged off another weekend's racing in unreal muddy conditions – "I actually enjoy it" – to win round two of the 2021 British Extreme Enduro Championship at Cowm Quarry.
After swarming the podium on mass at the first British Extreme round of 2021, the Jarvis riders Wil Hoare, Jonathan Richardson and Teodor Kabachiev didn't have things quite so easy at round two thanks to the weather and a certain Billy Bolt.
A last-minute decision to sign up and race on home soil paid off for the Rockstar Husqvarna Racing rider Bolt who defeated the Jarvis Team armada (and a storming MRS Sherco of Joe Deakin).
The Cowm Quarry venue is notorious enough but heavy rain, which began to fall as the starter's flag dropped, made conditions incredibly hard at this second British Extreme race of 2021. In the 12-15 minute lap, the showpiece was a steep hillclimb which stacked up riders as they took turns to try and conquer it.
The top riders showed their class here, attacking the steepest lines with impressive commitment. Check out Billy's technique as he masters the hill…
"Chilled" Bolt takes the win
"I had a really chilled first couple of laps – I didn't walk the track yesterday because we only just got back to the UK." Explained Billy after clocking one full lap more and finishing around seven minutes clear of second place.
"When you're coming over the top of some of the crest and hills in this place it can be a bit sketchy so I took it easy in these conditions. I followed Wil for the first lap or so and then just kept it steady.
"I'm really happy with how it went and how I feel with my riding at the moment. The bike feels good and I feel good riding. Spectators were not allowed but a lot of people are here riding this weekend so it was good also to be hear a few people cheering us along.
"Literally it was the middle of the week we decided to come back, after Erzberg was cancelled. We could have stayed out in Europe testing but races like this are great to pack in the schedule."
Battle to be best of the rest
Apart from dealing with Bolt, what the Jarvis Husky boys didn't reckon on was a fight from the MRS Sherco rider, Joe Deakin for the podium. As is often the case at Extreme racing, relentless pace pays off (see Jarvis as exhibit A!) and Deakin's consistency in the tough conditions brought reward.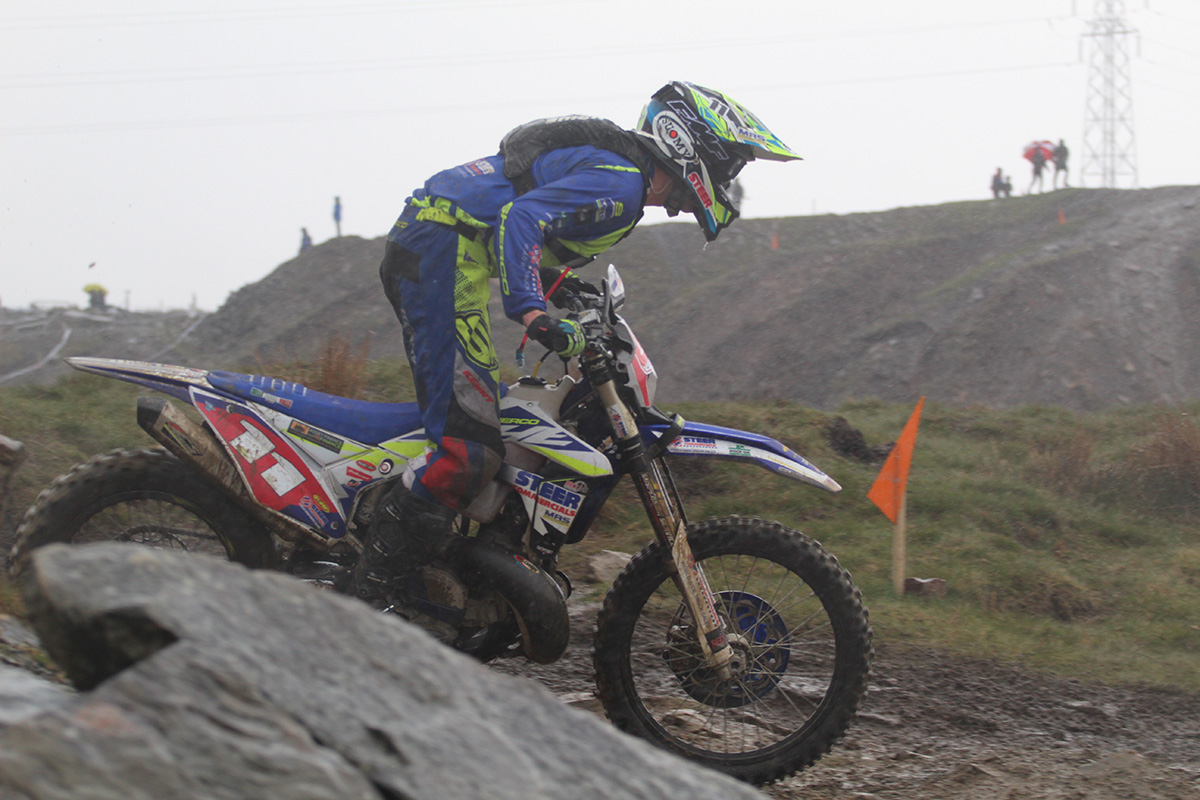 As the race progressed Jonathan Richardson had been setting solid laps and was a comfortable second place. But a last lap tangle with a wire fence meant Jonno had to unwrap his back wheel, losing a half minute gap to Deakin and with it P2 on the day.
Richardson finished in third but was happy with his performance: "I started off at the back but I stuck at it, kept at my pace and tried to enjoy it. It became quite tough at times with the rain and I got quite cold.
"I've been trying to take a different approach this year and be calmer, take a few lessons from Graham in that regard and it seems to be working. I'm really happy with the team, the bike and the way I'm riding. But on the last lap I got a fence wrapped around the back wheel and I had to stop and that cost me second."
What happened to British Extreme round one winner Wil Hoare? He was Bolt's nearest challenger early on during the race but the Cowm rocks dished out some damage to first break his gear lever and then bend a brake disc. They fixed things but a very spongy lever did not help at this venue and Hoare came home fourth, half a minute ahead of teammate Kabakchiev.
2021 British Extreme Enduro round two results: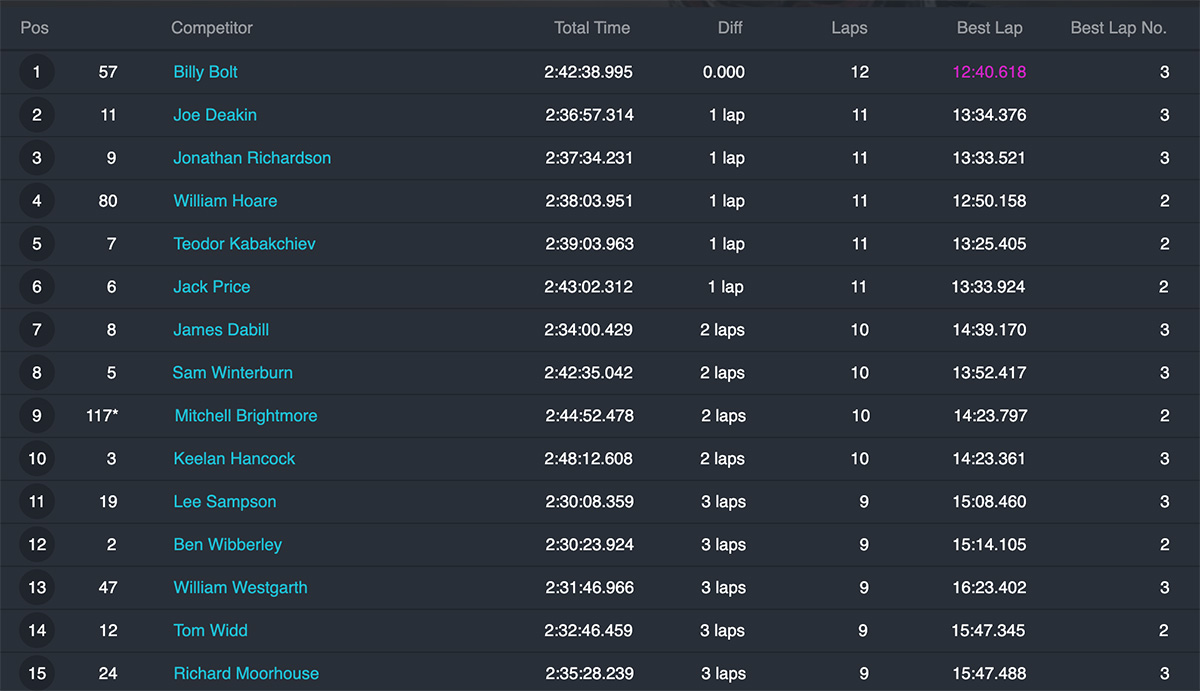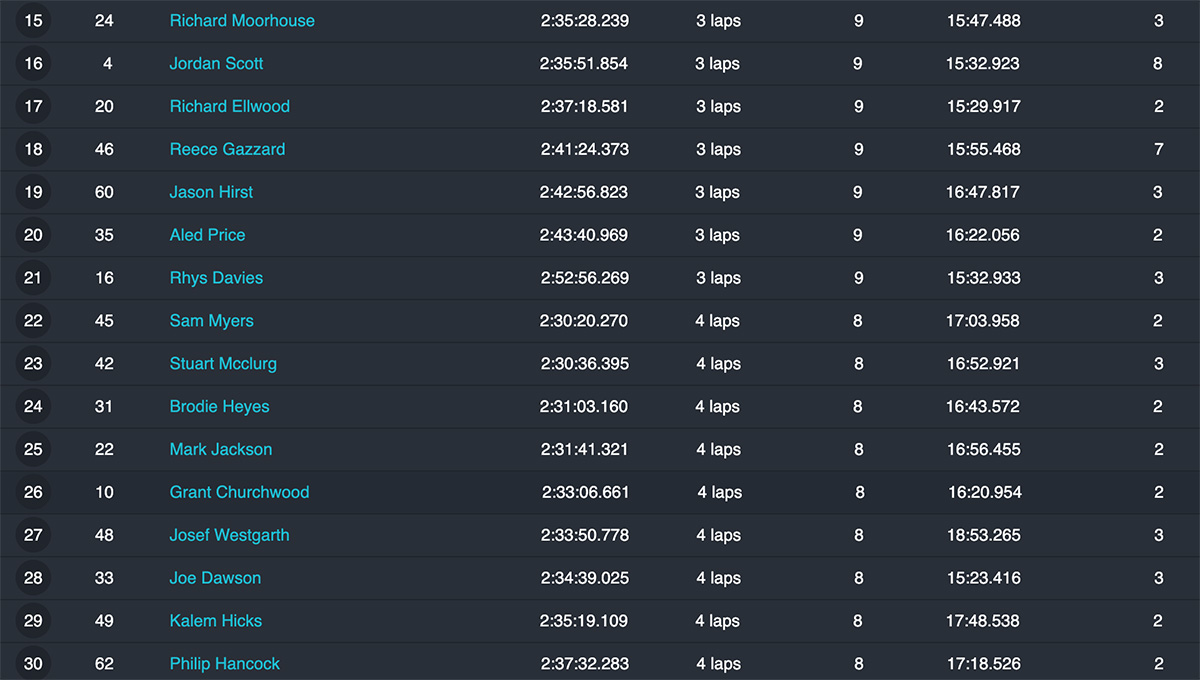 Round three of the British Extreme Enduro Championship is on June 13 at Woodhouse, once again in Yorkshire.
Photo Credit: Tilde Tighe + Enduro21