Hard Enduro Series Germany: Reisersberg Rnd2 win for Hentschel
The Hexenkessel course in Reisersberg challenged the riders at the second round of the 2021 Hard Enduro Series Germany where Leon Hentschel took his second victory of the season.
Although the weather forecast promised rain for the race day, the second round of the 2021 HardEnduroSeries Germany in the Bavarian Forest turned out to be a dry and hot one.
New organising club MCC Reisersberg utilised natural climbs alternated with some artificial obstacles on a course which was praised by riders as one of the best in the history of the series.
Endurides Prolog Award
The meeting began with a fast prologue for the riders, made tricky by a staircase with a sloping stone field afterwards on a lap which took around 1:30 minute for the top riders. Tim Apolle set the best time ahead of 104 riders on the Prologue.
Apolle and Schmüser winners of the group races
The prologue is followed by the group races which began with a small jump off the start which riders had to push their bikes up. By chance leading riders Tim Apolle, Leon Hentschel and Marc Wulf were in this first race of the day raced across 90 minutes.
Apolle ran out moto one winner and Milan Schmüser the second to set themselves best starting positions for the shootout final.
For many hobby riders the group race with many narrow passages in the forest as well as obstacles was a real challenge, they were already satisfied with their achieved two laps.
Hentschel takes advantage
In contrast to the opening round of 2021, the final started in two rows with the results of the group races important in the final, because it meant a small advantage for the fastest qualifiers.
After lap one went smoothly, a traffic jam on the "crunchy" stone climb on lap two where riders were briefly stopped and rerouted. Hentschel took advantage of this opportunity to take the lead and with consistent lap times went on to take his second win of the season ahead of Apolle and Wulf. Leon leads the points standings narrowly ahead of Tim Apolle.
Milan Schmüser won the Junior class against Louis Richter and Paul-Erik Huster. The Senior class again went to Timo Jungmann.
The next round of the Maxxis HardEnduroSeries Germany will be held on is on September 4 in Neuhaus-Schierschnitz.
Reisersberg 2021 results: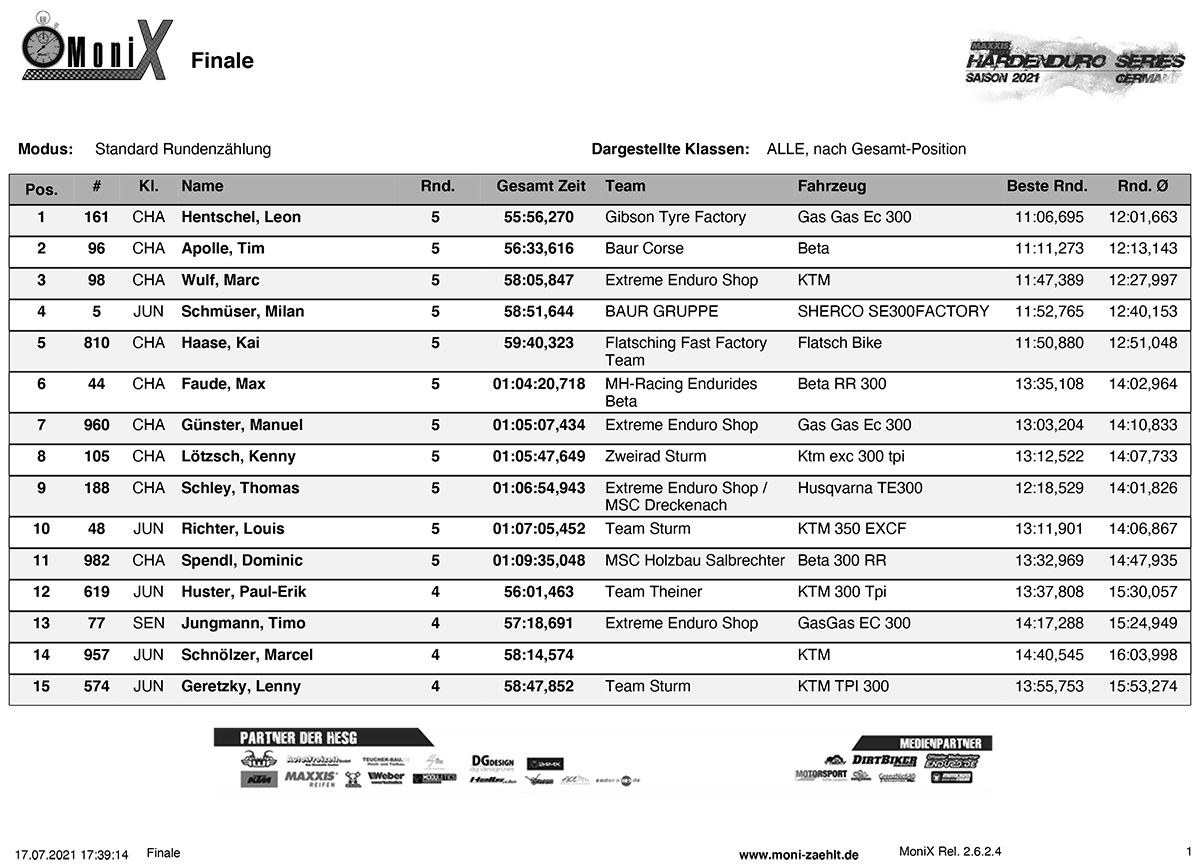 More information and full results: www.hardenduro-germany.de
Photo Credit: TK420 | Toni Keller