First look: Taddy Blazusiak's new GASGAS EC 300
First images of the 2020 GASGAS EC 300 two-stroke Taddy Blazusiak will race in the 2020 WESS Enduro World Championship.
Before the WESS season officially begins at the Hawkstone Park Cross-Country in September there is already a contender for best in show. Taddy Blazusiak needs no introduction from us but this prize pony is his new GASGAS EC 300, fuel injected two-stroke. How special do you want your bike to be? How about the first of its kind on the planet?
Snooping at the details
Looking at Taddy's new, two-stroke race bike (he'll race both EC 300 2T and EC 350F four stroke models depending on the event) we can see a similar set of components and parts you'd expect from any factory race bike from the same stable. The running gear also found on the KTM and Husqvarna factory bikes includes the WP XPLOR forks and XACT Pro Components rear suspension, Brembo brakes, Motomaster discs, Renthal Bars, SuperSprox sprockets, Akrapovic exhaust system and more.
Linkage chassis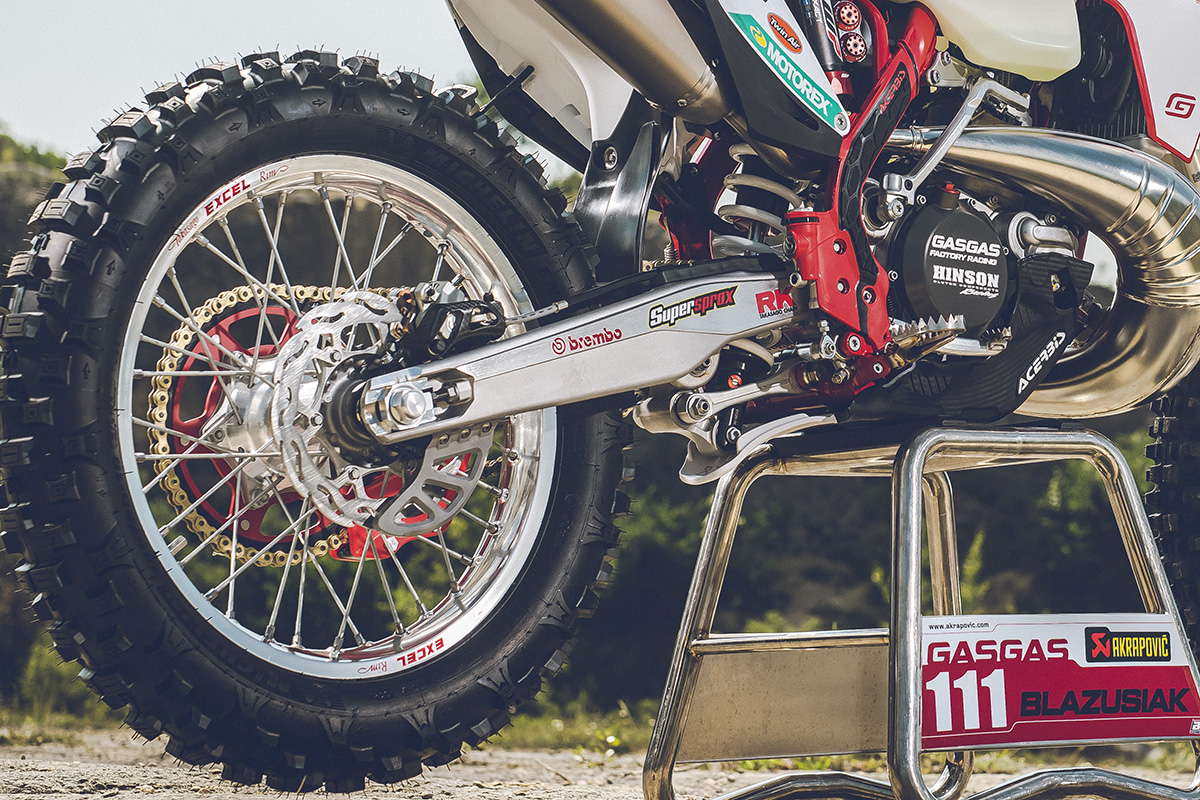 Look closer though and we can see the bike is running the linkage chassis rather than the PDS rear suspension system favoured on the KTM EXC models and which Taddy has been racing for many years (like, forever).
Perceived wisdom is the new GASGAS range will be "the SEAT of KTM" – compare the Austrian manufacturer to Volkswagen and the red production bikes are expected to be a slightly lower spec option if Husqvarna's are more premium and KTM bang in the middle. We await the production bike details later this year to see if they run a linkage or PDS system.
When GASGAS's new motocross bikes, the MC 250F and 450F, were revealed by Standing Construct MXGP official race team earlier in 2020 we got our first glimpse of the new Gassers – though at the time they were basically red KTMs. It was impossible at that stage to know how the enduro bike would look but these images show a genuine new model for the first time although we're still wondering if the production bikes will vary from what we see here.
Composite rear subframe?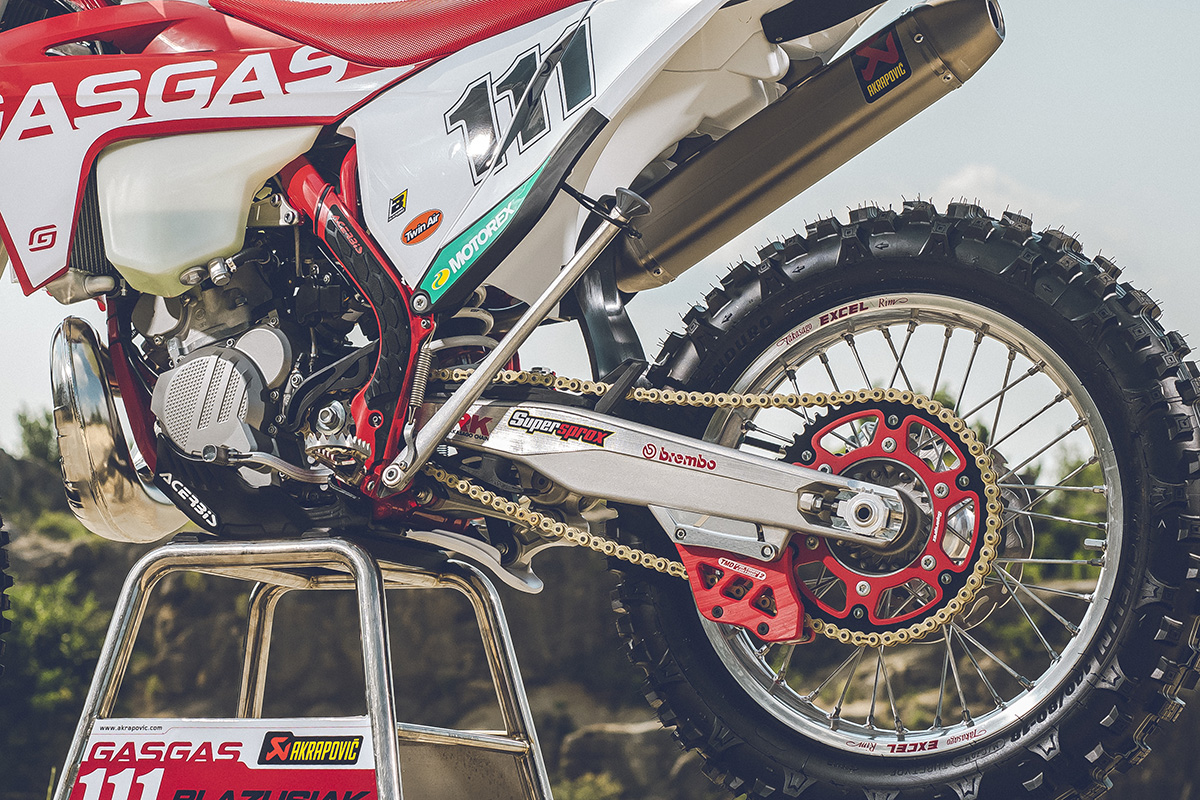 Taddy's factory bike has the TPI two-stroke engine inside the trademark steel cradle frame but we can also see no obvious signs of the aluminium subframe from a KTM. It looks more likely to be running a composite rear end though which does not look the same as the Husqvarna part. We're used to seeing the Husky enduro bikes having the lightweight composite subframe but didn't expect something like it on the GASGAS range.
Blazusiak, who rode GASGAS trials bike to the European Trials Championship in 2004, is motiveated by the new project, "This is a really cool and exciting change in my career, the start of a new chapter for me." Says Taddy. "It's an honor to lead the GASGAS brand back into enduro and I really want to do everyone proud.
"By joining this project from the beginning, I feel like I can really help to bring some value by using my experience to develop the bike and to show people what we are all about. There's a freshness and a lot of energy about everything and I'm excited for people to see what we've been working on. Everyone that knows me knows how competitive I am, racing in new colors definitely makes me more determined to challenge for more race wins."
New look bodywork
Aside from the fresh colours, there's a sharp look about this new Gasser. Some of the old Spanish heritage lives on in that front fender design and the single-piece side panels sweep across to meet the nice, big and white side number boards – remember when we always used to have all that space for our side numbers?!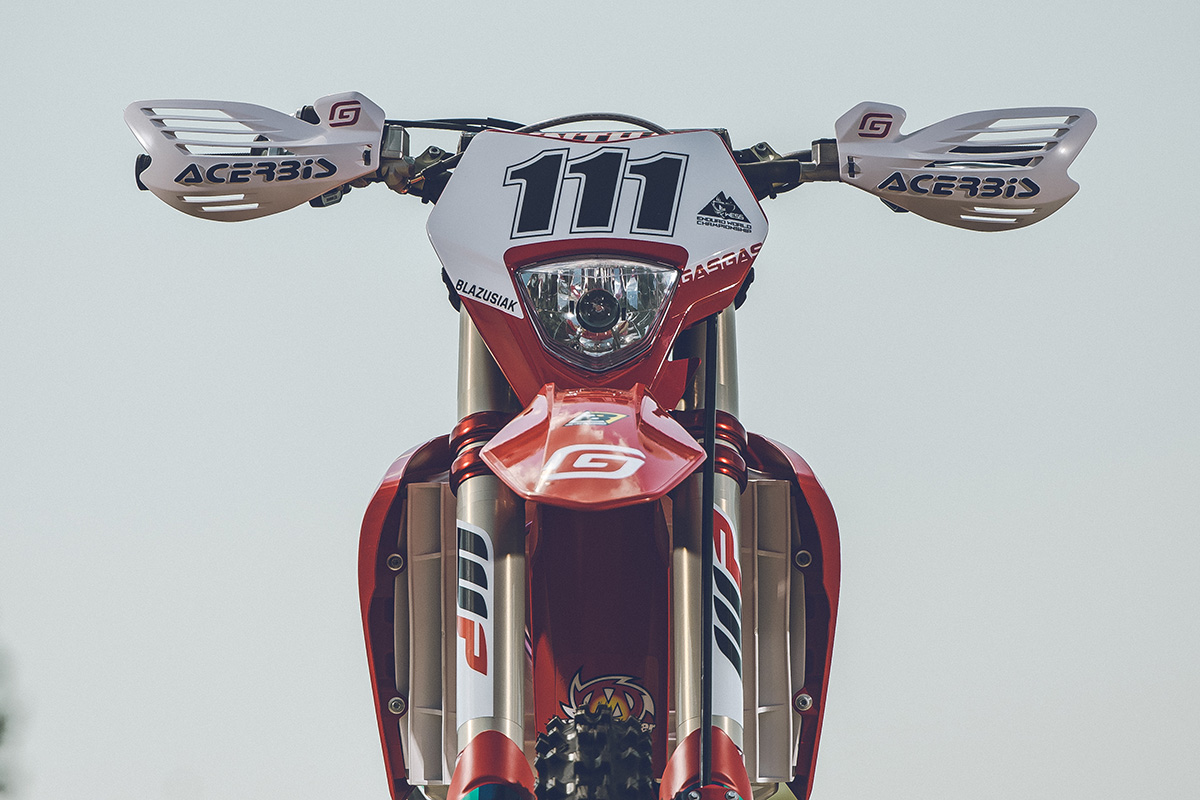 More details when we get them but, in the meantime, feast your eyes on the gallery (scroll through at the top of this story).
Photo Credit: Sebas Romero