2022 Dakar Rally Results: stage 6 cancelled after 100km – Sanders wins
Results from stage six of the 2022 Dakar Rally where tougher than usual riding conditions caused its cancelation – Daniel Sanders didn't agree but won anyway taking a GASGAS one-two ahead of race leader Sam Sunderland.
Dakar Stage 6 in a nutshell:
The switcharoo game played out by the organisers between the bikes and four-wheelers these last two days didn't quite go to plan today. Competitors on two and four wheels separated for two stages, the bikes running yesterday's car route today and vice versa.
But after all the four-wheelers had ploughed the route and because of wet conditions (in places, our images don't do it justice), it made heavy going for the bikes, dangerous some said, and the 400km special was cut to 100km.
The official statement from race direction reads: "The bike and quad race was stopped at the first NEU (neutralised zone and fuel point). The degradation of the track due to the passage of cars and trucks yesterday, on the top of recent heavy rains made the course impassable."
Not everyone agreed with the decision, stage winner Daniel Sanders being one: "For me, there was no problem with the terrain. We've done many races like this…They [other riders] rang the officials and complained and they called it."
If you've ridden any muddy off-road event, Romaniacs or a Scandinavian winter enduro for example, these decisions seem hard to grasp. But these bikes are bigger, faster and the logistics of time and safety have to be taken into account.
Sanders was fastest out the blocks, those enduro skills helping when the going got tough and he bagged the stage six win. Whether he wanted a picnic today or not.
The winning margin was 2:26 over Sam Sunderland with Matthias Walkner a further 10 seconds back in third.
The early stop and the stage conditions meant the times were remarkably close – just seconds separated each rider right down the running order, not just the top 30.
Danilo Petrucci got a rude awakening after yesterday's historic stage win. First away means no-one in front and just some scribbly marks on a piece of paper to follow on this technically more demanding stage. Danilo had a minor tip-off three minutes into the stage and was quickly gobbled up by the following pack.
The stage win moves Sanders past Adrien Van Beveren to third in the general classification, five minutes behind Sam Sunderland who leads with KTM's Matthias Walkner sandwiched between the GASGAS boys ahead of tomorrow's rest day.
It was a disappointing end to week one for Ross Branch who also crashed early and injured himself. The Yamaha pilot DNFs his second Dakar on the factory Yamaha.
Feel the need for more stage six analysis? Read our daily Dakar notebook: 2022 Dakar Rally Notebook: stage six – should they have cancelled it?
2022 Dakar Rally Stage 6 results: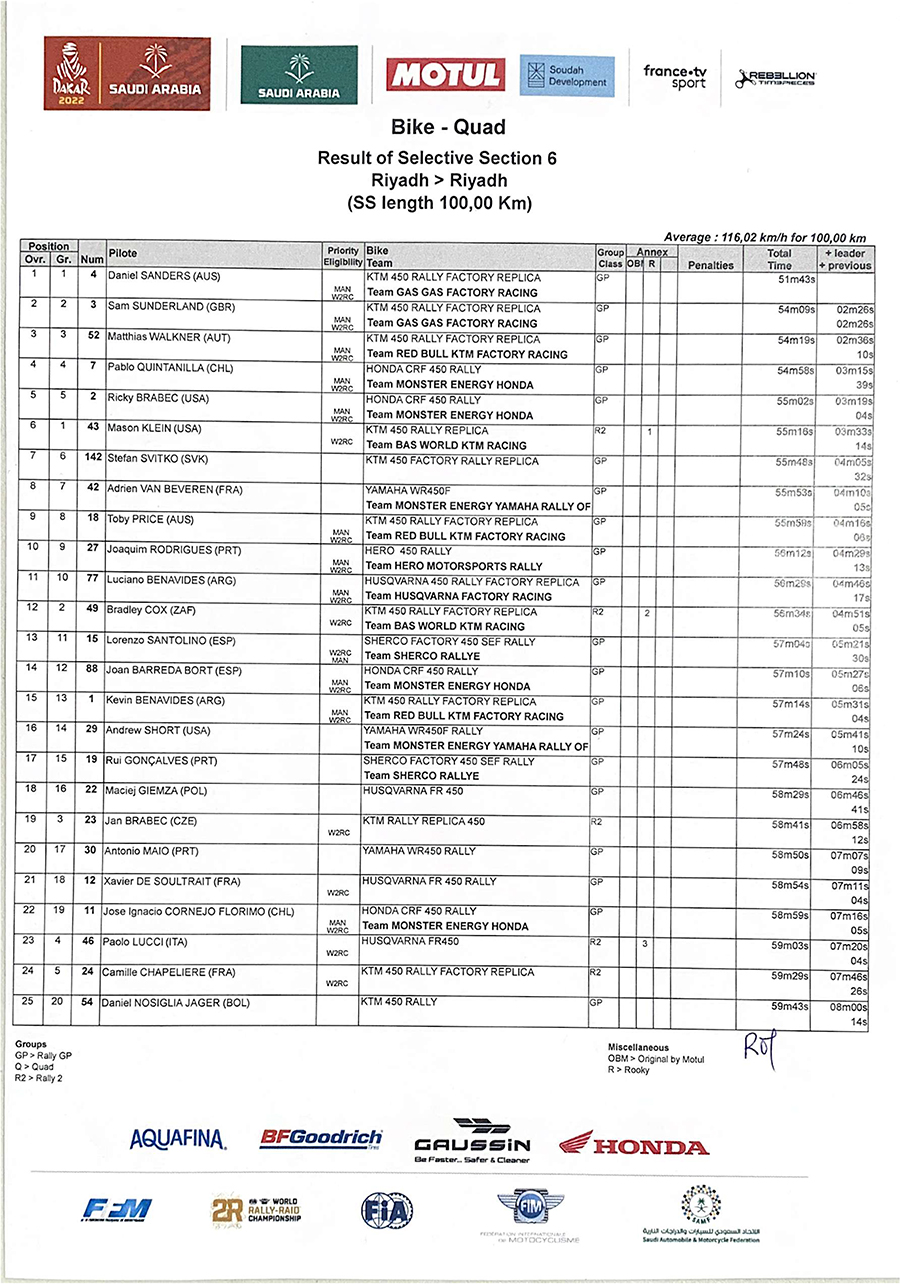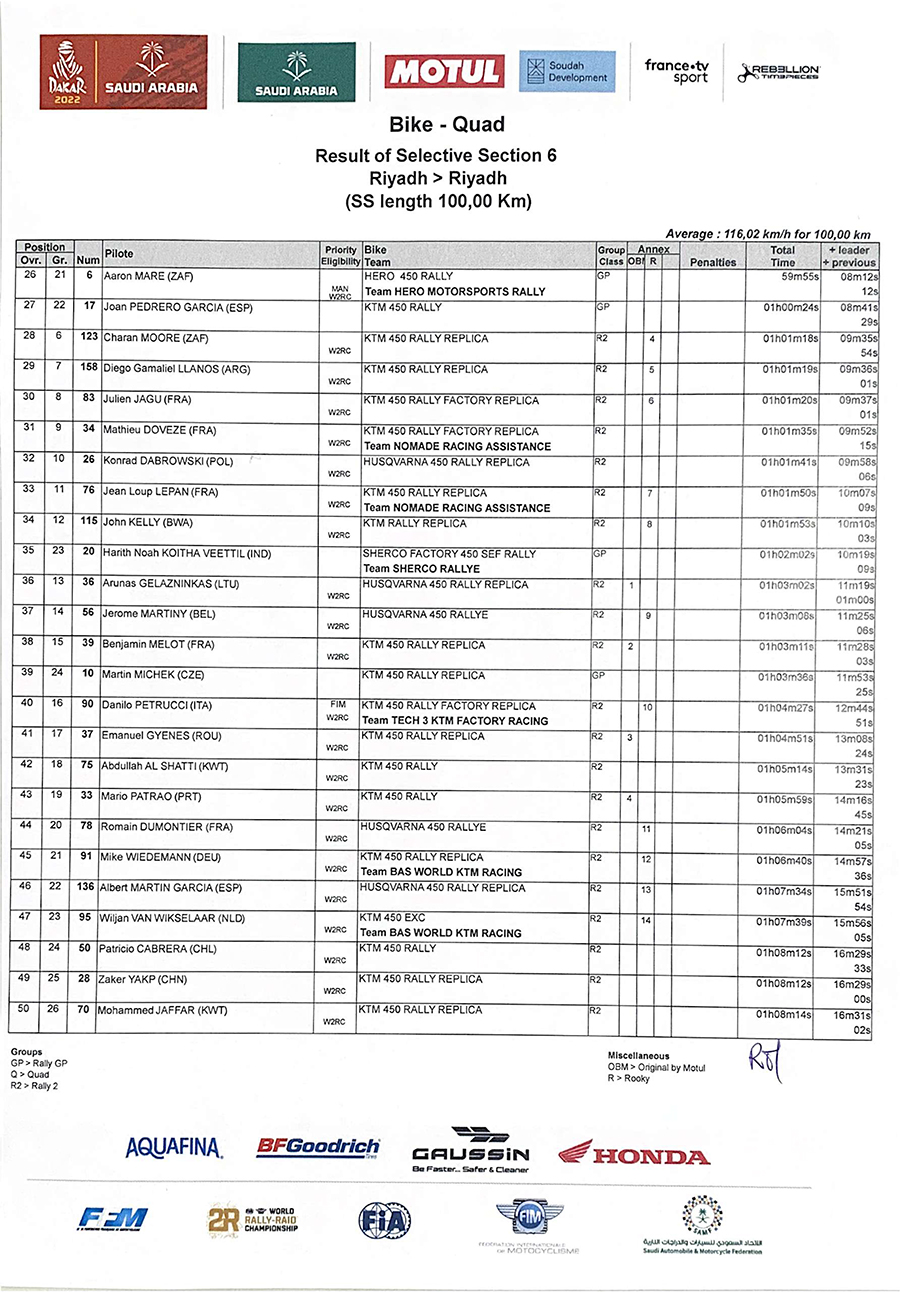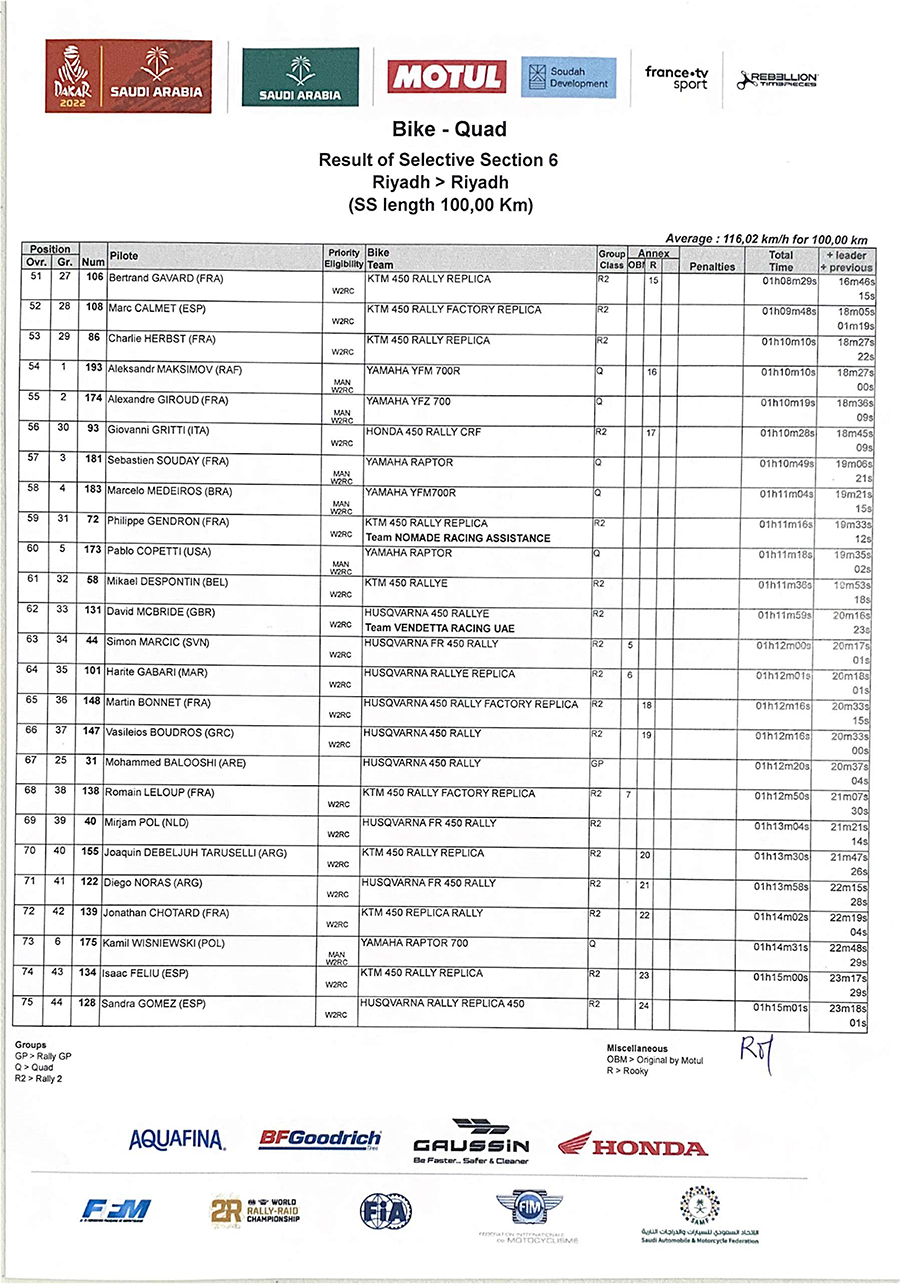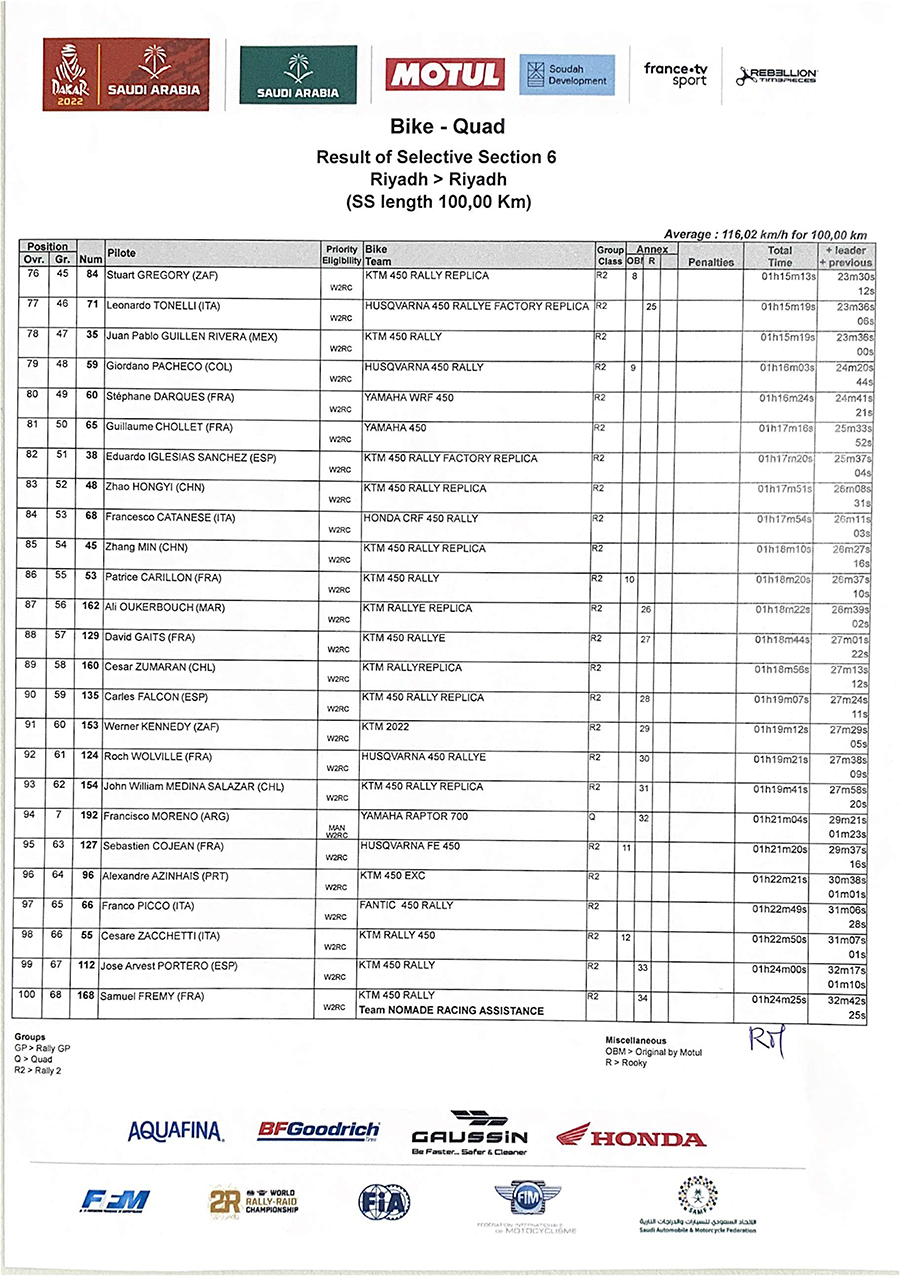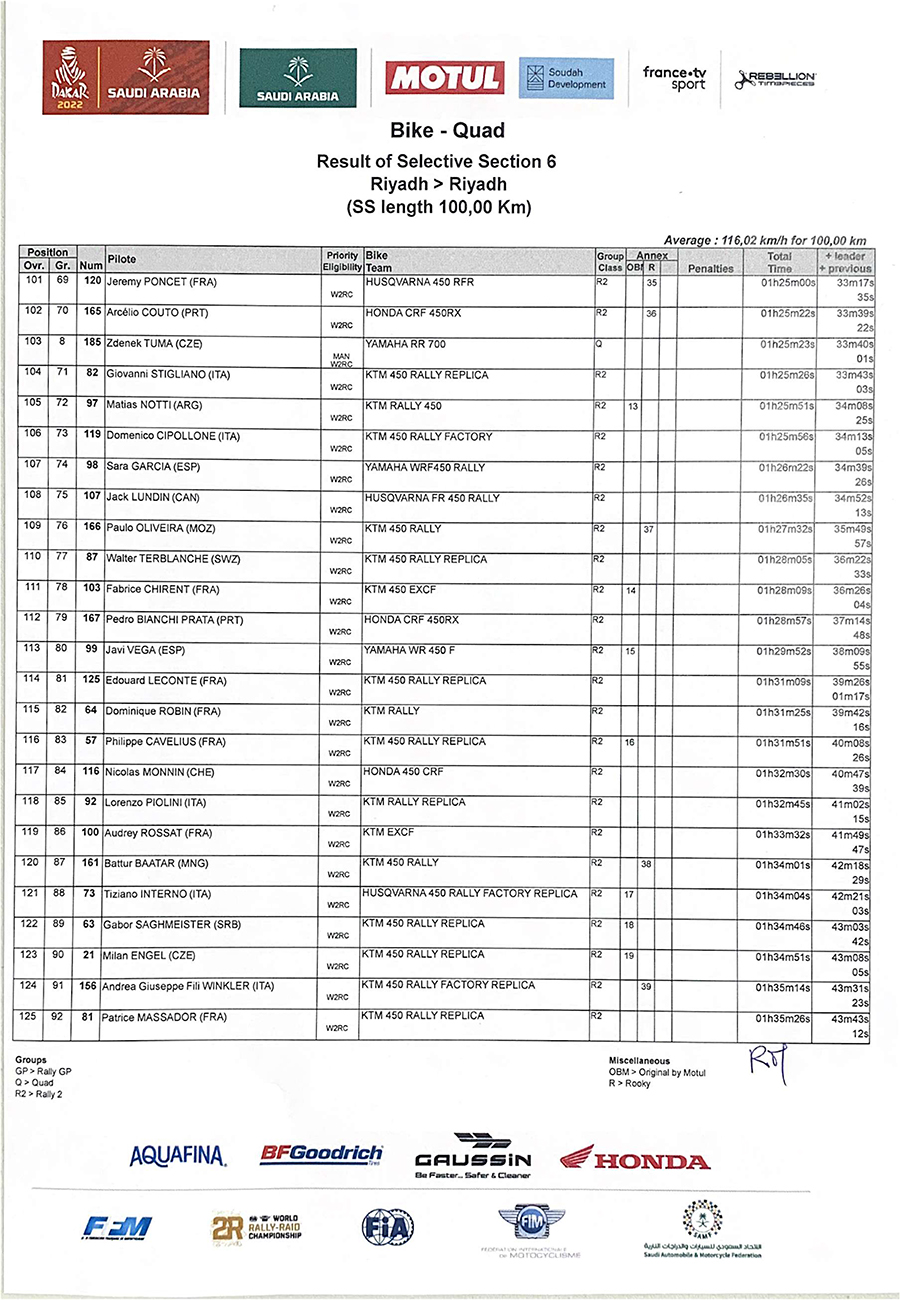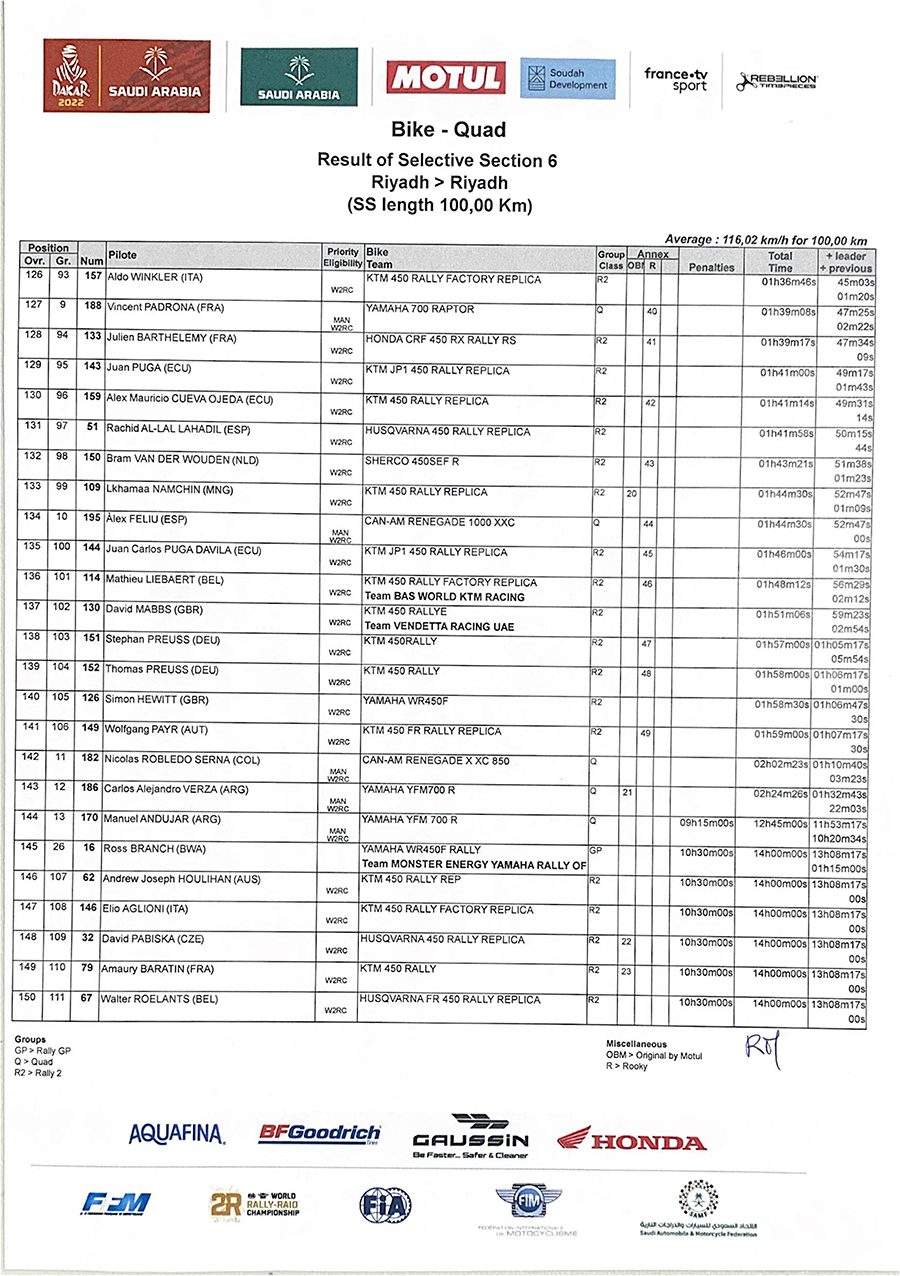 Provisional overall classification after stage 6 (top 30):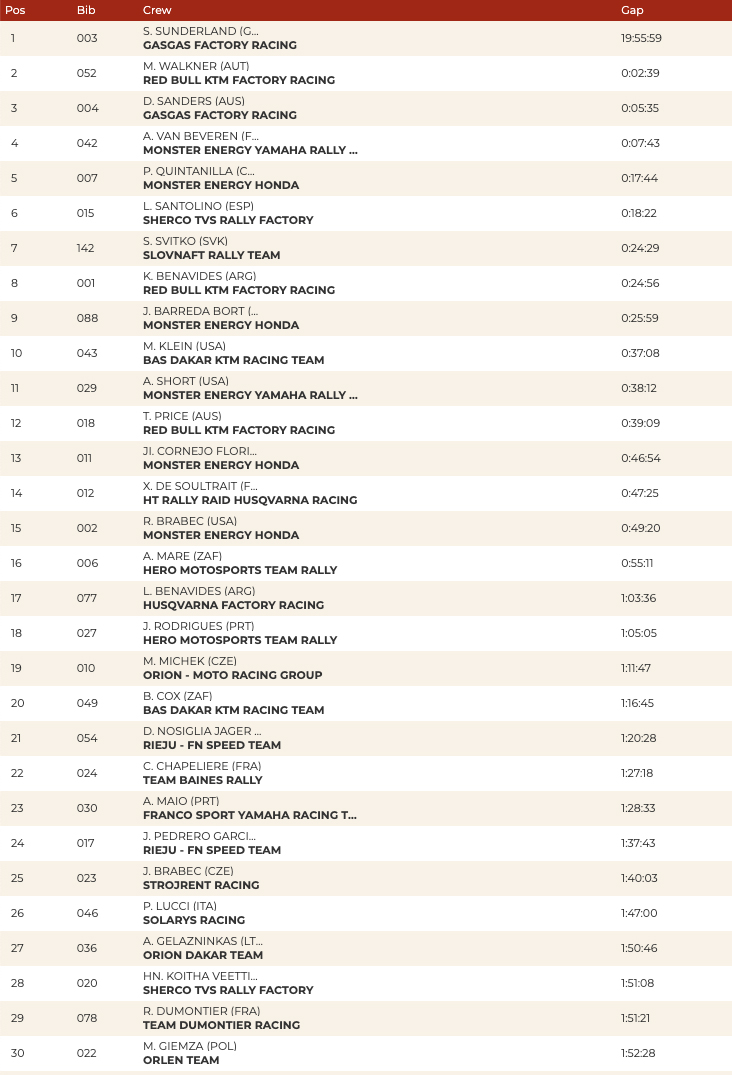 Photo Credit: RallyZone