2019 Gas Gas ECR Ranger Tested
The 2019 Gas Gas Enduro model launch brought changes to the EC and XC models and a brand new, every rider friendly, EC 'Ranger' – a Gas Gas for the masses.
Gas Gas Motos launched its 2019 model range to the world with a stealthy set of small changes to the main EC and XC enduro range. Sitting alongside them and under wraps as we turned up with our kit bags was the all-new 'Ranger' model – a trail friendly "bike for everyone."
Ready for the masses of weekend riders, the Ranger model's position in the Gas Gas enduro line-up is maybe a step off to one side slightly. This isn't a soft-hearted trail bike, more a de-tuned enduro bike designed to be easier to ride.
As a softer version of the EC/XC Enduro models, it is a direct rival for the popular Beta X-Trainer in price and outlook – cheaper to produce and cheaper to the customer at around €1000/£1000 less.
Gas Gas ECR 'Ranger' in a nutshell:
Lower price point
Same basic engine and chassis as EC and XC models
KYB suspension detuned for softer feel
40mm lower seat height
New exhaust system designed for more torque and less top end power
Excel rims
Distinctive white colour scheme
So what's it like to ride?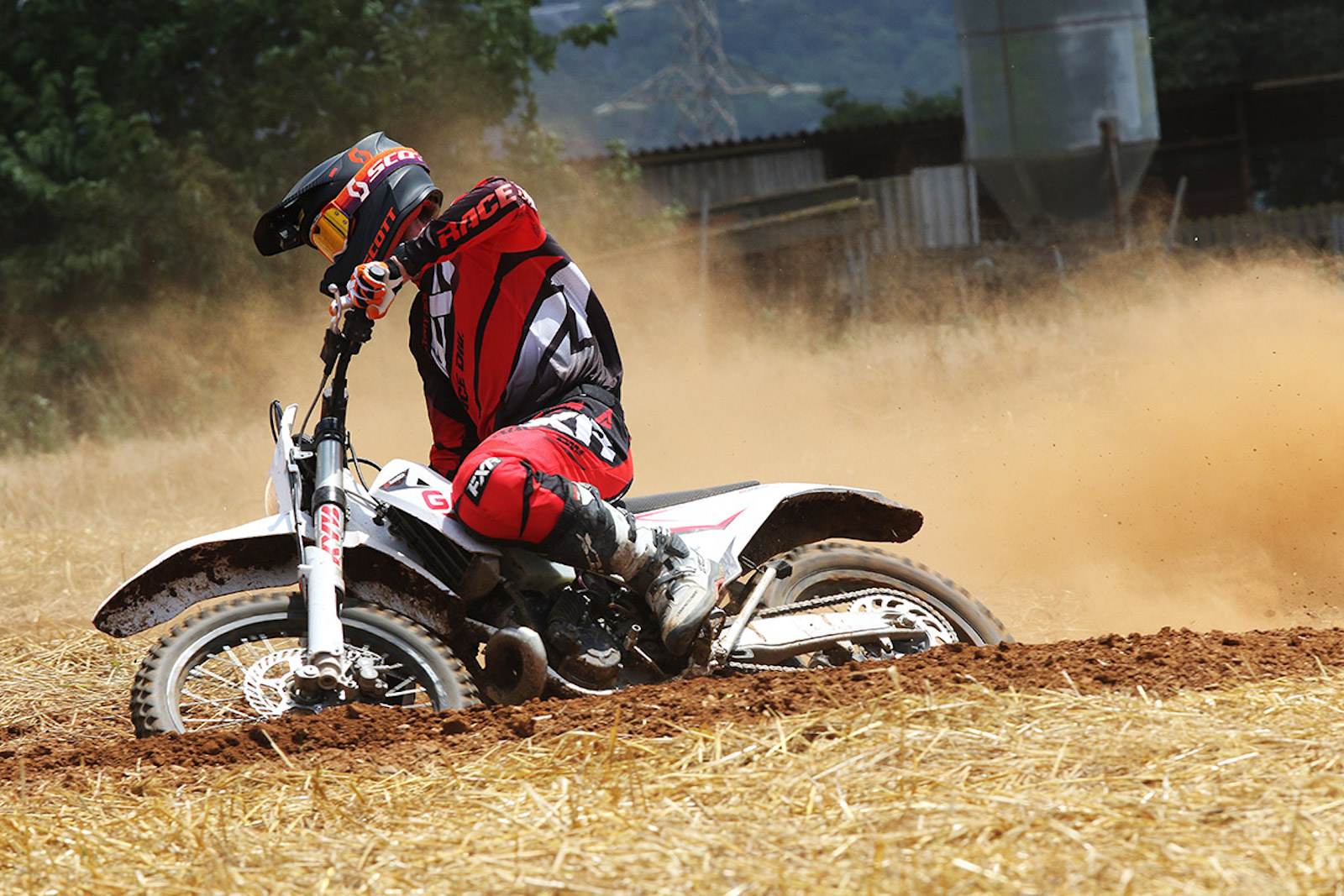 Getting onboard the 300cc model it quickly feels familiar alongside it's siblings, very much a Gas Gas. The biggest difference when sitting on the seat is how much lower and softer it feels. 40mm lower as you plonk bodyweight on the seat it drops more comfortably than the stiffer EC models and this is part of the point with the ECR.
Nipping out into the tight wooded special test area of the launch and the ECR is quick to show itself as no slouch. On the boil and pushing harder the lower stance of the bike and the softer suspension are obviously noticeable by comparison to the EC/XC models.
But it rides well through the wooded, narrow test course. The suspension has greater movement but the extra dive from the forks in fact gave plenty of confidence braking hard and turning into the hard-pack flat turns. A 120 rear tyre is a good inclusion on this model too. Narrower than the EC/XC models it helps the bike feel agile and welcoming through the twisty tree-lined course.
The J Juan/Braketec brakes are less powerful and precise than the Nissins on the EC models but although that is partly about keeping costs down Gas Gas say it is also about delivering a more user-friendly performance at the lever. They work though.
Softer power delivery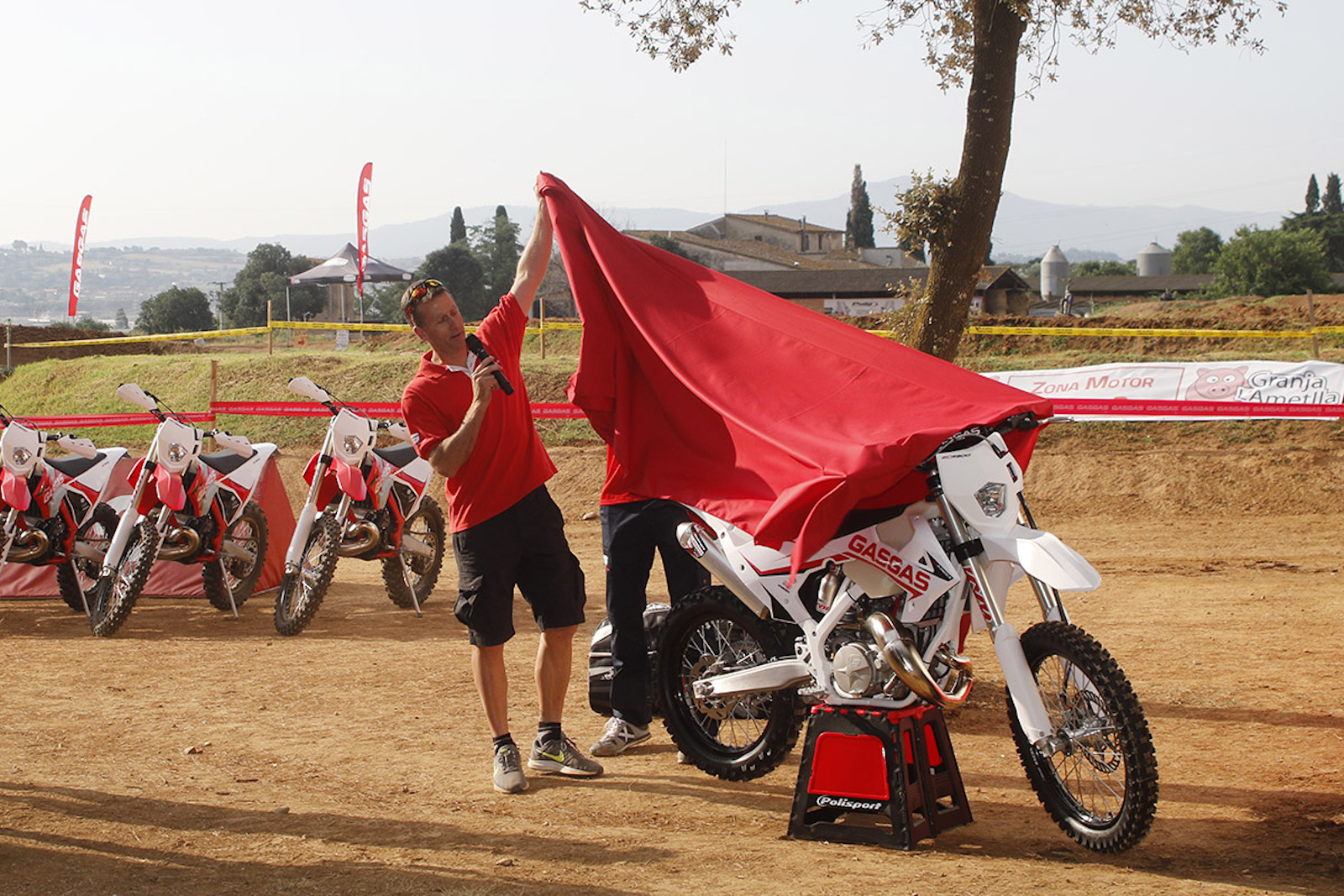 A different exhaust system is doing all the hard work transforming this 300cc motor into a more user-friendly machine. A tweaked cylinder and cylinder head is also helping produce more torque but less top-end power. That plus the different 36mm carburettor, together change the power delivery of the 300cc Gas Gas motor to be more linear and certainly have lower down torquey power more useful if you prefer to run a gear higher than the race-head loonies on an EC300.
Slight weight gain
Two kilos different between Ranger and EC300 (105kg versus 108kg on the Ranger) isn't a lot and really it doesn't show itself too much because you're more aware of the softer suspension and different power character when tested back-to-back. I'm included to say it doesn't make much difference here.
Alongside the EC300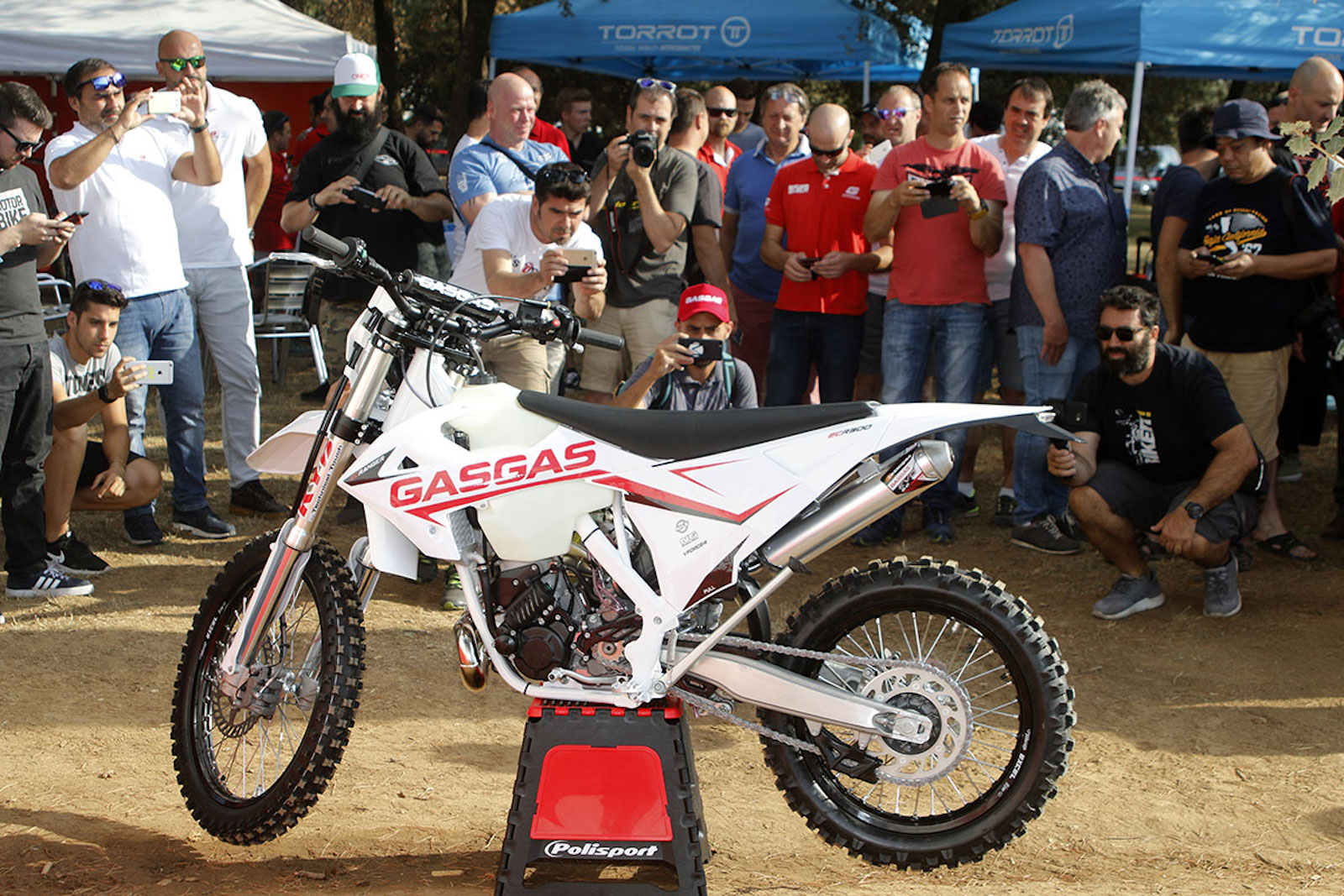 Riding back-to-back with Gas Gas's 2019 250 and 300EC models showed the differences were there but not so great that you couldn't seriously consider this as a bike to go racing on. At times in the tight woods section of the launch it was almost easier to ride the Ranger than the EC300 because of the torquey power delivery – less full-on and less likely to rip rear tyre grip away from under your backside. You're not going to be blasting out fast laps on the MX/Cross test like you can on the EC models but the kind of person who's going to buy this bike isn't doing that anyhow.
No kickstart as standard
Only having an electrical start system is possibly the only questionable decision from Gas Gas on the Ranger. Yes the e-start should be reliable, especially with Gas Gas's new and stronger battery as standard, and we know from other bikes on the market that the kick start is a thing of the past if the electric start is reliable.
But it is a worry some riders have and a legitimate one for less fit riders who might go out riding on a Sunday and find themselves miles from anywhere and stuck in a rut. This kind of bike naturally lends itself to trail riding and single track rather than all-out competition and will attract some criticism for not having a kick start.
That said you can retrofit the kickstart mechanism however and Gas Gas says it is a simple job – though likely you'll have to pay extra for that.
Trail friendly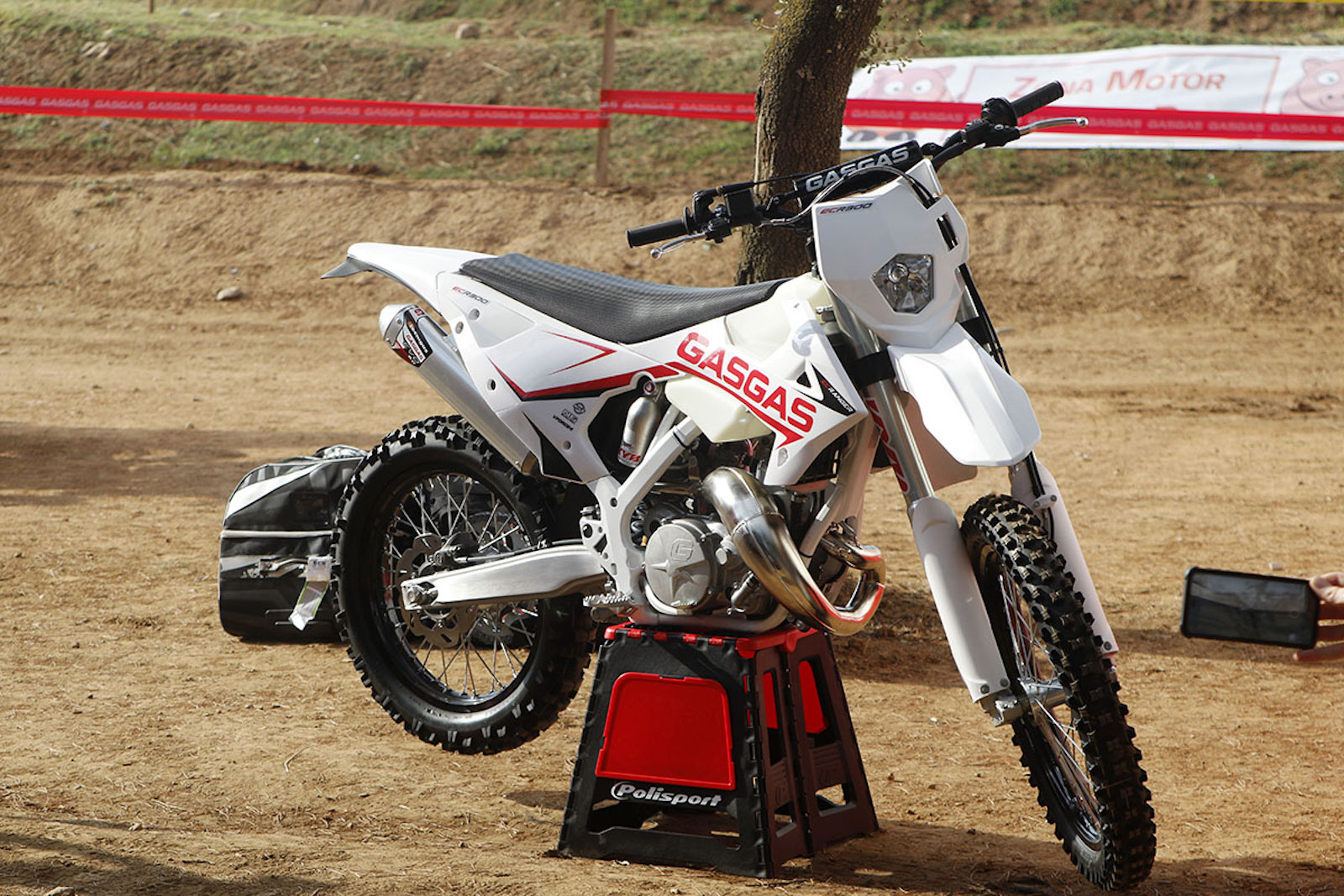 Gas Gas R&D top man, Miki Arpa is no stranger racing an enduro bike as a former pro-level rider. But Arpa is quick to point out this is a bike developed for guys like him: "When I go out on a Sunday with my friends for single track riding, mountain riding with some road work between trails and a coffee stop this is the bike I need."
I can see his point but based on our initial test here I'm inclined to say it should go further than that. The hobby riders racing enduro, riders taking on the Bronze or Iron classes at Extreme Enduros and your club level riders should all be trying this for size too. It is better than you think.
Conclusion
There's no shortage of people who find full-on race bikes too much and Gas Gas have recognised this, seen what other manufacturers have done (and sell in decent numbers in the case of the X-Trainer) and hit on that same idea in a slightly sportier model way.
Is it any good? The ECR will hustle if you ask it and I couldn't help thinking early on during the test how it feels more capable than the Beta X-Trainer, which comes with pretty poor stock suspension by comparison. The Gas Gas is certainly more useful than a KTM Freeride. If Gas Gas's aim is to make the ECR a genuinely useful alternative to the full-on race bikes then they have succeeded.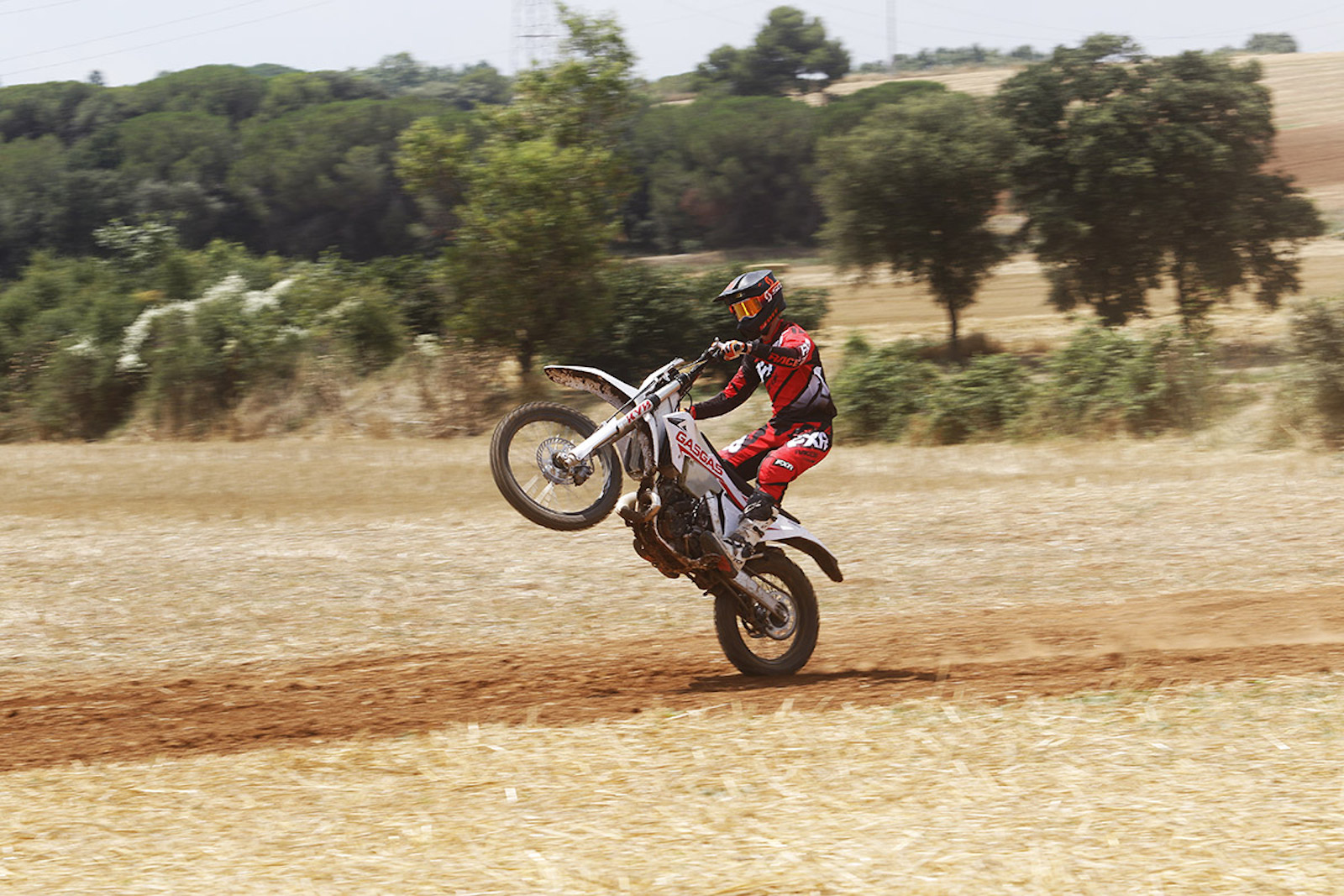 Production begins on the ECRanger 300 and 250 models later in 2018 with models expeted in dealers from November.
Gas Gas ECRanger 2019 specifications:
ENGINE
Same as EC model with a new cylinder and cylinder head to give a mild, elastic character to the engine, with increased torque at low revs and limited maximum power to make the bike easier and less demanding than its stablemates in the EC competition range.
Incorporation of a new 36mm carburettor (300cc model)
Tecnigas exhaust system
FRAME AND SUSPENSION
ECRanger 2019 graphic design, with white frame and panels
Weight 108 kg
Tyres: Vee Rubber (90/90 / -21 front and 120 / 90-18 rear)
Transmission: six-speed, chain (Regina 520/135 RH2)
Brakes: Braketec caliper and cylinders on NG discs (260mm front and 220mm rear)
28.6 mm diameter handlebar with central brace
Seat height: 930mm (40mm lower than in EC range models)
New seat cover
Suspension: 46mm Kayaba open cartridge forks with compression and rebound adjustment system, Kayaba rear monoshock with preload, compression and rebound adjustment.
Excel rims
ELECTRICAL SYSTEM
Electric start system, kick-start is removed
Lead-acid battery
More information: GasGas.com
Photo Credit: Gas Gas Media