Dakar '23 daily notebook: stage two – singing to yourself, hard lines and tea breaks
Enduro21's daily Dakar Rally notebook direct from Saudi Arabia goes out on the stage two course, looks at the lines through rocks, tea breaks and finds out why James Hillier is singing to himself.
The Dakar moves huge distances and that means the riders at the top of the timing sheets are up well before dawn to get out the bivouac and to the special stage start. This morning it was only just dawn when they were racing through some spectacular hills with green grass poking out the sandy soil.
Enduro21 got a taste of their graft today as the bivouac moved on to Al Ula tonight, we opted to go in an organisation car out into the sticks and that meant a 4am wake up alarm to pack the tent and get up the road.
About an hour into our journey it had already been raining, and dawn was still an hour away when the bikes started to catch us in the road and overtake.
We're well aware of the facts about how hard Dakar actually is for competitors, especially in bikes. But seeing Mason Klein, Ricky Brabec and Toby Price come past in the dark, the rain, knowing they been up since four as well but we out there in the weather sitting a dirt bike seat for 159km brought it home.
Most riders left in the dark but it was only the elite riders aiming to win this race who had the worst of it. They then had to warm their brains and bodies up and go full gas.
Reality check complete, hats off to them all.
"I'm singing to myself"
Contrary to some reports floating about, James Hillier did not crash on today's stage. In fact he's fine apart from the singing."I don't know what that's all about, I'm fine" said Hillier as we checked in on him in a busy Original by Motul pit area. "I haven't crashed all day, I've spent the whole day passing cars fixing punctures."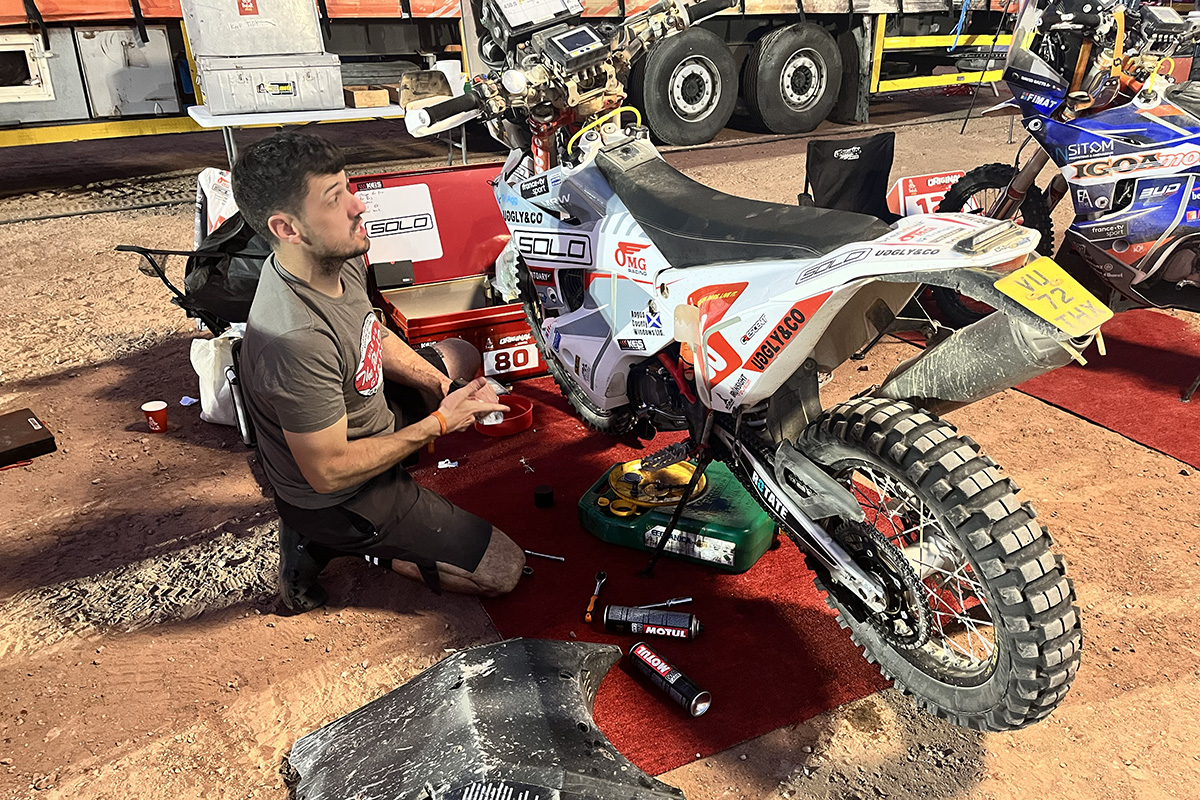 How's it going James? "I'm just having to get used to the length of the days at the moment. The bike's fine, I feel fine but it is just so long on the bike. You think you've only got 100 kilometres to go or something but it takes so long to cover that distance." No doubt things are bit more sedate when you're used to 130+mph laps of the Isle Of Man.
It's alright though, James says he passes the time with a tune or two, "I'm talking and singing to myself. I can't help it. I'm giving people names as I go by or see them like there's white quad bloke or there's a camel. But I'm saying it out loud in my helmet. It sounds mad really."
Who doesn't do a bit of singing in their helmet on a long ride?
It ain't all dunes and flat-out riding
The trek out in a 4x4 onto the course today was well worth it to see the terrain these guys and girls are riding over. We drove deep into a valley and waited for the bikes to arrive as the sun came up and the helicopters buzzed on by.
Ricky Brabec was first, his HRC 450 barking away for minutes in the valley beyond way before his headlight twinkled into view between bastard spikey trees (see Daniel Sanders' arm below).
It was fifth and sixth gear stuff as Ricky approached on a glorious stretch of dark and slightly damp sand. It looked prime and he looked like he was enjoying it.
200 metres further down the track the sand suddenly ended at a rock-strewn wadi where riders had to back it off to pick a line through the wide, dry riverbed. Below is the line after four riders went through...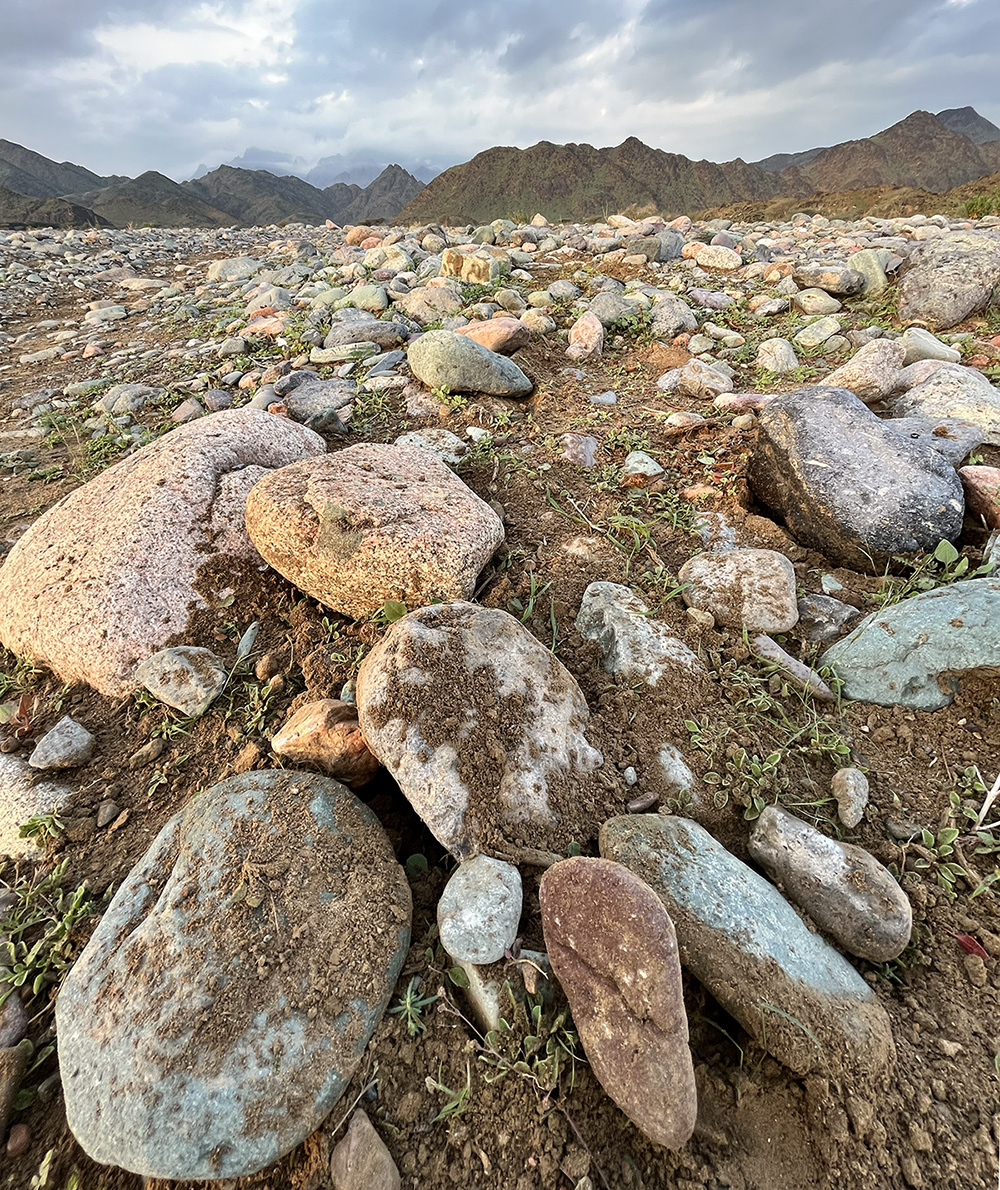 In reality we're sure Ricky wasn't enjoying being at the front on this stuff and standing there for half an hour watching their lines was glaring proof why it is so hard to lead this race an not haemorrhage time.
The first four or five riders were dancing through the stones, wheels kicking all over as they felt Michelin Rally tyres for the first time. After that they began to bed down and move out the way as the path through them got defined.
Imagine yourself a rider approaching a 200 metre wide washed-out old riverbed, or stretch of scree. You've got to pick a line through, hitting and hoping – although it was clear these big bikes with their unreal suspension blast through things like this way better than an enduro bike could.
It was also clear to our ears that the riders one by one began to slow down less and by about the sixth or seventh rider through, were carrying a higher gear and straighter line.
It would have dug out and got worse but there was a sweet spot on this kilometre stretch of 430km special and some got it much better than others.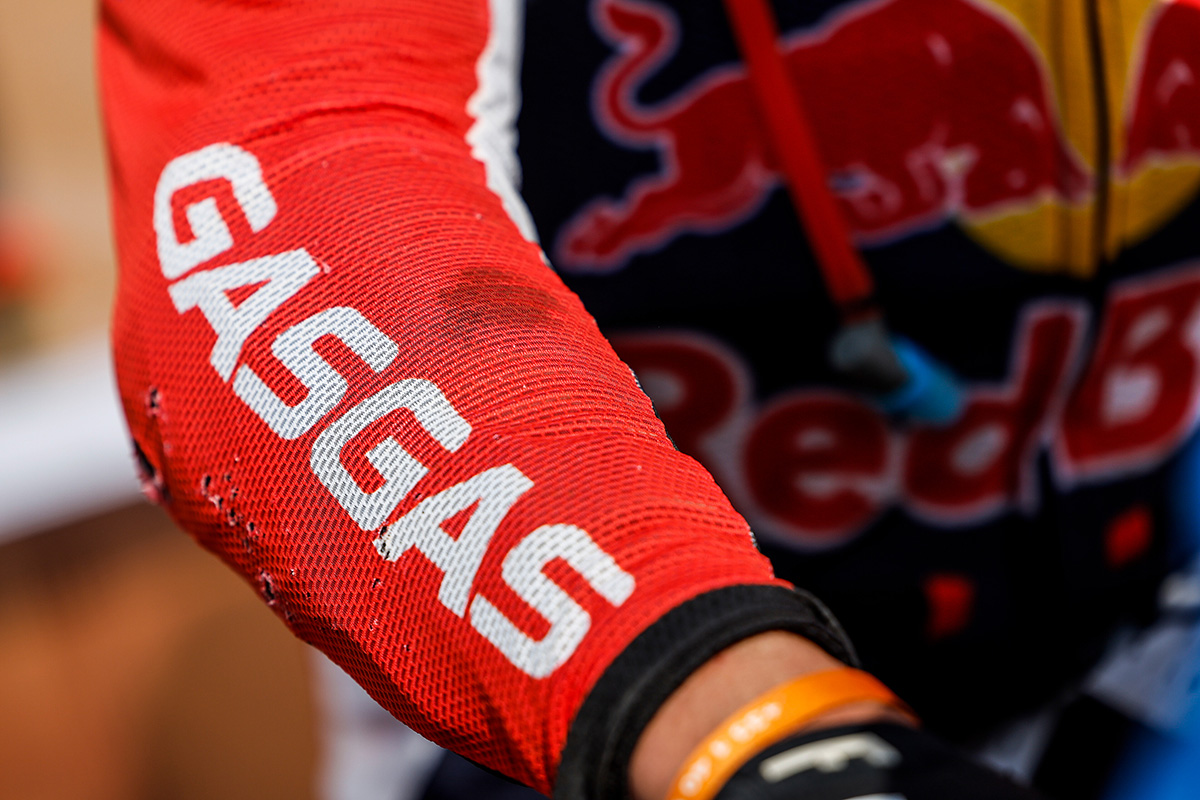 Final word to the guy who likes to stop just shy of taking a stage win for a rest. Not for the first time Daniel Sanders (and this is only his third Dakar) was the rider setting the pace today and mostly dodging those bloody sharp bushes.
By the afternoon Chucky was three minutes up on everyone else and sailing to a win but then took a five minute tea break before the final timing beam.
Why? "I think the stage win was there for the taking today but this is such a long race that it's best to not lead out on a stage this early on, and so for tomorrow's stage in the dunes I'll now have a decent starting position. There will be a time or two when winning a stage or finishing up front to lead out the next day will be necessary, but today wasn't it!"
So much for the new rules making riders push for the stage wins and then awarding time bonuses the next day!
Find results from stage two here: Dakar Rally 2023: Stage 2 results – maiden win for Mason Klein
Photo Credit: Enduro21 + A.S.O. Charley Lopez + DPPI + Marcelo Maragni Red Bull