Dakar Rally 2021: Rest Day – leading riders explain week 1
Six days in the bag, six more to go at the 2021 Dakar Rally and things are getting serious. With two marathon stages ahead, Enduro21 checks in with the leading riders in the general standings to find out how their first week has panned out…
Top 10 Dakar protagonists after week 1:
1. Toby Price (KTM), 24h08m43s
2. Kevin Benavides (Honda), +2m16s
3. Jose Ignacio Cornejo (Honda), +2m57s
4. Ross Branch (Yamaha), +3m41s
5. Xavier de Soultrait (Husqvarna), 3m41s
6. Sam Sunderland (KTM), +4m23s
7. Joan Barreda (Honda), +6m25s
8. Lorenzo Santolino (Sherco), +13m46s
9. Skyler Howes (KTM), +15m12s
10. Pablo Quintanilla (Husqvarna), +15m13s
1. Toby Price (KTM), 24h08m43s
Week 1 highlights: Reaching the half way point leading the rally means the two-time champion is sitting pretty.
"It's been a mixed bag of everything really, it's been up and down everywhere. All in all, we're still in the fight. Anything can happen, there's a long way to go. We're looking forward to week two already.
"I think yesterday (stage five) was our worst moment, but also probably the best moment. I finished in a pretty good spot, but I was quite disappointed with my navigation yesterday. We made a lot of mistakes.
"All in all, we're still in the race, like I said, but we need to clean those things up a little bit and then we should be good to go. Everything is good, the bike is good. I had one little crash there today just coming out of a corner and broke a shroud. Yesterday we had a brake pedal come off, but nothing major and other than that everything with the bike has been really good this week."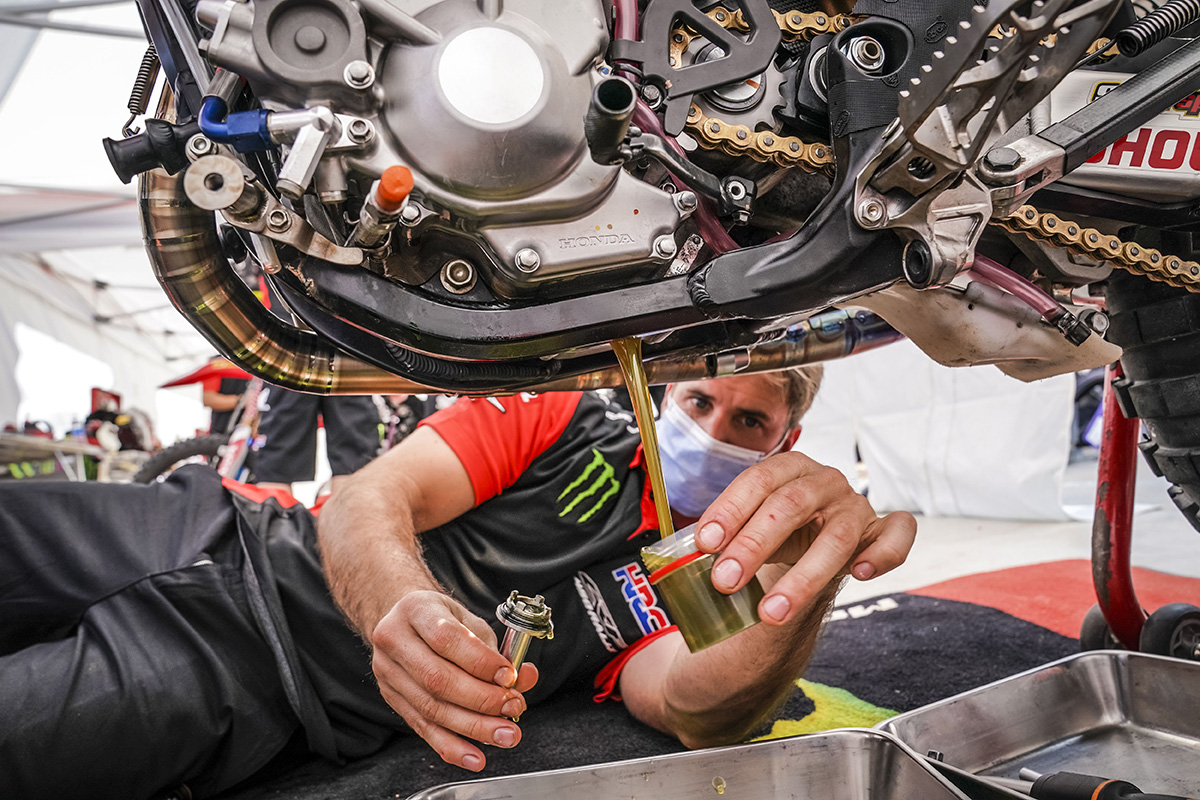 2. Kevin Benavides (Honda), +2m16s
Week 1 highlights: His stage five win despite heavy a crash was a performance fit for a champ and showed he wants this. Kevin is a contender for the win.
"I have finished this first week very happy, with some very solid stages and second place overall. Now I will have to make the most of tomorrow to recover from all the blows from yesterday's crash. I'm happy to have been able to get here and I'm focused on the second part of the Dakar."
3. Jose Ignacio Cornejo (Honda), +2m57s
Week 1 highlights: Nacho's week got stronger as it progressed and he is surprising many with his performance. P2 behind his teammate on stage five was his best result.
"We started the rally maybe in not the best way. On day one and day two I made some dumb, very stupid mistakes and I knew I could do better. On day two, even with that mistake I did well. After that, I had the speed, I was focused already and I started to do some solid stages.
"I think we've finished a pretty solid first week. We're right there in the battle for top spot in the general standings, so I'm very happy with the rally until now.
"Now, it's a good time to rest and to start to think about next week. My worst moment for sure was stage one – my suspension set-up wasn't very good for the conditions here and I made some mistakes because I wanted to go fast, but it was very tricky navigation so I made a lot of little mistakes that cost me a lot of time."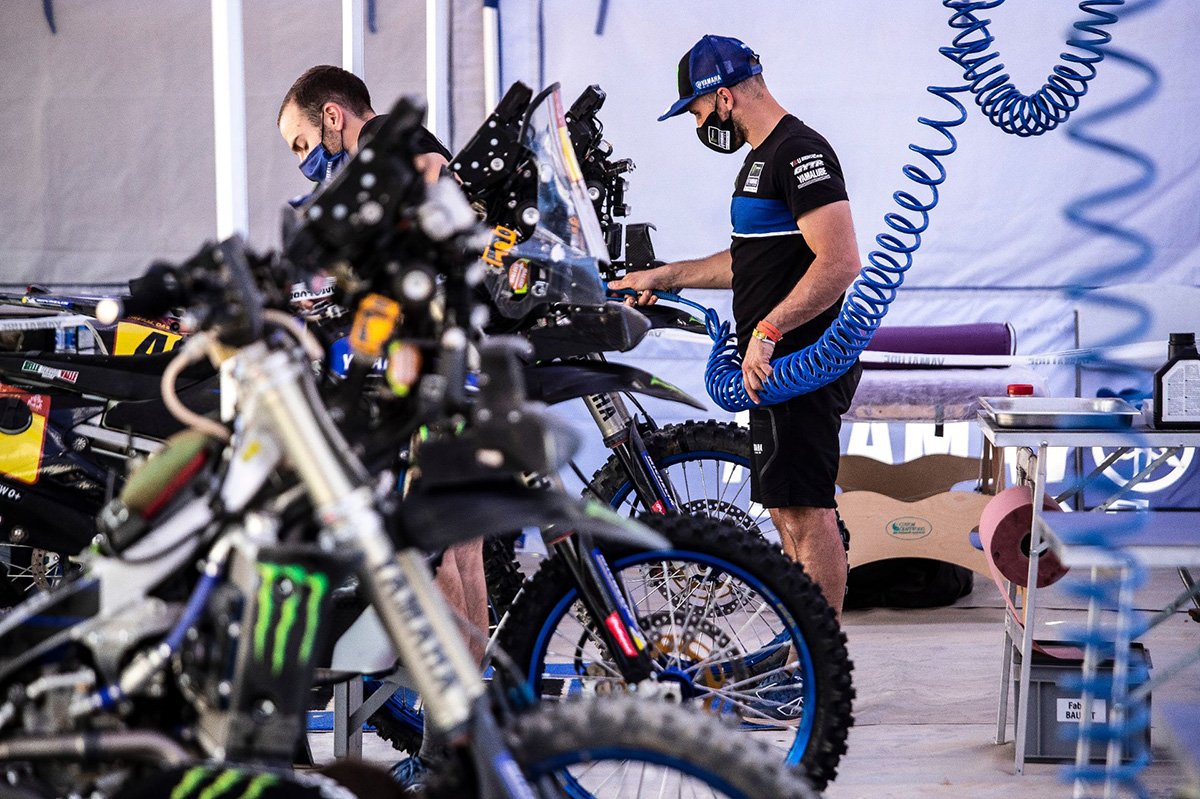 4. Ross Branch (Yamaha), +3m41s
Week 1 highlights: 13 seconds away from winning stage six left the Botswanian rider fourth overall and the best placed of the factory Yamaha riders.
"So close to the win [on stage six] but I'm really happy anyway. I'm now looking forward to the rest day tomorrow and looking forward to charging the batteries before we head into a close week two. I'm excited for another week of racing. We'll keep pushing!"
5. Xavier de Soultrait (Husqvarna), +3m41s
Week 1 highlights: A very consistent first week saw the Frenchman top the overall standings after stage four.
"I arrive safe, happy and with only 3'41 to the leader in the overall standing to the rest day.
"What a crazy first week of the race for me. After the year passed, with a lot of changes for me, I'm very happy about my rally start. We are 10 riders separated by only minutes, so I will change nothing to continue enjoying my rally life!"
6. Sam Sunderland (KTM), +4m23s
Week 1 highlights: No major highlights in week one for Sam is no bad thing, the former Dakar winner is keeping his nose clean and climbing the order.
"I've been concentrating on my road book and trying to ensure a safe finish before rest day. This first week has been good, I've been able to avoid the big yo-yo effect of leading out and then playing catch up by just staying consistent every day.
"It seems to have paid off too, because I'm in a good position overall and feel strong for next week."
7. Joan Barreda (Honda), +6m25s
Week 1 highlights: Three stage wins should be enough for the HRC rider!
"It was such a difficult few days with lots of navigation. With already a lot of years' experience on the rally, I've seen a fair bit of navigation before, but this is completely different to what I know. Now we have a better feeling with it and I will try to do better for the next week.
"Yesterday and before yesterday, we had to use one tyre for the second day, worn almost half way down but it was good. Now we still have three more tyres we can use for next week.
"I'm happy and I'm really proud of how this week went. It has been a strategic race for the first week, and I haven't had the best way. Sometimes it's difficult because you are in one position and you can't do so much, but it's like this. We still have a lot of kilometres left in front of us. We'll try to keep safe next week and do a good job."
8. Lorenzo Santolino (Sherco), +13m46s
Week 1 highlights: P4 on stage five saw the Spaniard well inside the top 10 overall and heading for Sherco's best Dakar result.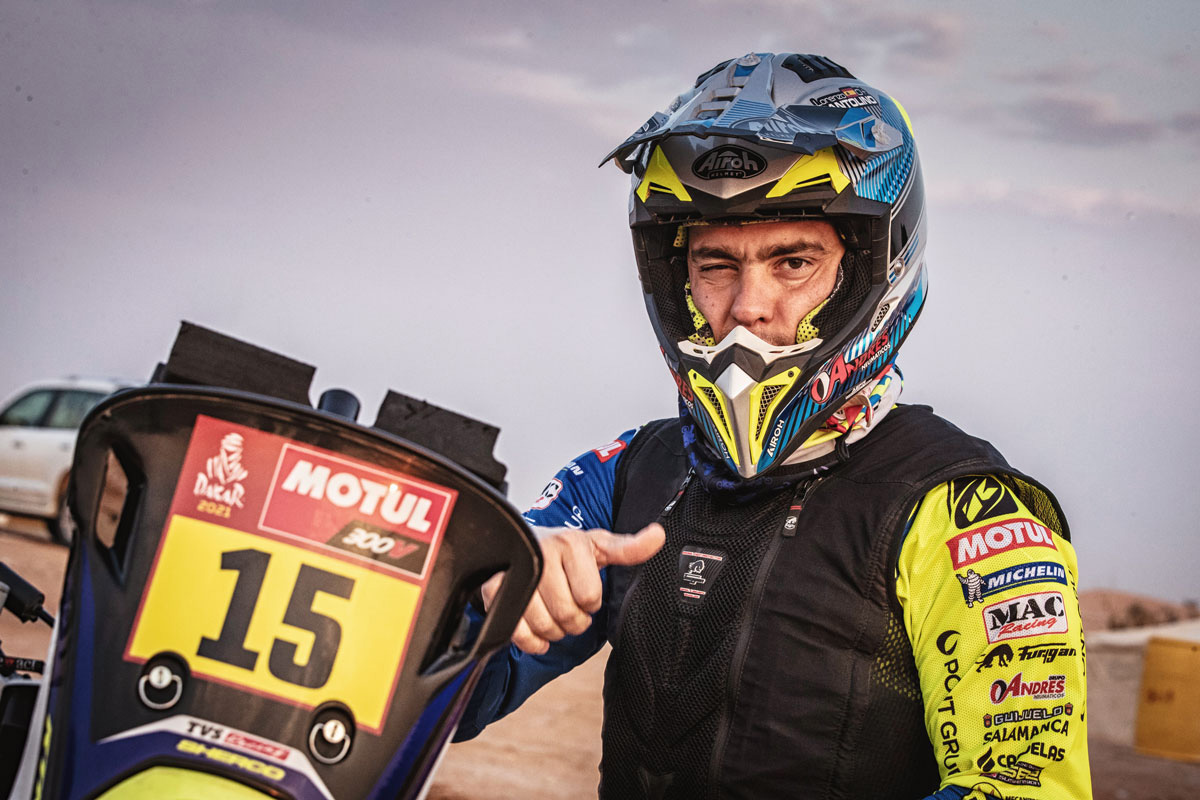 "We have already done the sixth stage and we're at the rest day, which everyone was looking forward to, or at least I was! I'm really happy about how the rally is unfolding until now, I'm achieving my goals. I'm making it to the finish each day and having a great feeling with the bike.
"I made some little mistakes but I could get over them easily. Now it's time to recover some energy and for the mechanics to take good care of the bike.
At the moment I'm ninth in the overall, 13 minutes down on the leader. Everything is so close so I'm looking forward to rest and then give it the beans on the second week."
9. Skyler Howes (KTM), +15m12s
Week 1 highlights: Leading the rally overall on stage three was a remarkable achievement.
"Was kicking myself for the rest of the day [after hitting a speeding penalty on the last day before rest day] and will have to be on my A-game for the week to come to stay in the top 10. Everyone is bringing the heat, excited to have made it to rest day to get organized for another week of racing."
10. Pablo Quintanilla (Husqvarna), +15m13s
Week 1 highlights: P3 on stage two was the Chilean's best day in what has been a quiet week.
"I'm pleased with how I've ridden and happy that we have the rest day now. The first week has been good, thankfully it has gone without any problems – I feel good and have not had any big crashes. We still have six days to go, so there is a lot of riding left to do."
Notable exceptions
We couldn't leave a couple of notable exceptions out of this list (btw, we could have included another 20 riders). Unbelievably the 2020 Dakar winner Ricky Brabec is outside the top 10 so here's what he has to say and we've also checked in on Dakar rookie, David Knight…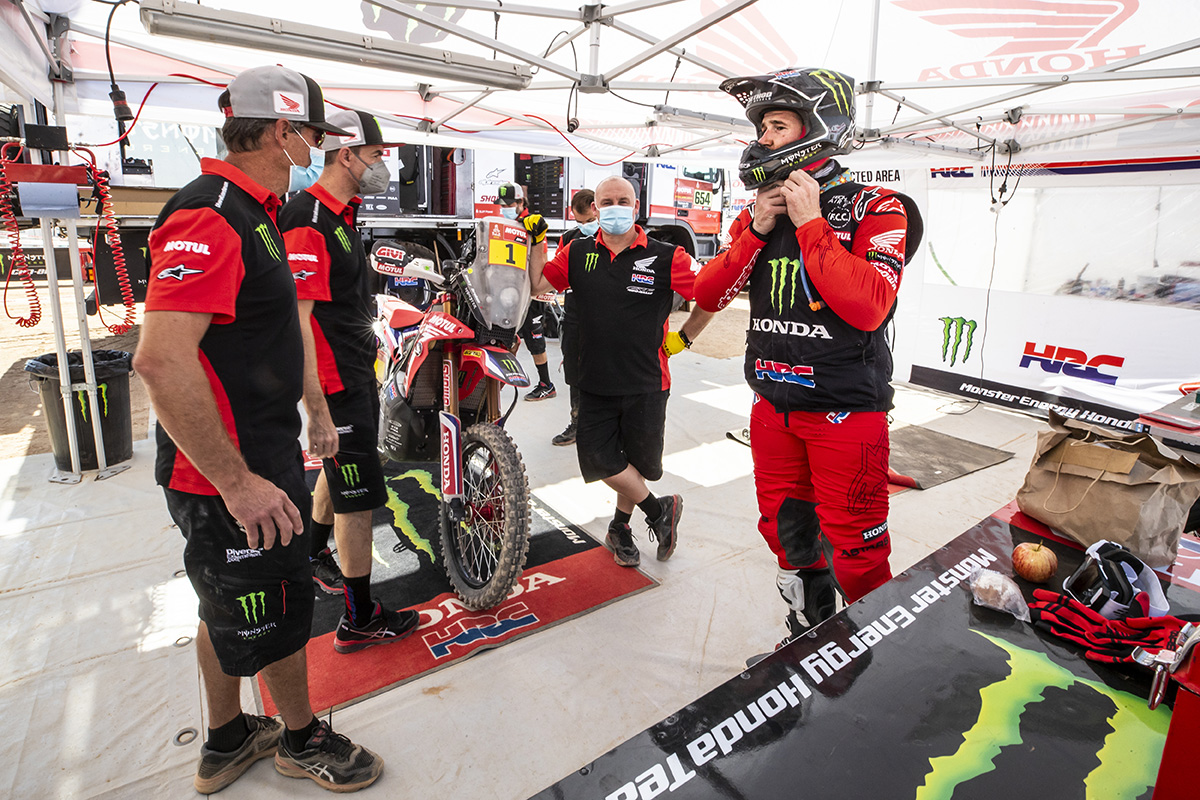 13. Ricky Brabec (Honda), +19m56s
Week 1 highlights: Prologue win and P2 on stage two were a strong start.
"We made it to rest day, that was goal number one. Goal number two would be make it to the finish-line. I'm really happy to make it here, but I'm not ready for a day off. It's mandatory so I'm going to take tomorrow off and take some rest, then attack six more days along the Red Sea.
"There's still six days to go but it's going to be really hard. The group is spread far apart so it's really hard to manage. I don't think that anyone has an idea how to manage this thing yet. Things are changing every day, but we can only hope that things turn around. We can't say much, but we have to just take it day by day."
36. David Knight (Husqvarna), +4h57m18s
Week 1 highlights: aiming for a top 30 stage result and getting closer to the fast boys' times.
"At the start of the week I think I was being way too cautious, not trusting myself and almost scared – it takes a while to get into how fast these boys are riding. Every day I've tried to not go flat-out from the start, bed myself in and find my rhythm. At times in the stages as well I've reigned myself in.
"Get to rest day was marker number one, so we've done that, now I'll get some rest, get a bit of physio and try and get ready for the marathon stage because that's next. I'm looking forward to sleeping in a tent in a sleeping bag – although I probably won't be enjoying it when I'm doing it!!"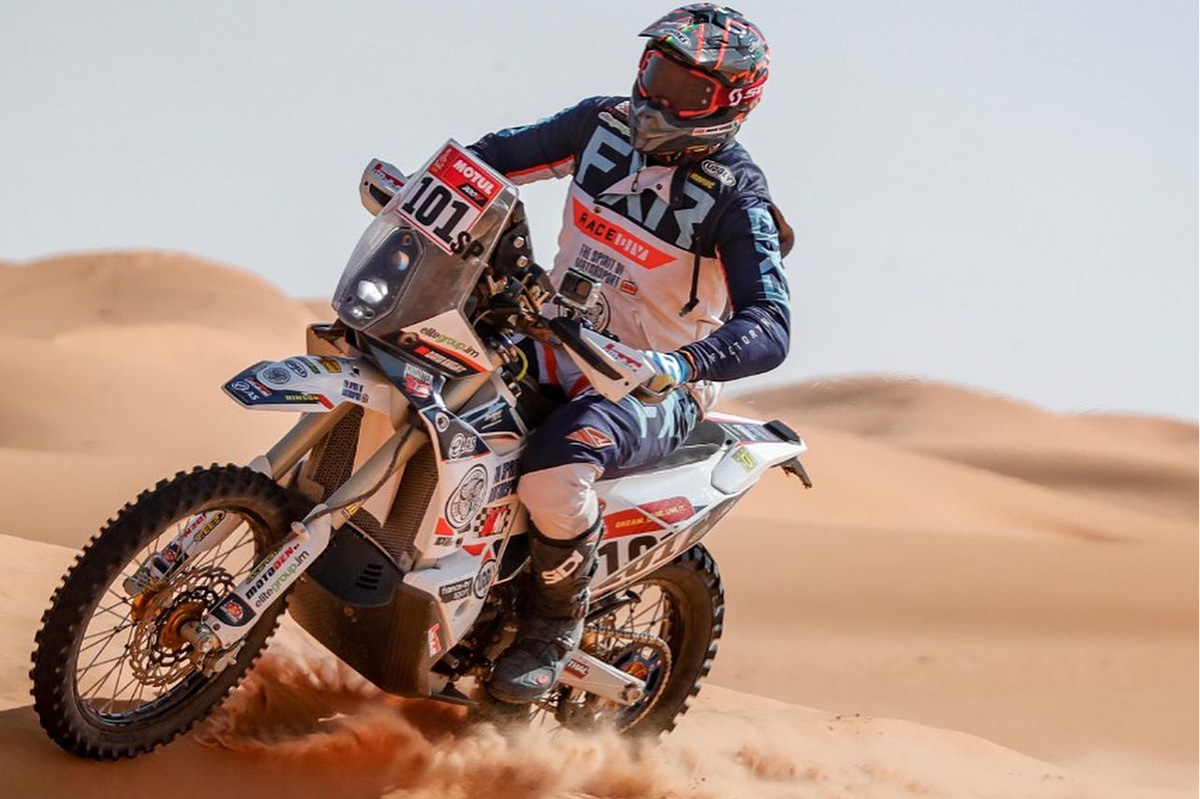 We need your support
If you've enjoyed this article, if you've found it informative, interesting, entertaining even, please support us.
We want to continue doing what we do, to the best of our ability, serving the enduro and off-road community.
Please consider a donation, every little helps…
Thank you.
Photo Credit: Marcelo Maragni | Red Bull + Rally Zone + Justin Coffey