AMA National Enduro: Grant and Stew take one-two at Cherokee NEPG Rnd 4
Grant Baylor took his first win of the NEPG season at the Cherokee National Enduro, round four of the 2022 Kenda AMA National Enduro Series in Greensboro, Georgia beating his brother Steward Baylor.
It's been a while since we've been able to say the Baylor brothers went one-two in any off-road race. But after six tests and 75 miles of racing, Grant Baylor put his REV Motorsports GASGAS 18 seconds ahead of brother Steward on the Am Pro Yamaha.
In all, Grant won three of the six tests, while Steward, FMF KTM's Josh Toth and Coastal Racing GASGAS' Ryder Lafferty, winner of the previous round in Missouri, split the remaining three test wins.
High temperatures and humidity made for a tough day as over 660 riders took to the dry and rooty course. Grant set the tone by winning the opening test of the day, but a mental lapse saw him start test two over 30 seconds late, which was a major unforced error.
"Going into the second test, I don't know what happened there," said Grant. "That's the first time I've ever missed a check going in. It's a really dumb mistake on my part. I just wasn't really paying attention to time and mileage. I missed the test going in by just over 30 seconds. I still had a really good run in the test and I only lost the test, I think, by 15 seconds or so."
Despite the mistake, Grant closed out the remaining four tests with two wins and two seconds to take the "W".
"In the later tests I was able to make up a little bit of time that I lost in the second test," added Grant. "After that, I knew I needed to just have a consistent day and ride it out; as long as I kept it on two wheels, I knew I could come out of here with a good result."
Feel the heat through the trees...
Stew is back (again)
Steward Baylor eased into the Cherokee race having broken his eye socket in the previous round and was unsure how he would hold up in the Georgia heat. Despite the recent injury, Steward came away with second overall.
"I came in kind of struggling," said Steward. "I felt pretty rough this week and was trying to get back into the swing of things, but with the summer heat, it was pretty brutal trying to get back into it. I wasn't able to ride as aggressively as I would like to.
"I felt like I was going to struggle a little bit, but as the day went on, I started getting more consistent and just had a couple tests where I should have done a little bit more. And made a few, not necessarily mistakes, but just had some sections where I was kind of riding a little bit too conservative. It was definitely brutal out here, but I'm glad to put this one behind us and focusing back in on the points."
Third for Toth
Josh Toth was also nursing a recent injury, having suffered a groin injury the previous week at a GNCC. Despite being a bit tender, Toth won test four and was pleased to land on the podium in third.
"The first test I just started off slow and thought I was riding okay, but too timid," said Toth. "I messed up my groin and hip last week, so I haven't really ridden and I was timid the first test. So, [I'm] pretty stoked on just getting on the podium, actually.
"I struggled gripping the bike in the last test. I was just sitting down and I using all arms. I just couldn't squeeze the bike like I should be able to. Overall, just stoked to survive it and get through, honestly."
2022 Cherokee National Enduro results: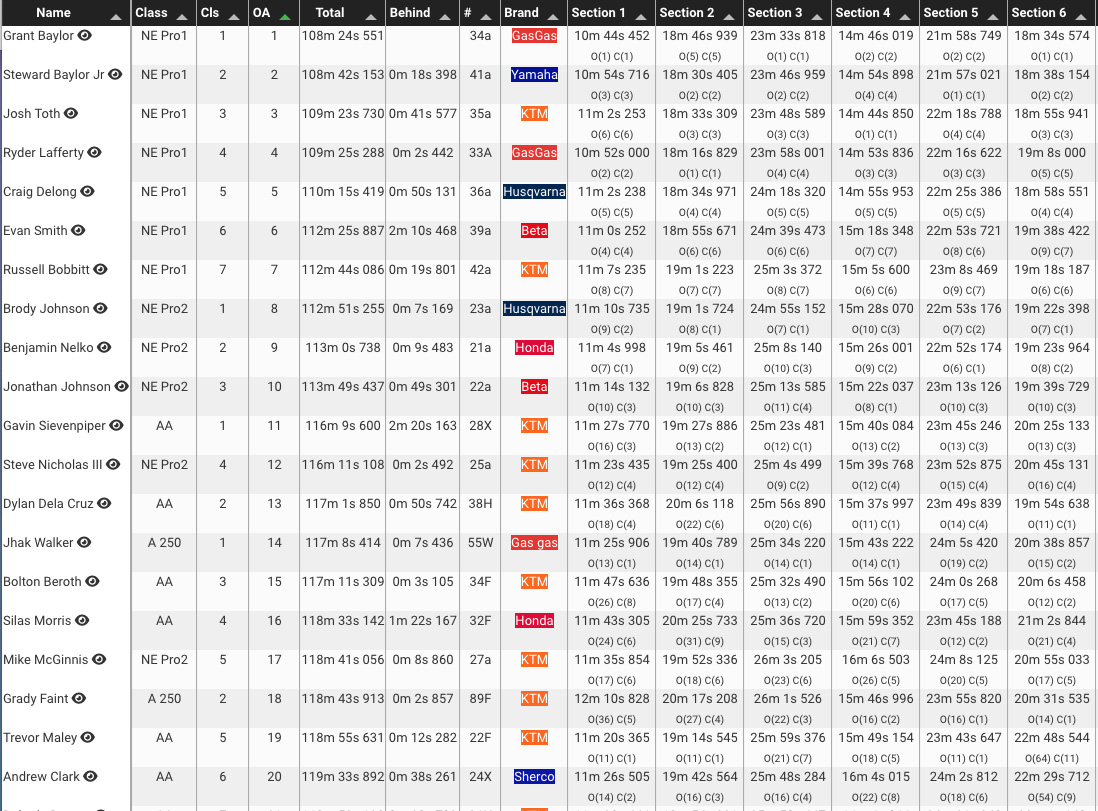 (Full results: www.livelaps.com)
Championship points close up
With the win, Grant Baylor moves to within one point of series point leader Lafferty (94-93) with six rounds remaining in the series while Toth is third in the standings with 75 points.
Lafferty was understandably not nearly as happy with fourth this weekend since he came into the Cherokee with a lot of momentum after winning the Lead Belt a month earlier. Like Grant, Lafferty also entered a test late and suffered the consequences.
"Just a tough day," Lafferty expplained. "I was late to a bunch of check-ins, and it cost me a bunch of time. Other than that, I rode good, but just kind of bummed. I wasn't the only one. A lot of people were doing it, but it bit me."
Rockstar Energy Husqvarna's Craig DeLong rode a consistent race to finish fifth overall, scoring two fourth's and four fifth-place finishes in the six tests.
"It was good, but mediocre," said DeLong. "I was kind of in the mix there the first two tests, but I really struggled in the third test with some lappers and dust. These last two or three tests I kind of felt like I was riding good again and I was kind of pretty close to Toth."
Sixth was Beta USA's Evan Smith, who was racing a two-stroke for the first time."I had a good day kind of learning some of the groove of the two-stroke," said Smith. "I kept it off the ground and away from the trees for most of it until the last test. I had a fall there, but all in all, it was a good day."
Five-time National Enduro Champion Russell Bobbitt, who lives just an hour away from the Cherokee course, came out of retirement to finish seventh.
First Pro 2 win for Johnson
Magna1 Motorsports Husqvarna's Brody Johnson put an end to Ben Nelko's three-race win streak in the NE Pro 2 division. Johnson beat the Steel City Men's Clinic Honda rider by nine seconds for eight overall and his first win.
"Me and Nelko were close all day there," said Johnson. "We weren't more than ten, twelve seconds apart all day and I think I ended up winning by less than a second, or close to a second. It really come down to the last test."
Nelko came into the event a bit under the weather, but still managed nineth overall and second NE Pro 2 rider.
"About three weeks ago, I got blood work done and I was diagnosed with Epstein-Barr again," said Nelko. "So, it's just harder to push through it. I'm just happy to be able to finish the race today on the podium."
Beta USA's Jonathan Johnson rounded out the top 10 overall and was third in the NE Pro 2 class.
Kenzie Tricker takes Women's Elite win
Enduro Engineering/Fly Racing KTM's Mackenzie Tricker won all five tests to win the Women's Elite class by over two minutes ahead of Rachel Gutish and Brooke Cosner third.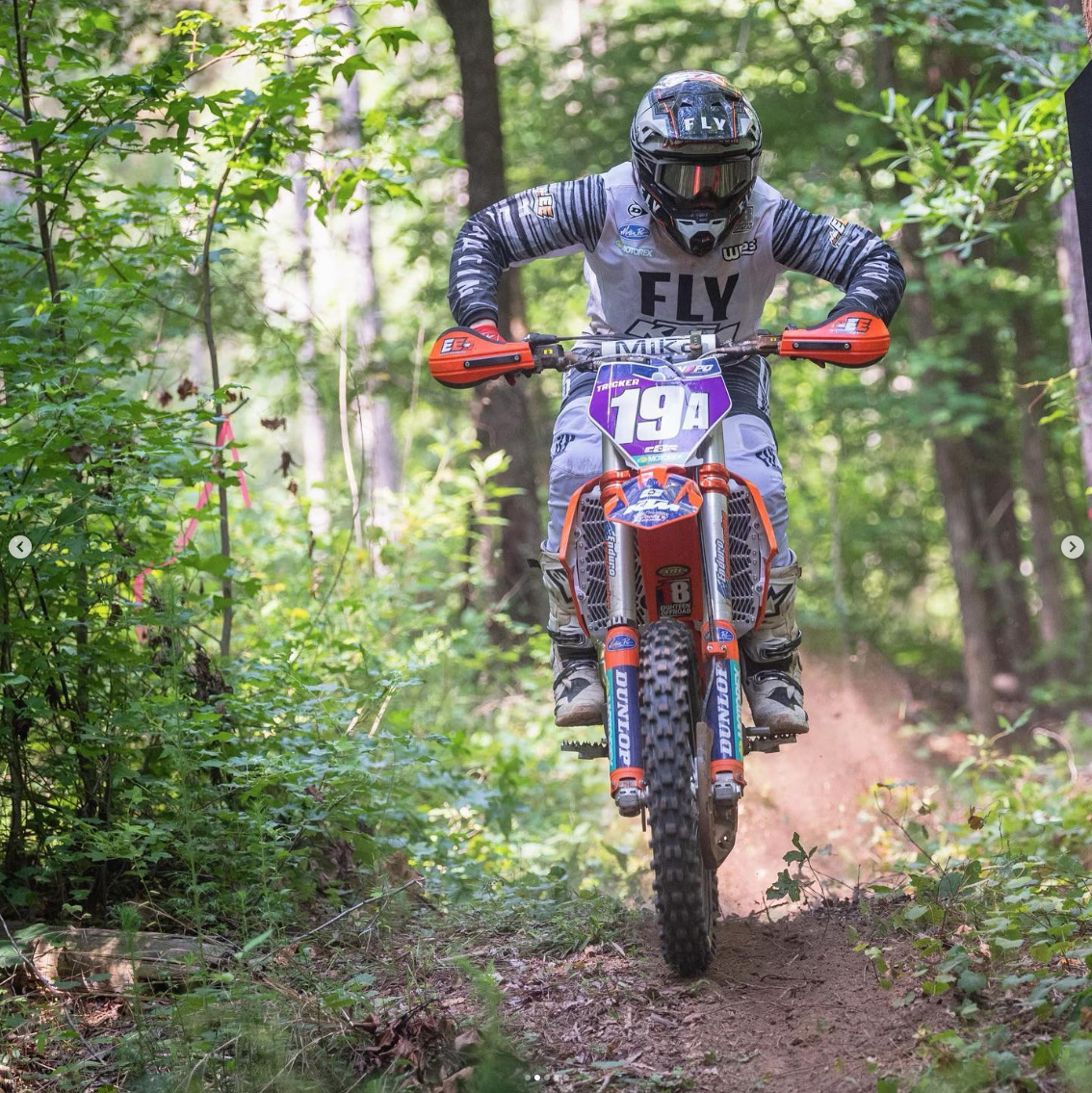 "Obviously it was super-hot today and dry, but I was able to sweep all five tests," said Tricker. "I started off a bit slow, but came away with the win and made up some championship points."
The AA class was won by Gavin Sievenpiper (KTM), with Tely Energy KTM's Dylan Dela Cruz in second and Bolton Beroth in third.
Jhak Walker was top 250A rider on a GASGAS, while Grady Faint and fellow KTM rider Zach Toth were second and third.
The Kenda AMA National Enduro Series resumes on July 24 for the Rattlesnake National Enduro, round five of the series in Cross Fork, Pennsylvania.
More information: www.nationalenduro.com
Words and Photo Credit: Shan Moore