AMA National Enduro: Steward Baylor back on top at the Rattlesnake, NEPG Rnd 5
Steward Baylor finally got back to winning ways in the 2022 AMA National Enduro Series with victory at the Rattlesnake NEPG round five in Cross Fork, Pennsylvania ahead of points leader Ryder Lafferty.
If it feels like a long time coming for us, it must feel like an absolute age for Steward Baylor but he finally put his AmPro Yamaha back on top of the box last weekend and the Rattlesnake Enduro.
Taking his first win since opening the 2022 series with a victory at round one in Sumter, South Carolina, Steward topped series point leader Ryder Lafferty by seven seconds to take home his first trophy since breaking his neck (and face) in seperate racing incidents earlier in the summer.
The South Carolina rider only won two of the six tests last weekend at the Rattlesnake, but his performance in the rocky fifth test made the difference and allowed him to surpass Coastal Racing GASGAS' Lafferty with one test remaining.
"We were all really close all day, but that fifth test always stands out for me here," said Steward. "It's just one of those tests and it kind of played into my favor. I knew that test was coming and I just made sure I rode really good. I actually pushed the front end and lost ten or twelve seconds, and still I think I put more than 30 seconds on the rest of the guys in that one. That was just the advantage we needed."
Steward's speed through the trees
Lafferty runs it close
Ryder Lafferty rode a solid and consistent race day, except for the fifth test, where he actually went down and lost time. "The only one I didn't feel myself in was the fifth test," said Lafferty. "I had a crash in that one, but still was pretty good. It was just that Stew crushed it."
Lafferty had three wins on the day and he still had a chance to move back into the lead with a good ride in the sixth and final test, which he won by five seconds over Steward, but it was not enough.
"I won that last test, so it was a good day," adds Ryder. "I just felt solid. I wanted some redemption after the fifth test, so it was good."
Lafferty's Coastal Racing GASGAS teammate Ricky Russell turned in his best performance of the series with a third.
"I felt like I made so many mistakes in the first test, but when I came in I saw that I finished second and I was one second from winning it, so I was like, 'oh, everyone is struggling too'," said Russell. "After that, I just kept my head down. In the third test, I think I was fourth, and then I just got consistent thirds the rest of the day."
It was another GASGAS in fourth as Grant Baylor finished just off the podium on the REV Motorsports machine, despite two big crashes. "It was kind of a treacherous track, to say the least." said Grant. "The second test I went down and I thought I broke my hand. It started to swell up and it was throbbing and had some sharp pains. It felt like it was broken. But then the next test I got going and it got loosened back up. I think I just bruised it real bad or something. Then another big wreck in the fourth test. I just need to keep it on two wheels and I think we could have had a better result."
Rockstar Energy Husqvarna's Craig Delong won the first grass track test but lost out in the rest to finish seven seconds behind Grant in fifth. FMF/KTM's Josh Toth was still recovering from a bought of Covid and says he didn't have the energy to finish higher than sixth.
Beta USA's Evan Smith finished seventh in five of the six tests and finished seventh overall. It was the Beta USA rider's first time to race a two-stroke in the rocks.
2022 Rattlesnake National Enduro results (top 20):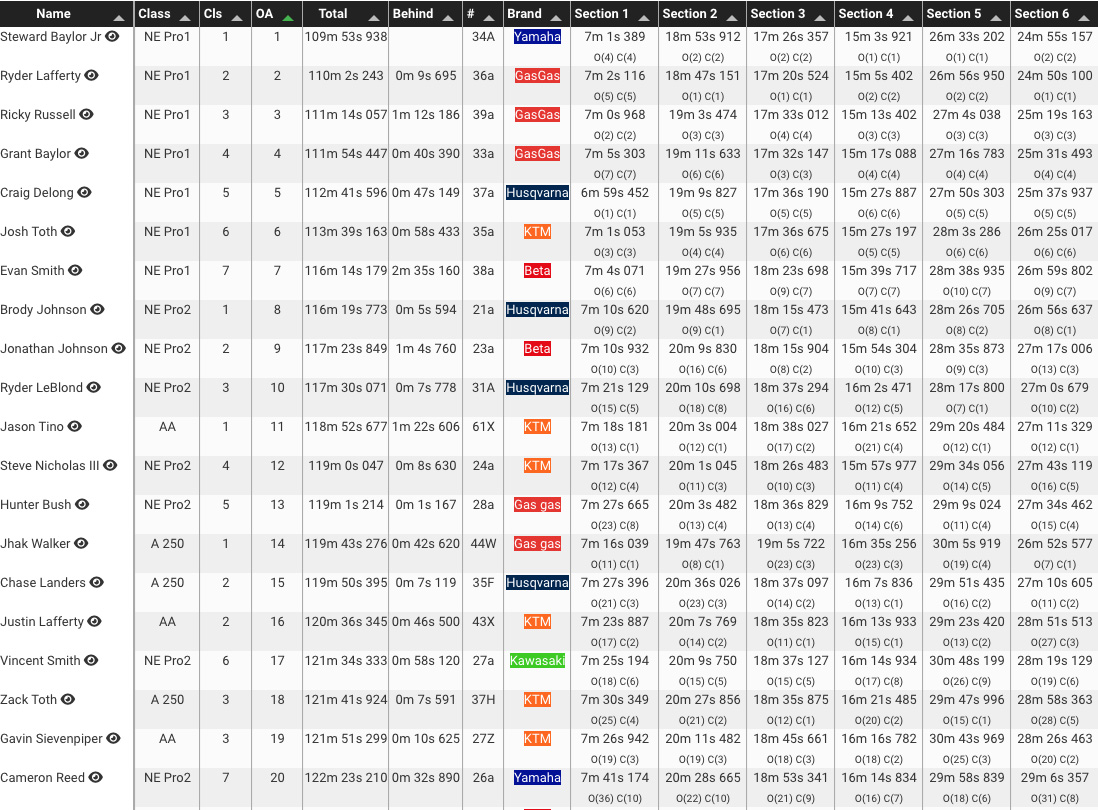 NE Pro class win for Johnson
Magna1 Motorsports Husqvarna's Brody Johnson won the NE Pro 2 class with an eighth overall finish. The win was Johnson's second in a row.
"Today was actually the first time I started on the front row, since I won the last race," said Brody. "So, that was a little different. I had them chasing me all day. I don't think I fell over or anything all day. Just a nice, smooth day."
Brody's brother, Jonathan Johnson, was just over a minute behind in ninth overall and second in the NE Pro 2 class. Hard Enduro ace Ryder Leblond rounded out the top 10 overall for third place in the NE Pro 2 division.
Tricker tops Women's Elite Class
Enduro Engineering/Fly Racing KTM's Mackenzie Tricker topped AmPro Yamaha's Rachel Archer to win the Women's Elite class. The two riders went back and first for most the first race with Tricker eventually winning out, Archer finishing second with Bonanza Plumbing GASGAS' Rachel Gutish third.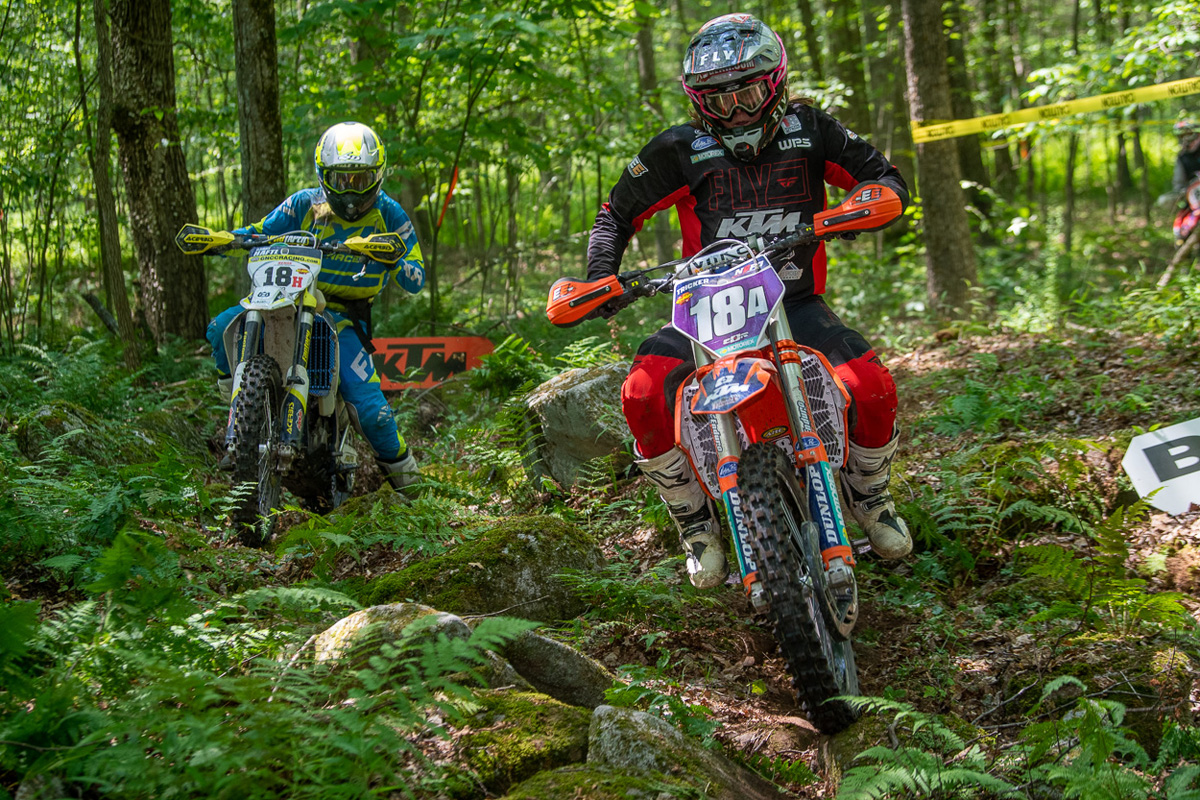 "In test four, I went down twice, but only lost the test by four seconds," said Tricker. "Then we went into the last test up five seconds on Rachel, so I knew it was going to be close. It was super rocky and we went into that first rock garden and there were some lappers stuck in there already from the row ahead. It was a super demanding test, honestly. I didn't crash or anything, but I was smoked by the end of it. I don't normally do great in rocks, so really to be honest, this is a great day for me."
Jason Tino beat out fellow KTM rider Justin Lafferty to win the AA class, with Gavin Sievenpiper (KTM) finishing third. Jhak Walker (GG) took the win the 250A class ahead of Chase Landers (Hsq) with Zack Toth (KTM) finishing third. Tom Truxell (Hon) beat Josh Cetto (Hon) and Brian Maco (Shr) to win the 30A division.
The AMA National Enduro Series resumes on August 21 for the Grassman National Enduro, round six of the series in Chandlersville, Ohio.
More information: www.nationalenduro.com
Words and Photo Credit: Shan Moore