Rattlesnake National Enduro: Win and points lead for Grant Baylor
FactoryONE Sherco's Grant Baylor came from behind to secure victory at the 2020 Rattlesnake National Enduro, taking the win away from Josh Toth in a dramatic final test.
Round three of the 2020 Kenda AMA National Enduro Series initially saw the privately entered Steward Baylor, returning to action after departing the Sherco team earlier in 2020, take the lead before FMF/KTM's Josh Toth took command in the Pennsylvanian woods at Cross Fork.
Across six tests overall which mixed grass with tighter woods riding at the Rattlesnake, the final two tests proved decisive as Grant Baylor staged his comeback. After switching a rear tyre, Grant set about reducing a 26 seconds gap to enter the final test more or less tied on time with round two winner, Toth. Test six saw Baylor keep on the gas while Toth crashed, allowing Baylor to take the win by just over five seconds.
"I didn't start out the best," said Baylor. "In the first test I think I was five seconds off the pace and it was mostly grass track. I just had arm pump a little bit and wasn't riding like myself. After that, I went onto test two and three and just was off the pace a little bit.
"But I made a couple little changes to the bike, some suspension changes and put a different compound tyre on the back. My tests picked up about thirty seconds per test so, I went from losing by about fifteen seconds to winning by fifteen seconds."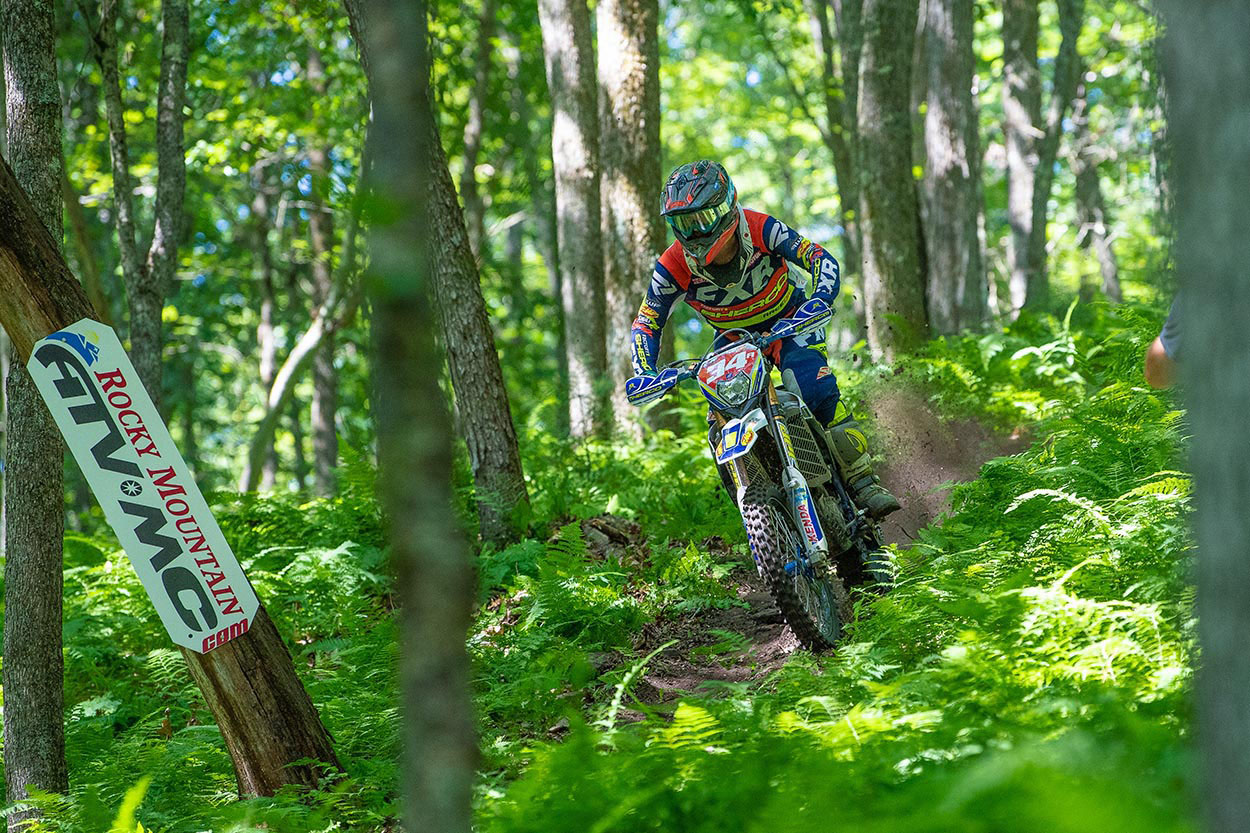 "In test five I had a really good run," added Baylor. "Toth had me by 26 seconds going into test five. I brought it down to just half a second going into the last test. So I had the pressure on him going into that last test. I actually ended up falling over in that last test and making a few mistakes. I wasn't sure if I was going to get him, but it was just enough to get the job done." Happy with the win, Baylor now leads the NEPG points for the first time in his career.
Last test crash costs Toth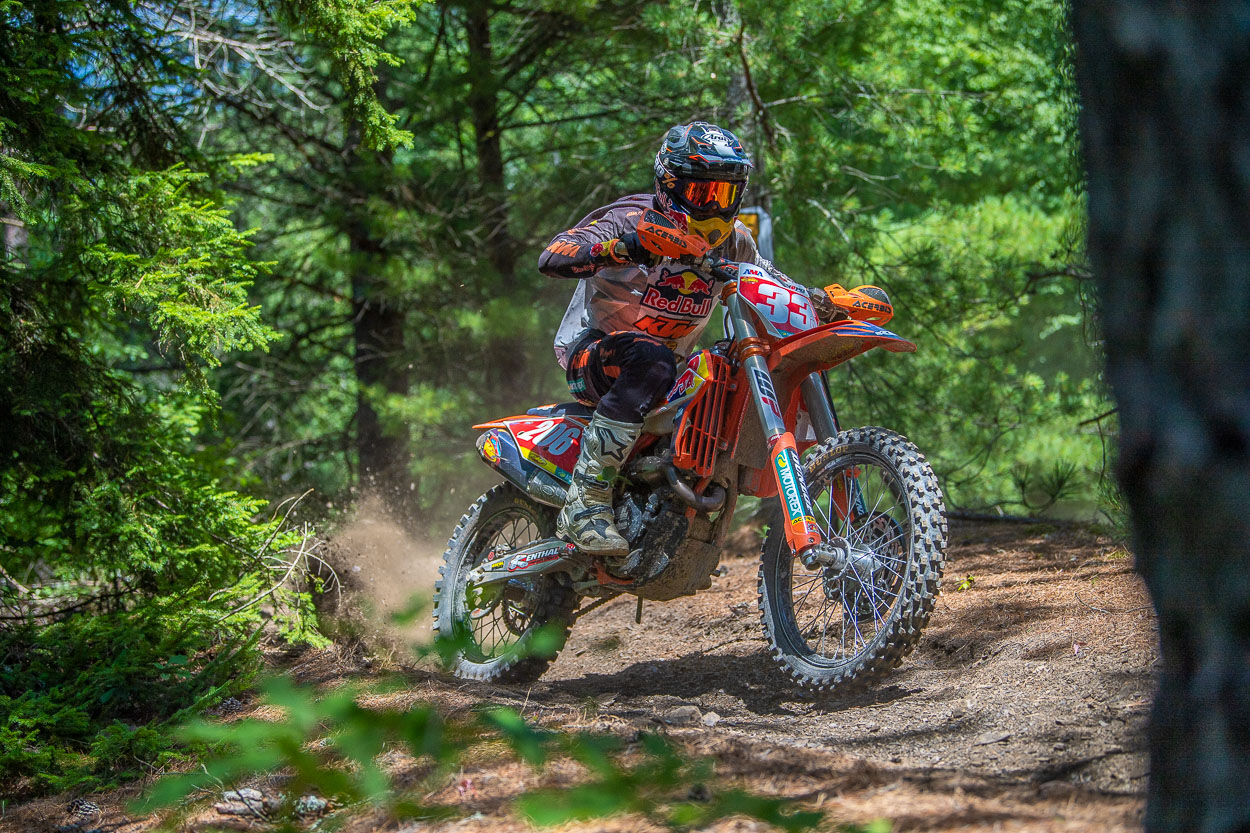 The Rattlesnake Enduro marked the second race in a row where Josh Toth lost the lead in the final moments of the race – surely a pattern he's not keen to establish. "I started off just really consistent, staying top three in each test," said Toth. "But it was a really tricky track to find traction.
"Overall it was super tight racing between a handful of us. It came down to the last test between me and Grant. I felt like I rode really good, but I ended up having one crash at the end and probably would have been enough or really close. Either way, I put it all out there on the last test and Grant was laying it down too, so props to him."
Andrew DeLong, who won the 2014 AMA National Enduro Championship, put his Phoenix Honda Racing in third overall, which was amazing, having not raced an enduro in over a year. "The first test I had a good test going and I stalled it. I probably lost five or ten seconds there," said Andrew. "I probably would have won that test. Then the second test I was all over the place. I don't know what I was doing!
"I think I won three or four, one of them was test two, by a pretty good amount. I felt really good. I changed tires and the rest of the tests were pretty good. Six was a struggle, but overall it was a good day. I wish I would have put it more together for the win, but I fell apart at the end."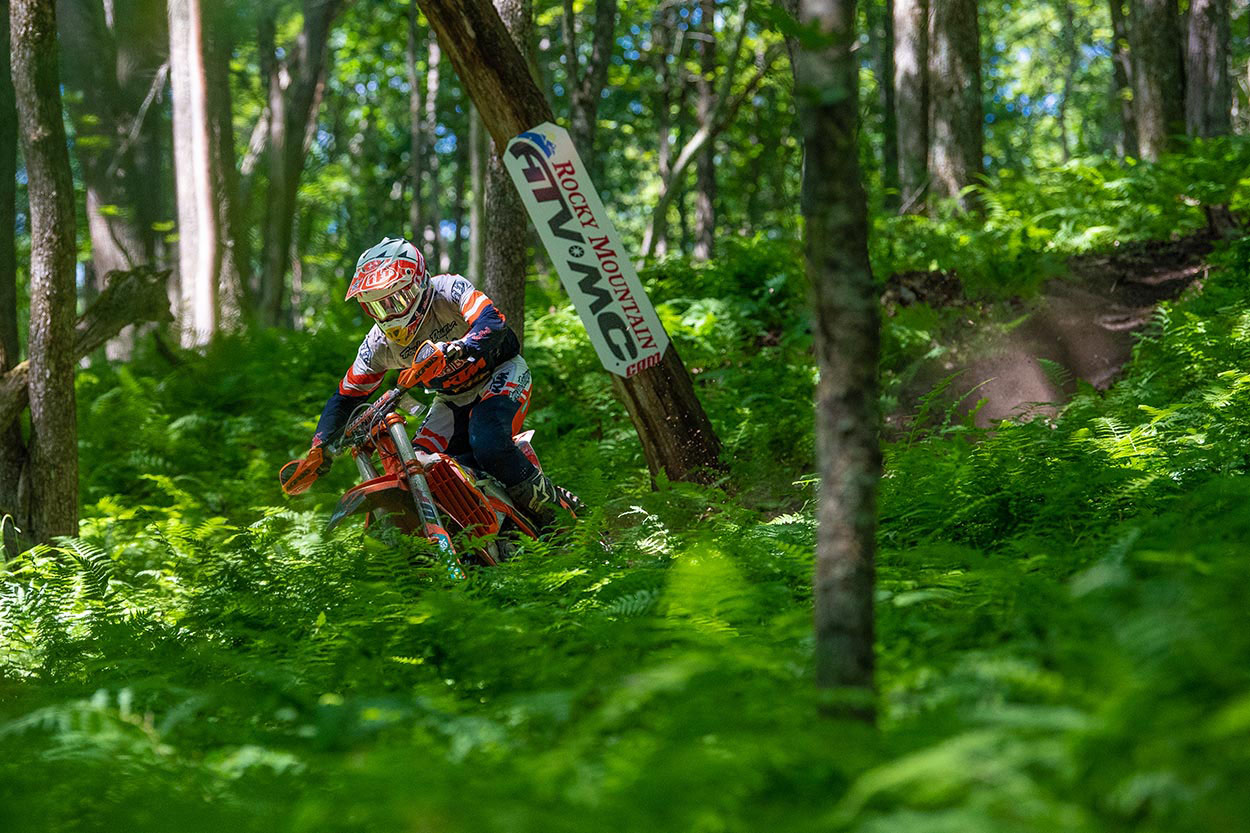 FMF/KTM Factory Racing's Ben Kelley managed fourth-place, despite a stomach bug and even managed to lead at one point. "Test one and two were good and I was leading the day and then just kind of fell apart in test three," said Kelley. "I had three crashes, just stupid things. That took some time out of my lead. Then again in test four. I felt pretty good but had a crash. The rest of the day I just kind of rode it in. I haven't been able to eat or drink since Monday. So, I just had no energy at the end of the day."
After parting ways a few months ago with Sherco, Steward Baylor, rounded out the top five on a privateer Husqvarna. Steward is reportedly testing different bikes in order to make a decision on a team for next year, when he plans on making a comeback. The South Carolina rider won the opening test of the day, but having been off the bike a few months showed in the end.
XC Gear/Enduro/Engineering/Husqvarna's Ryder Lafferty had high expectations coming into the race, but left Cross Fork disappointed with sixth-place. Beta USA's Thorn Devlin was seventh overall after struggling at the start of the day.
Rattlesnake Enduro overall top 15: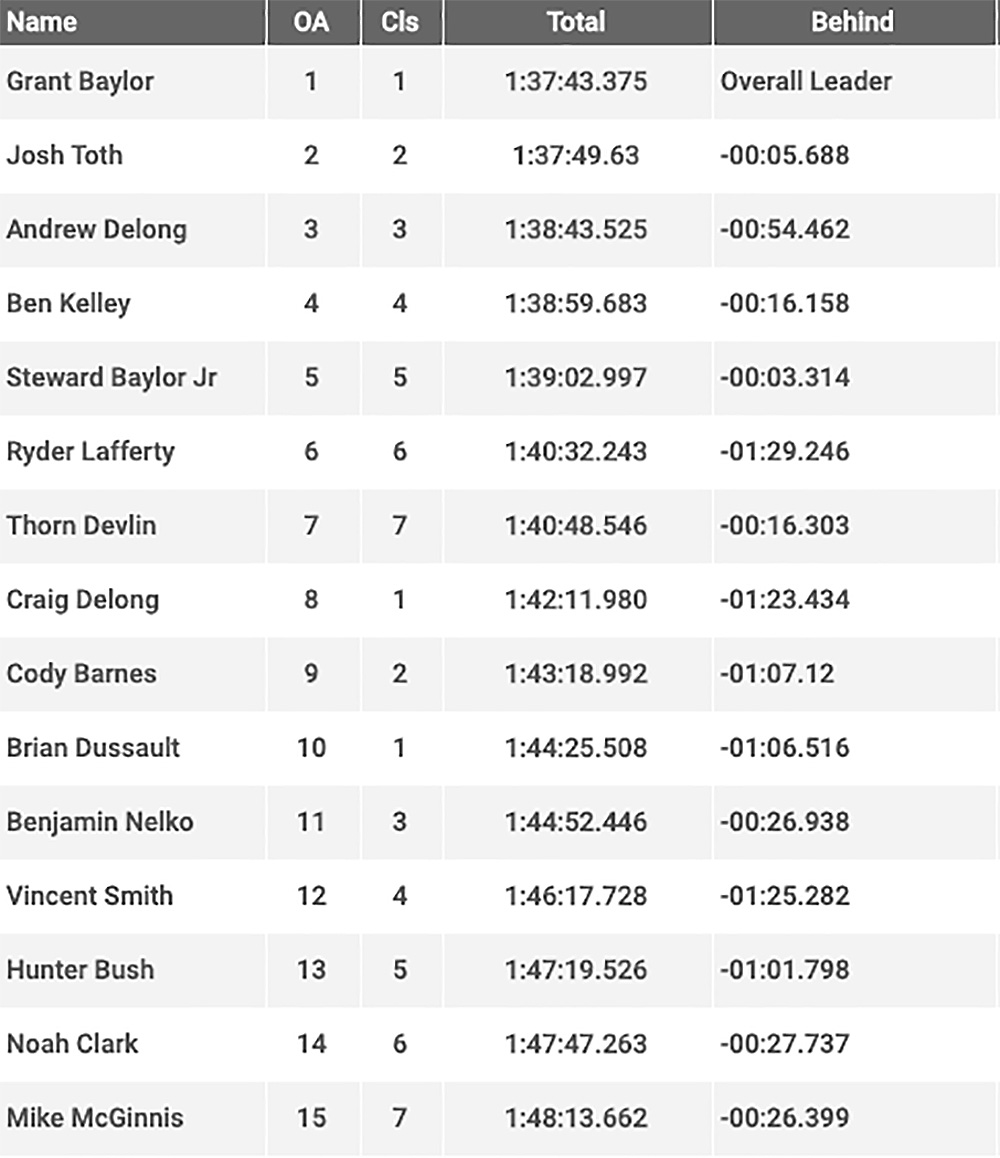 Craig DeLong tops Pro 2 class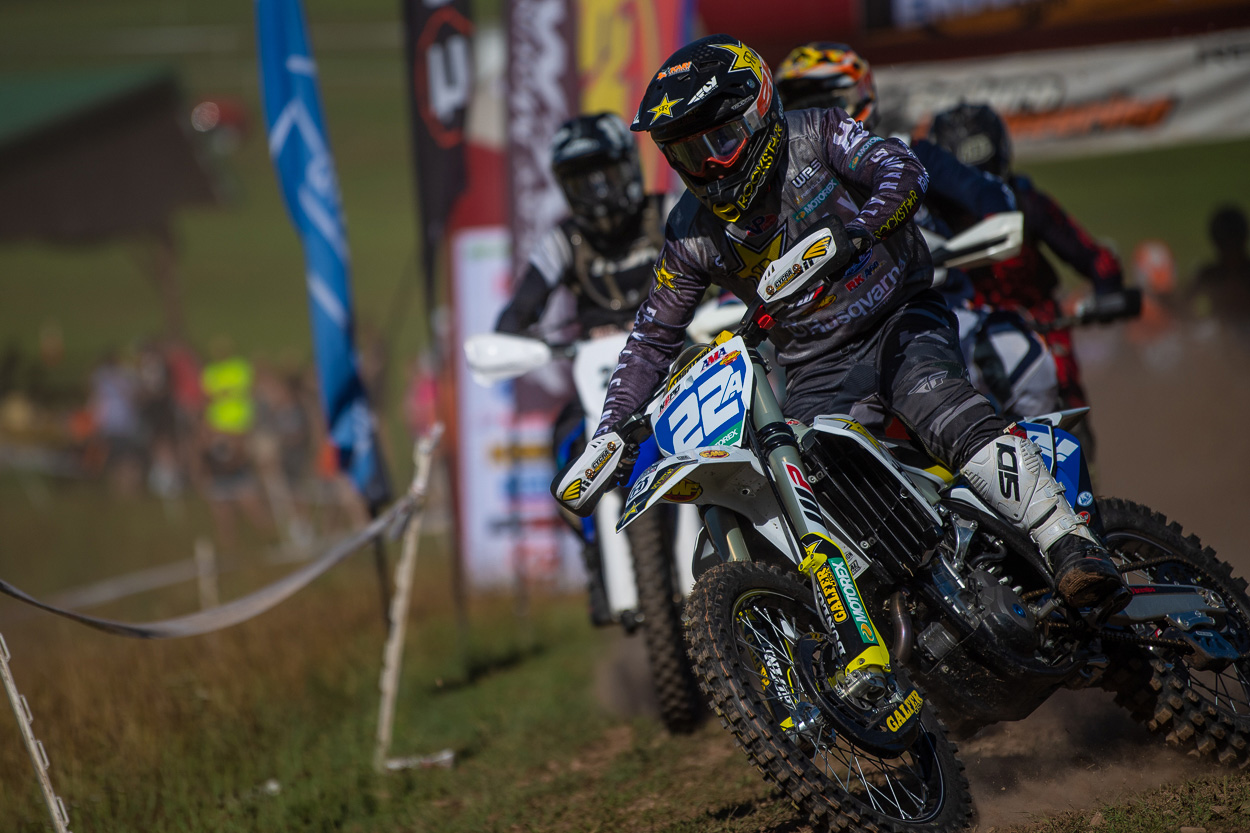 First in the Pro 2 class and eighth overall was Rockstar Energy Husqvarna's Craig DeLong continuing his rich vein of form this season. "I think the row that I had kind of hurt me a little bit for the overall because we were breaking trails later in the day," said Craig. "But that's just part of it. I was competitive and pretty solid all day long which was good. That's what I needed to do. I'm happy to get a win and gain some points."
Beta USA's Cody Barnes was ninth overall and second in the Pro2 division ahead of Brian Dussault who rounded out the top 10 on a Beta, topping the AA class, while Ben Nelko was 11th overall and third in the Pro2 class on a 760 Racing Husqvarna.
Tricker on the money two minutes clear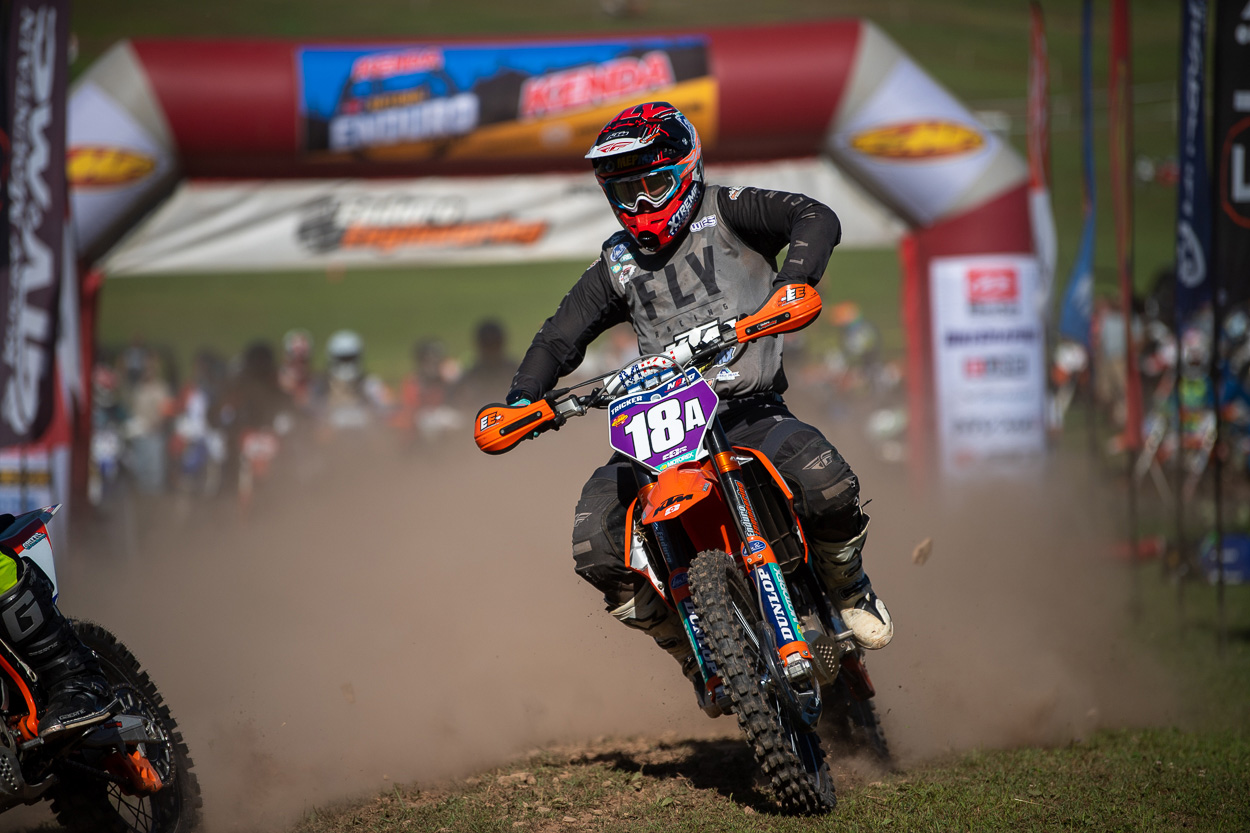 Enduro Engineering/Mepmx/Fly/Grizzly Peak/Traveler's Rest Speedway/KTM's Mackenzie Tricker won the Women's Elite class, ahead of FactoryONE Sherco's Brooke Cosner. "Today went pretty good," said Tricker. "I think I might have won all of the tests. I just tried to keep it off the ground and just be consistent."
Tricker did, indeed, win all of the tests, while Cosner rode a consistent race, take seconds and thirds all day. "Today was mistake city," said Cosner. "I couldn't stay off the ground today, but I managed a second which was good. I had a good day."
Shyann Phelps deserves a shout out after grabbing her first podium with a third-place finish, while FMF/KTM's Brandy Richards was fourth in class.
Eric Douglass won the Open A division on a KTM, topping second-place finisher Zach Toth (Josh's younger brother), on a Husqvarna. Third in Open A was Cameron Harris on a Husqvarna.
The Kenda AMA National Enduro Series resumes on August 2, round four at the Little Racoon National Enduro in Wellston, Ohio. More information and full results: www.nationalenduro.com
Words and Photo Credit:
Shan Moore
This email address is being protected from spambots. You need JavaScript enabled to view it.