AMA National Enduro: Maiden win for Ryder Lafferty at Lead Belt
Ryder Lafferty claimed his first-ever career National Enduro victory by a razor-thin margin at the Lead Belt National Enduro as the Baylor brothers finish second and third for the closest finish in NEPG history.
Dry and dusty Park Hills, Missouri saw round six of the 2020 AMA National Enduro series and the closest 1-2-3 finish in AMA National Enduro history. After 47-miles of racing over six tests, XC Gear/ Enduro Engineering/Husqvarna's Ryder Lafferty edged FactoryONE Sherco's Grant Baylor by a mere 0.662-seconds, while four-time National Enduro Champion Steward Baylor rounded out the podium another 0.280 seconds behind. Lafferty's 0.662-second winning margin was also the closest 1-2 finish in the history of the series.
Lafferty, Grant and Steward (riding with the help of Am-Pro Yamaha for this race), each took turns leading the event, with Grant taking the first test win, Steward the second and Lafferty the third.
After Steward and Grant traded wins in tests four and five, Lafferty entered the sixth and final test with a seven-second cushion over Grant, while Steward prepared to make his usual "hero's run" in the final test to claim the win. Steward has typically won the "waterfall" test at the Lead Belt Enduro each time he has raced it, and this year was no different.
Steward did indeed win the final test, but came up just short in the final standings, as Lafferty held on for the win, despite crashing near the bottom of the waterfall.
Lafferty's victory was his first Pro-class win and it comes in his "rookie" season in the class. "It doesn't feel real yet, but it's pretty cool," said Lafferty. "It's been a long time coming, but I'm happy with it. I feel like I rode well, kept my head on my shoulders all day. I earned it, I feel like."
Grant Baylor back on top of the points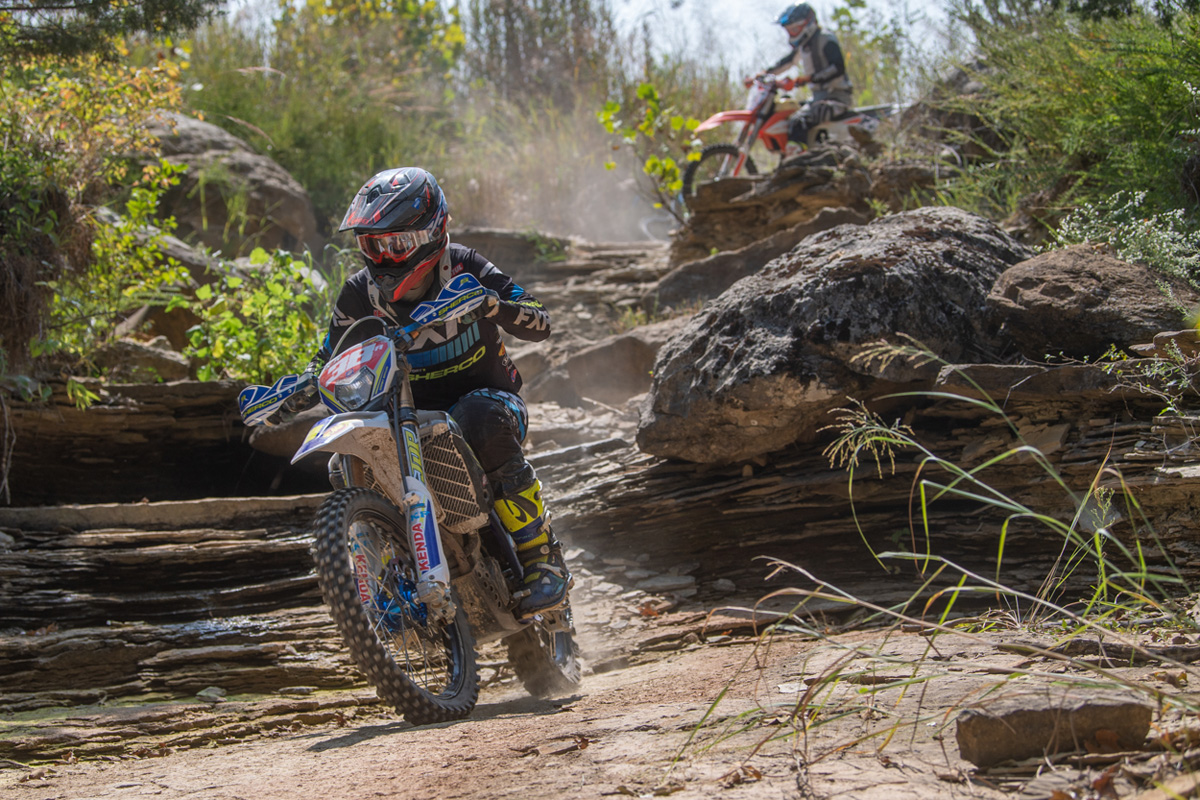 With his runner-up finish, Grant moved into a two-way tie with FMF/KTM's Josh Toth for the lead in the series standings, each with 133 points. "It was close all day," said Grant. "I just made a few too many mistakes. I fell down a couple times, but all in all it was a good day. I came out healthy and I believe I made up some points on the lead, so it was a good day."
Steward Baylor back in contention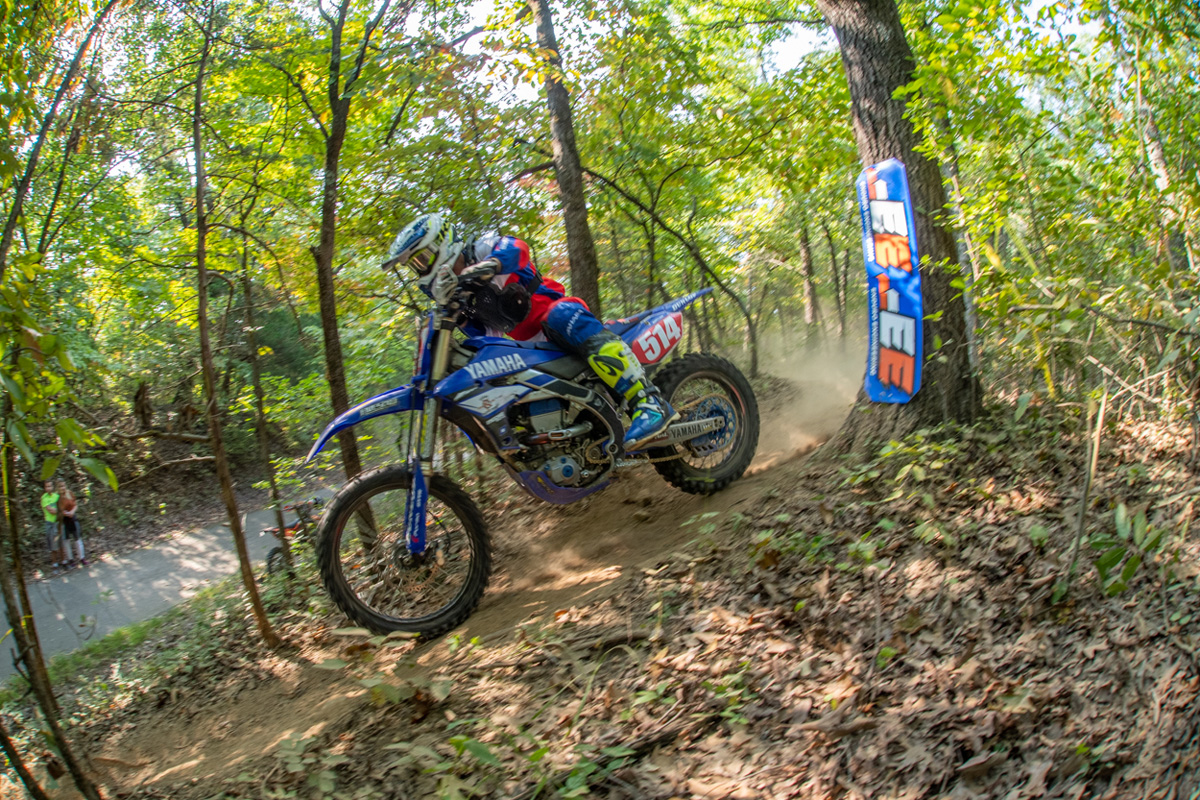 Steward sits in fourth in the standings with 112 points after his third-place finish and it still in the championship chase despite missing rounds. "I gave those boys that one," Steward said after the finish. "Somewhere in the middle of test three I just stopped racing and started riding. I think that told the tale for the rest of the day. Test four I bounced back and dropped the hammer and gave it everything I had. Then test five, I had a couple tip-overs and I still ended up doing well in the test, but I had three crashes and I just couldn't stay off the ground. I knew I had the momentum going into the last test. Just once again I made a couple mistakes. Just blew a couple corners. I felt like I was the fastest guy all day, but Grant and Ryder just had the consistency."
Fourth for Toth, despite broken finger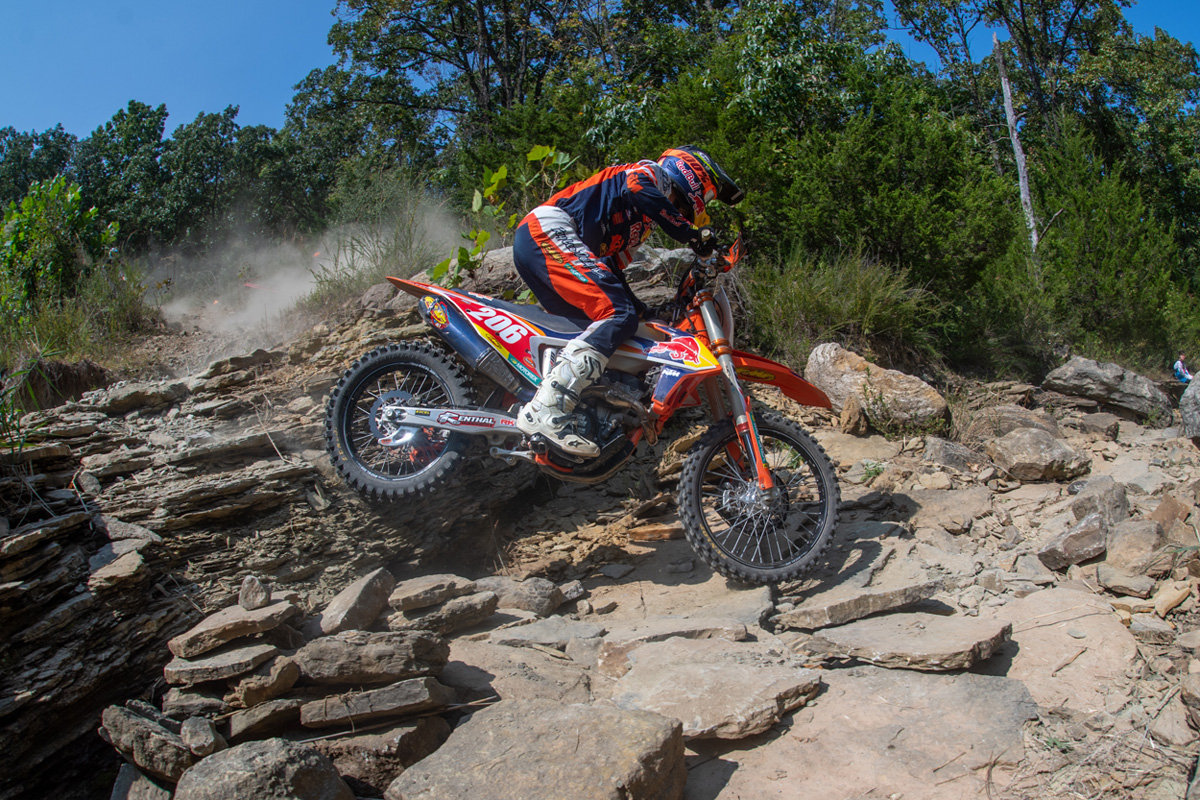 Toth turned in a heroic ride to claim fourth, despite a suspected broken finger and badly bruised hand suffered in test four. Toth started the event on a sore leg, which he injured in a practice crash two weeks before. "I banged up my leg a little bit, but honestly I was pretty good today," said Toth. "I never really felt the flow in the dry, slick stuff. I was just kind of pushing it a little bit, but right where I fell it was really dusty. A left-hand turn came up really quick and I just pushed the front and fell down an embankment into some rocks and stuck my hand out. Looks like I broke my ring finger or something but we'll see."
FMF KTM's Ben Kelley finished in fifth ahead of Beta USA's Thorn Devlin who was the best of the second half of the top 10, despite struggling with the dry conditions. "We got off to just a not-so-good start and kind of just kept it there all day," said Devlin. "Just one of those days. These conditions were tough with the rocky and dry, so we just tried fighting setup all day. Other than that, we're healthy."
DeLong takes Pro2 by two minutes…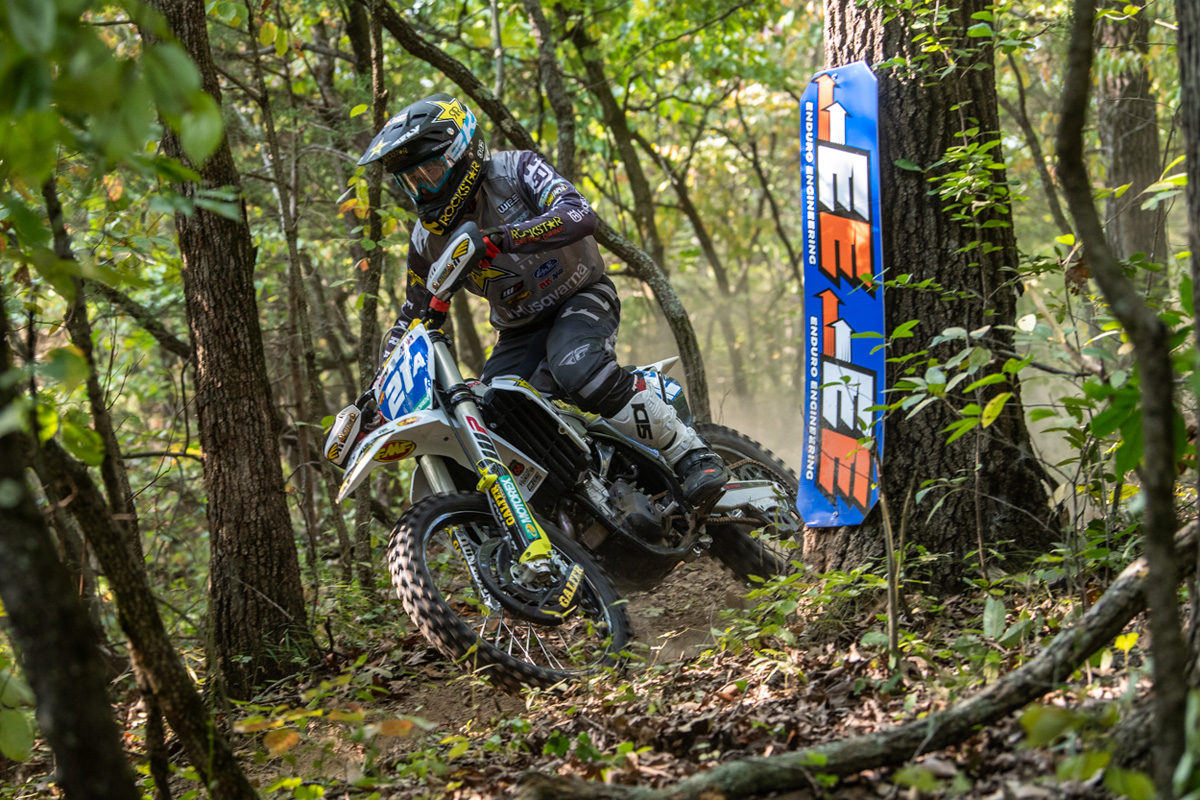 Rockstar Energy Husqvarna's Craig DeLong won the NE Pro2 division by nearly two minutes with a seventh overall finish. "I didn't make too many mistakes and just tried to stay on two wheels," said DeLong. "It was super slick and super easy to make a mistake. The rocks were super hard-packed and they were moving all over the place. The roots and the dust were crazy, so I tried to be smooth and not make any mistakes."
Beta USA's Cody Barnes won the opening test in the NE Pro 2 class, but settled for second behind DeLong and eighth overall in the final standings. "I just kind of struggled a bit today," said Barnes. "I made some stupid mistakes on that last test and ended up second. A frustrating day for sure. Craig rode really well. Just need to do better and make less mistakes."
Gutish continues stellar year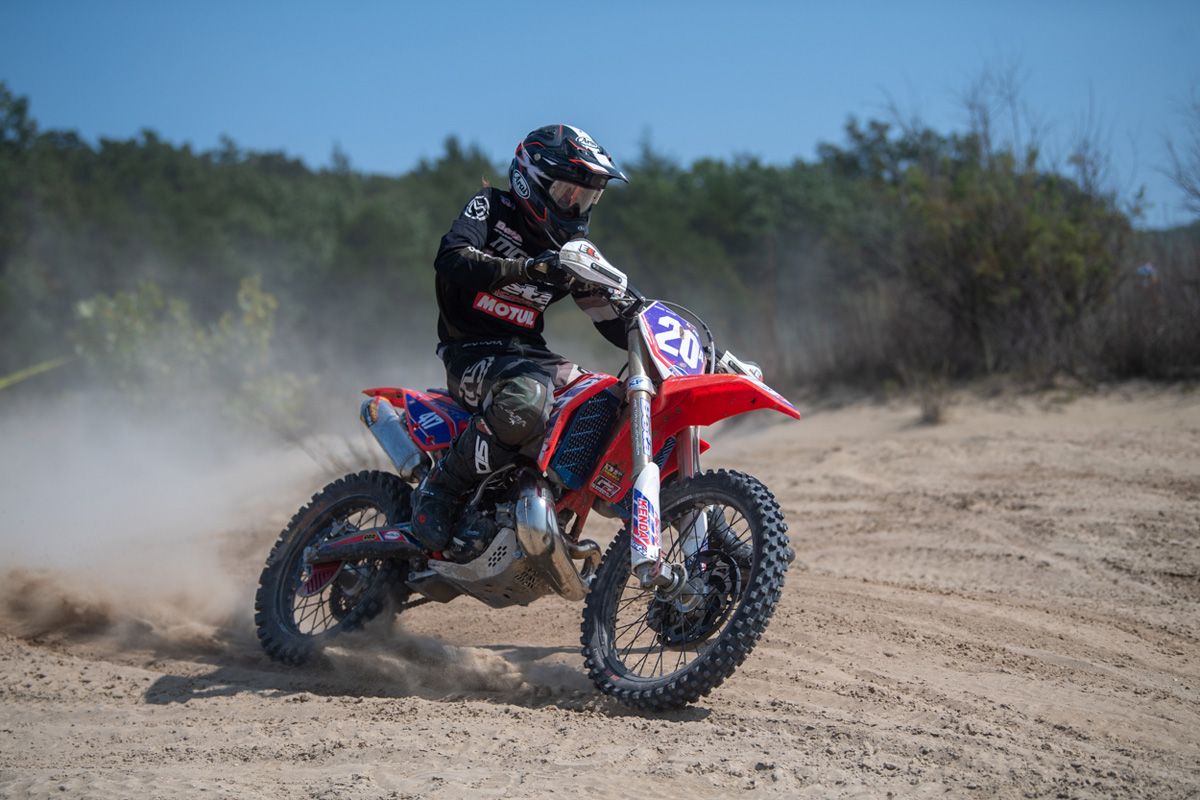 Rachel Gutish made short work of the Women's Elite class by winning all five tests. The Beta USA rider has made great strides during the past few races. "I would say this is the best I've ever done in an Enduro," said Gutish. "I swept every single test, which I've definitely never done, and took the win. It was dusty so it was a little sketchy, but it was also rocky and the trail suited me really well. The corner ruts, you could just dive into them. I didn't have to worry about the back end breaking loose or sliding. There were some small hiccups along the way, but I managed to come out on top."
Enduro Engineering/ Mepmx/Fly/Grizzly Peak/Traveler's Rest Speedway/KTM's Mackenzie Tricker battled back and forth with Korie Steede but in the end topped the TM rider for second.
Will Sievenpiper topped all AA riders, with fellow KTM rider Kole Henslee in second and Yamaha-mounted John Gentry in third. Eric Douglass took the Open A class ahead of Jhadyn Walker and Derek Gravitt (Yam).
2020 Lead Belt overall results:
1. Ryder Lafferty (Hsq)
2. Grant Baylor (Shr)
3. Steward Baylor (Yam)
4. Josh Toth (KTM)
5. Ben Kelley (KTM)
6. Thorn Devlin (Bet)
7. Craig DeLong (Hsq)
8. Cody Barnes (Bet)
9. Vincent Smith (KTM)
10. Hunter Bush (Yam)
The Kenda AMA National Enduro Series resumes on October 4 at the Muddobber's in Matthews, Indiana.
More information: www.nationalenduro.com
Words and photo credit: Shan Moore
This email address is being protected from spambots. You need JavaScript enabled to view it.