2023 French Enduro champions crowned: Espinasse, Magain, De Clerq top the titles
Video highlights and results from the final round of the 2023 French Enduro Championship in Requista where Theo Espinasse Antoine Magain and Till De Clerq claimed the major senior titles after a dramatic weekend to close the season.
Well-known as an international enduro venue, Requista hosted the final two days racing in the 2023 French Enduro Championship – video highlights for both days are below.
Aveyron is an area with a real enduro tradition and it is obvious from the enthusiasm of the club, riders and spectators who came in droves to the specials and had plenty of intrigue as major championship were headed right to the wire.
Drama included an E2 battle between Théo Espinasse and Hugo Blanjoue, Antoine Magain riding still injured form a broken wrist, OxMoto Beta team and Sherco Academy riders white-washing the classes plus some different nationality riders stealing French titles including Jérémy Sydow who clocks a perfect season.
CATEGORY E1
The title of French E1 champion arrived for Till De Clercq (Dafy Enduro Team) on day one in Requista. There are many fast, young riders in this category, EnduroGP winners and podium regulars all battling for position and it is a credit to De Clerq to wrap-up the season with such appoints advantage.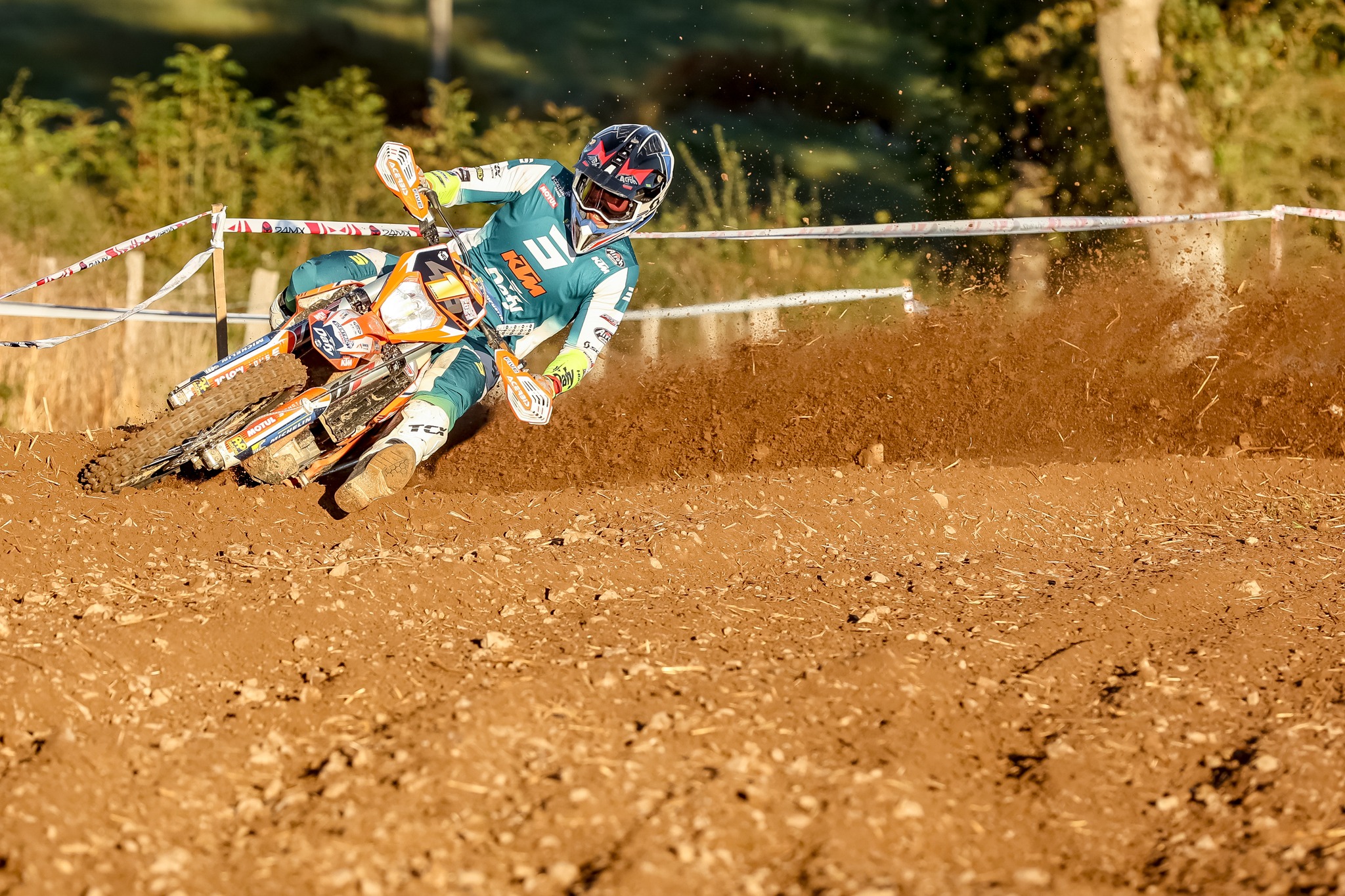 Those include OxMoto Beta rider Léo Joyon who finished his season in style on top of the podium. The win meant he passes Thibault Giraudon (Sherco Academy) in the final ranking, and becomes the vice-champion of E1.
Winner on day one, Anthony Geslin (Atomic Moto) fought again for victory on day two, but was unable to catch Joyon and had to settle for second with the new class champion De Clercq.
Final E1 championship ranking
1. Till De Clercq – 184 Pts
2. Léo Joyon – 154 Pts
3. Thibault Giraudon – 151 Pts
CATEGORY E2
In a long list of title races going to the wire at this last round, the confrontation between Hugo Blanjoue (Elite Moto 15) and Théo Espinasse (OxMoto Beta) to win the E2 title was up there.
As expected, the two riders brilliantly animated this mid-size category went blow for blow in each of the specials, taking the advantage in turn, never separated by more than a handful of seconds.
Dramatically, a crash from Hugo in the eighth test of the day unfortunately put an end to the duel and he had to retire injured.
It was therefore Espinasse who won and became this evening the new French E2 champion for the OxMoto Beta team after an exceptional season which many say has seen him back to his best. Second place of the day was taken by Antoine Alix (OxMoto Beta), and Killian Lunier who completed the podium. Blanjoue and Alix share the points for P2 in class for the season behind Espinasse.
E2 championship ranking
1. Théo Espinasse – 165 Pts
2. Hugo Blanjoue – 146 Pts
2. Antoine Alix – 146 Pts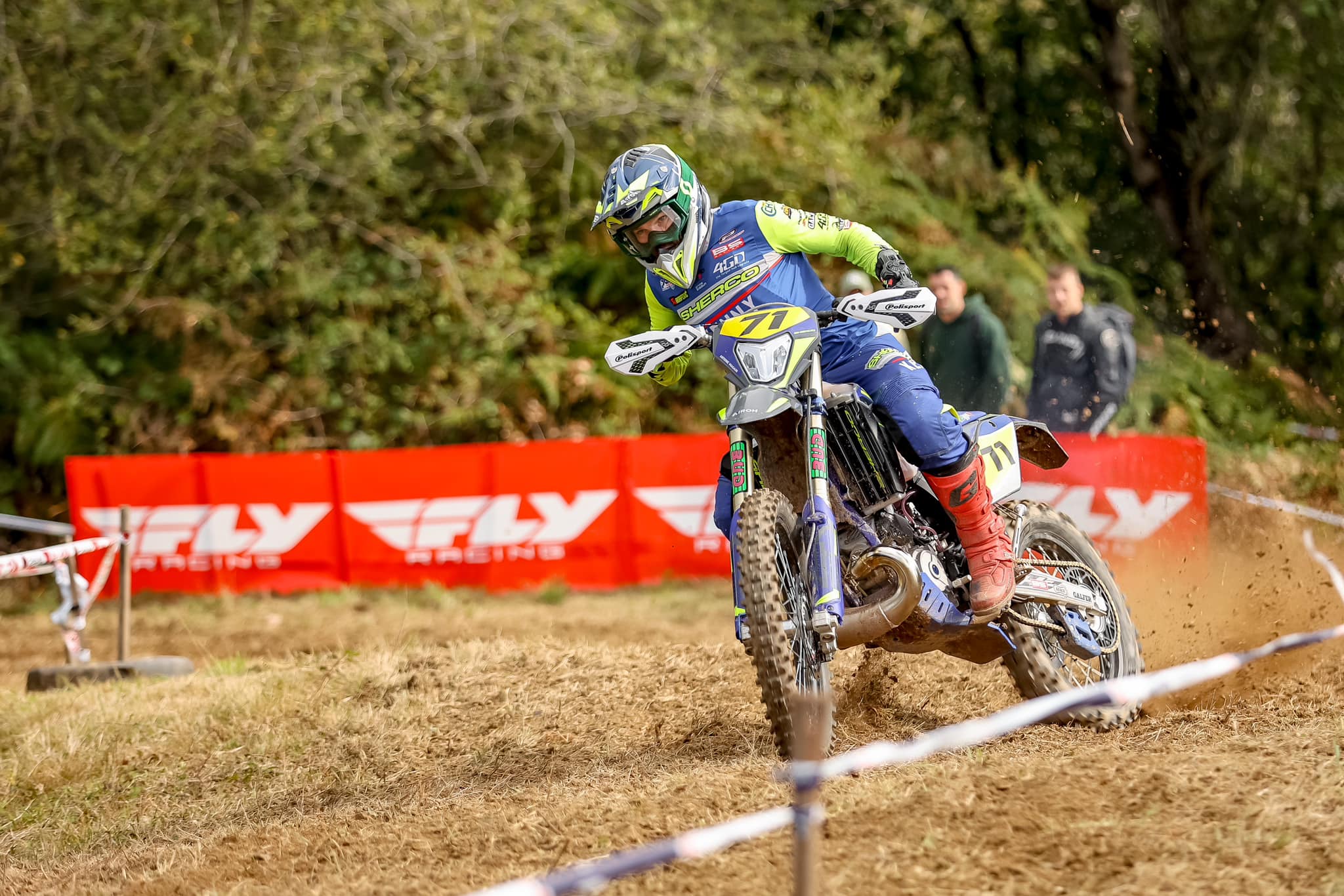 CATEGORY E3
Antoine Magain (Sherco) had one hand on the French E3 championship at a previous round when main rival Loic Larrieu retired. But hands were an issue for the Sherco rider who rode day one with a wrist brace.
Despite being uncomfortable, Magain took a narrow P2 on the day to sew-up the championship a day early and was able to rest on day two ahead of he final EnduroGp races next weekend.
Larrieu (Dafy Enduro Team), Mathys Boisramé and Julien Roussaly (Sherco) all led the race at one point during the final day. And at the end of the 11 special stages contested, it was yesterday's winner, Mathys Boisramé, who claimed a hard fought victory. A magnificent double for the MX rider who came to try enduro this season.
Another defector from MX, Julien Roussaly also showed that he is gaining momentum aboard his Sherco. This evening he takes the second step of the podium, ahead of Larrieu, third but the former world champion stand in P2 for the season.
E3 championship standings
1. Antoine Magain – 154 Pts
2. Loïc Larrieu – 147 Pts
3. Luc Fargier – 120 Points
JUNIOR CATEGORY
It was a day of celebration for the Sherco Academy squad. Romain Dagna won the Junior E1 title in style. Behind him on the podium and in the championship, the young Chilean rider Agustin Cortez (Atomic Moto) also made his mark in this championship with Nathan Corny completing the JE1 podium.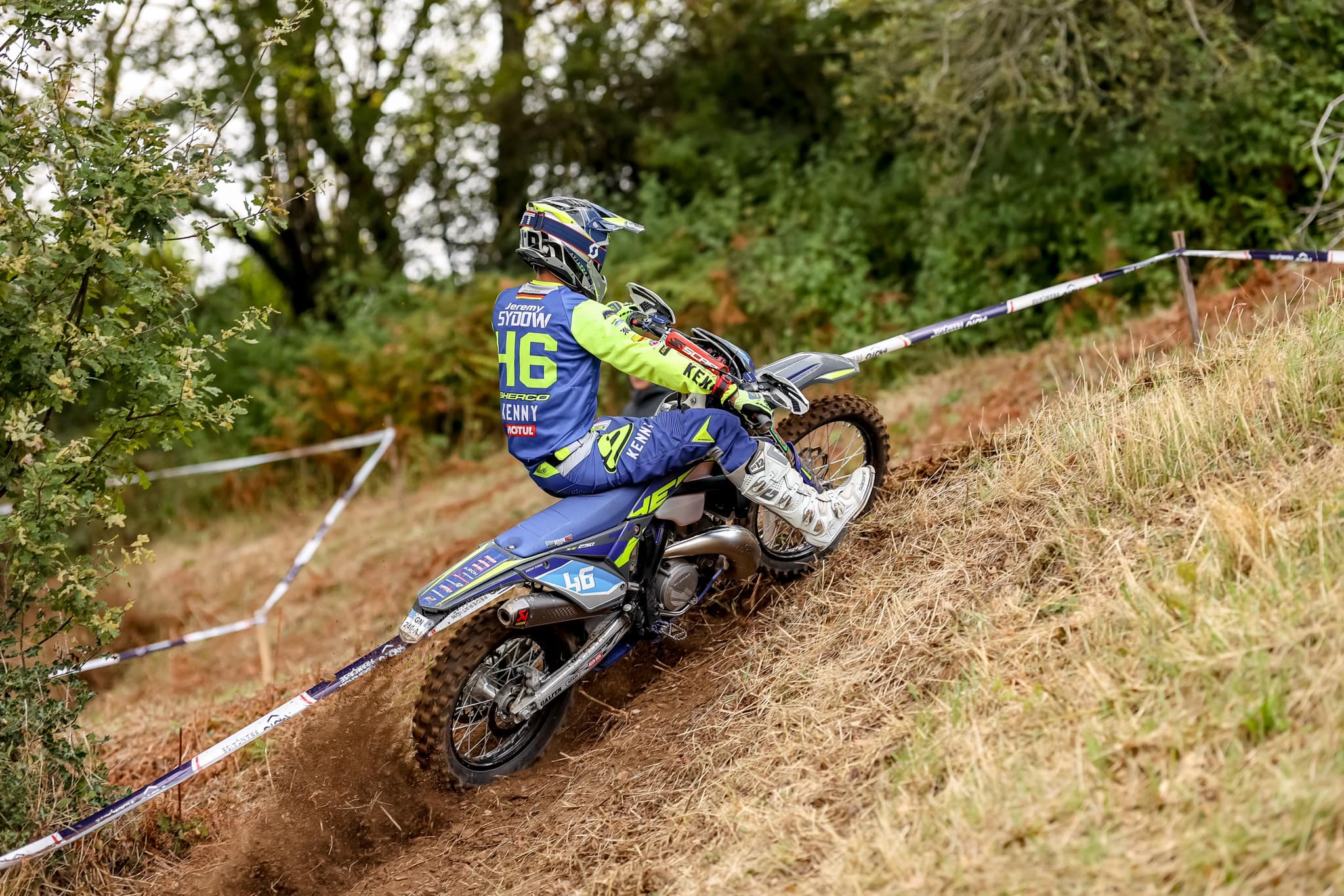 In Junior 2, Jérémy Sydow was crowned champion on day one in Requista and delivered a riding lesson to all the spectators and rivals with a double win. He was fastest in all the tests, and can boast the grand slam, 10 victories out of 10 this season. The remaining places on the podium are reversed from day one with Quentin Clerc Tournier (Atomic Moto) second, ahead of Diego Haution (Sherco Academy) third.
We were expecting a big confrontation in the Junior E3s between David Guillemod-Scheid (Sherco Academy) and the Lozerian Killian Bremond (MCL), who had regained the points lead with the win on Saturday.
But a crash and a torn hose cost him time and wiped out his title hopes and opened the way for Guillemod-Scheid who claims the French Junior E3 title, one more for the Sherco Academy. Evan Raffard is second of the day, ahead of William Criq (Atomic Moto) who returns to the podium in third.
Junior E1 championship ranking
1. Romain Dagna – 184 Pts
2. Augustin Cortez – 172 Pts
3. Nathan Corny – 97 Pts
Junior E2 championship ranking
1. Jérémy Sydow – 200 Pts
2. Diedo Haution – 160 Pts
3. Quentin Clerc Tournier – 151 Pts
Junior E3 championship ranking
1. David Guillemot Scheid – 183 Pts
2. Killian Bremond – 166 Pts
3. Evan Raffard – 138 Pts
FEMALE CATEGORY
Justine Martel (Atomic Moto) had to grit her teeth in the final round to claim the Women's title. She missed out last season, side-lined due to injury, and the road this was not easy either after a big fall during the last round in Chabreloche plus the formidable Spanish rider Mireia Badia arriving in the latter half of the series to claim wins.
Justine managed to take second place once again, enough to burst out with joy at the finish, the title in her pocket.
Despite the late-arrival, the Rieju Factory rider Badia took another double and the place of vice-champion ahead of Mauricette Brisebard (Atomic Moto) third.
Women's championship ranking
1. Justine Martel – 166 Pts
2. Mireia Badia – 160 Points
3. Mauricette Brisebard – 118 Pts
Full results: www.enduro-france.fr/resultats/
Requista finale Day 1 highlights:
Requista finale day 2 highlights:
Words: Enduro21 + FFM
Photo Credit: FFM