10 things: 2024 KTM EXC enduro model range digested
Enduro21 digs deeper into the newly revealed KTM 2024 EXC enduro model range to find the 10 key points worth talking about from fuses to fuel lines, suspension and kickstarts (and giant handguards!).
There's a lot going on here below the "95% new" headline from KTM about their new EXC range. It's been a while coming and the drip feed of SX and XC bikes, plus factory race machines featuring some (not all) of the changes and giving us further clues.
Well, here they are at last and now's the time to take a closer look at matters to enduro and off-road riders around the world.
New frames and subframes, new bodywork with a new seat mounting, electronic innovation with fuse-less control units, frame protectors and grab rails as standard, no kickstarter options on two-strokes, quickshifter options on the four-strokes, meaningfully revamped suspension and a that's not to mention the handguards...
TBI engine as we expected
The information released from KTM about the new EXC models kinda steers away from the fact the TPI has been replaced by TBI. Isn't it a big deal?
Separate oil injection is on the new bikes and that has been a source of some speculation: what would we find on the EXC two-strokes since XC bikes and factory race bikes like Mani Lettenbichler's are running premix?
The TPI was introduced in 2018 and the fact is most customers like the easy life of not needing to use a fuel can or do a dance on the gas station forecourt when you fill up. So the oil filler in the headstock stays.
Yes, the XC bikes are premix and so are the factory hard enduro race bikes it seems but they are just that, race bikes. If you want that, buy that. The rest of the world buying EXCs are simply saying it's just easier.
The new system is more efficient anyway they explain and produces a finer spray as sensors analyse water and air temperature, ambient pressure, crankcase pressure, rpm, and throttle position.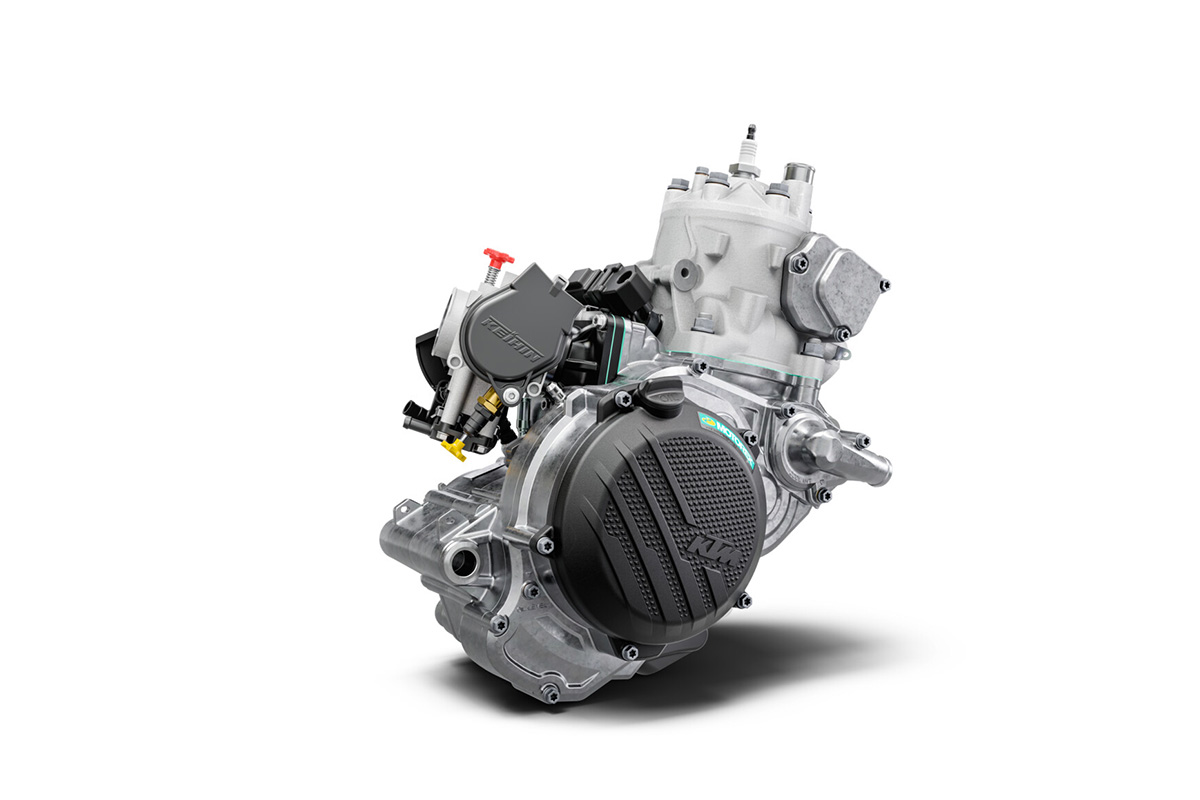 There's some interesting details here too with new "plastic flaps" on the outside of the reed valve case for a better intake tract seal. It "negates over-fuelling in extreme up- or downhill sections with no bogging down or running rich" KTM say and that is a characteristic many TPI owners will be familiar with.
A new auto-calibrating power valve controls more power valve adjustments and stop us fiddling so much. It also incorporates different engine maps on the two-stroke range.
Major talking point – the lack of kickstarter
Judging by the response to our 'first look' story you'll also have spotted not just no kickstarter but no option at all for a kickstarter. That's on all models.
It's a brave move from KTM not because they don't know that you simply don't need one any more (and that will be their response) but because it invites a heap of revolt from the off-road masses.
We'll admit we fall on the side of never having a starter fail on us (older KTM starter motors had problems we know). We've listened to KTM bods explaining many times over that you just don't need it. Hence the four-strokes not having a kicker, them not being standard on a two-stroke for ages now and other manufacturers doing away with them also.
BUT! We hear you. There are people out there who always want the kickstarter, "just for safety" or because when they ride in the mountains, not being able to start a bike manually, for whatever reason, is a complete turn off.
This is the dubious point then. Why put off so many customers even if by far the majority don't want/need/use one?
Thinking of you
KTM has moved forward significantly with a few details though and some of them are tuned in to the regular rider. Things like grab handles, chain adjuster markings on top, no fuses or relays, 300% brighter front headlight, frame protectors as standard and a redesigned fuel tank to make the connector hose less vulnerable.
"A new one-piece fuel pump and filter provide an improved fuel supply allowing the tank to be emptied further at the low fuel level", KTM say.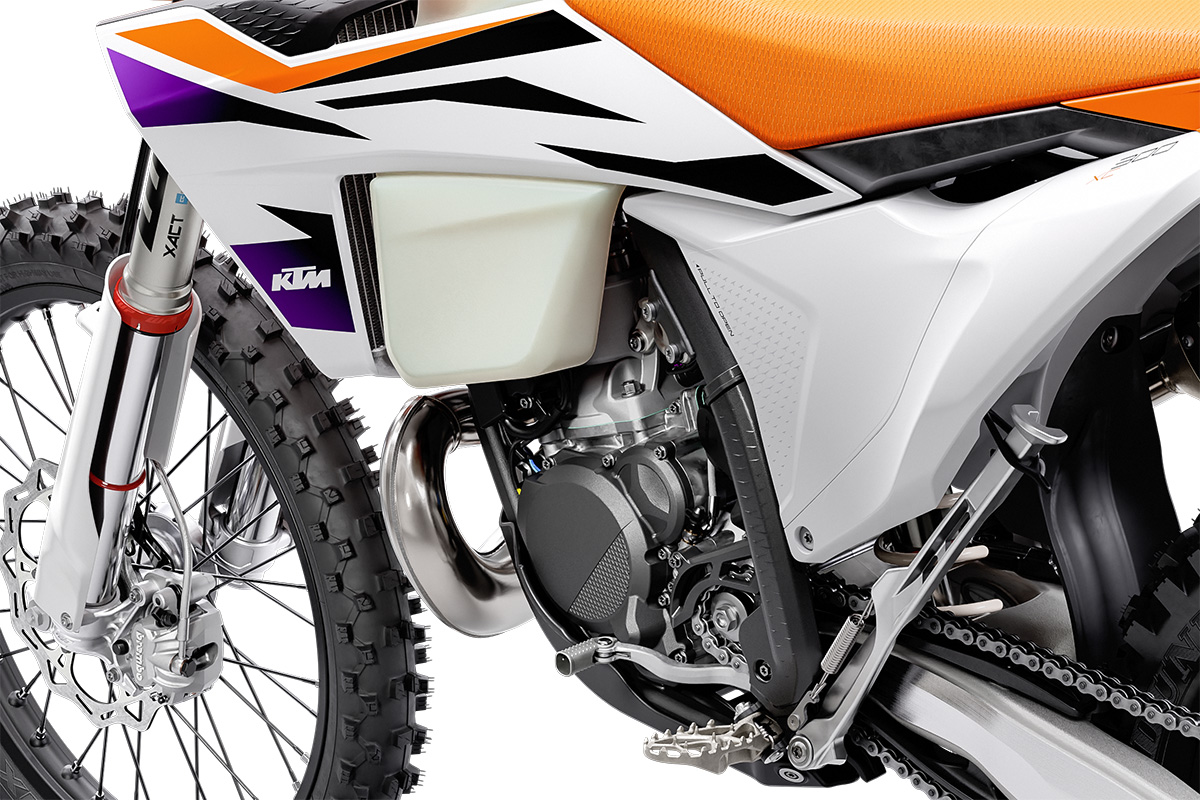 The fins on the front mudguard are designed to help the riders too, or rather the radiators. Having done a Sprint Enduro a couple of weeks back which filled the rads with a bird's nest grass every seven minutes of riding, (not to mention mud and water dispersing claims the new fender has) this has to be a good thing in keeping running temperatures down.
No fuses, no fuss?
We look forward to finding out more about this on the launch next week but one huge development, a first to our knowledge, is the electronic control unit which requires no fuses and no relays.
There's a point to fuses, right? They break when there's a fault or short in the circuit and give you chance to make a quick fix.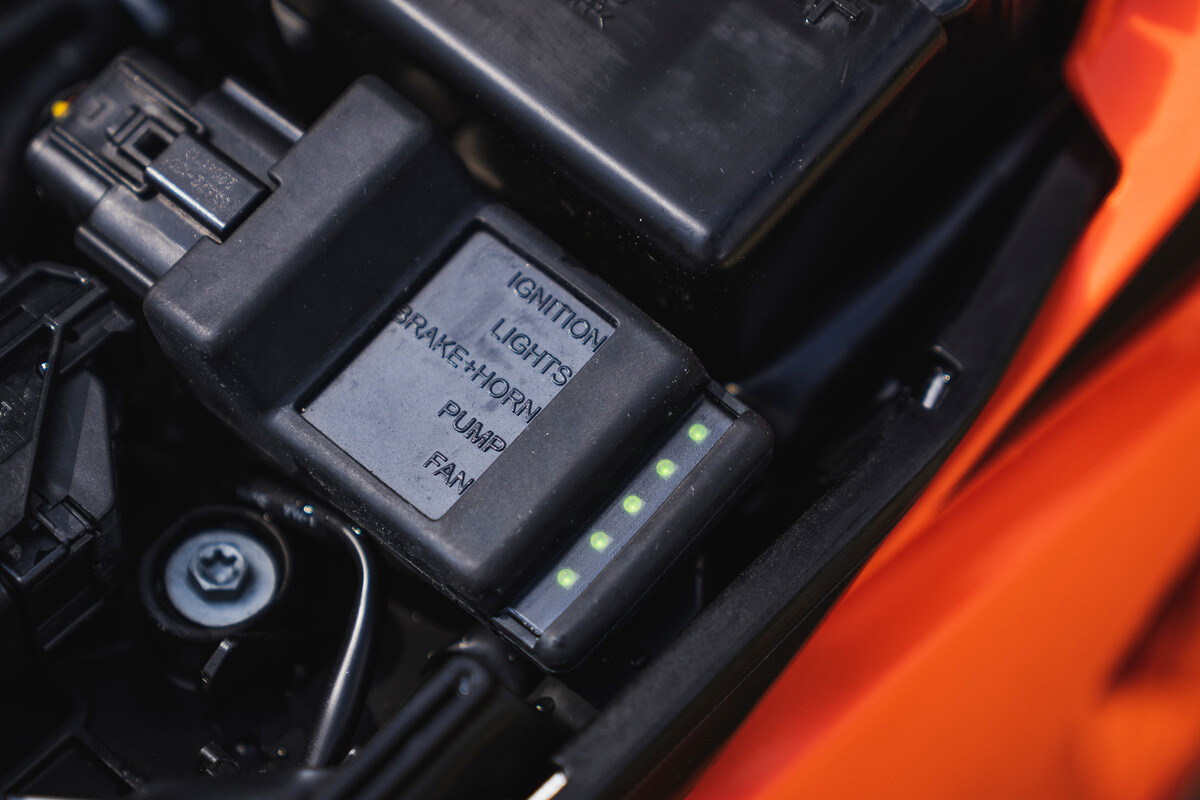 KTM say the "totally independent OCU replaces the use of electronic fuses and relays...in the event of any electrical component failure, the outputs are deactivated individually, with the error status of each unit indicated by a red or green LED light, ​making for quick and easy troubleshooting on the trail, and eliminating the need to carry additional fuses."
What you do when something fails? We'll ask…
What's under the seat?
All of the above electrickery is under the new seat and airbox access looks intriguing too. Again, we look forward to fiddling about with these parts when we get our hands on a bike. KTM say the redesign includes more attention to reducing how water can enter the airbox too.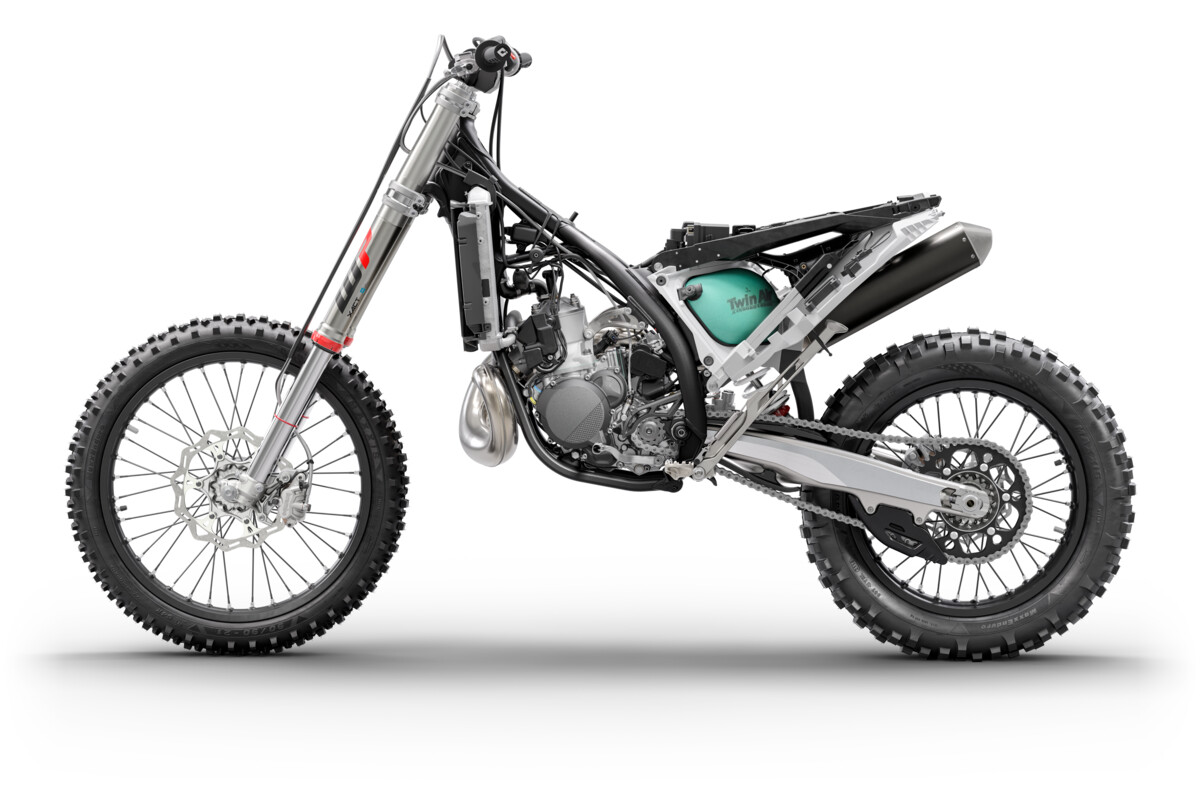 Sadly, the images of the naked bike are only small resolution (and there's serious lack of studio shots of the two-stroke models) so we can't zoom in enough and see exactly how neat the electrical system is but KTM say it is all integrated into the new two-part subframe under the seat.
As for the seat, the front location point for the retaining bolt is a departure from KTM models which for decades have had a bolt or two under the back end. That required a side panel to come off to access but now it looks like the seat can be removed quicker to gain access.
Suspension! Soft or not?
Another mainstay of the EXC massive is the suspension question. We won't trawl over the comments but it is safe to say some people are happy, while a noisy bunch are not.
Too soft and not enough damping control is certainly our feedback but it must be added that is only the case for specific riding. Not everyone, in fact the majority, don't need race-spec suspension and that's why stock WP kit is how it is.
That said, KTM has thought about the enduro rider a little more with upgrades front and rear and we're glad to see it.
The 48mm WP XACT closed cartridge fork has a new mid-valve piston which they say improves oil flow to improve damping characteristics and avoids foaming of fork oil.
A new hydro stop in the last 68mm of the stroke also stands up better too with "maximum compression in reserve" for steep drop-offs or jumps.
Total fork length increases from 928mm to 940mm, while the stroke has increased from 292mm to 300mm. It's not much, but it should help those soft forks stand up better.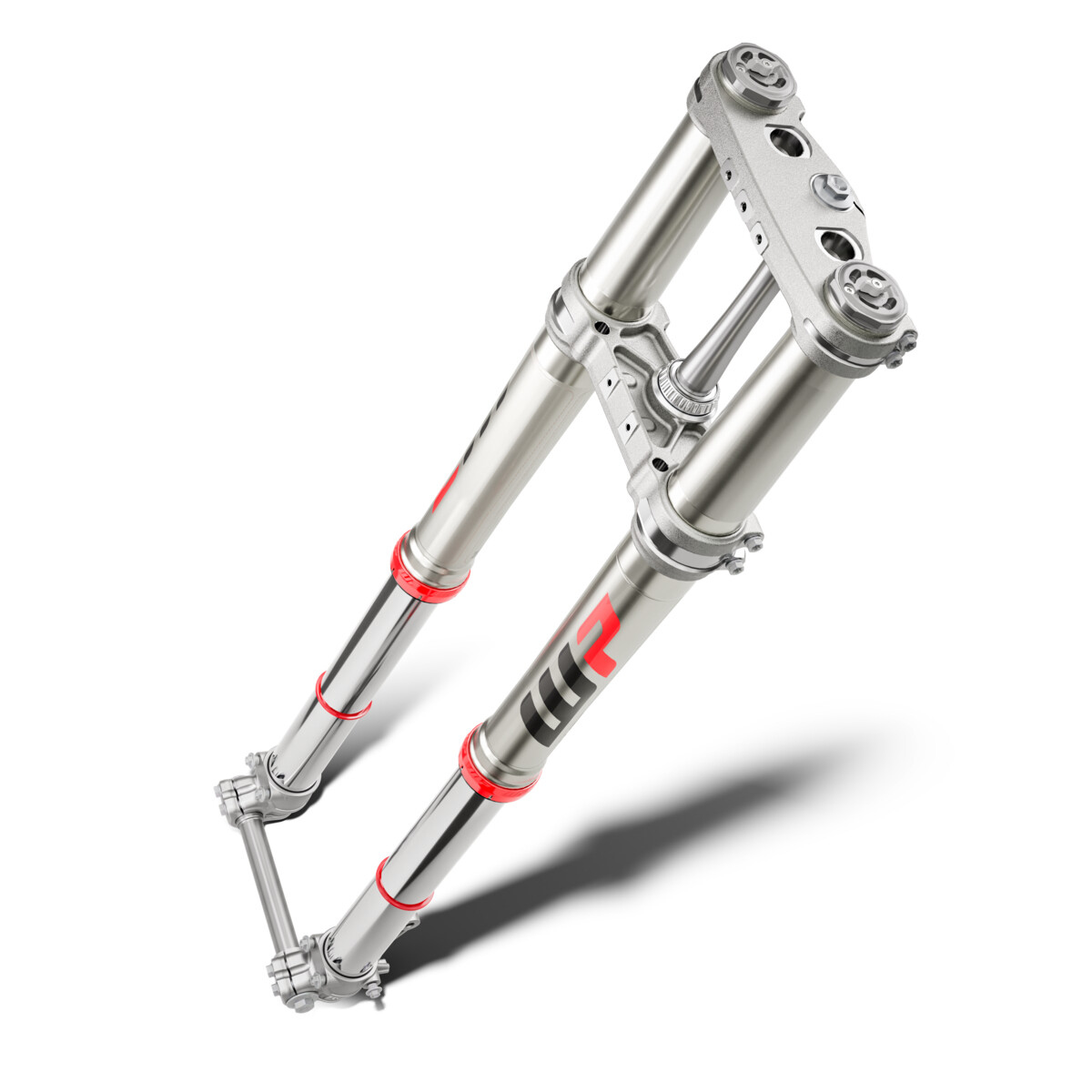 At the rear the WP XPLOR PDS shock has a shorter overall length, 402.7mm from 415mm, and the stroke has decreased from 105mm to 102.7mm. Plus it weighs 380g less.
A new main piston improves oil flow for more consistent damping characteristics they say plus there are new bearing seals to improve service life.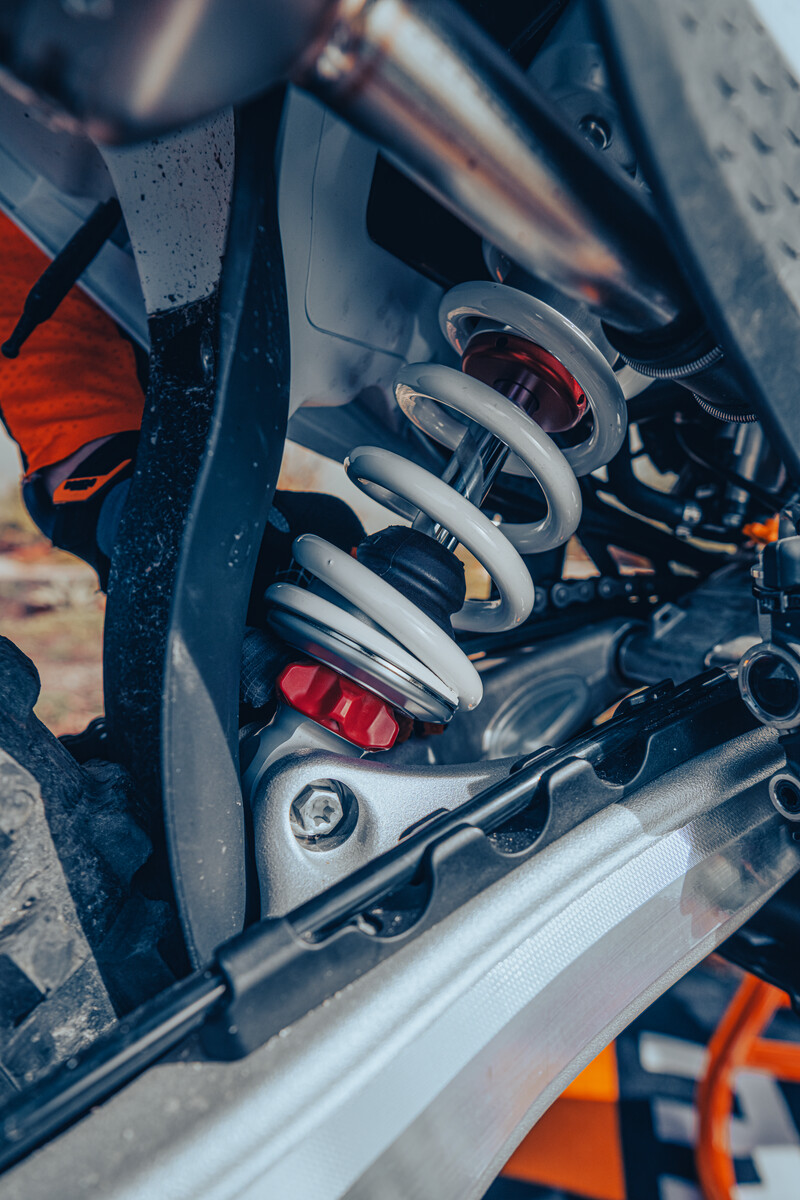 Both front forks and rear shock come with adjustable hand clickers, allowing you to change settings on the fly without the need for any tools. The rebound adjuster on the bottom of the shock is pretty cool.
Chassis talking points
There's a heap of talk around the new frame and Enduro21 sat through a detailed press conference on the SX/XC model updates last year to understand this new frame and chassis'. One thing which stood out then was the common part concept, one frame fits all they said and we're keen to find out if that's also the case for the enduro range.
That's not to say you're getting the same frame on the motocross and enduro models. "Tailored longitudinal rigidity" improves rider feedback, energy absorption, and stability for the EXC bikes by comparison.
The new hydro-formed frame is a departure and one common aspect is the repositioned rotating masses in the frame and steering head. "Topology-optimised" frame wall thickness improve both rigidity and reliability in high-stress areas.
There are also new parallel frame mounts for improved flex characteristics on two-stroke models, footrest mounts are moved inwards for less risk of hooking in deep ruts or when scrubbing (!) and the footrests themselves are a new wider design.
Along with a new shock mount position to "significantly" improve anti-squat behaviour, our experience riding the 2024 SX machines really showed a step forward in rider control with new engine positions, bodywork shapes, contact points and footpegs helping improve feel. Let's hope that transfer nicely to the enduro models.
Two-piece subframe
A quick check in on the 1.815kg, new two-piece polyamide-reinforced aluminium subframe.
"Remarkably robust" KTM tell us just as we start to winder how strong it is and that it is "more likely to flex and bend back into shape in the event of an accident". That'll be a good one to put to the test!
Out the back the new hollow, die-cast aluminium swingarm has an improved casting process reducing weight by approximately 190g. There's also a new 22mm rear axle fitted to match the new chassis.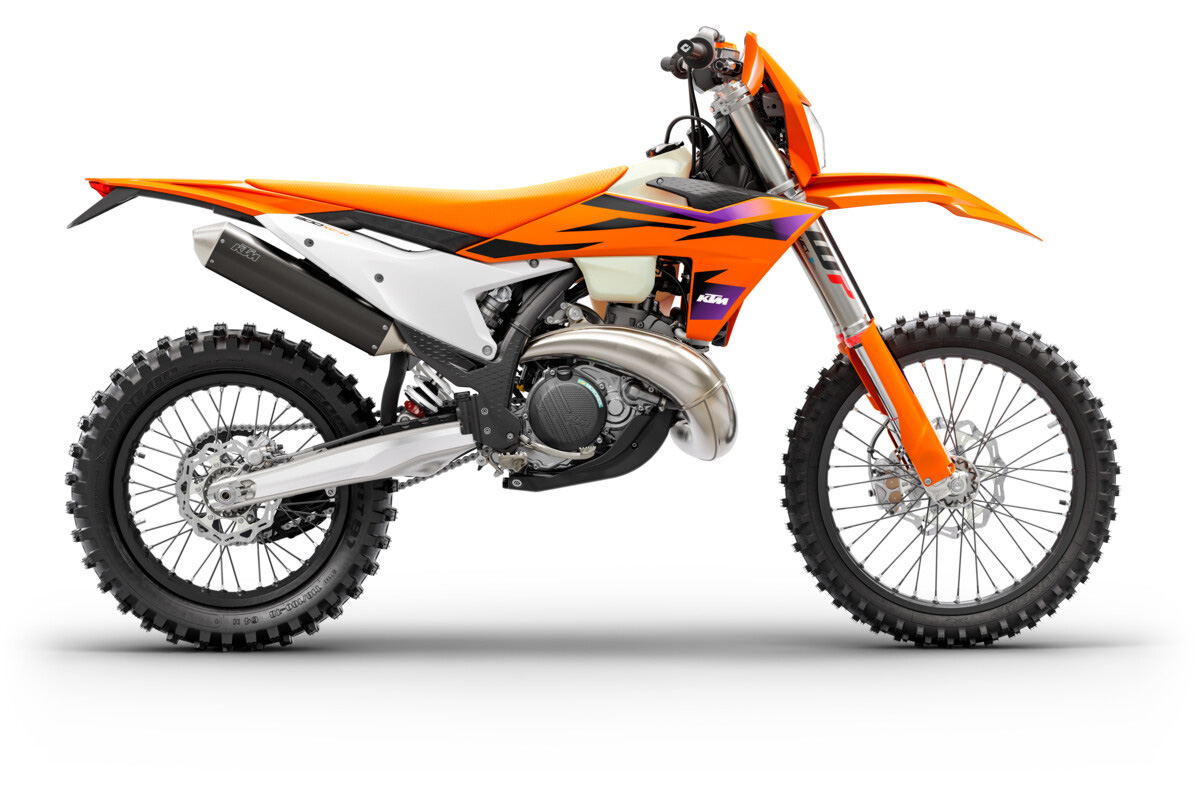 Smooth exhausts on the two-strokes
The ribbed for pleasure two-stroke exhausts which were labelled a step forward four years ago have been ditched on the new TBI engine 250 and 300 EXCs. The new, smooth one has better ground clearance they say and a reduced chance of hitting "external objects".
The old one was a pain to blow a dent back out of and resulted in the expansion chamber basically straightening itself out and no longer fitting the mounting points.
Roll over sensors
The roll over sensor has been carried over from the motocross range and shuts the engine off in the event of "an extreme crash". Naturally we're curious how that carries over to extreme enduro riding. Will it keep cutting out when you keep crashing on a rocky gulley or steep-as-hell hills in Erzberg or Romaniacs? No, otherwise the SX models would cut out over every jump (you do whip don't you?!).
While we're talking electric components, the four-stroke models get some upgrades handed down from the motocross models too. A new electronic exhaust control allows two different engine maps, selectable via an (optional extra) select switch with integrated traction control and an option for a quickshifter.
This old dog of a bike tester remembers when quickshifters became a thing on street bikes 15 or more years ago. The question at the time was always, 'why do you need it?" But the answer was always quick to explain itself: because it is quicker and fun. It makes you feel like a racer even if you're just bumbling along a trail.
Enduro21 will be on the world press test of the bikes next week where, among other questions we have lined up, we'll want to know more about prices and parts supply which are big talking points. Get in touch at the email below if you have a question.
More images in our First Look story: First look: 2024 KTM EXC enduro range revealed
Photo Credit: Rudi Schedl + Kiska