First look 2024 KTM EXC Six Days models announced – 12K for a dirt bike?
KTM has announced the 2024 KTM SIX DAYS model range, the upgraded versions of the standard models with a host of additional parts on the spec list but a healthy price tag…
Focusing firmly on the 2024 International Six Days of Enduro in San Juan Argentina, the up-specced models fit for purpose in the ISDE (you can hire, fly and ride these exact models) are an annual 'new bike' on the KTM dealer showroom floor even in years when the bikes are not otherwise updated significantly.
With the new 2024 EXC enduro model range announced yesterday, the Six Days editions this year are also hot off the press and the news is two-fold: they've got more good stuff as standard this year but the RRP has also taken a hike.
KTM say the 2024 Six Days range is created to offer the "ultimate enduro experience" and that basically means they are more "ready to race" than the standard models. It's true though and the EXC Six Days range are the bikes you can hire and ride in San Juan this year at the ISDE.
Differentiated by high-gloss orange powder-coated frame (standard bikes this year are black), in addition to everything the new, 95% revamped '24 EXC range have received, the Six Days models also feature optional extras within the price.
2024 KTM EXC Six Days editions highlights:
Orange frame protectors
Six Days specific seat with extra grip
Six Days bend handlebars (no details supplied)
Anthracite coated silencer with Six Days logo
GIANT high-strength rims with Six Days logo
Orange-anodised CNC machined triple clamps
Orange front axle puller
Semi-floating front brake disc
Solid rear brake disc
Rear brake safety wire
Orange Supersprox stealth rear sprocket
Orange upgraded chain guide
Composite skid plate
Map-select switch
Radiator fan
Metzeler 6 Days Extreme tyres
The model list includes the 250 and 300 EXC two-strokes and 250, 350, 450 and 500 EXC-F four-strokes.
Here's the spicey bit
In the UK, where we sit and publish to the off-road world, model pricing is as follows:
KTM 250 EXC SIX DAYS - £10,549.00
KTM 300 EXC SIX DAYS - £10,749.00
KTM 250 EXC-F SIX DAYS - £11,049.00
KTM 350 EXC-F SIX DAYS - £11,249.00
KTM 450 EXC-F SIX DAYS - £11,549.00
KTM 500 EXC-F SIX DAYS - £11,749.00
*Prices include VAT, delivery to dealer and PDI.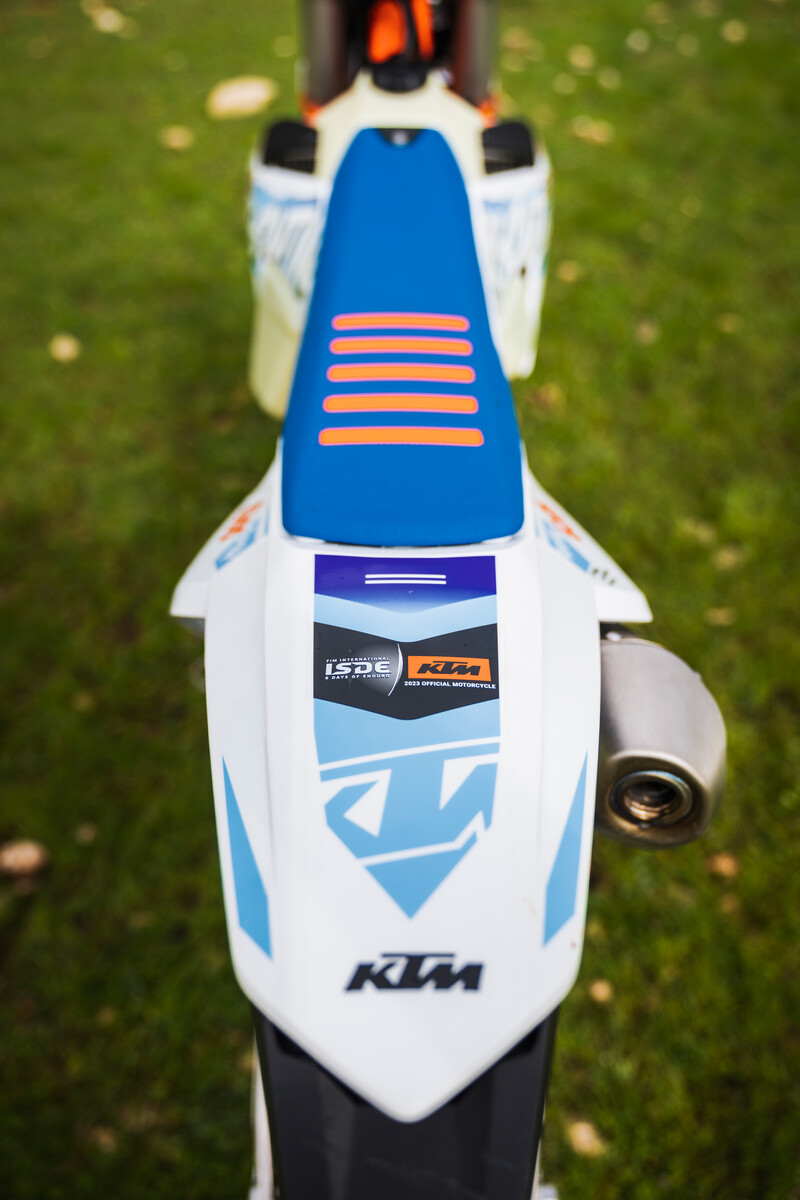 Apologies for not having more global prices to publish, we looked and tried to get them, in just the same way as for the standard EXC prices yesterday, but found nothing (if you have them, we would love to see them. Get in touch at the email address below).
There's no getting around the fact that is a LOT of money for a new bike. KTM even sell Advenutre bikes for less than that.
But, we're mindful prices of everything have/are going up constantly and from where we sit there are a tonne of people spending loads on eMTB bikes, kitchens, golf equipment, road cycles and more. Hell, you can buy a 11.5K trials bike these days forchrissakes.
What that means is people have got the money – market forces and all that. Obviously many people cannot afford those numbers and that's partly why we put it in the headline for the shock value.
It is a fact however that the Erzbergrodeo edition 300 EXC (for example) always sells out and that is on the same spec list as the Six Days models. What that shows is people are willing to pay for a special edition model because it has the kit fitted and for a fairly unique bike. Last month we wrote about super-bling Toni Cairoli edition WP motocross suspension and people are buying that so...
(By the way, we heard the Erzberg edition will be replaced by a Hard Enduro version in this model range update year).
More information on the 2024 KTM standard EXC range here: 10 things: 2024 KTM EXC enduro model range digested
More information: www.ktm.com
Photo Credit: Philip Platzer